Toronto Maple Leafs: Are Playoffs out of Reach Because of Overpaid Players?
February 8, 2012

Bruce Bennett/Getty Images
Certain players are just not living up to their end of the bargain.
I've been a huge fan of what Brian Burke has done with his trades since he's been here. With the Phaneuf/Aulie, Liles, Lupul/Gardiner, and Giguere moves, and even the earlier ones to get something back for Dominic Moore and Antropov before becoming UFA's, they have all been strong moves.
Hey, even the John Mitchell for a seventh-round pick seems as much a steal as the others.
Burke has also done fairly well on the re-signing of players by keeping the right players on fair deals, such as the Liles, Gunnersson, Grabovski and MacArthur contracts.
Where he has struggled, along with most other GMs, is in the summer during free agency. Other than the MacArthur signing (I was a huge fan of when he made this move, though he did get slightly lucky), most of these have been fairly bad. The cap hits do not match the play of players like Beauchemin, Komisarek, Orr, Armstrong, Lebda and most recently Tim Connolly.
While others are striving and bringing up their game over the past few seasons, these free agents haven't been of any use.
The most recent of free agents are all floundering, and on most nights seem lost.
A huge piece of the puzzle was brought in this past summer in Tim Connolly. After the Leafs missed out on the Brad Richards sweepstakes, they went with what they felt was the next-best thing.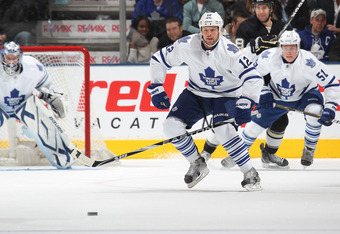 Claus Andersen/Getty Images
Tim started the season decently but still had his usual injury problems. While he seems to put most of that past him, he's still on pace for his worst season in almost 10 years. Maybe there is some lingering type of injury that is bothering the $5.5-million man, but in any case it's a poor use of the salary cap.
The other two are Colby Armstrong, and Michael Komisarek. Armstrong has yet to put a steady few games together without getting injured. He's shown some truculence, but with what he brings, is it worth $3 million on a fourth-line player? Odd, since he never had injury problems before coming to Toronto.
Komisarek is in a similar boat. He's had random injuries since coming to "the big smoke," but also since he's first arrived, he's had many huge giveaways. That isn't great, considering he's only capable of playing solid defense and little else.
Komisarek's game has gone full circle, though, and his play this season has improved. But with another setback with a small injury and others playing better on the back end, his $4.5 million cap is just blown while he's sitting in the press box.
These additions were supposed to bring in talent and a veteran presence to the team, but they have only shown futility.
This is factor in the Maple Leafs making the playoffs, the veteran talent on the team has to stand up and play their game. Also if they do acquire a postseason spot, can they do some damage while they are there.
Also, don't get me started about Matthew Lombardi—I now know why Nashville had to throw him in the deal for a talented Cody Franson. His $3.5 million cap space is huge for a player playing his worst season of his career—not only offensively, but defensively as well.
If these players played even remotely like what they're capable of, then the Leafs would have a much superior team.
It hurts as well, because they might not be able to re-sign players like Grabovski, Kulemin, Gustavsson and Franson thanks to these non-expiring contracts.