Why Dorell Wright's Struggles Should Not Have Fans Worried About His Future
February 8, 2012

Ezra Shaw/Getty Images
Last season, Dorell Wright was heralded as one of the steal free-agent signings of the summer, as the Warriors swingman led the league in three pointers made with 194 converted treys while also averaging a career high 16.4 points per game to go along with 5.5 rebounds and 1.5 steals per contest.
This year has been a bit different tale for the 26-year-old Wright. His numbers are down across the board (11.4 points, 4.6 rebounds, 1.0 steal) and his inconsistent shooting has left many Warrior faithful scratching their heads wondering if Wright was worth $11 million for three years.
Well, fans by the bay need not pick at their scalps in skepticism for too long. Wright will be in the long-term plans for Golden State and a key starter in the team's future.
Wright is a proven marksman from behind the arc and his numbers show for it. A career 37 percent shooter from three-point land, many winced at Wright's 17.6 percent average in December, thinking poor performances would remain with him throughout the season. He has since leveled out his stroke shooting 42 percent through the months of January and February, hiking his season average back to his usual 37 percent.
What has perhaps been more noteworthy is that though his per-game scoring is down this year, Wright's field-goal percentage is slightly improved from last season. He is averaging 44 percent from the floor this season, compared to 42 percent in 2010-2011.
So why are Wright's scoring numbers down? Well, as it stands, Golden State has a logjam at the 2 and 3 spots on the court. Wright's been battling for time with the hot-handed Brandon Rush and defensive specialist Dominic McGuire, and is playing just 30 minutes per game compared to last season's exuberant 38.4. He's taking almost five fewer shots from the field on average, down to 9.2 from last year's 14.0 field-goal attempts per game.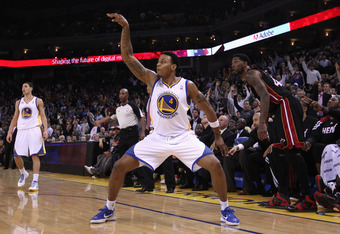 Ezra Shaw/Getty Images
With Rush leading the NBA in three point percentage and head coach Mark Jackson crediting McGuire as his "defensive stopper," it will be tough for Wright to see the same amount of playing time allocated in his favor from a year ago.
However, Wright remains the clear No. 1 option at small forward for the Dubs. Both Rush and McGuire have their shortcomings; Rush is undersized when playing the three and McGuire, though an excellent perimeter defender, struggles with both scoring and rebounding.
While Wright struggles at times defensively to keep penetrating defenders from the perimeter in front of him, he makes up for it with his defensive rebounding. His decreased 2011-2012 rebound tally can also be attributed to his diminishing minutes, but at 6'9" Wright has the length and box-out ability to dominate most small forwards in the league on the boards.
Scoring-wise, Wright is more of a complete player than Rush. Though Rush is the more consistent shooter from distance at 42 percent for his career, Wright possesses the better mid-range jumper and is better in the lane. And while Jackson continues to ride Rush's groove, it will only be a matter of time before his numbers start to temper.
As the season rolls along and should he stay healthy, Wright's scoring should continue to improve and come more persistently. As the starter, he'll continue to get solid minutes and should at least come close to his 2010-2011 totals. Jackson and the Warriors organization are big on Wright and should continue to closely oversee his development.