Top 10 Uruguayan Players in World Football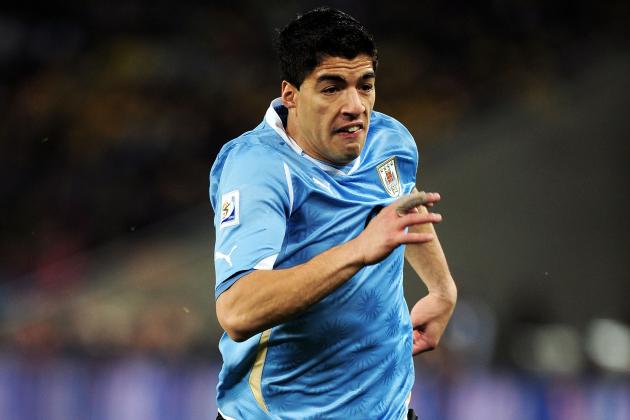 Clive Mason/Getty Images

China is home to over 1.3 billion people, yet the nation can't produce 11 somewhat decent footballers.
Just to give you an indication of how tiny Uruguay is: If you multiply its total population seven times, it would just about equal the amount of people living in Shanghai.
That being said, good things come in small packages, and Uruguay have a rich footballing history.
One that includes two FIFA World Cup triumphs, two Olympic gold medals and fifteen Copa América titles.
Somehow with around 3.3 million people, the South American nation continues to churn out world-class footballers.
This article will celebrate Uruguayan footballers by listing the nation's top 10 current players.
Begin Slideshow

»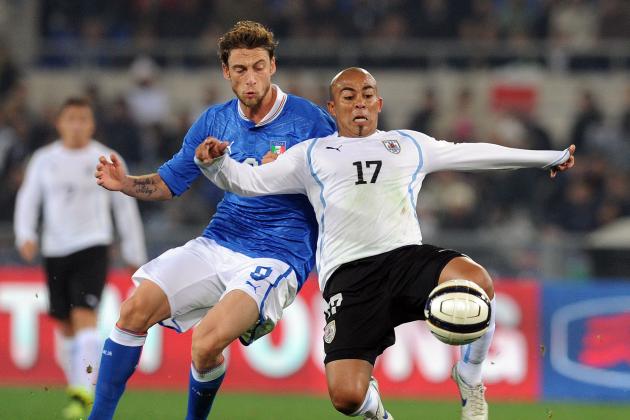 Giuseppe Bellini/Getty Images

Egidio Arévalo Ríos was the only Uruguayan named in El País's 2011 South American team of the year.
The hard-nosed midfielder snaps at the ankles of opposing players and cleans up in midfield.
Eric Cantona would deem Ríos a water carrier, but players like him win back possession, thus allowing the attacking midfielders and forwards to cash in.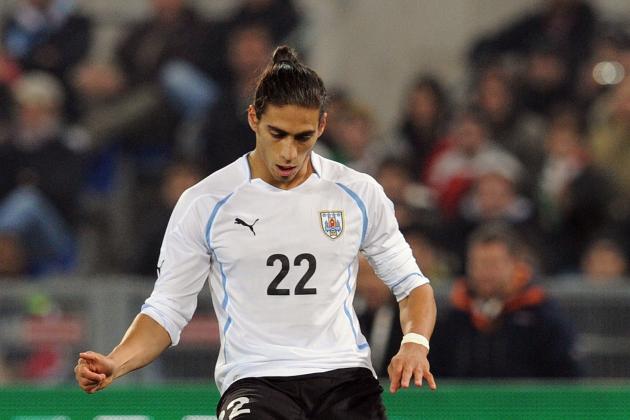 Giuseppe Bellini/Getty Images

Martín Cáceres is a high-energy footballer whose intensity and recklessness can overwhelm opposing players.
However, his strongest asset is also a weakness, because he is prone to being carded.
It doesn't surprise me that Antonio Conte has decided to give Cáceres another chance at Juventus.
The Uruguayan is versatile in that he can play anywhere at the back, he's hard working, he's quick and he wins back possession.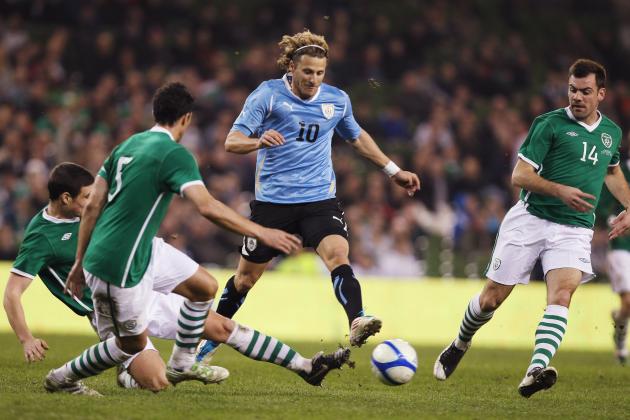 Ian Walton/Getty Images

Diego Forlán's spell at Inter Milan has been hampered by a left thigh strain, a sprained ankle and a right thigh strain.
He didn't light it up at the Copa América, but he compensated with a great performance in the final against Paraguay.
People don't give enough credit to Forlán for being ambidextrous because he's always had to practise with both feet.
Then you have him mastering the Jabulani ball whilst his fellow professionals were whining about how bad the ball was.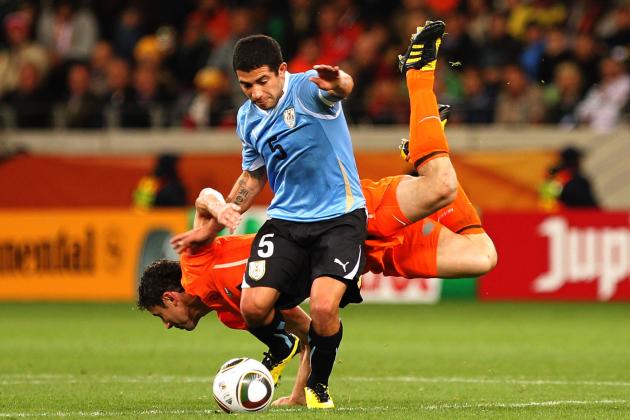 Doug Pensinger/Getty Images

Walter Gargano has accumulated 55 tackles and 29 interceptions in 18 Serie A games.
He has pedigree when it comes to the defensive side of the game and he's formed a solid partnership with Gökhan Inler.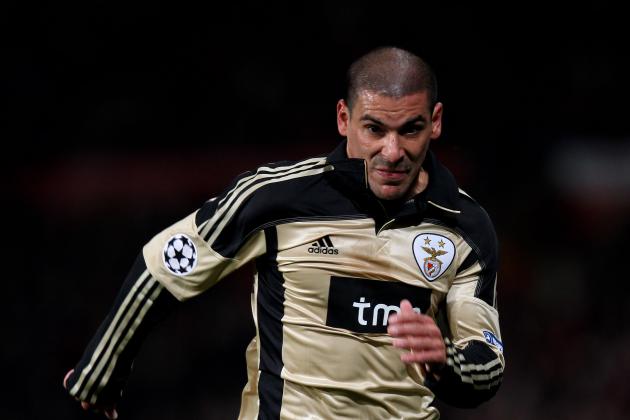 Alex Livesey/Getty Images

Maxi Pereira's tireless running and tenacious tackling has seen him transition into one of the best right-backs in the world.
Unfortunately, he doesn't play in a league that would expose him to a larger audience, thus his performances generally go unnoticed.
Nonetheless, football aficionados recognise his importance to Benfica and Uruguay.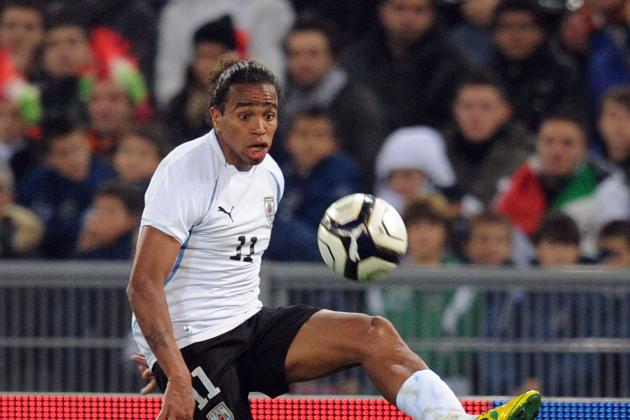 Giuseppe Bellini/Getty Images

A UEFA Europa League champion, Portuguese League champion, Portuguese Cup champion and a Copa América champion—Álvaro Pereira is a winner.
Why is he a winner?
Well, teams want selfless footballers like him who rise above adversity.
When Uruguay needed a hero against Chile and Mexico during the Copa América—who rose up?
Pereira.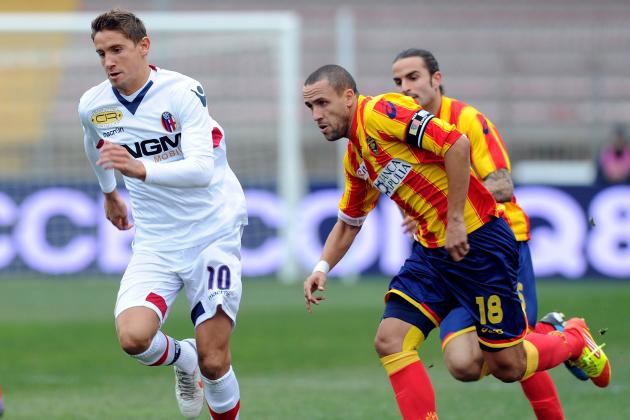 Giuseppe Bellini/Getty Images

Assuming Gastón Ramírez continues to develop, he should make the transition from young starlet to world-class footballer.
At 21, he dances around opposing footballers because he's that good.
He's the second-most fouled player in the Serie A.
Rather than spend a fortune on Eden Hazard, big clubs like Chelsea should take a calculated risk by spending £10-15 million on Ramírez.
If Galatasaray had postponed signing Fernando Muslera after the Copa América, Lazio would have been well within their rights to increase the transfer fee by another €5-10 million.
At times, Muslera is literally a wall in front of goals due to his astounding reflexes.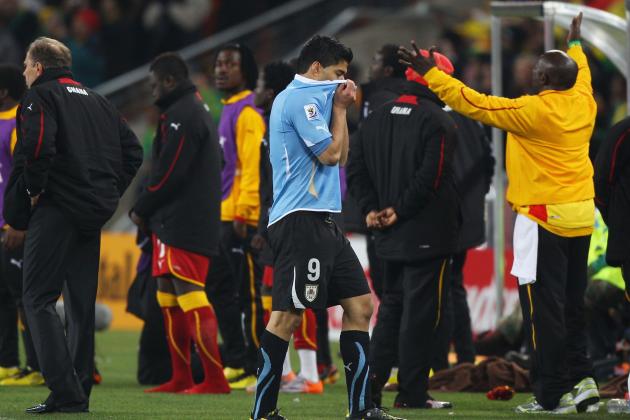 Michael Steele/Getty Images

Luis Suárez is ferociously competitive and will do anything to win.
Even getting himself sent off by acting like a goalkeeper just to deny Dominic Adiyiah a chance at glory in the World Cup.
Suárez is technically perfect and has an eye for goal, so it's disappointing to watch Liverpool partner him with the uncultured and lumbering Andy Carroll.
Throughout the season, Carroll has been so bad that Suárez has had to lead the line for Liverpool, create chances, pressure defenders and provide his teammates with inspiration.
In short, he's carried this Liverpool attack.
His statistics are mediocre but if Liverpool partner him up with a world-class forward, then Suárez would score 35-plus goals per season.
Edinson Cavani is, without doubt, Uruguay's best footballer right now.
Unlike Andy Carroll, Cavani can actually control the ball, has a football IQ that is high and a heart of a champion, and he scores goals.
I'll never forget his epic 2010-11 season, when he scored six late game-winning or equalising goals.
Nonetheless as great as Cavani is, he also has his weaknesses.
By trying to play too many through balls, he only completes 69.2 percent of his passes, which isn't good enough.
He'a also missed three penalties in the span of a year.
Granted one was saved by penalty-saving extraordinaire Samir Handanović, Cavani needs to convert every single one of his penalties.
He can't be like Michael Owen, who only converted 56 percent of his penalties.
Please read 11 Clubs That Won the Most in January Transfer Window.
Follow me @ http://twitter.com/allanjiangLIVE.