2012 NFL Draft: Morris Claiborne Will Be the Next Darrelle Revis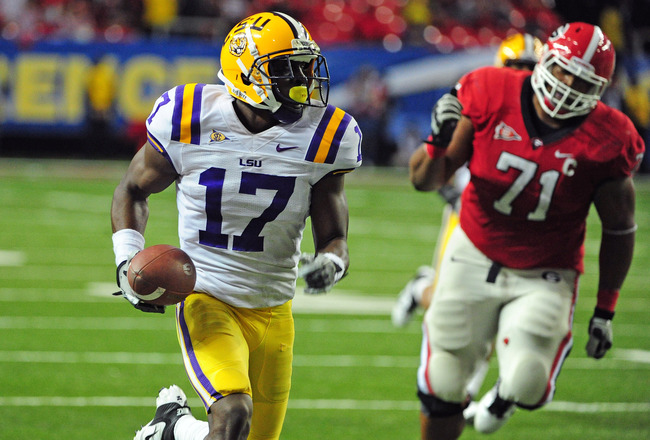 Scott Cunningham/Getty Images
It's safe to say that former LSU Tigers cornerback Morris Claiborne is the next shut-down corner to play in the NFL, just not alongside the other shut-down corner in the NFL, Darrelle Revis.
In 2010, Claiborne was the understudy of current Arizona Cardinals CB Patrick Peterson. Since most QBs were scared to throw to Peterson's side of the field, Claiborne saw most of the action. Well, in 2011, it was Claiborne who led the LSU secondary, and QBs didn't want to throw at him, so instead they threw to Tyrann Mathieu.
Claiborne won the Jim Thorpe Award in 2011 for being the best cornerback in college football, and he surely deserved it. With 51 total tackles, six interceptions and a special teams beast as well, Claiborne did it all.
Not to anyone's shock, Claiborne has drawn comparisons to NFL star corner Darrelle Revis of the New York Jets because of his unteachable ability to completely take receivers out of the game.
In personally seeing Claiborne, I have come to the conclusion that he's going to make a team very happy on the first day of the NFL Draft.
Here is why Morris Claiborne is going to be the next Darrelle Revis, if not more.
Abilities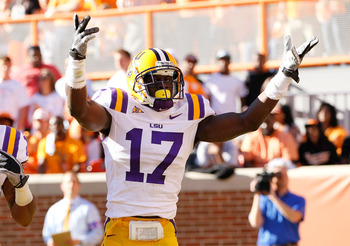 Kevin C. Cox/Getty Images
At 6'0" 185 lbs., Claiborne has great size to match up with just about anyone on the NFL level.
He played the best against the biggest receivers he went up against at LSU, because his best asset is his strength in bump, man-to-man coverage.
Claiborne excelled the most in his game when he was able to get in a power fight with big, bulky receivers and this is something many have noticed of Darrelle Revis.
Not only is Claiborne a powerful athlete that will stick you at the line of scrimmage, his speed is what allows him to play great zone coverage.
Many times when LSU was playing a zone coverage, Claiborne would disguise himself to put on the illusion to the opposing quarterback that he had an open window to throw in. That, in turn, would allow Claiborne to disrupt the pass or intercept it.
This is hardly a teachable asset that few corners possess, and that's what makes Claiborne a special prospect, and is one of the big reasons he is going to excel at the next level.
Flexibility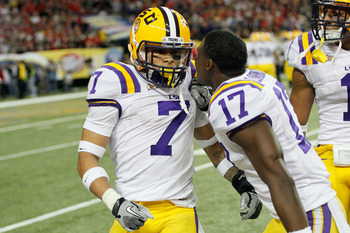 Kevin C. Cox/Getty Images
A good cornerback is an athlete that can consistently prevent the opposing receiver from success on the offensive side of the ball. A great cornerback is an athlete that can completely take receivers out of games, shadow themselves to confuse opposing quarterbacks and play any type of defense with ease.
Well, a great cornerback is Morris Claiborne in a nutshell.
One of Claiborne's biggest assets is his flexibility in the secondary—meaning his abilities are not confined to a specific style of defense—but he has the capability to play mind games with opposing quarterbacks and make it a long day.
Claiborne allowed LSU to play with whatever defensive scheme they desired according to the offensive formation the opposing offense presented. Within that defensive scheme, the Tigers were able to shift Claiborne anywhere they wanted on the field to put the defense in a prime position to make a play.
Any typical corner does not have the ability to easily shift from one defensive spot to the other in the secondary—it takes special skill for that. Claiborne has the mindset of a wide receiver, and that allows him to have a great niche to what is about to happen, and ultimately that is what makes him a superb talent.
Fortunately for Claiborne, NFL teams are going to strongly admire the flexibility that he has, and that's going to likely heighten his chances to be a top five selection in April's draft.
Special Teams Specialist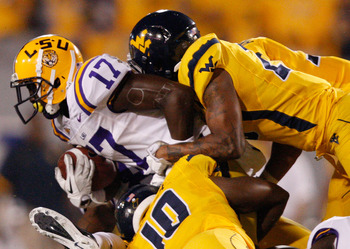 Jared Wickerham/Getty Images
Not only is Claiborne a defensive fiend, he is an extravagant special teams athlete.
Claiborne led LSU in kick return yards in 2011, with 25 yards per return. What was really impressive was his 99-yard return against West Virginia early in the 2011 season.
It's his speed and awareness that allows him to find the lane on returns, and don't think he can't flip a game completely with his abilities as a return man.
Obviously he's drawn many comparisons to his old teammate Patrick Peterson, who was quite an excellent return man himself at LSU.
Peterson had a few great returns with the Arizona Cardinals in 2011.
This dynamic of Claiborne's game is something that may eventually propel him past Darrelle Revis talent-wise. I mean, being able to be the most dominant player on defense is one thing, but if he can also contribute to field position on special teams, he could be in the Hall of Fame in the future.
I don't want to jump my horse too fast here, because nobody has seen Claiborne play at the next level yet, but he has proven everything and more to be a potential elite player in the NFL.
Keep Reading