New Orleans Saints: Why Steve Spagnuolo Will Make Greg Romeus a Star
February 8, 2012

Andy Lyons/Getty Images
Greg Romeus is a player that most New Orleans Saints fan have never heard of. I can guarantee you that new defensive coordinator Steve Spagnuolo knows exactly who he is, and will be looking forward to working with this young gun.
Romeus is a defensive end that the Saints picked up in the seventh round of last year's draft.
While at Pittsbugh, Romeus was considered one of the top defensive ends in the nation. His potential seemed limitless, and the talks were that this defensive standout could go in the first round of the NFL draft.
However, in his senior season, Romeus suffered a torn ACL, and was unable to participate in many of the exercises at the NFL Combine and at Pitt's pro day.
NFL teams began to worry about Romeus' durability, and the recovery of his knee. As we all know, health is a big issue in the National Football league, and teams very rarely take a chance on a player that has a serious injury.
This is exactly what happened to Romeus in last year's NFL draft.
The scouts had first talked about him going in the first round, or early second at the latest. As his injury became more and more apparent, the talks were that he could drop into the middle rounds.
As it turns out, Romeus fell all the way to the seventh round, where the Saints chose him with the 226th pick in the draft.
Romeus is a perfect fit for the Saints. New Orleans can definitely use some help at the defensive end position, and choosing Romeus with a seventh round pick is a very low risk, high reward type of move.
Standing at 6'5" and weighing in at 267 pounds, Romeus is definitely a big guy on the defensive line.
It also just so happens that Spagnuolo's favorite kind of players at the end spot are tall, long and athletic players.
Take a look at guys he has coached in the past. Osi Umenyiora of the Giants is 6'3" and 255 pounds, while Justin Tuck is 6'5" 268 pounds.
Romeus and Tuck and nearly identical in size, and Spagnuolo is more than likely drooling as he thinks about Romeus' potential.
The only thing that is holding back this young player is injuries, but he seems to have recovered well from that ACL tear. Romeus was practicing with the Saints towards the end of the 2011 season, but was not ready to play.
The fact is that the Who Dat Nation, as well as the Saints, have no idea what they will be getting from this young player, or what to expect.
We could see a star born right before our eyes, but we could also see another seventh round draft pick fall flat on their face, and be out of the league in a few years.
In my personal opinion, I believe that we will see the former take place. Romeus has all of the tools and talents to be a star in the NFL. Now he has the coaches to teach him how to do it.
We are talking about a head coach, in Sean Payton, that has turned seventh round draft pick Marques Colston into one of the most coveted free agents to hit the market this offseason.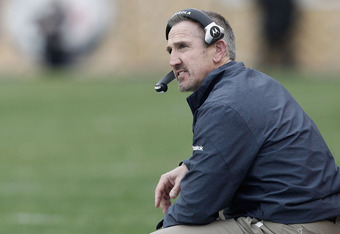 Jared Wickerham/Getty Images
This is the same coaching staff that took Jahri Evans and Carl Nicks in the fourth and fifth rounds, respectively, and has developed these two players into All-Pros.
Undrafted free agents Lance Moore and Pierre Thomas were both picked up by the Saints, and eventually helped lead the team to a Super Bowl title.
If any team can take Romeus and develop his talents, it's the Saints. Now that Spagnuolo is the defensive coordinator in New Orleans, the Saints should be able to turn Romeus into another late-round gem.
Spagnuolo's primary unit on defense is the defensive line. He expects the most from this unit, and the performance of his defense depends a lot on the level of play from these guys.
I believe that Spanguolo will have this group of guys playing the best football of their careers. He should be able to come in and teach Romeus, as well as the other players, how to play the defensive end position at an elite level.
Players like Junior Galette, Turk McBride and Jeff Charleston are all talented players, but may be nothing more than depth guys for the Saints. However, a player like Romeus, who has every part of the game and just needs to be developed, should do just that with Spagnuolo at the helm.
Granted, we have not seen one down of football from Romeus in New Orleans, but I definitely think that he can do it.
Not many people have heard of Romeus yet, but mark my words. This kid is coming in 2012, and the NFL is most likely not ready for what he is going to do.