Projecting the Minnesota Twins' Lineup at the End of 2012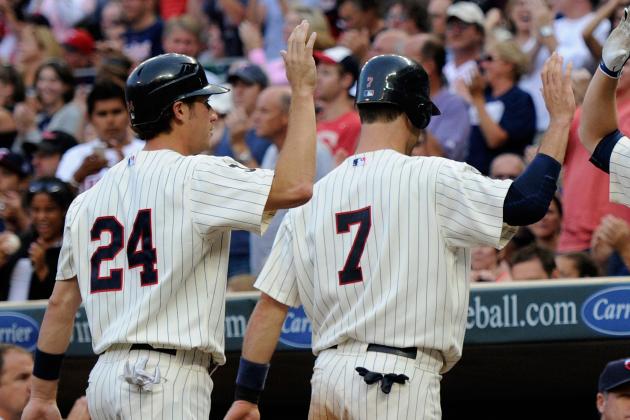 Hannah Foslien/Getty Images

The Minnesota Twins will come into 2012 with as many question marks in their lineup since the late '90s. Losing team leader Michael Cuddyer may hurt more in the clubhouse than on the field. The team's farm system is devoid of high-level prospects ready to contribute immediately, meaning veterans like Denard Span, Carl Pavano and Francisco Liriano may be on the trading block come mid-summer.
For these reasons the Twins lineup may look drastically different from the first game to the 162nd. Here is a look at what you can expect come September.
Begin Slideshow

»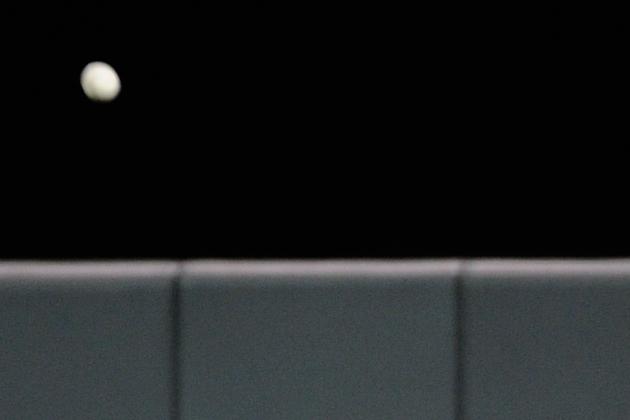 Hannah Foslien/Getty Images

What Revere lacks in arm strength he makes up for in range. Revere may be the fastest player in baseball right now, making him an asset in CF and on the bases.
Revere will take control on the CF job after Denard Span is traded before the trading deadline to a contender. Revere is nowhere near the hitter Span is at this point. He will never hit for power and will have to learn to be more patient and raise his .310 OBP from last season.
Revere provided a spark last June for a club struggling with injuries and underperformance. As the temperature outside heated up, Revere cooled down. In July and August he hit a paltry .234, with just four extra-base hits.
I expect Revere to show a little more patience this season and finish with a line of .280/.340/.350 and at least 55 SBs. That should give the Twins a pretty decent leadoff hitter to set up the rest of the batting order.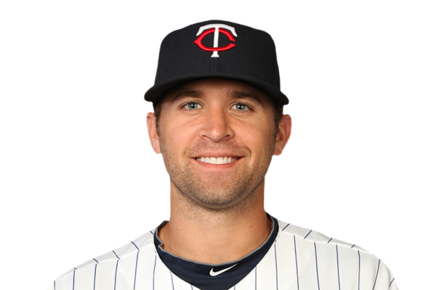 Perhaps the only way you have heard of Brian Dozier is if you are a diehard Twins fan. Dozier, the Twins' top infield prospect and 2011 minor league player of the year, hit a combined .320/.399/.491 while splitting time at A+ Fort Myers and Double-A New Britain in 2011. Dozier is an older prospect as he will be 25 in May, but has progressed quickly since joining the Twins farm system after being selected in the eighth round of the 2009 draft.
Dozier has spent the majority of his career playing SS, but has also played 2B and 3B. He is by no means as good of a fielder as Alcides Escobar, but he is also by not as bad as Asdrubal Cabrera. Dozier does not have the strongest arm, or the most range, but he will be better than 37-year-old Jamey Carroll. Dozier also brings above-average speed and solid baserunning to the team, both things Carroll lacks.
I think Dozier will be called up sometime in late July or August. He should provide more power than Carroll, and be a decent option in the No. 2 spot. Expect his line to be somewhere in the range of .275/.340/.450.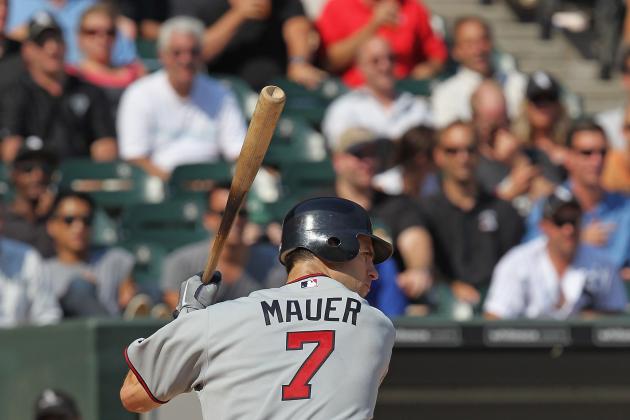 Jonathan Daniel/Getty Images

When your paying a guy $23 million a year he better be the starter at the beginning and end of the season.
Mauer played in just 82 games last year and injuries are always a concern with a 6'5" catcher. Luckily for the Twins and their fans, Mauer seems to have rededicated himself this offseason to staying healthy, after getting battered by the local media on 2011.
I expect Mauer to return to his MVP-like form, and the Twins better hope he does. I expect a line of .330/.420/.475 from Joe in 2012.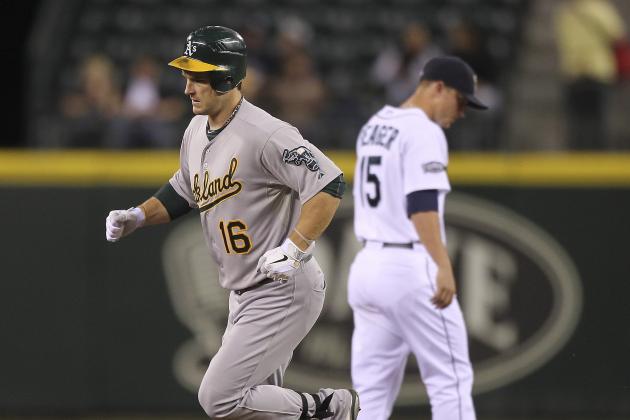 Otto Greule Jr/Getty Images

Because I think Denard Span will be traded midseason, that gives Willingham a chance to move back to LF where he is more comfortable. Willingham is not as good of a fielder as Michael Cuddyer was, but he is not as bad as Delmon Young either.
A lot of people have been projecting Willingham's power numbers to suffer because of his move to Target Field, but I do not see much of a drop-off as he spent last season playing at the O.co Coliseum, which is much tougher on hitters than Target Field according to ESPN's Park Factors.
As a power-hitting righty playing primarily at Target Field, I think Willingham will have a line close to .260/.360/.470 with at least 20 homers and 90 RBI.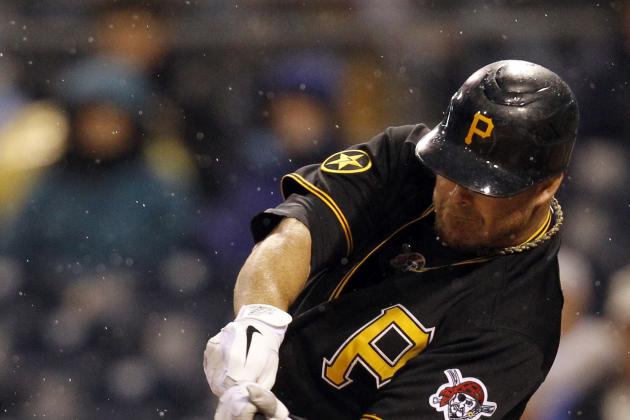 Justin K. Aller/Getty Images

Ryan Doumit comes to the Twins after spending his entire career with the Pirates. He was a very solid offseason pickup, signing a one-year contract for $3 million. Doumit can play catcher and 1B, and has even spent some time playing RF in the past.
At the plate Doumit will bring a solid bat, but nothing spectacular. Expect a line of .275/.335/.430 with 10 to 15 homers. Doumit also brings value as a switch-hitter when coming off the bench.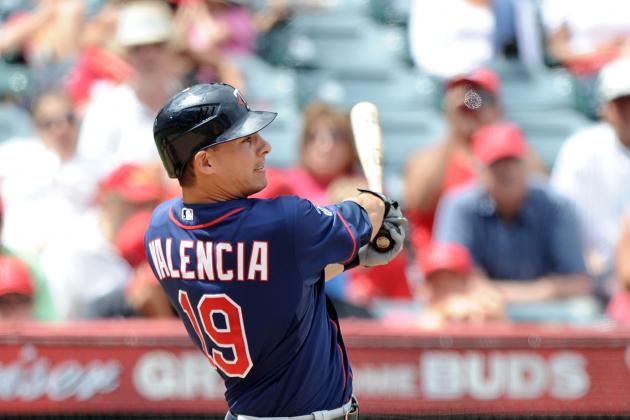 Harry How/Getty Images

After a promising rookie season in 2010, Valencia took a big step back during his sophomore campaign. Valencia needs to be more patient at the plate and improve his defense if he wants to be the Twins' long-term solution at 3B. He is primarily a fastball hitter and must improve on recognizing breaking balls as well.
I think he will take a minor step forward this season, but Valencia lacks any real competition at the position. I expect a line of .260/.315/.415 from Danny in 2012. He will be much more valuable if he can improve on his .239 batting average with runners in scoring position.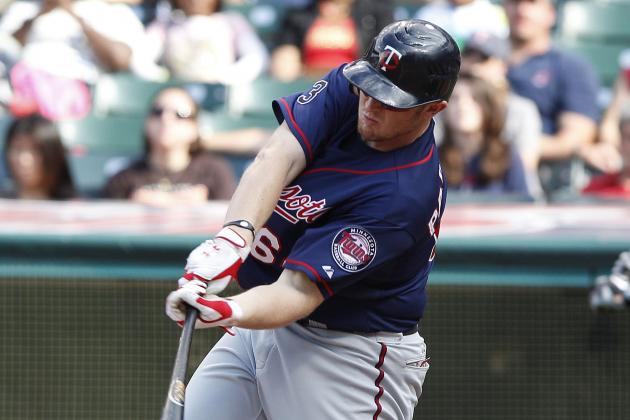 David Maxwell/Getty Images

Parmelee, a first-round pick out of high school in 2006, finally had his patience pay off with a September call-up last year. Parmelee was an absolute revelation for the Twins lineup last season too, hitting .355 with an OPS of over 1.000, all from the left side of the plate. Parmelee has shown great patience at the plate throughout his minor league career, and now the Twins are waiting for his power potential to show up.
Parmelee will be just 24 years old this season and take over 1B for Justin Morneau if he cannot stay healthy. Needless to say, I am not optimistic about Morneau's prognosis after recurring concussion problems have shortened his last two seasons.
Although he will not hit .355 over the course of an entire season, I do think he will perform well in 2012. His line should be around .270/.350/.420 this year, and could approach 300 ABs, depending on Morneau's health.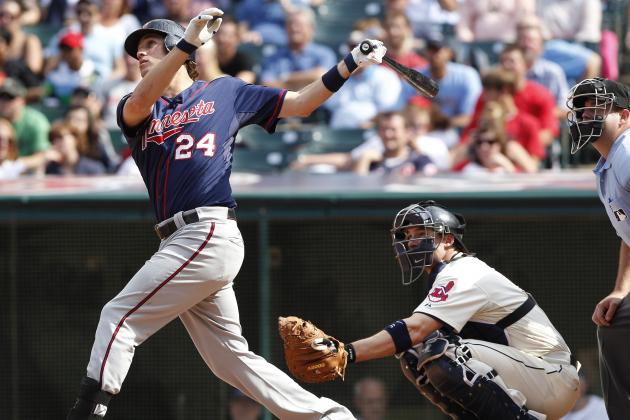 David Maxwell/Getty Images

If my prediction of Denard Span's departure is correct, Plouffe will be the Twins' first option in RF. The former first-round selection and SS was transitioned to the OF last season and saw his batting numbers rise as a result. He did not perform well in the field last season, but given the fact that he never played the position before, it really was not that bad. Expect him to be an average OF in the future.
At the plate Plouffe showed vast improvements last season, and even showcased the ability to hit for power. Unlike most hitters, Plouffe actually fares much better against breaking balls than fastballs. If he wants to keep his spot in this lineup for years to come he must improve on the .159 he hit on fastballs. Expect a line of .250/.310/.415 for Trevor in 2012. If he reaches 300 ABs expect 12 to 15 HRs.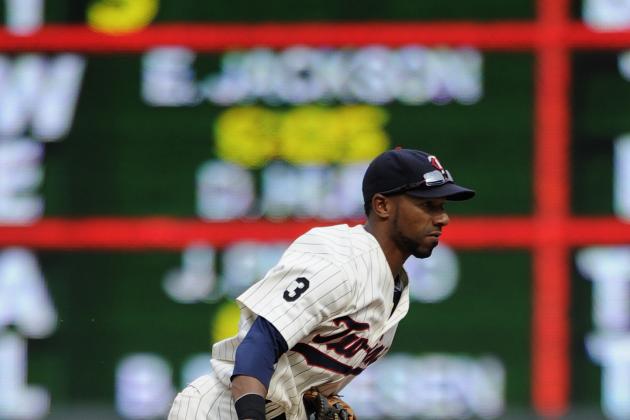 Hannah Foslien/Getty Images

Alexi Casilla can be frustrating for any Twins fan to watch. One game he looks like the 2B of the future, but the next two he looks like he does not belong in the majors. He struggled mightily on the road last year, hitting just .218 compared to .307 at Target Field. To give him credit, he also rebounded nicely after a terrible April in which he hit just .167.
By this point in his career you know what Casilla will give you at the end of the season; a line of .270/.330/.370 would be in line with his career averages. The problem with Casilla is you never know how many ups and downs it will take for that mean to present itself. If he can become more consistent, both in the field and at the plate, he will turn into a very quality second baseman.