The 5 Worst Captains in the NFL Last Season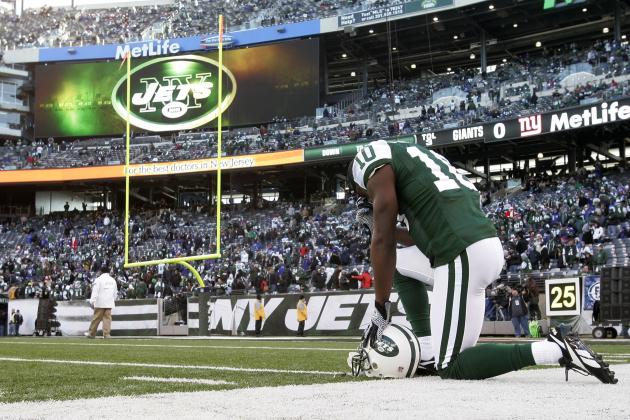 Rich Schultz/Getty Images

When an athlete is honored with the title of captain, several things are instantly expected of him.
A captain's job, first and foremost, is to set a high standard of professionalism for his teammates to emulate. Several players on this list failed to do this—either by breaking league rules, losing their temper on the field or the like—and these players have been ranked higher than their counterparts who only struggled statistically.
A captain should also perform at a high level on the field. One of the best ways to judge on-field performance is by referring to statistics (although this is debatable), so you'll see a couple guys on this list who simply didn't put up the big numbers expected of an athlete in a position of leadership.
A captain should also help led his team to victories, therefore you'll notice that no player on this list was a member of a playoff squad in 2011.
I could have inadvertently left some players off this list. So if you have an opinion of your own, let me hear it!
Enjoy.
Begin Slideshow

»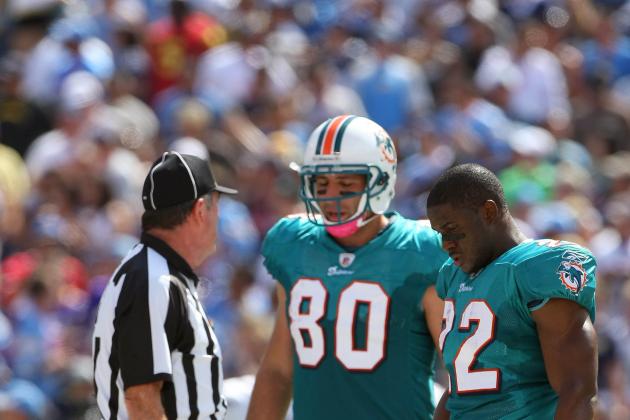 Donald Miralle/Getty Images

It may be a little unfair to put Henne on this list considering that he played in only four games last season. However, the fourth-year man out of Michigan wasn't exactly setting the league on fire when he went down with a shoulder injury in Week 4.
At the time of that injury, Henne was completing less than 60 percent of his passes. Also, he was averaging a mere 217 yards per game through the air and he had thrown as many interceptions as touchdowns (four). However, the number that most influenced Henne's inclusion on this list was his 0-4 record as a starter.
Henne will be a free agent this offseason, and the South Florida Sun Sentinel reports that his chances of returning to the Dolphins are "slim."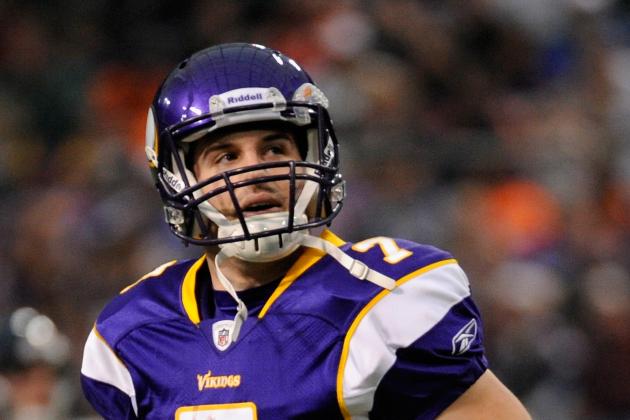 Hannah Foslien/Getty Images

Granted, Christian Ponder was only a rookie last season, and he didn't exactly have a world-class receiving corps but he ranked near the bottom of the league in almost every passing category. Hence his inclusion on this list.
Ponder took the helm of a sinking ship after Donovan McNabb's benching in Week 6 and did little to keep the crew from drowning to death. He started the last 10 games for the Vikings and led them to a 2-8 record. He threw 13 touchdowns but 13 interceptions as well. His 70.1 quarterback rating ranked 31st in the NFL, in front of only Blaine Gabbert, Curtis Painter, and John Skelton. His 168 passing yards per game ranked 32nd.
Unlike several other players on this list, he didn't fail to live up to the moral and behavioral standards of an NFL captain, and there's something to be said for that. He's simply a young, inexperienced player experiencing the growing pains that some quarterbacks feel while making the transition from college ball to the NFL.
Ponder could have a bright future ahead of him, early hiccups aside. The fact that the Minnesota coaching staff held him in high enough regard to name him an offensive captain in his first season says a lot about the quality of his character. Only time will tell.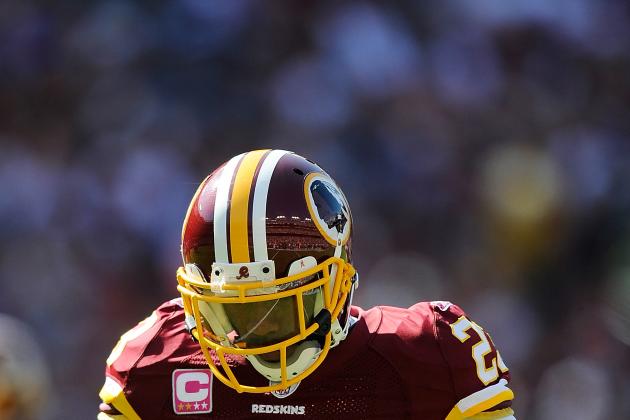 Patrick McDermott/Getty Images

For a majority of the season, DeAngelo Hall lived up to the expectations of a defensive captain. However, two instances during the Redskins' game against the Patriots on December 12th earned him a spot on this list.
The first occurred in the first quarter, when Rob Gronkowski caught a pass at midfield and rumbled his way deep into Redskins' territory. Two Washington defenders latched onto the 265-pound tight end and desperately tried to drag him to the turf, but Gronk broke free and rumbled for a 49-yard gain. Hall was close to the play but slowed up before he got to Gronkowski and watched him break free down the sideline.
Later in the game, Hall was called for a five-yard holding penalty against Wes Welker. Hall was visibly irritated with the call, and he walked over to the penalty flag and threw it back across the field. The outburst cost the Redskins another 15 yards on top of the initial five-yard holding call.
Coach Mike Shanahan critiqued Hall's actions in a post-game interview:
Especially when guys are in a leadership role, we understand that you have to keep your cool, regardless of if you like a call or don't like a call. That's your job to handle yourself in a professional manner, and more importantly, not put your team in a hole by having a 15-yard penalty. That's one of the things that I talked about to our football team. You make too many of those mistakes and you're not with us.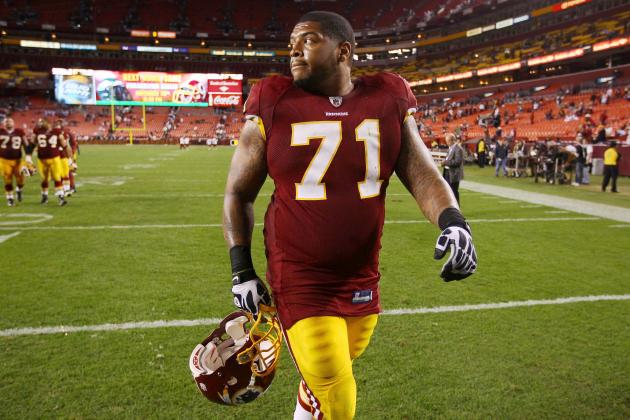 Win McNamee/Getty Images

2011 was not a successful season for the Redskins or their captains. Trent Williams, Washington's first overall pick in the 2010 draft, was suspended on December 6th (along with tight end Fred Davis) for failing a league-issued drug test. The alleged culprit was marijuana.
It was Williams' third failed drug test since entering the NFL. His first allegedly came sometime during the 2010 season. His second came at the beginning of training camp this year, but the NFL's 30-day post-lockout grace period saved him from receiving any sort of suspension. The straw that broke the camel's back, so to speak, came in November of last year, when Williams failed his third drug test, and the NFL handed down a four-game suspension.
Williams may have smoked away any chance of remaining an offensive captain next season.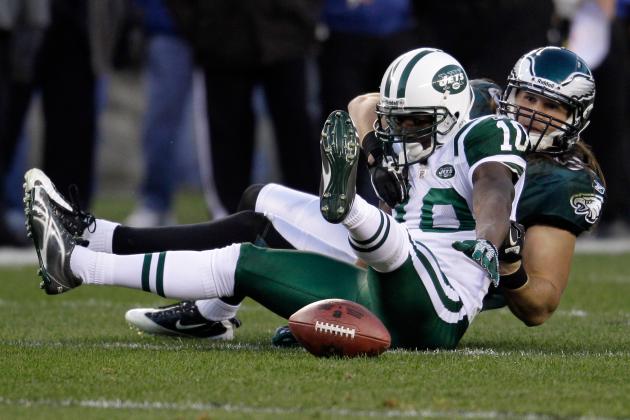 Rob Carr/Getty Images

It would be hard to write off the 2011 campaign as a failure for Santonio Holmes, as least when one looks at his season through a statistical lens. The speedy wideout's numbers were right on par with his career averages (51 catches, 654 yards), and he actually led New York's receiving corps with eight touchdown receptions.
However, two things transpired that worked against Holmes' favor. First of all, the Jets failed to make the playoffs. While that certainly doesn't help Holmes' cause, that fact alone wouldn't warrant a spot on a "Worst Captains" list. What does qualify him for a list such as this, in my opinion, is Holmes' dubious behavior that led to his benching in the Jets' season ending loss in Miami.
According to an interview with LaDainian Tomlinson in the Star-Ledger:
Let me just say that there were guys in the huddle that were unhappy with Tone's demeanor. And when you have a group of guys who are fighting their butts off, and one guy who—for whatever reason, his demeanor isn't with 'em—you'll have guys try to say something to him, just pretty much tell him how they feel. That's what you got today.
Another one of Holmes' teammates (who decided to remain anonymous) simply stated, "He quit. It's happened for the past two to three weeks. It's happened all season."
Giving up on one's teammates is the ultimate no-no for any athlete, but that rule goes double for a captain—a player who is, by definition, supposed to lead the team and set a shining example of how to play the game in the right fashion.
Apparently, Holmes failed to live up to the standard of professionalism inherent in the title that was bestowed upon him, and that's my justification for putting him at No. 1 on this list.