Knowshon Moreno and the Denver Broncos' Fall from Glory
February 10, 2012

Doug Pensinger/Getty Images
The Denver Broncos made it to the playoffs this year, but it certainly wasn't in the manner you'd like to see. 
We all suffered through "Tebow Mania" and insufferable fourth quarter comebacks, as well as two unforgettable beatings by the New England Patriots. Fans were once again forced to watch as Knowshon Moreno was sidelined with injuries.
The Broncos were never a contender this season and we all knew it, even if we wouldn't openly admit it. What happened to the days when the Broncos were a legitimate contender?
Josh McDaniels happened.
It was just after the 2008 season and the Broncos were coming off yet another season of just barely missing the playoffs. The Broncos front office started cleaning out coaches, including head coach Mike Shanahan. Those were all okay things. Sometimes a team needs some new coaching blood to get them going.
Choosing Josh McDaniels was the biggest mistake they could make.
McDaniels looked the part. He had been the offensive coordinator for one of the leagues most potent offenses—that of the Patriots—and was young and exciting. It took him just three months to completely disassemble a championship worthy team.
On January 11, 2009 the Broncos announced the hiring of Josh McDaniels as their new head coach. By April 3, 2009 he had successfully alienated star quarterback Jay Cutler and traded him to the Chicago Bears for two first round picks and Kyle Orton, while giving them Jay Cutler and a fifth round pick.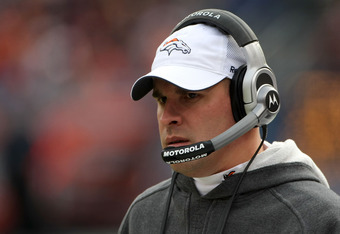 Doug Pensinger/Getty Images
In under a year, he would trade away running back Peyton Hillis and wide receiver Brandon Marshall. 
On March 14, 2010, McDaniels traded Hillis, along with a sixth round pick and a conditional pick in the 2012 Draft, to the Cleveland Browns for quarterback Brady Quinn. Just two seasons earlier Hillis had been a phenomena in the NFL, running over opposing teams linebackers and averaging five yards a carry.
McDaniels chose not to use him and to instead, draft his own running back, Knowshon Moreno. Though Hillis and Moreno could have turned into one of the best tandems in the NFL, McDaniels refused to let Hillis see the field.
In Hillis' first season with the Cleveland Browns he rushed for over 1,000 yards and 11 touchdowns.
The same thing happened with Brandon Marshall, as on April 14, 2010 he was shipped off to the Miami Dolphins for two second round picks. 
After leading the Broncos to an abysmal 3-9 start in the 2010 season, McDaniels was fired. It was too little, too late. The damage was done.
McDaniels left the Broncos with one of the worst legacies in the league. Now in place of Jay Cutler we have Tim Tebow, a quarterback who'd be better used as a running back. Instead of Peyton Hillis (a seventh round pick), we have Knowshon Moreno (12th overall pick of the 2009 Draft), who appears to be an injury prone back who may never reach a 1,000 yard rushing season, not to mention the fact he recently was recently given a DUI while driving a car with a license plate that reads "SAUCED". He disassembled a team that was a serious contender and left them in smoldering ruins.
Though the Broncos have suffered these setbacks, they seem to be back on the right track under their new head coach, John Fox, who led them to the playoffs in his first season with the team. He ended a drought that started after the 2006 season. Hopefully he can keep the Broncos heading in the right direction.
Cheers to climbing back up the ladder.
You can follow me on Twitter @JustinLStewart