Pittsburgh Pirates' 6 Most Underrated Prospects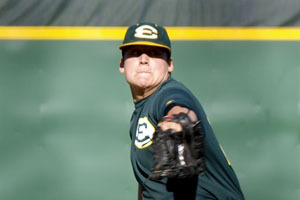 Stetson Allie throws a pitch in high school.
Two weeks ago, I talked about 15 prospects destined for stardom in the Pittsburgh Pirates' organization. This week, I will talk about six prospects that are the most underrated in the system.
There may be some players on each list that make you think, "Why are they underrated if they are also destined for stardom?"
The simple answer to that is that while some players may be destined for stardom, they may also be either underrated by Pirate faithful or even underrated by baseball "experts".
With each player I will give you a description of their tools, including control, power, velocity and pure pitching ability for pitchers and the usual contact, power, speed, arm and fielding for offensive players. In addition, I will discuss the tool that is the weakness according to the "experts" as well as the tool that I feel is each player's best.
Begin Slideshow

»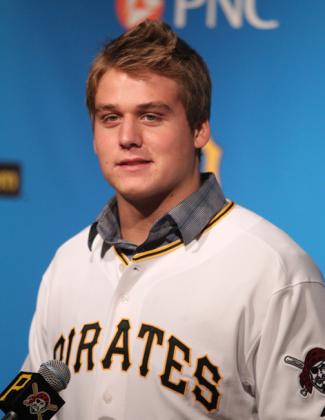 A high draft pick in 2010, Allie is considered the ninth rated prospect in the Pirates' farm system by Baseball America. Allie entered 2011 as a Top-100 prospect in baseball, but a lackluster year with the State College Spikes of the New York-Penn League lowered his stock, as he is now being seen as a kid with tremendous velocity but very little actual pitching skills.
Tools:
Control: F - As a pure power pitcher out of high school, Allie lacked serious control as a high school closer. And so far in his first full professional season, he hasn't shown much progress, walking 29 batters and hitting another nine in just 26 innings.
Power: B+ - Very good power as he registered 28 strikeouts over 26 innings last year. As a senior in high school, Allie struck out 91 in 40 innings.
Velocity: A - Allie's fastball has been clocked as high as 100 miles per hour but he tends to throw it more in the mid to upper 90s.
Pure Pitching Ability: C- - Allie heavily relies on his heater and will try to throw it past hitters. His slider is very good and could be his best pitch, but he lacks a solid third pitch. Unless he can develop one he should figure on seeing more time as a reliever.
Tool of weakness: Control
Tool of strength: Velocity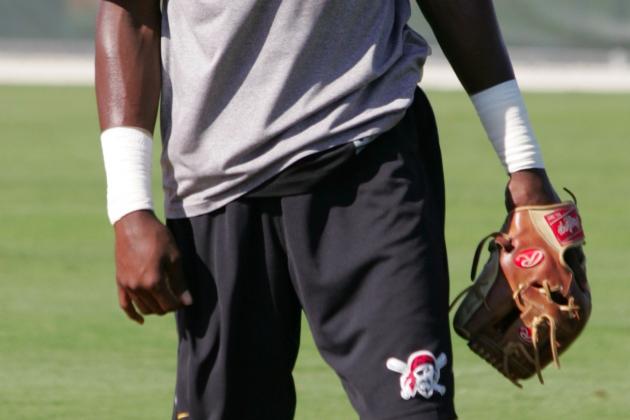 Signed out of the Dominican Republic in 2009, Alen Hanson is a very interesting player in the Pirates' organization. Hanson is a small, wiry guy with more power than you'd expect from his size, as evident by his 41 extra base hits in 123 career minor league games. He can play all over the diamond on the infield, but his arm projects him as a second baseman.
Tools:
Contact: B - Hanson hit .260 last year in two stops but hit .324 the year before. He routinely makes solid contact with the ball.
Power: C- Hanson has good line-drive ability and can hit to the corners. His speed also makes him a threat to take extra bases.
Speed: A- - In 123 career games he already has 14 triples and 44 stolen bases after hitting 7 and swiping 24 in just 55 games last year. His fantastic speed will help him get to the big leagues.
Arm: C - A very average arm that many consider to be too weak to stay at shortstop. Instead, his arm is a better fit for second base.
Fielding: B - Very good range and a solid .981 fielding percentage for his short career at second. The numbers drop at shortstop and third base, so perhaps second base is his calling.
Tool of weakness: Power
Tool of strength: Speed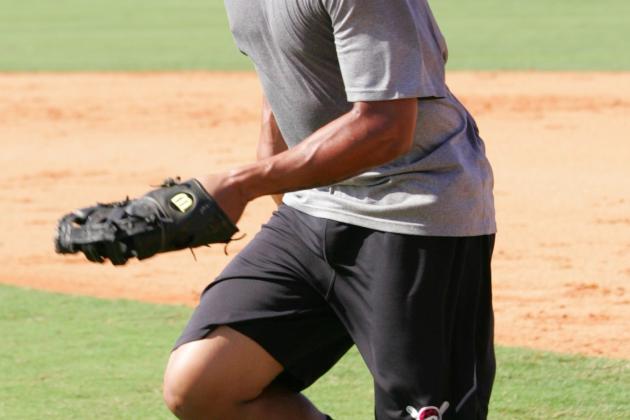 Signed out of Venezuela in 2010, Osuna is a promising first base prospect in the Pirates' system. Osuna is very patient at the plate, very strong and has well-developed hitting ability. After a successful 2010 in the Venezuelan summer league, 2011 was even more memorable for Osuna, and that success should transfer into perhaps a visit to High-A ball and West Virginia over the summer.
Tools:
Contact: B - Very good contact at that plate as referenced by his cool .331 average with the Gulf Coast League Pirates. He saw action in two games with the State College spikes but hit just .250 in those two games.
Power: B - Osuna is a power hitter with 14 homers and 31 doubles credited to him in 114 games. Expect those numbers to rise as he rises in the minors.
Speed: C- - Osuna was moved to first base from left field due to the need for the Pirates to play their quicker outfielders. He's 5-for-11 in steal attempts with three triples in his short career.
Arm: C - He has very average arm in the outfield, but arm strength isn't necessarily a must-have for a first baseman.
Fielding: C+ - Osuna didn't play particularly terrible in left field, but he wasn't a shining star there either. In 2011, his midseason move to first base didn't hurt either as he committed just three errors in 21 games. That number should improve with the more experience he gets.
Tool of weakness: Speed
Tool of strength: Power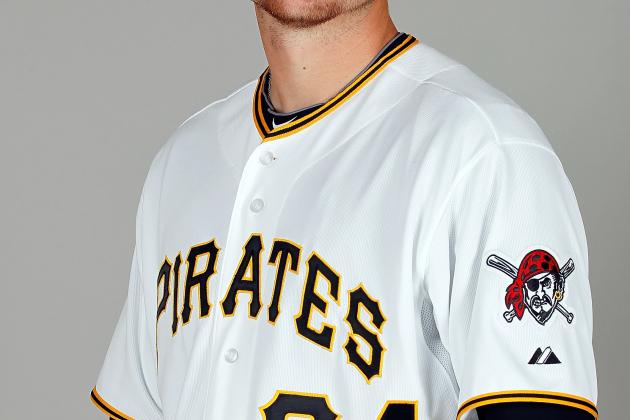 J. Meric/Getty Images

Acquired from the Dodgers in the infamous Jason Bay trade, Bryan Morris has had his fair share of ups and downs since joining the Pirates' organization. This includes a suspension and moving back and forth between the rotation and bullpen at times. But with a solid 2011, Morris finally appears on his way.
Whenever the name Bryan Morris comes up, talk emerges of the other three pieces in that trade—Craig Hansen, Andy LaRoche and Brandon Moss—and many wonder if Morris will ever do anything in Pittsburgh. When he finally does reach the big leagues, expect that talk to become even more out of control.
Tools:
Control: C - Struggling at times during his career with his command, Morris is slowly starting to come around. He struggles mostly with being consistent.
Power: B - He has a career ratio of 7.8 strikeouts per nine innings with 382 strikeouts in 440 career minor league innings.
Velocity: B- - Not very imposing with velocity, but in the mid 90s Morris' velocity is still solid along with his very good power sinker and a very unorthodox delivery.
Pure Pitching Ability: C - The kid can pitch. It took him a while to overcome the effects of Tommy John surgery, but he seems to finally start looking past that after two straight successful seasons in Double-A.
Tool of weakness: Control
Tool of strength: Power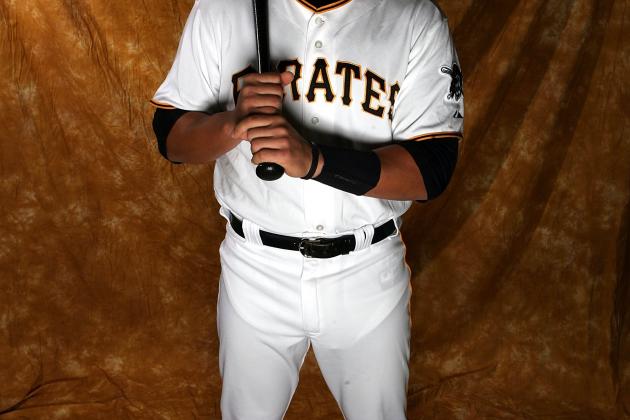 Marc Serota/Getty Images

How, as a No. 4 overall pick, can you be underrated? One lackluster season at the plate.
That's all that it took for Tony Sanchez to be seen as one of the best prospects in baseball only to become a mere afterthought among the Pirates' top 10. When you think of the top Pirates prospects you think of Taillon, Cole, Marte, Bell and Heredia. You no longer think of Tony Sanchez.
A .241 season at Altoona after hitting over .300 at every other stop will certainly get the attention of everyone, but not the good way. The Pirates were heavily scrutinized for taking Sanchez fourth overall, but a lot of that changed when he hit .309 and .314 in his first two professional seasons. Sanchez is great behind the plate, but 2011 changed his future.
Tools:
Contact: B - You can't let one .241 season define his ability to make contact. Granted it's his most recent stop and at a level where pitching starts to become more major league ready. But two consecutive .300-plus seasons certainly isn't a fluke
Power: C - He's not the best power hitter with just 16 homers and 49 doubles in over 220 games. Though Sanchez can certainly provide some pop, he won't be a 15-homer guy in the big leagues.
Speed: C - Sanchez is 8-for-14 in steal attempts and has a triple in his short career thus far. Certainly not the next coming of Jason Kendall, but he's a catcher so his numbers here aren't terrible.
Fielding: B+ - Being seen as nearly major league ready defensively when he entered the draft is impressive praise. He has gotten much better at calling games, too.
Arm: B+ - Sanchez has an above-average arm and is seen as a guy that can control the running game at any level he plays.
Tool of weakness: Power
Tool of strength: His defensive game
J. Meric/Getty Images
Former top prospect Gorkys Hernandez
There were a few honorable mentions that didn't quite make my list.
1. Gorkys Hernandez. Hernandez was formerly a highly ranked prospect by Baseball America in both the Tigers' and Braves' organizations, including cracking the Top 100 list twice. Unfortunately, after coming to the Pirates in the Nate McLouth trade along with Charlie Morton and Jeff Locke, Hernandez had two subpar seasons with batting averages around .265. But in 2011 at Triple-A Indianapolis, Hernandez regained his form to the tune of a .283 average with a career-high nine triples, along with 21 steals.
Hernandez was written off following those two poor seasons, and even after turning it up in 2011 he still hasn't remotely regained the notoriety he got early in his career. Perhaps this is due to his age (23).
2. Brock Holt. Holt is a career .303 hitter in the minors with a career high of .351 in 2010 at High A ball. Holt has never gotten any recognition from the scouts or experts for his consistent ability to hit the ball. In 2011, at Altoona, he hit .288 with nine triples, 18 steals and a .356 on base percentage. He can get on base and has solid speed.
Tack on his .973 and .980 fielding percentage at shortstop and second base respectively, and Holt is a very valuable piece in the Pirates' organization who can be used as a trade chip or even as a great utility player down the line.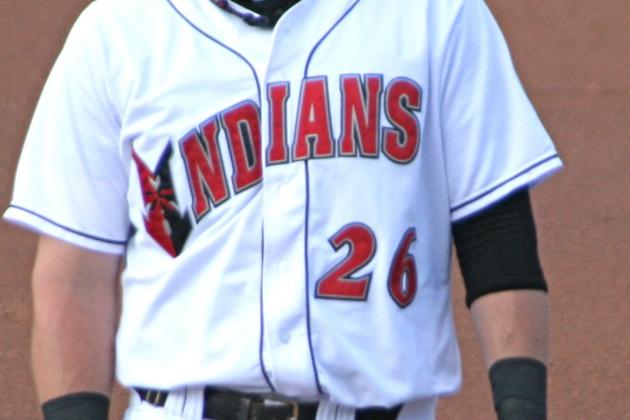 Matt Hague has never received much recognition on any prospect rating publications, but he certainly has the skill set to warrant being on those lists.
Drafted in the ninth round of the 2008 draft out of Oklahoma State, the 6'3", 200-pound first baseman certainly contains traits worthy of a top 10 organizational prospect, even before the likes of Taillon, Cole, Allie, Heredia, Bell and others made the list.
Before the 2011 season, however, Baseball America ranked Hague with the best strike-zone discipline in the Pirates' organization.
Midway through the 2011 season, Baseball America featured Matt Hague as the third best prospect of the week spanning from June 17th through 23rd here. In that article, Baseball America had the following to say about the 26-year-old:
"Hague, a ninth-round pick in 2008 from Oklahoma State, hasn't gotten a ton of acclaim throughout his career, but all he's done is hit at every level. He carried a .300 career average into this season, and he's batting .316/.367/.460 in his first season facing Triple-A competition."
His strikeout rate and on base percentage are also fantastic. His career on base percentage is a solid .372 and he has struck out just 230 times in 1,955 plate appearances, or 1 in 8.5.
Tools:
Contact: A - As Baseball America eloquently put it, all he's done is hit at EVERY level. Hague is a career .302 hitter including .309 at Triple-A in 2011.
Power: B- - Hague doesn't have your ideal power for a first baseman, but after hitting just 14 home runs in his first two professional seasons, has hit 27 combined between Double-A and Triple-A in 2010 and 2011. Add 67 doubles in the same time frame and his power potential looks to be a solid 15-20 homers and 30 or so doubles in the bigs.
Speed: C - He's a first baseman, so what do you expect? Hague hit three triples in Triple-A this season and also stole four of seven bases this year.
Fielding: B - A career .991 fielder at first base in his minor league career, Hague is a solid fielder with no glaring weaknesses.
Arm: B - He started off as a third baseman but eventually moved over more permanently to first base after the Pirates drafted a ton of shortstops and third basemen. Hague's arm was never the issue.
Tool of weakness: Speed
Tool of strength: Contact and strike-zone discipline.