New Orleans Saints Mock Draft: How Saints Can Acquire Dream Targets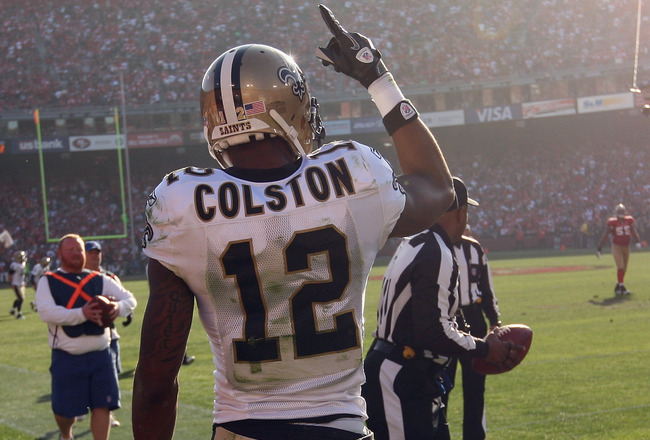 Ezra Shaw/Getty Images
With the New Orleans Saints season at a close, I take a look at their greatest needs going forward, tough decisions they have with impending high-profile free agents and the best prospects they can land in each round that could help their journey back to the Super Bowl.
In this mock draft, I have the Saints re-signing Drew Brees and Carl Nicks, and letting go of Marques Colston, Tracy Porter and Aubrayo Franklin, among others. I also expect for the Saints to use the freed up space of those departures to be used on defensive players such as Chris Chamberlain or Osi Umenyiora (if he were to become available) who are familiar with new defensive coordinator Steve Spagnuolo's scheme.
The Saints don't have a first-round selection because of the draft day trade for Mark Ingram last year. They do, however, have an extra sixth-rounder from Washington (Jamaal Brown trade) and swapped sixth-rounders with Miami (Reggie Bush trade).
2nd Round: Stephen Hill, WR, Georgia Tech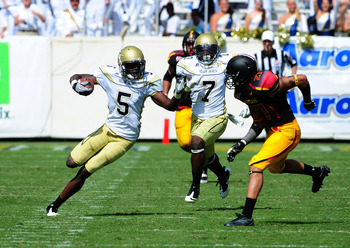 Scott Cunningham/Getty Images
This selection is going to surprise just about everyone in Who Dat Nation. "Where's the outside linebacker or defensive tackle that the Saints desperately need?" will be the most common question I'll be asked about this one.
With the Saints likely to re-sign Carl Nicks over Marques Colston, this pick makes even more sense. Stephen Hill would be a great replacement. He's 6'5" 210 lbs. and runs the 40 in the 4.45, 4.5 range. Hill also has exceptional hands and big play ability. Sound like anyone?
Hill would be the perfect complement to Jimmy Graham in the red zone, just like Colston was. Saints usually take the best player available (Reggie Bush, Patrick Robinson) over need, and this will probably be the case this year as well. You'll see that as a trend in this mock.
Other Players Considered: Bobby Wagner, OLB, Utah St. and Alameda Ta'amu, DT, Washington
3rd Round: Ladarius Green, TE, ULL
Chris Graythen/Getty Images
Another offensive player? Yep. Like I said, my expectations are for the Saints front office to use most of its cap space to upgrade their defensive holes. So, this leaves them the opportunity to take another potential playmaker on the offense.
Ladarius Green of Louisiana-Lafayette is an elite athlete at the tight end position. At 6'6" 230 lbs., he is in the mold of the prototypical receiving threat at his position. He would team up with Jimmy Graham for a TE combo that would rival the Patriots elite pair of Gronkowski/Hernandez. Green's a little raw and blocking is not his strong suit, but he has exceptional receiving skills and great hands.
Others Players Considered: Ronnell Lewis, OLB, Oklahoma and Mike Martin, DT, Michigan
4th Round: Keenan Robinson, OLB, Texas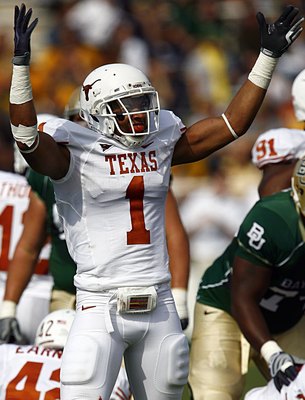 Tom Pennington/Getty Images
Finally! A defensive player is selected for the Black and Gold. Keenan Robinson of Texas would add speed and play-making ability to the weak-side of defense. He's one of the best tacklers in the nation and would pair with Martez Wilson, last year's third-round pick, to give the Saints a pair of young, fast OLB's for years to come.
Robinson is 6'4" 240 lbs. and has sideline to sideline speed with pretty good coverage ability. He drops to the fourth round probably because his senior year wasn't as great as his first three seasons at Texas. He peaked early in college, but there is potential for Robinson to be a very productive player at the next level.
Other Players Considered: Josh Norman, CB, Coastal Carolina and Jaye Howard, DT, Florida
5th Round: Hebron Fanugo, DT, BYU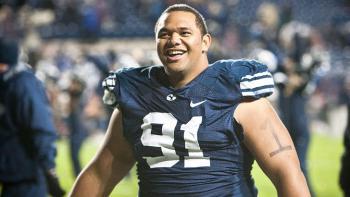 Jonathan Hardy/ BYU Photo
Fanugo is a former JUCO player who transferred from USC to BYU, where he started show his promise and potential his last year there. He is raw, but has the work ethic and the motor to over come that. He is 6'1" 331 pounds and a very immovable object in the middle of the defensive line that could help free up Sedrick Ellis and increase New Orleans' pass rush.
Other Players Considered: Sean Spence, OLB, Miami (Fl.) and Jairus Wright, WR, Arkansas
6th Round (from Washington) : Jake Bequette, DE, Arkansas
Chris Graythen/Getty Images
When I see Jake Bequette play, he reminds me of a player already on the Saints squad...
Jeff Charleston.
Bequette and Charleston are about the same size with the same relentless motor. They also both rely on their power more than speed. Bequette has a better pass rush to go along with his stout run-stopping ability. He would be a great rotational defensive end, and in Spagnuolo's defense that's essential.
Other Player Considered: Mitchell Schwartz, OT, Cal
6th Round ( from Miami): Tom Compton, OT, South Dakota
Tim Hynds
Offensive tackle is slowly starting to become an area without much depth. Outside of Jermon Bushrod, there is not much to be happy about. Zach Strief is an adequate fill-in starter, but he is better served as a reserve. Charles Brown is looking more and more like an injury-prone bust of a second-round pick.
Tom Compton is a very interesting prospect. He could go as high as the fourth round or as low as the sixth. He's a small school player from the University of South Dakota who's won numerous Offensive Lineman of the Year and All-America awards in his college career. He's very physically gifted at 6'6" 315 lbs. and better suited on the right side of the line.
Compton could be the next great small school gem uncovered by the Saints following in the footsteps of Jahri Evans and Jermon Bushrod.
Other Player Considered: Cliff Harris, CB, Oregon
7th Round: Ron Brooks, CB, LSU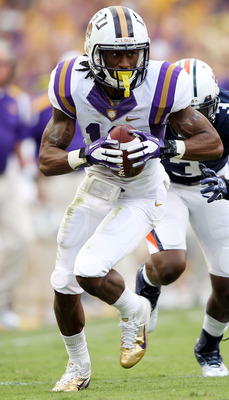 Jamie Squire/Getty Images
With the expected departure of Tracy Porter, the Saints can take one of my sleepers with this pick. Ron Brooks is a ball-hawk who's not afraid to get physical in the run game. He's a taller, faster cornerback at 6'0" and 4.4 speed who gets over looked because he lacked playing time in a secondary that had Morris Claiborne, Tyrann Mathieu and Tharold Simon ahead of him.
Despite the lack of playing time, he made the most of his opportunities. In his one game replacing Mathieu in the Auburn contest, Brooks had a pick six and was always around the ball. He is also an excellent gunner and sure tackler on special teams. He could replace Courtney Roby as the Saints special teams leading tackler and can grow into a good reserve role in New Orleans' secondary.
Keep Reading

New Orleans Saints: Like this team?