Green Bay Packers Are Out: Why They Won't Make the Playoffs in 2012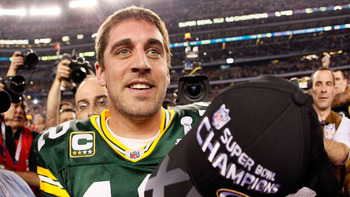 The Packers got lucky last year. After a disappointing 15-1 season, they sneaked into the postseason only to get rocked by the New York Giants.
Well, it turns out I was right.
I wrote an article last year on why the Packers were going to miss the playoffs in 2011. Even though they found a way to get in last year, they basically were the third best team in the division behind the Chicago Bears and Detroit Lions.
Also, last year, I wrote on my last slide this: "But next season a different team will be the 2010 Packers. A different team will have the odds stacked against them. A different team will have injury issues, early heartbreaking losses, tough calls go against them, and controversies brewing. That team will get the last laugh, though."
Considering that is a perfect description of the 2011 New York Giants, it seems like I am a genius and that my first article was destiny.
Packer fans better hope this article is not destiny, however.
Here are ten reasons why the Packers will miss the playoffs in 2012.
Aaron Rodgers' Late Season Woes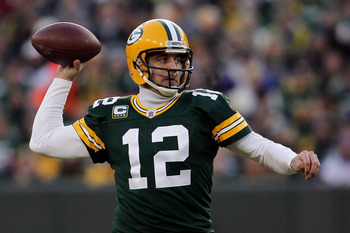 Jonathan Daniel/Getty Images
It is well-documented that Aaron Rodgers has massive injury concerns. Here's a quick recap, though, if anyone needs to be filled in.
It's history already how Rodgers almost missed vital playing time in 2008 and 2009. However, in 2010 Rodgers really screwed over the Packers.
He missed a Week 15 game against the New England Patriots. If you didn't notice, the Patriots were just in the Super Bowl. Clearly, that was a huge game and Rodgers has to know better not to miss a big game like that due to some silly headache.
Also, in 2011, Rodgers had to sit out a game against the Detroit Lions late in the season. Did you read that correctly? Aaron Rodgers missed an important game at home to an NFC Central rival! Blasphemy, you say, but it's true.
Rodgers has got to stop doing this to Packer fans. He missed the Lions game and lost a lot of chemistry and timing with his receivers. It's no wonder they got obliterated at home two weeks later.
Rodgers' lack of durability is quite the obstacle for this Packers team trying to make the playoffs next year.
Jordy Nelson Is Not a Cheese-Head Wes Welker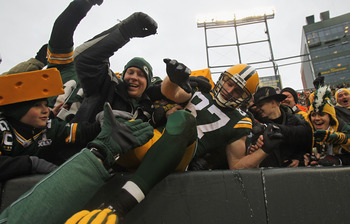 Jonathan Daniel/Getty Images
After Wes Welker's clutch Super Bowl performance last Sunday, it is pretty clear to everyone that he is better than Jordy Nelson.
That's not good news for Packer fans.
As clutch as Wes Welker was last Sunday, he did drop a pass in the fourth quarter of the Super Bowl that could have won the Patriots the game. Obviously, the Packers aren't going anywhere next season if their number two receiver can't even compare to the ball-dropping Patriot wide outs.
Get out of the defensive backfield Patriot wide receivers, for at least you're better than Packers' wide receiver Jordy Nelson.
Alex Green Is No Matt Forte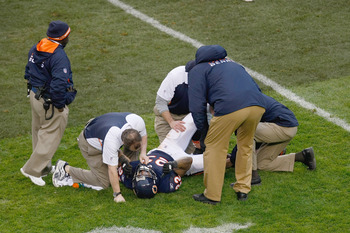 Scott Boehm/Getty Images
The Packers drafted Alex Green in the third round. They wanted to add an elite back to their offense because John Kuhn just wasn't getting it done out there.
They needed to be able to compete with the Minnesota Vikings and Adrian Peterson in the division. Now, however, the Chicago Bears' running back, Matt Forte, has become an elite back as well.
Uh oh.
Alex Green isn't the answer for the Green Bay Packers. He scored a total of zero touchdowns for them in all of 2011.
Seasons like that aren't going to push your team towards the post season, Alex.
Green needs to get it together next year if the Packers want to compete with the Bears and Vikings in 2012. That's not even including the Lions, who were actually in the playoffs in 2011.
Look for Green to not meet expectations in 2011, which aren't very high to begin with. Somewhere around three touchdowns…for the opposing defense off of Green's fumbles.
Erik Walden Is a Free Agent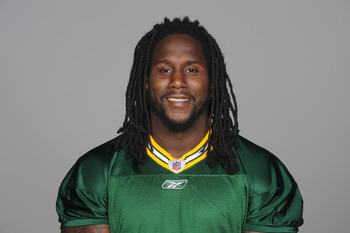 Handout/Getty Images
For those of you who didn't know, a star Packer OLB is a free agent going into 2012.
And no, I'm not talking about Brad Jones.
Erik Walden proved time and time again last year that he is a vital part of this Packers defense. He scored a touchdown in a game against the Oakland Raiders that proved to be the game-clincher. Without that score, the Packers are most likely on the outside looking in on the 2011 NFL Playoffs.
Talk about stepping up your game.
Walden had three sacks last season for the Packers, and if he leaves in free agency, the Packers don't have an answer at OLB to replace him. Frank Zombo gets injured every year, and Brad Jones is no Brady Poppinga.
The Packers will miss Walden in 2012, for he will sign a six-year deal with the Vikings and help them win the division along with…
Brett Favre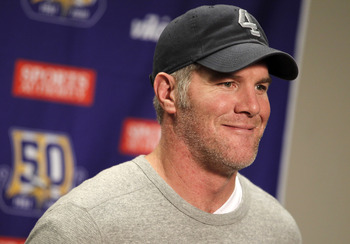 Gregory Shamus/Getty Images
Man, that NFC Central next year is going to be real tough.
Brett Favre didn't sign with a team last year, but that was expected. What won't be expected, though, is what he does in 2012.
Favre will sign with the Vikings as their quarterbacks coach and lead them to the playoffs.
Christian Ponder is an elite young talent that just needs to be coached up. With Favre coming in to transform Ponder into a gunslinger, look for the Vikings to go 13-3 in 2012.
Crazier things have happened before.
Terrell Thomas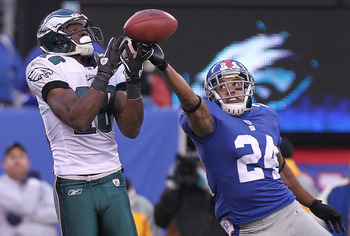 Nick Laham/Getty Images
The New York Giants went 9-7 in 2011 and went on to win the Super Bowl. This was all without their best player, Plaxico Burress.
The Giants had to rely on Victor Cruz and Hakeem Nicks, and I'm not an idiot, that did work out quite well in 2011. The Giants will be back next year, but can they compete with the Green Bay Packers?
Yes.
After making the Packers look like New York Giant cheerleaders in 2011, the Giants are the best team in the NFC heading into 2012. That's not even mentioning the fact that the Giants were without stud corner back Terrell Thomas for all of 2011. With Thomas returning in 2012, look for the Giants to have the best pass defense in the NFL next year.
With the Minnesota Vikings easily winning the NFC Central next year, the Packers are going to have to battle plenty of teams in 2012 for a ward card spot.
And don't forget about those pesky Buccaneers. 4-12 to 12-4? Most likely.
Aaron Rodgers MVP in 2012? Not if he plays Tampa Bay or New York.
Derek Sherrod and Shaky Smithson's Injury Problems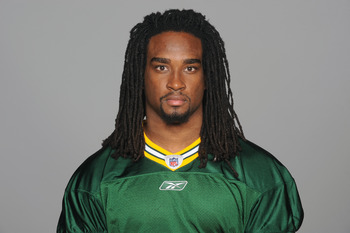 Handout/Getty Images
The Packers got lucky last year.
Well, that's if you consider getting pounded in the playoffs lucky. If that's the case, then yes, the Packers got lucky last year.
Derek Sherrod and Shaky Smithson both landed on IR for the Packers in 2011. Sherrod, for starters, is one of the best tackles in the NFL and his absence really showed when Aaron Rodgers went down repeatedly against the Giants.
Also, losing Shaky Smithson for the season was a devastating blow. He could have provided the Packers with sure hands at the receiving position and also be an impact return man. Randall Cobb stepped in and performed admirably as the Packers' return man in 2011, but that obviously can't last.
Sherrod and Smithson will clearly land on IR once again in 2012, so look for the Packers to lose game after game after game next year.
It's a tough time to be a Packers fan.
Emily Nelson Once Again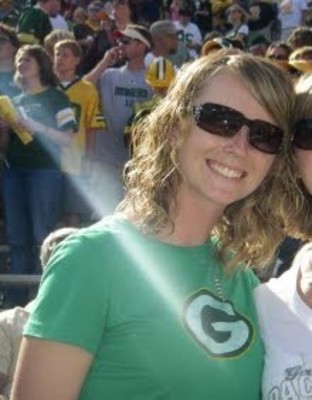 Fortunately for Packer fans last year, Emily Nelson couldn't make any of the games in 2011. This allowed her husband, Green Bay wideout Jordy Nelson, to have a good season for the Packers. Since girlfriends and wives of NFL players cause too many distractions (a.k.a. Tony Romo), it was really lucky when Emily Nelson had other plans last year.
Unfortunately for Packer fans, however, there's a chance that Emily could purchase season tickets for the Packers in 2012. I think everyone in Green Bay right now is thinking the same thing.
"Oh boy."
Jordy Nelson's one drop last season shows how bad his hands really are. I mean, Emily Nelson wasn't even at the game that day! When you factor in Emily Nelson in the stands distracting Jordy in 2012, then I think most fans will be shocked if Jordy catches more than five passes next season.
Look for a 1:1 drop-to-target ratio for Nelson in 2012.
Aaron Rodgers Was at the Super Bowl Pre-Game Show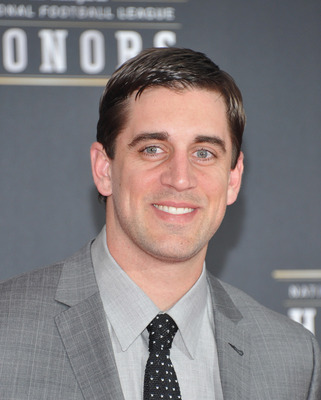 Mike Coppola/Getty Images
Will Aaron Rodgers ever learn?
Rodgers was, to the dismay of many Packer fans, in Indianapolis contributing to NBC's Super Bowl Pre-Game show. What was he doing?
There's only two teams that deserve to be at Super Bowl Sunday: the two teams that are playing. Those two teams are the best teams in the league and are fighting for the ultimate trophy.
The Lombardi Trophy.
Every other team, like the Packers, sucked so bad in 2011 that they couldn't make the big game on February 5th. Those teams need to be game planning for 2012 to try and make a run at a title.
So while everyone is at home formulating strategies to beat the Packers and Giants in the NFC next year, what is Aaron Rodgers doing?
Pretending to be Mel Kiper Junior and running his mouth off on TV.
Aaron Rodger is now light years behind other quarterbacks in their attempts to get ready for next year. If you want a reason why Josh Freeman has a better season than Aaron Rodgers next season, this is that reason.
Get a grip, Rodgers. The Packers need you.
There's Always Next Year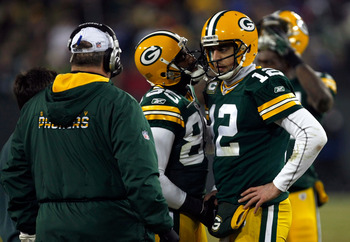 Scott Boehm/Getty Images
Obviously, by next year I mean the year 2013.
The Packers had a good run in 2010 but we all knew that couldn't last. The Packers simply failed in 2011 and they will fail again next season.
Look on the bright side, though. There's always 2013, and with the Packers missing the playoffs in 2012, it should allow Aaron Rodgers plenty of time to game plan for his 2013 opponents.
Unless he does something stupid like go on TV or Disney World. You got to be smart, Rodgers.
Look for the Packers to be in Super Bowl XLVIII, but definitely not Super Bowl XLVII. 2012 just isn't the Packers year.
Keep Reading

Green Bay Packers: Like this team?