L.A. Lakers: What Does Kobe Know That We Don't?
February 8, 2012

Harry How/Getty Images
I feel like I don't even know who Mamba is anymore.
Watch this. Seriously watch it. It's short. I'll wait.
Who is that guy? That video is fascinating for a number of reasons. First of all, that is one of the most elegant takedowns of the media I have ever seen in my life.
A little background: At the beginning of this season, Stephen A. Smith was proclaiming on his ESPN LA radio show to anyone who would listen that it was his opinion that Kobe Bryant might ask for a trade. Smith's position was that Kobe would not tolerate what was generally perceived to be a subpar Lakers team because any Kobe watcher knew that No. 24 wanted rings six and seven.
He's 33. There's not a lot of time. It was an interesting theory and given 2007, (or as I call it "The Summer of Kobe's Discontent"), not that outside of the realm of possibility. If Smith was right, he looks prescient and insider-y. If wrong, well, eventually it would fade away. Right?
Just remember this—Kobe Bryant is very smart and not just about basketball. Don't think for a minute that he doesn't hear everything. He is also supremely media savvy. 
I think these two are talking in code. Messages are being sent on a few different levels. So what are they?
Message No. 1—I heard you, Stephen A., and your floating of the "Kobe will ask for a trade" storyline.  So let me put the kibosh on that right now and remind you who the alpha dog in this relationship is.  Smith, to his credit, took it like a man. Delicious to watch.
Message No. 2—Hi Mitch Kupchak!! I know you are watching or will watch this. Please do something by the trade deadline! Thanks! No one wants a repeat of 2007.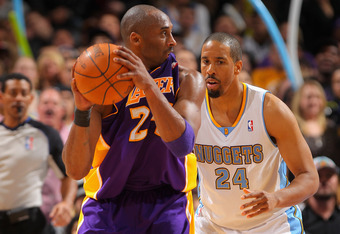 Doug Pensinger/Getty Images
Message No. 3—Directed at the league: I'm not done yet and you underestimate the Lakers and my will to win at your peril. 
Message No. 4—Directed to the fans: I, Kobe Bean Bryant, am not going anywhere. Purple and gold for life. Believe.
All snark aside, that last one is far, far and away the most important. It's hard for people who don't live in Los Angeles to understand how much the Lakers mean to this city.  The Clippers are fun, young upstarts, but the Lakers are a multi-generational dynasty. They own this town.
Consequently there has been a current of unease ever since the Chris Paul trade got killed by David Stern. There was a nervous feeling that the Lakers were not fielding a championship team. Who are we as Angelenos if we can't answer back some of the league-wide hate for the Lakers by pointing to the banners hanging in the Staples Center and constantly striving to add more? 
I was one of those people. I still am. I thought the Lakers' chances of winning a title were doomed for this season. But now I just don't know. This smiling, happy Kobe is making me question myself.
What does Kobe know that we all don't know? 
Well, a lot.  For starters, the way this season is playing out is crazy. I think we still have the front runners (Heat, OKC), but after that it's anybody's ball game.
Injuries are piling up and continue to play a huge factor. Less games mean each one counts more. You can steal a win or have an off night and it matters much more than in a normal 82 game season. A lot of teams (Lakers included) are still working out the chemistry issues of new players blending in and finding their roles. Sometimes during a game, it feels like you are watching a practice.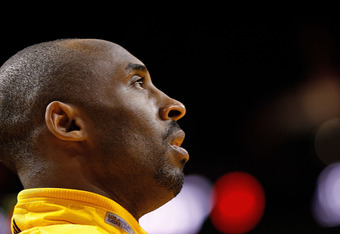 Mike Ehrmann/Getty Images
It really is wide open. And I think Kobe knows that. He's so relaxed and confident and charming in that interview. Where is the trademark condescension and sarcasm and barely concealed tolerance for being interviewed? 
Well, if this is the new Kobe, I'm on board. Maybe more of the Zen Master rubbed off on him than we ever knew. 
My theory is that Kobe is transitioning into legacy mode. But I don't have a radio show as a platform.  So the chances of Mamba sitting down and correcting me are pretty much slim to none!
We'll see how the next few games of this road trip play out. In the meantime, Laker fans, rejoice that Kobe plans to stay right here. And congratulations to Mamba on becoming the fifth all time leading scorer. What a tremendous accomplishment.You should be rightfully proud. 
I think I can speak on behalf of Laker fans everywhere: We're proud too. Only 2818 to catch Wilt.