The Super Bowl's Winningest Quarterbacks: Who's the Greatest?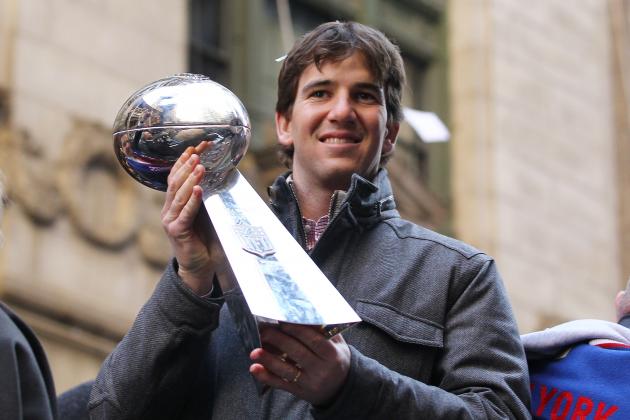 Al Bello/Getty Images

By leading his team to victory in Super Bowl XLVI, Eli Manning established himself as a truly great quarterback and vaulted himself into an elite group of NFL signal callers. This esteemed fraternity has a membership who, by all accounts and purposes, are the greatest winners the NFL has ever known.
They may not have the most regular season wins and you'll only find one of them in the NFL's top 10 for career passing yards. Many of them aren't even in the discussion for greatest quarterback of all time.
These guys are simply winners at the highest level. Everyone knows that is the ultimate goal of every NFL player.
Winning the Super Bowl one time is not an easy task. Many great quarterbacks go their entire career without even sniffing the big game. Winning two is a massive accomplishment, and evidenced by the all-time greats like Dan Marino, Brett Farve, Peyton Manning and Warren Moon who are not on this list.
In 46 years there are only 11 quarterbacks that have won it two or more times. For that reason, one might consider this one of the hardest groups to gain access to.
Winning the ultimate prize is greatly respected and rewarded in the NFL. If a quarterback makes it into this group, their legacy is all but guaranteed. Seven of these quarterbacks are in the Hall of Fame. Of the four not in the Hall, three are still active.
So, you have roughly a 90 percent chance of being inducted.
Those are nice odds.
Back to Manning. He's coming off a his best year as a pro and clearly should be included in any discussion of today's elite quarterbacks. His career is on a trajectory to make the Hall of Fame. But how does he stack up against the greatest winners in NFL history?
In fact, how does this group of quarterbacks compare to each other?
Here are my rankings of the NFL quarterbacks with the most Super Bowl victories.
*All stats were taken from Pro-Football-Reference.com and ESPN.com
Begin Slideshow

»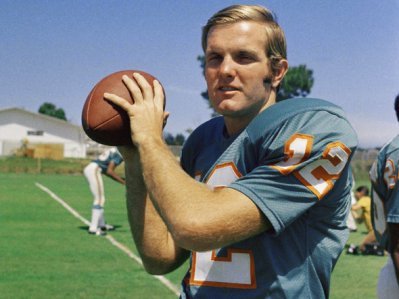 Bob Griese might be an underrated quarterback in general but, in terms of this list, I don't think he compares to most of the other passers.
True, Griese went to three Super Bowls and won two of them. However, he was a good quarterback for a ball control offense. Translation: He didn't throw the ball that much.
In Super Bowl VII Griese was only asked to throw eleven times and completed eight of them; one for a touch down. In Super Bowl VIII he only threw seven times and completed six. Not bad, but the Dolphins weren't exactly relying on his arm.
I guess with a running back like Larry Csonka, who needs to pass?
Griese is a Hall of Famer though, so he's no slouch. His overall numbers are very good and equal to or better than most good quarterbacks of his era. He was a six-time Pro Bowler, two time First Team All Pro, and NFL player of the year in 1971.
Perhaps the most telling thing about his career—and the reason I cannot rank him higher on this list—is that he benefited from a great team more than anyone else in NFL history. He was never a Super Bowl MVP because, on the biggest stage, his team relied on their biggest weapons and he was not one of them.
We all know the Dolphins were undefeated in 1972 but Griese was not a part of most of it. He got injured and Miami used their second string quarterback, Earl Morrell, to lead them the rest of the season and into the playoffs.
If Tom Brady went down do you think Bryan Hoyer could lead the Patriots to the playoffs, much less an undefeated season?
That's just how good the Miami Dolphins were.
Griese is a Hall of Famer, but in terms of ultimate winners, he doesn't lead the field.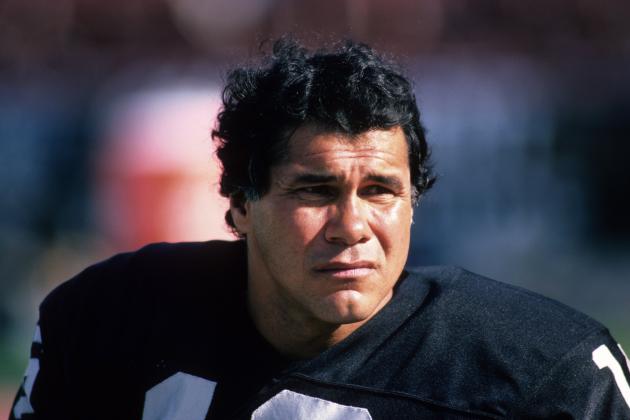 George Rose/Getty Images

Plunkett is the only non-active player on this list who is not in the Hall of Fame and although he won two Super Bowls, there are legitimate reasons why he's been excluded.
I didn't benefit from having watched Plunkett play. So take that into consideration.
From my research I've concluded that he was a very good quarterback but wasn't the primary reason his Oakland Raiders, with their dominating defense, won Super Bowls.
Many people compare him to Trent Dilfer in that regard and we all know he's not going into the Hall.
In his career he also threw more interceptions (198) than touchdowns (164). His other numbers are not that great either. Quarterbacks of today that are considered average—Kerry Collins, Mark Brunell and Rich Gannon—have more career passing yards and touchdowns than Plunkett.
So, I tend to agree that he doesn't belong in the Hall of Fame. Regardless of that, the fact remains that he went to the Super Bowl twice and won both times.
More importantly, he played well in those games. In Super Bowl XV he threw for 261 yards, three TDs and zero interceptions and was the MVP.
Three years later in Superbowl XVIII he threw for 172 yards, one TD and zero interceptions. Not as great, but not bad.
The point is, Plunkett won on the biggest stage and he played his best when it mattered most. He's got two Super Bowl rings and that's something other "great" quarterbacks can't say.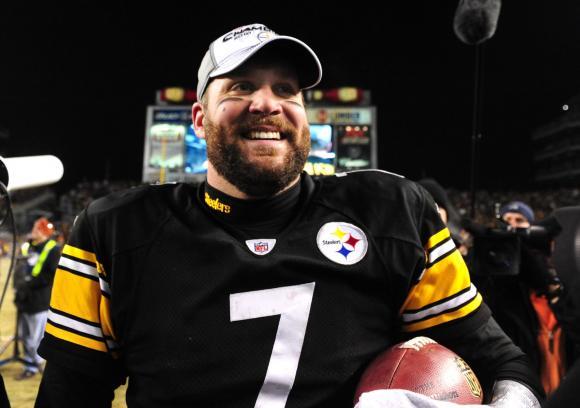 The Steelers' present day signal caller has been to three Super Bowls and has won two. He wasn't selected MVP in either of those games though.
I'd like to think he deserved at least a half an MVP award for those victories and here's why. Hines Ward won the MVP in Super Bowl XL and Santonio Holmes won it in XLIII. Ward deserved to win it because Roethlisberger had a bad outing with two interceptions.
The Holmes MVP is debatable though. Holmes had nine catches for 131 yards and one TD. Everyone remembers the game winning touchdown; great catch, great all-time moment. However, Roethlisberger had 256 yards passing, one TD and one interception and was the one throwing Holmes all those balls. This includes the perfectly thrown ball that set up the game winning touchdown that will forever be etched in Super Bowl lore.
You're welcome Santonio.
My point is this: Roethlisberger played well enough to win a Super Bowl MVP. He didn't win because a receiver made a great catch.
That doesn't mean he should be any higher on this list though. He played poorly in his first Super Bowl and lost his third. Not to mention, he's thrown five interceptions in those three games.
Roethlisberger has many years ahead of him though and playing for the Steelers means he will likely see more Super Bowl action. Chances are he will move down this list when it's all said and done.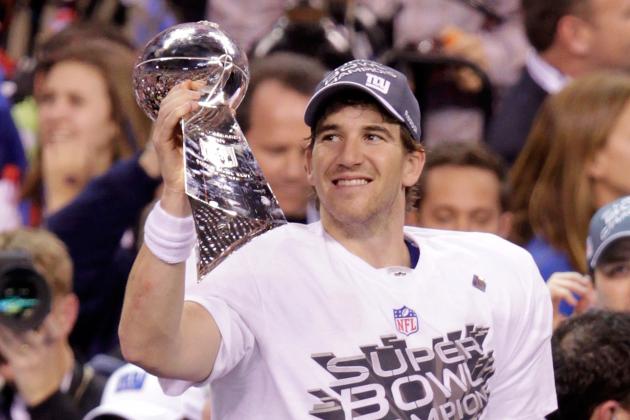 Joe Robbins/Getty Images

Immediately following Manning's impressive win last Sunday, everyone and their brother (probably not his brother though) was clamoring to anoint him a Hall of Famer.
What do you expect, the media today makes their living on overreaction.
Don't misunderstand me, Manning's performance was great. Like I said in my intro, he moved himself into an elite group of quarterbacks. No one will every accuse him of just "being along for the ride" like others on this list either. He is the undisputed leader of the New York Giants and the most responsible for their last two Super Bowl victories.
Manning is putting together a pretty good career too. He's developed a reputation, which he backs up on the field, as the coolest guy in the room. In the playoffs alone he's put together five game winning drives in the fourth quarter.
Expectations must be tempered though. We have to remember this was the first year his numbers compared with the best quarterbacks in the league—Rodgers, Brady and Brees. Prior to this year Manning was inconsistent and his numbers were middle of the road.
The top guys on this list have great Super Bowl performances and great overall career numbers. Manning is well on his way. He probably has the Super Bowl stats to support a Hall of Fame selection already. He just needs to have a couple more regular seasons like 2011.
He'll get there, he just needs about five more years.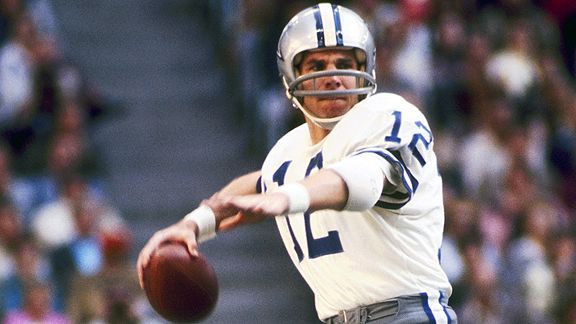 Of all the non-active players on this list, Staubach played in the fewest games (131). Combine this with a less pass-happy NFL in those days and it's no surprise his numbers pale in comparison to some of the great quarterbacks on this list.
But numbers aren't everything. Staubach is a Hall of Famer for a reason. He was considered a prolific passer in his day and led the NFL in passing four times. His 83.4 quarterback rating was the best ever at the time of his retirement.
He was also a predecessor to Steve Young and John Elway in that he could effectively run when he needed to. He had a 5.5 yard average on the ground and 20 career rushing touchdowns.
In other words, he was Tim Tebow if Tebow could throw the ball.
What prevents him from being higher on this list is that his winning percentage in the Super Bowl was only 50 percent. He went to four and only won two. That is the worse percentage of anyone on this list.
True, he was the MVP of Super Bowl VI but his 119 yards were the least ever by an MVP. He also holds the dubious record of having the most career fumbles in the Super Bowl (five).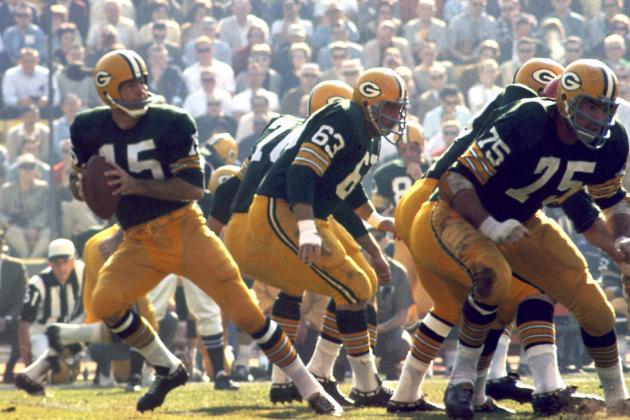 Like Griese and Plunkett, I did not have the privilege of watching Starr play. This makes it difficult to compare him to many of the players on this list. His NFL and the NFL I know have as much in common as the New York Jets and Giants do.
So I can only go by what I read.
Starr went to two Super Bowls(I and II) and won both of them. He was the MVP of both games and he was the MVP of the NFL in 1966.
He also won the NFL championship five times in '61, '62, '65, '66 and '67. This was before the Super Bowl existed and the playoff system was much different.
It's still impressive.
The Packers of the 1960s were like the Boston Celtics of that same decade—head and shoulders above the competition.
Bart Starr was the main reason why, although his passing numbers don't compare to the modern quarterbacks. We must remember the era that he played in. In his time he held many NFL passing records and he led the league in passing three years.
Plain and simple Starr was a winner and, unlike Griese or Plunkett, he was the biggest reason those teams were so good. The Packers only lost one playoff game when Starr was taking snaps.
That's really all you need to know.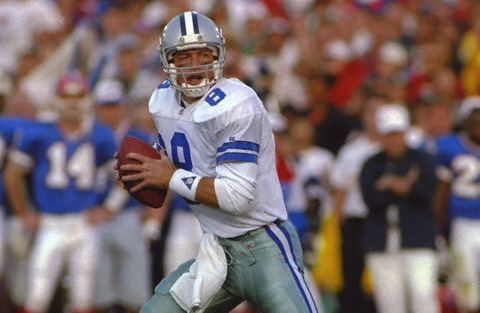 Troy Aikman went to three Super Bowls and won them all. His performance in Super Bowl XXVII—273 yards and four touchdowns—was legendary and he has the MVP to show for it.
Aikman's Dallas Cowboys were stacked with Hall of Famers and were one of the greatest teams in NFL history. Aikmen was a huge reason why they were great. He was a main cog in that championship machine.
He provided a calming influence for a team that seemed on the verge of self destruction at any minute. He played the straight man to his team's cast of characters and they benefited from that dichotomy.
He was also an all-time great quarterback and his Hall of Fame induction proves it. Many critics won't mention Aikman when discussing the greatest of all time though.
Aikman gets penalized because he was never asked to throw it as much as John Elway or Dan Marino. He had a Hall of Fame running back his whole career so why should he? Elway and Marino never had a rusher even close to Emmitt Smith, so they were asked to win games with their arm. The result is Aikman's passing numbers don't stack up.
Regardless of the reason, unfortunately for Aikman the numbers don't lie. As far as winning goes, he'll always be one of the greatest.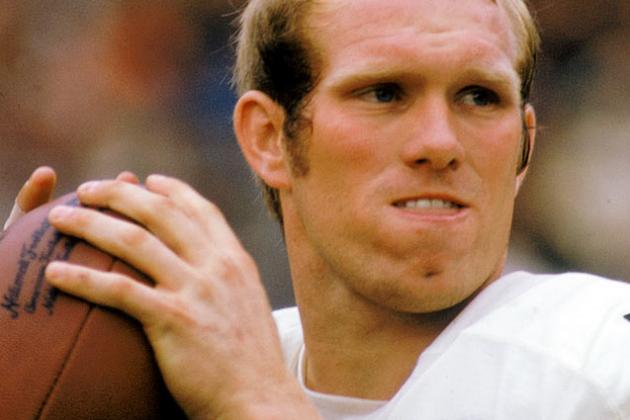 As far as Super Bowls go, Bradshaw is almost peerless. He took the Steelers to four Super Bowls in six years and won them all. That ties him with Joe Montana for most Super Bowl victories. Of those four, he was named MVP in two.
During his playoff career he lead the Steelers with four game winning drives in the fourth quarter. He definitely saved his best for the biggest and most pressure filled moments.
Perhaps he needed those kinds of situations to focus and execute at top efficiency because at other times his stats were average at best. Bradshaw's total yardage isn't bad (27,989) but his completion percentage was only 51.9, which is the lowest of the bunch.
He only threw two more touchdowns than interceptions (212/210) and only Jim Plunkett had a lower passer rating.
That being said, his numbers were good enough to get him into the Hall of Fame. Maybe they weren't the greatest ever, but in my opinion numbers are less of a factor than winning is.
That's all Bradshaw did—win games and win Super Bowls. That's enough to get him to number four on this list.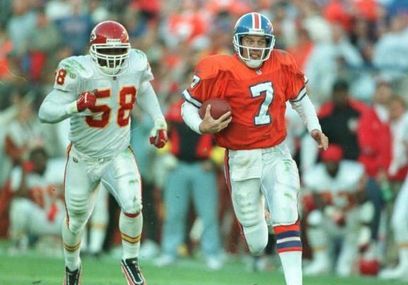 You might ask why, if winning is so important, is Elway so high on this list? Good point. There are several other quarterbacks with more Super Bowl wins than Elway. He also has the worst winning percentage out of everyone.
He went to five and only won two.
I can only say this: In my opinion, like Brady did this year, Elway got to the Super Bowl with teams that wouldn't have been able to buy a ticket to the game without him. In his first three trips, the Bronco's hopes of winning rested on his shoulders alone and he simply came up short.
You can't blame the guy for trying can you? The fact that he was even able to get to the Super Bowl those years is amazing to me.
Look what happened when Denver finally decided to put some weapons around him. Terrell Davis, Ed McCaffrey and Rod Smith finally gave Elway the help he needed and they won two titles.
For his career, Elway has the most yards (51,475) out of everyone on this list and is tied for the most touchdowns (300). He is fourth on the NFL's all time list for yards and tied for fifth in TDs.
For me, I can't penalize Elway for losing those Super Bowls when getting those teams there was a miracle. His numbers are right up there with the greatest quarterbacks in NFL history and he got his team to more Super Bowls than anyone else.
Win or lose, that means something.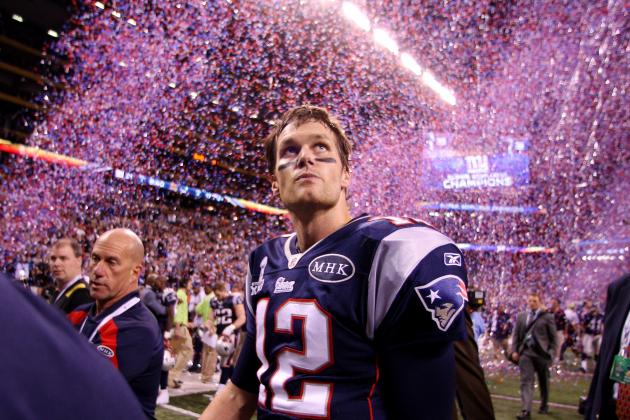 Elsa/Getty Images

Brady's got his fair share of haters, there's no doubt about that. When his hail mary pass fell to the ground and the last second ticked off the clock of Super Bowl XLVI those haters prepared to pile on.
It's amazing how much people love to do that when someone's at their lowest point.
People just like to be negative I guess. Anyone who can't see that Brady is already one of the greatest quarterbacks of all time—and a first ballot Hall of Famer—is either misinformed, dishonest or just plain jealous.
The guy lost a Super Bowl. Great ones have done it before, you know. True, he lost the last two Super Bowls to the same team. What can I say? It just goes to show how hard it is to win it all.
The guy still has three rings and two Super Bowl MVPs. He won the first 10 playoff games he appeared in. He's already thrown 300 touchdowns and only 115 interceptions. He has a 96.4 career passer rating.
Did I mention he's won three Super Bowls? Only Bradshaw and Montana have won more.
I've heard some pretty puzzling things come out of people's mouth since Brady lost to Manning's Giants for the second time.
For instance, this guy, wants to compare Brady with Jim Kelly, Lebron James and Alex Rodriguez. He is lumping all these athletes into the "playoff choke artist" category. There are so many things wrong with that statement I could write two pages on it.
Or how about some guy named Rob Parker on ESPN who said this about Brady:
"No longer will he be in that conversation about being the best ever. Everything was set up and Tom Brady couldn't make a simple pass in a clutch situation. Instead now, when you look at him, you know what he is? He's just another guy. He's just another guy who's won multiple Super Bowls."
Come on guys. I know this is a what-have-you-done-for-me-lately world, but that is just ridiculous.
Brady lost a Super Bowl but he played good enough to win. He lost because the other quarterback played slightly better. He also lost because two of his receivers dropped balls they catch 99 percent of the time. If either of them catch those balls, we would not be having this conversation.
Despite what Parker says, Brady is not "just another guy who's won multiple Super Bowls". Even if he was, that doesn't make him a choke artist as these two suggest.
It's really very simple. He's won three Super Bowls and his numbers are other-worldly. He's done things that no one else has done and he's not even finished yet.
Enough said.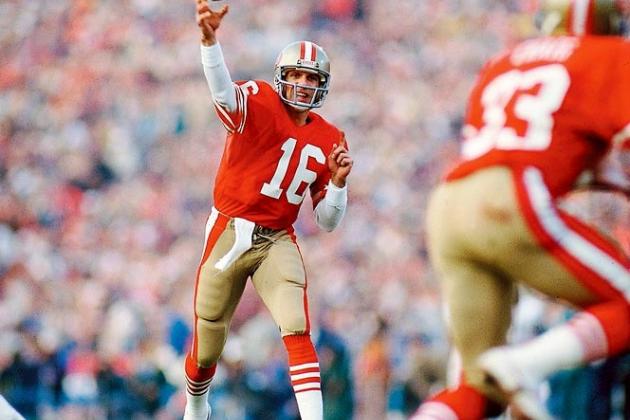 Was there any doubt? Montana is the gold standard when it comes to greatest quarterbacks of all time and my list is no different.
His career is the perfect combination of impressive career passing numbers and Super Bowl dominance.
He won all four of the Super Bowls he went to and he won the MVP award in three of them. He also holds the record for most career Super Bowl touchdowns with 11. He was the league's MVP twice, First Team All-Pro three times, and selected to the Pro Bowl eight times.
Some argue that Montana's Super Bowl record is tainted because of the weak competition he faced—the Cincinnati Bengals twice. My answer is this: They got to the Super Bowl didn't they? How bad could they have been?
His 40,551 passing yards is second only to Elway on this list. His 92.3 passer rating is second only to Brady. His 273 touchdowns put him behind—you guessed it—Elway and Brady who are tied.
Along with stellar numbers and unequaled Super Bowl success, Montana couldn't be rattled. He was at his best in crunch time and his five fourth quarter game winning drives in the playoffs are proof of that.
For my money Montana is the greatest there ever was so it makes sense he's No. 1 here.
Only time will tell whether he keeps that title. There are two active quarterbacks on this list that could pass him some day. There are three not on this list that have a great chance too.