Stay with Bradshaw: Why an Elite RB on the Giants Would Hurt Eli Manning
February 11, 2012
Rob Carr/Getty Images
As you all probably know, the Giants just capped off their magical run to the Super Bowl with a 21-17 win against the Patriots, making them world champions for the fourth time. This success was greatly because of the play of quarterback Eli Manning, who earned a trip to his second Pro Bowl with 4,933 yards and 29 touchdowns through the regular season, and 1,219 yards and nine touchdowns in the playoffs. With this win and Hall of Fame debates floating around, it is about time for Eli to make the jump to MVP-contention status, and you would think the help of an elite running back on the Giants would help him get there.
He doesn't need one.
Tom Brady, Drew Brees, Aaron Rodgers, Eli Manning, Ben Roethlisberger and Matt Stafford.
What do all of these guys have in common?
They all have complete control of their offenses, which are all pass-first for a reason (look at their numbers). But if the Giants picked up someone like Ray Rice or Adrian Peterson, Manning would lose a lot of this control, and a lot of of reps in the passing game. What makes these elite quarterbacks so good is that they are forced to play well, putting their teams on their backs to get their team to the playoffs. With a luxury like Peterson or Rice in the backfield, Manning wouldn't have to put up Pro Bowl numbers. 
Just take a look at the guys the top quarterbacks have in their backfields, and their numbers
NE:  QB- Tom Brady, 5,235 yds, 39 tds, 12 int   RB: BenJarvus Green-Ellis: 667 yds, 11tds, 0 rushes of 20+ yards
 GB: QB- Aaron Rodgers: 4,643 yds, 45 tds, 6 int    RB: James Starks: 578 yds, 1 td, 5 rushes of 20+ yards
PIT: QB- Ben Roethlisberger: 4,077 yds 21 tds, 14 int   RB: Rashard Mendenhall: 928 yds, 9 td, 3 rushes of 20+ yards
NYG: QB- Eli Manning: 4,933 yds, 29 tds, 16 int       RB: Ahmad Bradshaw: 659 yds, 9 tds, 3   rushes of 20+ yards
NO:  QB- Drew Brees: 5,476 yds 46 tds, 14 int          RB: Darren Sproles: 603 yds, 2 tds, 3 rushes of 20+ yards
DET: QB- Matt Stafford: 5,038 41 tds, 16 int              RB: Jahvid Best: 390 yds, 2 tds, 2 rushes of 20+ yards
From these numbers you can clearly tell that these running backs are not at all elite, which allows their quarterbacks to control the offense and thrive in these pass-heavy situations. If this doesn't convince you, take Phillip Rivers for example. Rivers, with the emergence of Ryan Matthews as a 1,000 yard rusher, had one of his worst years as a pro, throwing 19 int with only 24 tds. While Rivers did make the Pro Bowl, he didn't play well by his standards, as the control of the offense partially shifted to Matthews, allowing him to succeed more but causing Rivers to regress.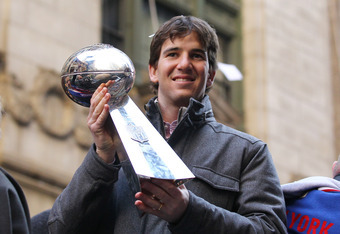 Al Bello/Getty Images
Ultimately, after their Super Bowl winning season, looking for a running back to help out Eli would be insulting to his ability to carry the offense and play at the high level he did. Fans are in love with the way Eli has played, putting himself in the elite class of quarterbacks in the league, but that wouldn't be possible with an elite rusher in the backfield. They say "if it ain't broke, don't fix it," and with a good young core of receivers and an adequate duo of running backs (who were injured throughout the year), the only thing the Giants should worry about doing is bringing everyone back. 
In the end, the fact of the matter is that Eli doesn't need help. He doesn't need a better running back to "balance" out the offense, as the Giants are clearly better as a pass-heavy offense. He doesn't need better tight ends or receivers. He has proven himself as a great quarterback, and who makes everyone around him better.
Now, the Giants just need to trust him.