Texas Rangers Have 3 Tough Arbitration Cases on the Horizon
February 7, 2012

Jonathan Ferrey/Getty Images
The Texas Rangers have not had to attend an arbitration hearing since the year 2000.  There is a strong possibility that that could change this month.
Elvis Andrus, Nelson Cruz and Mike Napoli are all facing arbitration hearings by the end of February.  This trio contributed 232 runs, 64 home runs, 222 RBI, 80 doubles, four triples and 50 stolen bases to the Rangers offense in 2011.
All three players have naturally submitted higher figures than the Rangers in their respective cases.  The question is, how does each player stack up versus the money he's seeking?
Elvis Andrus has filed for $3.6 million, while the Rangers countered with $2.65 million.  To me, this might be the easiest of the three cases to solve.  
Andrus finished ninth among all MLB shortstops in batting average—fourth in the American League—with a .279 average.  He was third overall in stolen bases for shortstops and first in the AL (11th in all of baseball, regardless of position.)  He finished sixth in hits for MLB shortstops (third in the A).  Lastly, he finished second among shortstops in runs scored, first in the AL.
Comparable players among American League shortstops are Cleveland's Asdrubal Cabrera and Chicago's Alexei Ramirez.  The latter is set to make $5 million in 2012.  Asdrubal Cabrera is also facing arbitration in 2012, and has filed for $5.2 million. while the Indians countered with $3.7 million.
To me, it seems that the Rangers could easily offer Andrus $3.2 million for 2012 and call it a deal.
Nelson Cruz may be just as easy to settle with.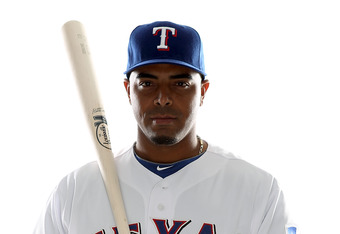 Jonathan Ferrey/Getty Images
Cruz has filed for $7.5 million to the Rangers' $5.5 million.  Conventional wisdom says to split the difference and pay the man $6.5 million, right?  That all depends.  While Cruz did finish second in home runs among AL right fielders and third in RBI, he often fell to eight or lower in several other offensive categories.
He may be wise to settle somewhere in the $6 to $6.25 million range.
Lastly, there's the most difficult man to gauge: Mike Napoli.
It is no secret that 2011 was a career year for Napoli.  He belted 30 home runs with 75 RBI on the heels of an outstanding .320 average.  You can argue that perhaps this past season was an aberration.  Upon further review though, he had been trending towards a breakout season for the past few years with Anaheim.
Napoli filed for $11.5 million, while the club countered with $8.3 million.  That is a huge $3.2 million divide.
Napoli was a top-tier offensive catcher playing in 113 games for the Rangers.  That is roughly 28 games fewer than other top-tier catchers like Victor Martinez, Alex Avila, Matt Wieters and Miguel Montero.  Yet, through it all, he was second in batting average for catchers, first in home runs and sixth in RBI.
Imagine what he could have done with 28 more games under his belt.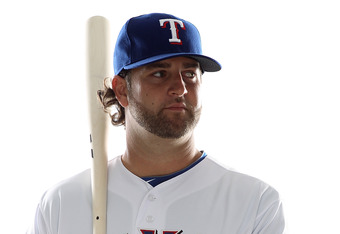 Jonathan Ferrey/Getty Images
The closest true comparison there is for Napoli would have to be Victor Martinez, who was slated to earn $13 million in 2012.  Martinez is a versatile player like Napoli that catches, plays a little first base and is a DH from time to time.  Look at the two head-to-head from 2011:
| | | | | | | | |
| --- | --- | --- | --- | --- | --- | --- | --- |
|   | G | HR | RBI | BA | OBP | SLG | OPS |
| Martinez | 145 | 12 | 103 | .330 | .380 | .470 | .850 |
| Napoli | 113 | 30 | 75 | .320 | .414 | .631 | 1.046 |
What's more, Martinez is going into the back-nine of his career, while Napoli is peaking. Again, one has to Imagine what Napoli could do with 28 more games to produce.
This may be a case that actually reaches its arbitration hearing.  Napoli certainly has a case for his $11.5 million.  The only way I could see this case not making it to a hearing is if the Rangers swallow hard and offer him $10.25 million.
After all, Napoli was third on the Rangers in home runs, second in batting average, sixth in RBI and first in slugging and OPS, while playing in 30 or so fewer games than the other prominent starters on the team.
Unless general manager Jon Daniels wants to head to his first arbitration hearing in 11 years, he may just have to shell out some coin for arguably the best all-around catcher in the American League.