NFL Draft 2012: Should the New Orleans Saints Draft Arkansas DE Jake Bequette?
March 5, 2012

Chris Graythen/Getty Images
Note: This article was originally intended to be an opposing piece as to why the New Orleans Saints should draft Jake Bequette. Much of the current events revolving around the Saints' franchise will not be reflected in this piece. 
Since the New Orleans Saints dropped that heartbreaking divisional-round game to the San Francisco 49ers on Jan. 14, fans have been clamoring for more defensive talent—especially along the defensive line and at linebacker—but, more to the point, they want change.
It seems fans are OK if the Saints elect to totally clean out the cupboard of their defensive personnel pantry in the plans to simply start over. Most believe the transition from Gregg Williams to Steve Spagnuolo was only the beginning of that change.
Talk has swirled about the potential release of high-priced veterans Will Smith and Jonathan Vilma (of whom I am a fan of but also very much belong in this camp), mainly because they are taking up a large chunk of the salary cap while not producing at a level commensurate with their cap figure.
And the truth is that when your best defensive end (Smith) nets just 6.5 sacks—and your finest sack artist is your strong safety at 7.5—clearly your defensive personnel is a bit screwed up. Some of these totals can be blamed on the uber-aggressive scheme of Williams, which placed a higher premium on blitzing than front-four pressure.
However, the Saints actually led the league in rushing the quarterback with just three players. For that scheme to be successful you simply have to possess some beastly pass-rushers, which the Saints did not. The Giants showed in the Super Bowl that elite pass-rushers playing in a simple scheme is actually a good plan for the NFL today. 
With all this in mind, one potential draft selection multiple Saints fans and columnists have proposed is Arkansas defensive end Jake Bequette. I want to make it very clear I am not saying Bequette has no chance to become a good pro, that he shouldn't be drafted or that he wasn't a good player at Arkansas. To any of those accusations I would disagree and argue back in his favor.
I hearken to my e-mail correspondence with Arkansas analyst Ryan Wright on the subject of Jake Bequette: 
He seemed to be fundamentally sound (stays at home, pushes runs inside to the linebackers) and quick for his size, 4.5 – 4.6 40-yard dash. It seemed like his confidence grew this season with his pass rushing skills. As I remember, he had 10 sacks in 10 games and forced five fumbles, or close to it. His tackles for a loss was up there too. With the depth of talent at DE in the SEC he was named first team All-SEC by the coaches, which says a lot about his abilities.
On these points I'm in full agreement with Wright and any other person—if for no other reason than they are mostly factual. Bequette was a fine football player at the University of Arkansas. He could be a great pro. However, Wright also allowed for some of Bequette's deficiencies, which I will now try to expose.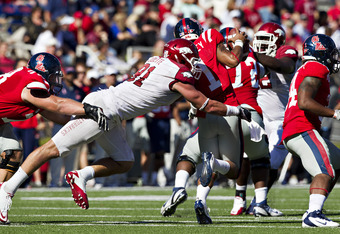 Wesley Hitt/Getty Images
In the five games I allowed to influence my opinion of this player, Bequette stood out as a nice player—one whom opposing offenses had be weary of and would scheme against. He was a player with great experience, and a player who worked in a simple scheme. That would all seem to make me think he's the perfect fit for the new era of Saints defense.
Not so fast. A closer observation of the tape shows some nasty tendencies for this Hog. First off, Bequette simply was not an impact player against the run. Sure, he would keep the play inside a large portion of the time, but in a 4-3 defense the defensive ends are expected to chase down the ball-carrier or hold their ground and make the tackle when the ball is run to their side. There really isn't much film to suggest Bequette possesses the ability to do this.
I understand the Saints are searching out elite pass-rushers, but it doesn't mean they want one-dimensional football players—they already have enough defensive ends who fit that bill. To that end, Bequette isn't an incredibly physical football player. He tends to play a finesse game, which is OK if you're an athletic freak. Bequette simply isn't.
In fact, in my notes I wrote that Bequette lacks the quickness and the moves to get off blockers. Some guys are able to outmuscle offensive tackles, others do so with quickness or refined pass-rushing moves, whereas Bequette possesses none of the above.
Instead, the Arkansas draftee is a one-trick pony who relies strictly on a high motor and determination. Generally, that is a great trait—and truthfully it is even for him. Unfortunately, though, it makes him more like Jeff Charleston than Jason Pierre-Paul.
My other primary beef—which I've already begun to outline—is that for such an experienced player, he should be expected to have superior individual technique to defeat offensive linemen. Instead, he regularly gets chopped down by offensive tackles because he doesn't use his hands well and lacks the mental alertness to prepare for such a move by his opponent.
That poor alertness carries over to plays where the trenches get crowded. Whether it be a twist or stunt call, or even an inside run play, Bequette often gets pushed around and lacks the instincts to find the football. Thus, he is an ineffective player on the goal line or in other short-yardage situations.
Bequette's best bet for NFL success is as a wide-nine technique defensive end, which would allow him to line up way outside the tackle and simply attempt to run right around the offensive tackle. That, however, is not the system Spagnuolo intends to implement in New Orleans.
Spagnuolo places his defensive ends in more traditional alignments such as the five- or seven-tech positions. This forces these players to play with tremendous balance, lateral quickness and strength. These are traits Will Smith possesses. For that reason he will assuredly remain a New Orleans Saint. Cam Jordan is also a player who could excel in such a scheme.
Count me a skeptic when it comes to Bequette. Without elite strength, quickness, or great pass-rushing moves I am left to guess how in the world he could find his way to the quarterback.
Bequette is reminiscent of former Georgia Bulldogs defensive end David Pollack, who was drafted by the Cincinnati Bengals in the first round in 2005. The difference, though, is Pollack's motor was combined with a great understanding of how to play the end position in the NFL. And he was going to a system that would take advantage of his strengths and mask his weaknesses.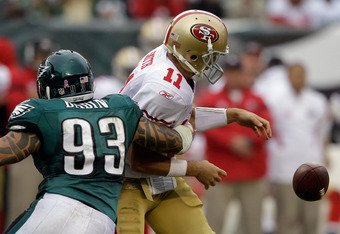 Rob Carr/Getty Images
If Bequette were to end up in New Orleans, he would not have the same advantage. Conversely, he would be facing an uphill battle from the beginning in terms of scheme and fit.
After much explanation I will say this: Bequette will and should be drafted in the fourth or fifth round in the 2012 draft. However, his best bet is to play for a team such as the Philadelphia Eagles or Detroit Lions—two teams that regularly use the nine-technique with their defensive ends. In that scheme he could become an effective professional pass-rusher.
However, I don't see the athleticism, physicality, or football IQ to excel in a more traditional scheme like the one Steve Spagnuolo is bringing to NOLA.  
Yet, if the Saints choose to take a defensive end with pick No. 59 then it wouldn't kill me to see the team take a flyer on the former Hog in the fifth round. As I outlined in that Giants article, it has become increasingly obvious a team needs multiple elite pass-rushers. It cannot survive with just one—also see Minnesota Vikings, San Diego Chargers and others.
Therefore, if the Saints elect to bring in an elite pass-rusher through free agency or draft someone like Chandler Jones in the second round (my early hope), a Bequette flyer may not be the worst move ever.
Then again, if the Saints do elect to make major changes to the defense, defensive end probably isn't the primary spot for that earthquake to hit. Defensive tackle and perhaps outside linebacker could be shaken as well. And given the fit that Will Smith and Cam Jordan are in Spagnuolo's scheme, the Saints may elect to simply bring in one player they believe can fit this new defense, hoping a patchwork job turns into a permanent fix.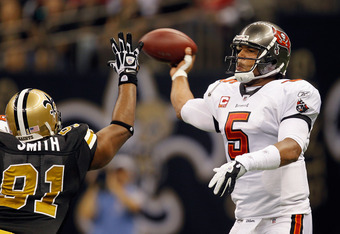 Streeter Lecka/Getty Images
In other words, I'm not 100 percent opposed to Jake Bequette wearing black and gold next season, so long as the expectations are low and he doesn't start as a player expected to create significant pressure or improve the run defense.
Instead, a Bequette sighting in New Orleans better mean he's an underdog and an unlikely contributor. Wouldn't that make the story of his ascension so much better?