Best Finishing Moves in MMA History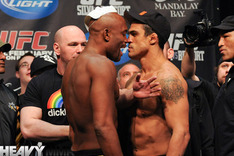 The most exciting facet of MMA is the spectacular knockouts and exhilarating submissions, otherwise known as "finishing moves."
No, not the finishing moves that you envision with wrestling and the WWE.

When it comes to fighting, there are certain moves that fighters favor. For example, certain fighters can find a guillotine choke and see it more often than they see an armbar or kimura, while another fighter sees a kimura in every position and always uses it. Simply put, finishing moves are realistic, and are a big part of fighting.

But which spectacular finishing move is the best in MMA history? These are the top finishing moves seen inside the Octagon, and around the world.
Begin Slideshow

»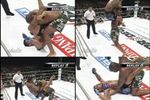 Back in the Pride days of MMA, there was one slam that was regarded as one of the best highlights in MMA history.
Quinton "Rampage" Jackson made a living in Pride off of fantastic slams, and his powerbomb on Ricardo Arona was nothing short of breathtaking.
Arona had Jackson in a triangle choke, and Jackson dug deep down, picked Arona off the mat and sent him crashing below. The impact was so powerful that it knocked Arona out, and it's still regarded as one of the best highlights in MMA history.
To describe Patricky Freire's flying knee on Toby Imada in one word: beautiful.
Freire saw the opening, and took to the skies. Imada's chin caught the wrath of Freire's "finishing maneuver," and that was "all she wrote" for Imada.
Imada's spaghetti legs failed him, and he would soon lose consciousness after some follow up shots by Freire.
Toby Imada might have been the goat in the last slide, but he showed some brilliant jiu-jitsu with this inverted triangle choke.
Being the warrior that Masvidal is, he didn't tap, and this led to his unconscious body lying on the mat.
The way Imada trapped Jorge Masvidal's head and arm in between his legs was nothing short of poetic.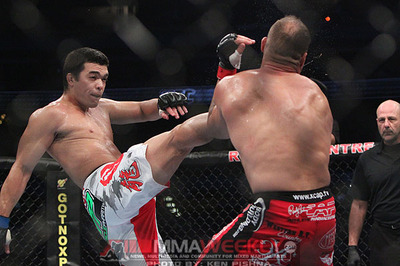 MMA Weekly
Lyoto Machida pulled off the "Crane Kick" that Daniel-san made famous in "The Karate Kid" at UFC 129, against Randy Couture.
Machida's leg gracefully thrust against Couture's chin, and Couture hit the canvas unconscious.
It's amazing what fighters can do when they have sensei Steven Seagal in their corner.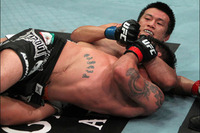 Bloody Elbow
Chan Sung Jung's twister was a move that made every jiu-jitsu instructor watching jump to their feet.
Jung was the first fighter to ever pull off a twister in the UFC, and MMA fans across the world were blown away by the incredible submission.
Torquing Leonard Garcia's spine in two different directions, Garcia had no other choice but to tap.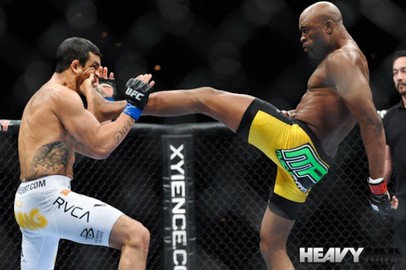 Heavy MMA
Anderson Silva's front kick knockout over Vitor Belfort will be Silva's career defining moment in the UFC, and rightfully so.
Everything about that moment was perfect. From Joe Rogan's "he front kicked him in the face" call, to Silva's fist pump on top of the cage, to every MMA fan sitting at home watching the fight losing their minds, it was a larger-than-life moment.
It was the first ever front kick knockout in the UFC, and as if Silva's aura wasn't already impenetrable, he added another layer of deadly assassin to his persona.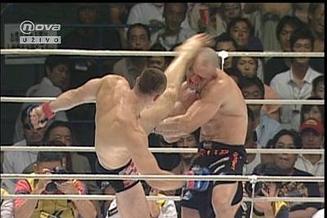 "Right leg hospital, left leg cemetery," pretty much sums up Mirko Cro Cop's MMA career.
Cro Cop became famous for his legendary high kicks, and in my eyes, will always be one of the most dangerous strikers in MMA history.
When it comes to finishing opponents, Cro Cop's head kicks always made for a spectacular knockout highlight reel.
You have to be an amazingly versatile striker to pull off a reverse elbow knockout, but after all, this is Anderson Silva we're talking about.
Come on, how is this possible? Silva has made a career of dropping MMA fans' jaws, and this flash knockout over Tony Fryklund tops them all.
If I was to ever have a finishing move in wrestling, you better believe I'm finishing my opponents with a reverse uppercut elbow.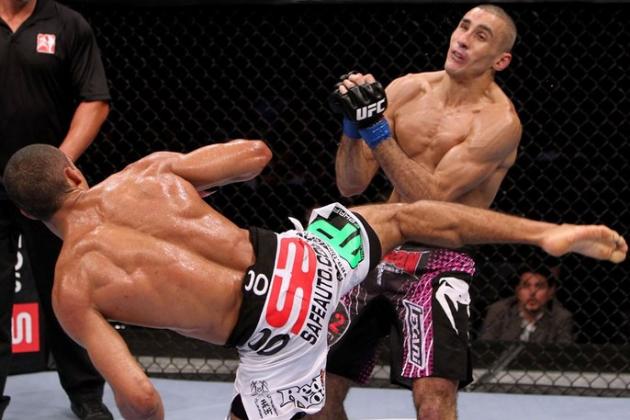 MMA Gospel
Just when you think you've seen it all, Edson Barboza pulls off a spinning wheel kick KO over Terry Etim at UFC 142.
The bout between Barboza and Etim was mainly dominated by Barboza with a variety of kicks, but he saved the best for last.
Spinning his body and delivering a spinning wheel kick that caught Etim flush to the face, Barboza brought the crowd in Brazil to their feet, and gave them a highlight they'd remember for the rest of their lives.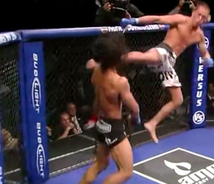 Can we all just say we miss the WEC?
In the last WEC fight ever, Anthony Pettis delivered the MMA highlight of all highlights. Launching himself off the cage, Pettis delivered a roundhouse kick to the face of Ben Henderson.
Now, I know it didn't knock Henderson out, but the fact that it solidified the decision for Pettis, makes it a "finishing move" in my book.
It sent Henderson falling to the canvas, and it was drama at its best. The kick occurred in the fifth round of what was an incredible title fight, and it was the perfect ending to an exciting promotion.