Cleveland Cavaliers: 7 Reasons It's Awesome to Be a Cavs Fan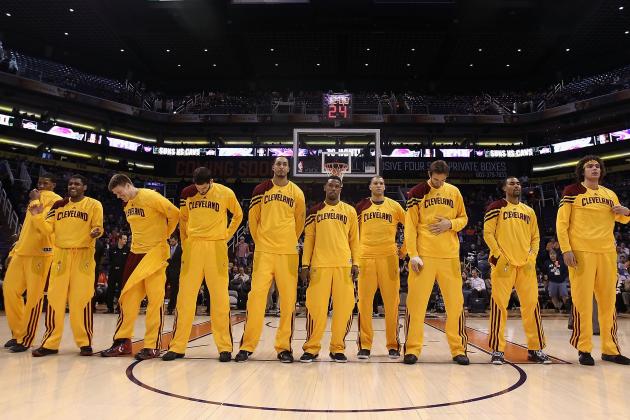 Christian Petersen/Getty Images

Cleveland fans often have it tough. We seem to live for that elusive "next year," when the rebuilding pays off and our teams give us a reason to celebrate.
We feel their triumph and, more often, their heartbreak. We pack sold-out stadiums, ball parks and arenas with the same zeal and hope as if we were supporting a dynasty.
This lifelong Cleveland fan, currently living in LA, has endured endless mockery at the hands of Championship-drunk Lakers fans and deliriously hopeful Clippers fans. This fan stormed out of a restaurant amid jeers when her 2007 Cleveland Indians blew a 3-1 lead in the American League Championship Series. This fan was once dumped for crying hysterically after watching the Amway Arena erupt in celebration in 2009.
Historically, there have been many moments when it sucks to be a Cleveland fan. Not now. Here are the top seven reasons it's awesome to be a Cavaliers fan in 2012.
Begin Slideshow

»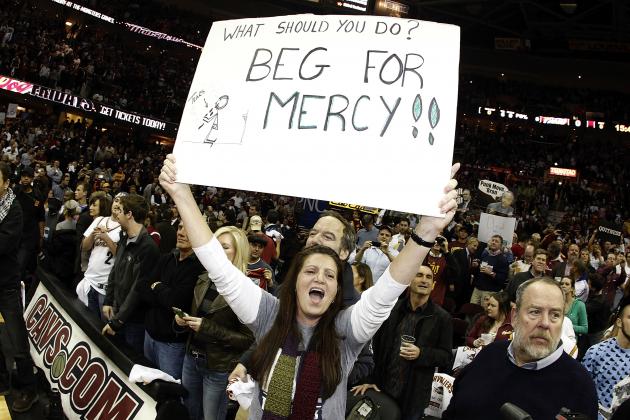 Gregory Shamus/Getty Images

In sports, there are as many bandwagon fans and ship-jumpers as there are diehards. Those wearing Cleveland attire in 2012 will never be accused of the former.
With every close call and abysmal season, Cleveland fans are reinvigorated. The city's athletic struggles have only further convinced us that our time will come. Our franchise's heroes are forged through uphill battles, not dynasties. Simply put, we're one tough fan base.
If Cleveland brings home a title, fans will be able to celebrate in a way that only the weary and validated can. And if we go another 46 years, we can at least sleep at night knowing that we unconditionally support the city we love.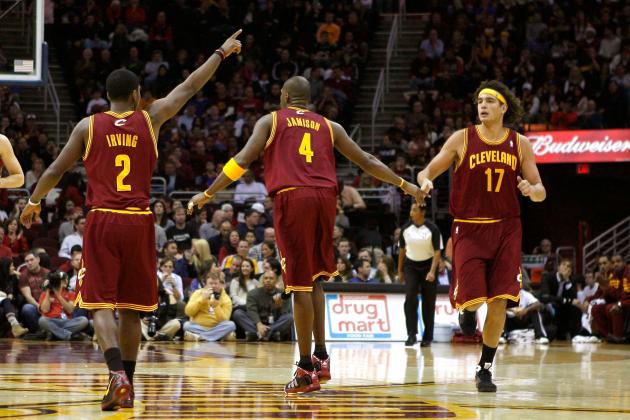 Mike Lawrie/Getty Images

The Wine and Gold flatters everyone.
The best part of smashing the piggy bank is the process of choosing a new Cavs jersey. Whether it's the two-tone with standard font or the V-swish of my childhood, Cavaliers are looking sharp these days. The current wine and gold scheme represents a throw back to the team's earliest days. These are the colors of tradition, resilience and sportsmanship. Also, they don't run in the wash. Bonus.
The Cavaliers' logo has undergone a few makeovers in the past forty years, but one element remains. Inside the collar, the Musketeer-ian credo All For One, One For All graces the sweaty backs of players' necks. As a young but passionate team starts to iron out the creases, the phrase starts to become a distinctly Cleveland expression.
And if that's not your thing, there's always the burnt orange.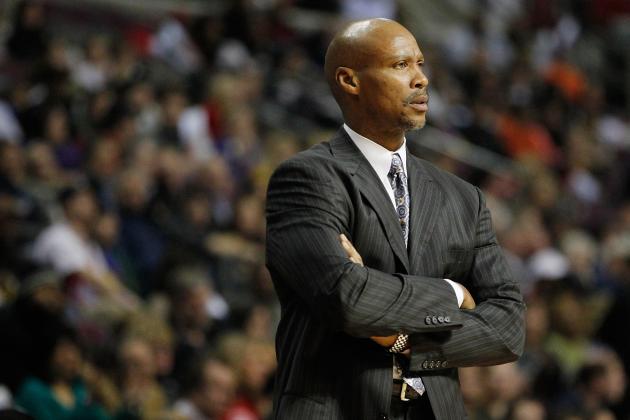 Gregory Shamus/Getty Images

Many Cavaliers fans, myself included, raised an eyebrow or two at the dismissal of Mike Brown. Byron Scott was like my D2: The Mighty Ducks. I didn't want to like it at first, but then I realized I could still love the original while appreciating the undeniable appeal of the sequel.
Scott is a guy who has won, lost, and lost a few more times. He won three NBA titles as a shooting guard for the Lakers and acted as a mentor for the likes of Kobe and Shaq. He took over a struggling Nets squad in 2000 and led them to two consecutive appearances in the NBA finals.
He's embattled but scrappy. He's no stranger to rebuilding and no friend to excuses.
Sound familiar?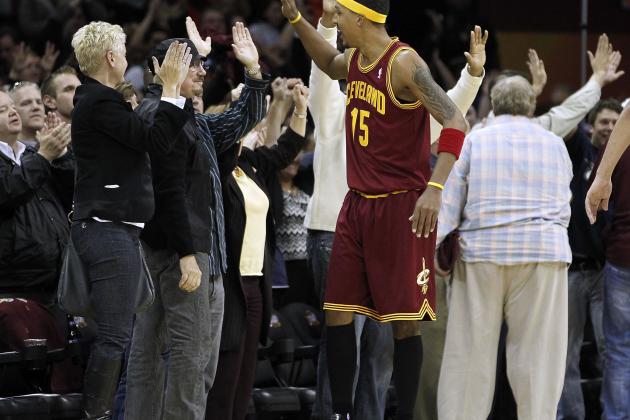 Gregory Shamus/Getty Images

According to the always-friendly Cavaliers box office, third row to court side tickets typically range from $100-$500. By comparison, lakerstickets.com reports a court side face-value of $2,750, with secondary-market tickets ranging from $10,000-$30,000.
Admittedly, every team responds to the demand and socioeconomics of its fan base. However, every sports fan should at least be able to dream of getting a Kyrie Irving sweat droplet or a lock of Varejao's hair. Dream on, Cavs fans, and don't worry about selling a kidney to do it.
Elsa/Getty Images

Toward the end of his 87 years, Richard Doyle barely got around. The assisted living facility occasionally threw ice cream socials, but he could barely muster the strength to make it down the hall. His roommate, Tom, shared many of the same medical woes. But regardless of Dick's blood suger levels or Tom's arthritic pain, the two never missed an opportunity to shuffle to the dresser, pull on the wine and gold and watch their Cavaliers together.
A Cavalier is a Cavalier for life. Whether walking down the street in Rome or sitting in a diner in Wooster, Ohio, one Cavs fan can always recognize another. Perhaps it's a small-market thing, or maybe the franchise's rocky history causes the unwavering camaraderie. Whatever the case, the passion and commitment of Cavaliers fans worldwide make this fan proud to be a part of the community.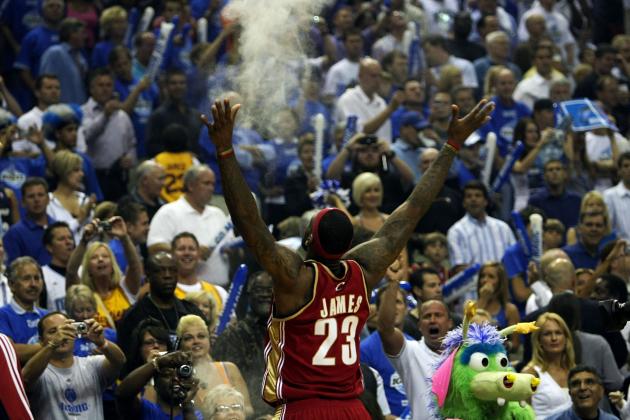 Elsa/Getty Images

Whether mired in controversy, delirious with success or consumed with hopelessness, the Cavaliers have had quite the journey.
We had World B. Free nearly two decades before Metta World Peace. We always, always selected Price/Daugherty for NBA Jam. Our Cavaliers, along with the Indians, helped to pull the collective city off the ledge after The Announcement in '95. We're one of the hungriest, most championship starved teams in the league. Some may call it pathetic; this fan calls it motivation.
We got to watch one of the most talented players who ever lived wear our jersey for seven exciting, astonishing, heartbreaking years. The "L" word stirs up some intense emotions on either side, but one thing is for sure. That Pistons/Cavaliers playoff series in 2007, along with many other legendary performances, will be retold for generations.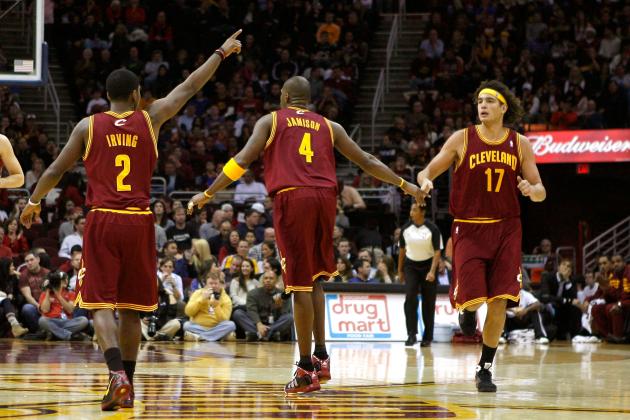 Mike Lawrie/Getty Images

We may not have a winning record. We may be nursing an injured Irving. We may not make the playoffs this year or even next, but Cavs fans still have a big reason to feel hopeful.
The Cavaliers are fun again. Irving and Thompson are only going to get better, and we have a coach who knows how to turn a franchise around. Reports indicate that Varejao is staying for at least another season. My fantasy team, with Irving at PG, is defying all logic and resting comfortably at the number one spot. It's an awesome time to be a Cavalier.
Are there uncertainties about the future? Of course. No one knows if the Cavs will even taste the air around the playoffs for the next few years. Fans can, however, puff their chests a bit and feel some pride in a team that has been through hell to get where they are. Go Cavs!