Manchester United vs. Liverpool: Preview, Live Stream, Start Time and More
February 7, 2012

Alex Livesey/Getty Images
English Premier League powers will collide on Saturday as Manchester United and Liverpool take to the pitch at Old Trafford.
The Red Devils are fresh off a thrilling 3-3 draw with Chelsea in which United fought back from a three-goal deficit in the second half, thanks in large part to two successful penalty kicks by Wayne Rooney in his triumphant return to fitness.
The Reds, too, welcomed back a key cog in their last match when Luis Suarez returned from an eight-game ban by the FA, albeit in a scoreless draw against Tottenham Hotspur on Monday.
United and Liverpool played to a 1-1 draw in their first league tie of the season.
More recently, Kenny Dalglish and company knocked Sir Alex Ferguson's side out of the FA Cup by way of a 2-1 decision at Anfield in late January.
Where: Old Trafford, Manchester, England
When: Saturday, February 11th at 7:45 a.m. EST
Watch: ESPN2
Live Stream: ESPN3.com
Manchester United Player to Watch: Wayne Rooney
Mike Hewitt/Getty Images
Wayne Rooney wasted little time getting back in the swing of things after a short stint on the sidelines on account of injury. Wazza put through two penalty kicks to help United force a tie with Chelsea this past weekend and figures to feature prominently once again when Liverpool comes to Manchester. Surprisingly enough, Rooney has scored only twice in 19 career appearances against his hometown club.
Don't expect that to keep Rooney off the board this time, particularly with the strong season that he's currently enjoying.
Liverpool Player to Watch: Luis Suarez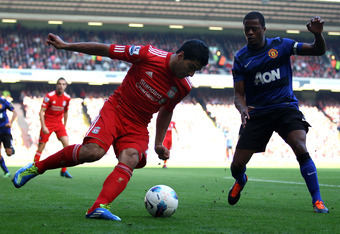 Clive Brunskill/Getty Images
Luis Suarez's return to action didn't net Liverpool any goals against Spurs, though his side's ball movement improved considerably once Kenny Dalglish pulled the Uruguayan off the bench in the second half.
Luisito will likely start against United, giving him a full match in which to work his magic up front.
Key Matchup: Suarez vs. Patrice Evra
Saturday's match will mark the first time Luis Suarez has seen United since spewing racial epithets at Patrice Evra back in October. Those extracurriculars cost Luisito eight fixtures and cost Liverpool their lone true attacking threat.
Nearly four months have passed since that fateful day, though there likely remains some bad blood bubbling beneath the surface between Suarez and Evra. Don't be surprised, then, if there's more than a bit residual chippiness between these two, particularly if Evra ends up marking Suarez for most of the match.
What They're Saying
Speaking of racism, Man U boss Sir Alex Ferguson has publicly called for the football world as a whole to take a strong stand against hateful discrimination, telling CNN:
I don't understand at all where it's coming from. This is a moment where we have to take stock and we should do something about it if it's surfacing again, and be really hard and firm on any form or shape of racism.

There have been a couple of examples recently which is not good. In 2012, you can't believe it. It was obvious maybe 20 years ago and the improvements have been for everyone to see. I have had some fantastic black players, absolutely magnificent black players, and with every one of them I have enjoyed my working relationship with them.
Curious timing, of course, considering the fact that Luis Suarez and Patrice Evra are bound to encounter one another on Saturday after their previous racism-related row.
Fergie's top mercenary, Wayne Rooney, hasn't hesitated to rile up the Reds either. Wazza took to Twitter to criticize the referee at Monday's match between Liverpool and Tottenham Hotspur for not slapping Luisito with a red card on account of the cleat he laid to Scott Parker's stomach: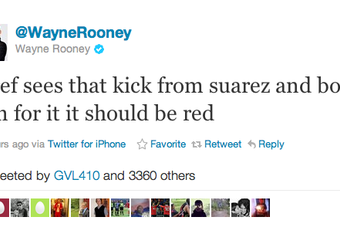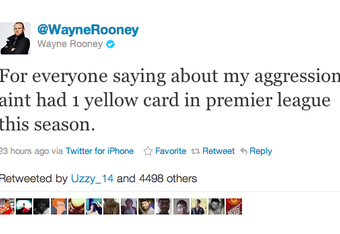 And so, the media mind games of Manchester United continue.
Prediction: Manchester United 2, Liverpool 1
Manchester United's attack is finally rounding back into its previously lethal form now that the likes of Rooney, Nani, Ashley Young and Tom Cleverley are returning to fitness. The Red Devils should have better luck finding the back of the net against Liverpool's stingy defense with a stadium full of friendly supporters at Old Trafford, though the Reds won't make doing so particularly easy.
Not with Liverpool still fighting for a top-four finish, that is.