2012 NFL Draft: Is Robert Griffin III Worth Trading Up For?
February 7, 2012

Ronald Martinez/Getty Images
The St. Louis Rams will enter the 2012 NFL draft with arguably the most valuable selection—second overall. 
We can only assume that the Indianapolis Colts will be selecting Stanford's Andrew Luck, which means that Baylor's Robert Griffin III emerges as the hottest commodity the draft has to offer. 
Teams that desperately need a quarterback for the future will likely be calling the Rams nonstop in order to acquire that pick, as once RG3 is off the board, the quarterback class is rather thin and not too "flashy."
As the Rams will hold complete power over several franchises' futures, these teams will package up the best trade offer that they can afford—but all in all, is Robert Griffin III worth trading up for? 
Arm Strength: B
RG3's arm isn't nearly as strong as the elite quarterbacks in the NFL, but it's certainly strong enough for him to make all the throws that an NFL quarterback has to make. 
There is certainly room for development when it comes to Griffin's arm strength, as he possesses an athletic frame with plenty of room to get bigger and stronger—more specifically his core strength, which will allow him to use a strong enough drive when throwing the football. 
Accuracy: A-
Completing 72.4 percent of your passes is quite impressive for an athletic, dual-threat quarterback like Griffin.
RG3 is accurate with all the short to intermediate throws while standing in the pocket, as well as on the run. The one thing that really stands out is that he throws one beautiful deep ball that is always on the money and hits the streaking receiver in stride. 
Mobility: A+
RG3 is as mobile as you can get for a dual-threat quarterback looking to enter the NFL. 
Griffin has elite speed for a quarterback and is incredibly dangerous when rolling to his right, as he is freakishly accurate when rolling to that side. 
Unlike other mobile quarterbacks, Griffin's accuracy does not take a hit when he is running out of the pocket—if anything, it improves. 
The lone knock that I have noticed with Griffin is that he's prone to fumbling, but that can be adjusted if he holds the ball in a safer position. 
Production: A+
In Griffin's four seasons played at Baylor, he racked up the stats.
Griffin threw for a whopping 10,366 yards throughout his career at the college level, while throwing 78 touchdowns compared to just 17 interceptions.
While on the ground, RG3 averaged 4.3 yards per carry, while punching in a total of 33 touchdowns.
Griffin's senior season was as good as it gets—he finished with 37 touchdowns and only six interceptions, while completing 72.4 percent of his passes for 4,293 yards. 
Overall: A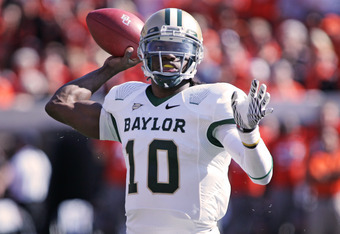 Brett Deering/Getty Images
Aside from Andrew Luck, Robert Griffin III is as good as it gets.
If you ask me, Griffin certainly has a ton of talent and upside, and he will develop as his career moves on in the NFL. When you compare him to Luck, some may argue that Luck has already peaked as he's NFL-ready, while Griffin is somewhat NFL-ready but still possesses a ton of talent. 
In any other year, Griffin would go first overall.
Conclusion: Is Robert Griffin III Worth Trading Up For? 
Yes. Absolutely yes.
If you're in need of a franchise quarterback, then Robert Griffin III is the man.
You need to surround RG3 with weapons and he will flourish—he has a true talent of making players around him better. 
If a team like the Miami Dolphins, Washington Redskins or Seattle Seahawks feels like it needs to draft a quarterback, then trading up to No. 2 is definitely a wise decision. 
Game Film from 2011 Alamo Bowl vs. Washington 
Be sure to check out Tony Santorsa's blog: PatriotsPlus