Baltimore Ravens: The 3 Best Ricky Williams Replacement Options
February 7, 2012

Larry French/Getty Images
News surfaced on Tuesday that Baltimore Ravens running back Ricky Williams has informed the team that he is retiring, ending a strange and exciting 11-year career in which Williams generated as many headlines for his antics off the field as for the plays he made on it.
Williams played just a single season for the Ravens as a change-of-pace back behind the team's leading rusher, Ray Rice. He had 108 carries for 444 yards and two scores and 13 receptions for 83 yards.
The team will need to replace Williams if he doesn't return, something ProFootballTalk.com's Mike Florio seems to believe is a possibility. If the retirement sticks, here are three free-agent players who could fill his void.
Ryan Grant, Green Bay Packers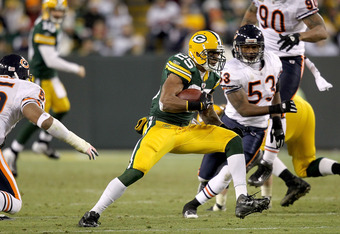 Matthew Stockman/Getty Images
There's little chance that the Green Bay Packers retain the 29-year-old Ryan Grant in this offseason, with James Starks the team's primary rusher and John Kuhn and Brandon Saine on the roster.
Though Grant doesn't have much playing time left in him, he's an ideal value add for a Ravens squad that simply needs someone to spell Rice on an as-needed basis.
Grant had 134 rushes for 559 yards and two touchdowns and 19 receptions for 268 yards and a score in 2011, numbers similar to those put up by Williams. He's not a long-term solution to be sure, but the Ravens' cap situation—and the fact that they have just six picks in the 2012 draft—makes Grant a tantalizing one-year add.
Mewelde Moore, Pittsburgh Steelers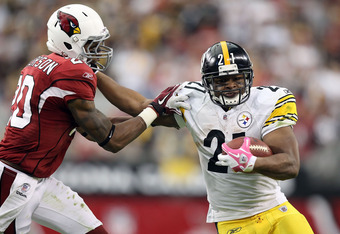 Christian Petersen/Getty Images
If it's value and third-down power that the Ravens want in a replacement for Williams, then perhaps they should look to impending Pittsburgh Steelers free agent Mewelde Moore.
With the Steelers possessing all the backs they'll need heading into 2012, the bruising Moore could be a viable, low-price-tag option for the Ravens for 2012.
Moore will be 30 once the regular season begins, but he's never had the workload of a starting back of his age; his greatest number of carries per season is 155, which he had in 2005 as a member of the Minnesota Vikings.
In his limited role in 2011, Moore had 22 carries for 157 yards and 11 receptions for 104 yards and a score. With a greater involvement in the game, he should prove to be an asset and could fill Williams' role quite easily.
BenJarvus Green-Ellis, New England Patriots

The New England Patriots have greater free agent priorities this offseason than retaining running back BenJarvus Green-Ellis. And as March's free agency deadline approaches, interest in him is likely to increase.
Though Green-Ellis' asking price may prove to be too high for the Ravens, that doesn't mean they shouldn't explore extending him an offer to replace the retiring Williams.
At 26 years old, Green-Ellis can be a Raven for more than just a season or two, and has the talent to be both a solid change of pace when the team wants to pull Rice for a series, as well as the ability to be the team's starter if Rice suffers an injury.
In 2011, Green-Ellis had 181 rushes for 667 yards and 11 scores and nine receptions for 159 yards. In the postseason, he had 140 yards and a score as well. His size and strength would be a great complement to the smaller but faster Rice and would make the team's ground game exponentially more multidimensional.