Toronto Maple Leafs: Wildest Trade Possibility at the Deadline
February 9, 2012
Bruce Bennett/Getty Images
The Toronto Maple Leafs have been an absolute magnet for attention leading up to the NHL Trade Deadline.
Even though most of the trade speculation is mainly just baseless attempts to stoke the fire in Leafsland, it's still fun to contemplate the possibilities.
However, it would seem that as the tsunami of trade talk subsides because of a lack of activity, the powers that be are ready to chime in to get the ball rolling again.
"Dance, Monkey, dance!" yammers the hype-generating media.
Because if there is one thing that seems to take the fun out of the NHL Trade Deadline, it's complacency—or in the case of the Maple Leafs, success.
So what really is the wildest trade possibility at the deadline for the Leafs? 
Ryan Getzlaf/Bobby Ryan
The Ducks have picked up their game recently, which has consequently tamed the rumors suggesting a big shakeup is in order.
Getzlaf is a prototypical top-line centerman with incredible skill, a sterling reputation and the accolades to prove it. Ryan is similarly a skilled star forward who would look incredible in a Leafs jersey.
Would it take a wild trade to pull one of these guys out of Anaheim?
Absolutely—say goodbye to Mikhail Grabovski or Tyler Bozak, plus Luke Schenn, Nazem Kadri and a draft pick at least.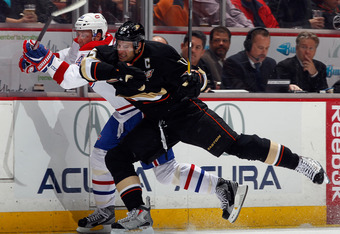 Jeff Gross/Getty Images
But is a deal such as this really appropriate or advantageous to either team?
Burke values the players on his team too much to satisfy general manager Bob Murray's expectations for a return on a player like Getzlaf or Ryan.
James van Riemsdyk
"Extra! Extra! Read all about it...Luke Schenn traded to the Philadelphia Flyers for the very talented—and very concussed—James van Riemsdyk!"
Can you imagine?
That was a rhetorical question, so please don't answer.
A wild trade it might be that would have Schenn leaving Toronto, but a smart one it is not—if you're Brian Burke.
The Maple Leafs may have defencemen out the wazoo, but (no pun intended) is that reason enough to send one of their brightest young talents on his merry little way?
I would hope not. Even for van Riemsdyk.
Now that the Maple Leafs are healthy again and firing on all cylinders, there is a real expectation to lock down a spot in the top eight of the Eastern Conference.
The Leafs would be best off to fortify their defensive corps by leaving well enough alone. Those defenders will come in handy to survive the rigors of playoff hockey come April.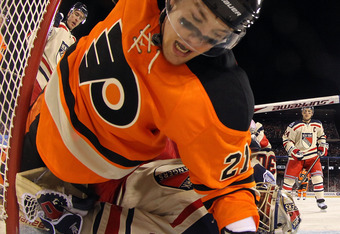 Bruce Bennett/Getty Images
Jeff Carter
If the Leafs made a deal with the Columbus Blue Jackets for that No. 1 center they've been looking for, it would certainly have to be a blockbuster.  
We've all read the headlines, imagined the possibilities and bought into the hype surrounding if the Leafs could trade for Carter—now it's time to come back to reality and realize there are too many barriers in the way of getting a deal like this done.
The first problem is managing Carter's huge contract in Toronto, who can't afford him without shedding cap space. 
Losing a contract like Tim Connolly's or Mike Komisarek's would help move things forward on Toronto's end, but would Columbus be interested in either of those players?
The second problem is figuring out the logistics of which supplementary players they would have to give up in return.
Beyond a first-round draft pick, the Leafs would need to let go of top-six talent plus a few prospects.
When asked if he would deal a first-round pick now for a player to make them a better playoff team, Burke emphatically replied, "Where is the phone? Absolutely."
But why would Burke mess with the chemistry of the team after they have performed so well in 2012?
Ultimately, to consider Carter a real trade possibility is wishful thinking more than anything else.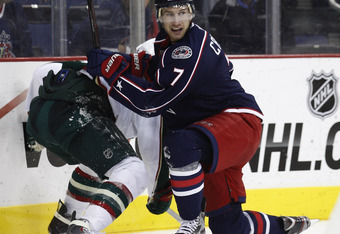 John Grieshop/Getty Images
Steady As She Goes
Perhaps the wildest trade at the deadline is the one Burke doesn't make.
The Leafs have a record of 10-5-1 thus far in 2012 and are currently sitting seventh overall in the Eastern Conference.
Fans might be accustomed to seeing their beloved GM make a splash at the deadline, but if it means tampering with chemistry or giving up too much of their depth, it may be a better idea to wait until the offseason to tinker with the roster of this team.
After all, if this current group can do it, I would be more than happy to see Burke do his wheeling and dealing after the Leafs do some damage in the playoffs.