Boston Bruins: 3 Signs Tim Thomas Is Done in Boston After 2011-12 (Or Not)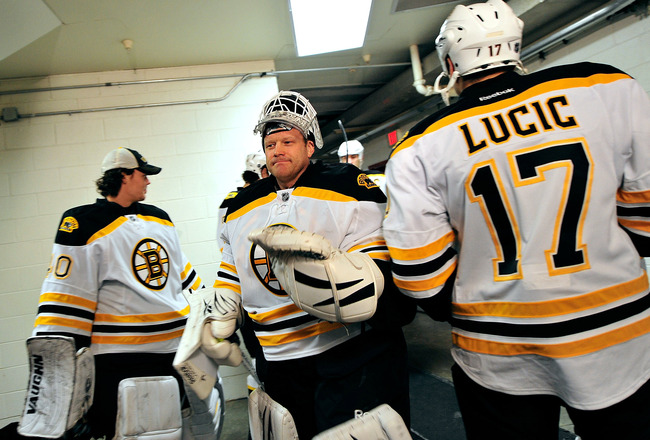 Grant Halverson/Getty Images
The aftermath of Boston Bruins' goaltender Tim Thomas' no-show at the team's White House gathering uncorked reports eerily reminiscent of the conjugal collapse between Manny Ramirez and the Red Sox circa 2008.
One of those most prominent reports, in the Jan. 25 edition of the Boston Globe, underscored the salty taste Thomas' outspoken absence left in one Bruins executive's mouth. Politics aside, this was the first time the hardware-laden, blue-collar backstop made headlines with his habit of placing his own desires ahead of the team.
By the same token, though, this is hardly anything new in the eyes of his teammates or employers, who have consistently welcomed Thomas' services dating back to the end of the 2004-05 lockout.
Then again, the relationship between Ramirez and the Red Sox also had multiple bumps before the left fielder and cleanup batter was finally dealt at the last minute of the 2008 trading deadline. As it happens, Thomas' contract runs through the end of next season and has a no-trade clause, but one that is only valid through July 1 of the coming offseason.
Barring a revision to the contract within the next five months, there is no sense in assuming Thomas will fulfill the balance of his commitment to the Bruins. But for every reason to believe he or general manager Peter Chiarelli will pursue a swap this summer, there is one to believe he will return to TD Garden in October.
The top three of each are as follows, starting with the signs he will doff a Boston uniform for the final time at the conclusion of the Bruins' 2012 playoff run.
Testing Tuukka's Patience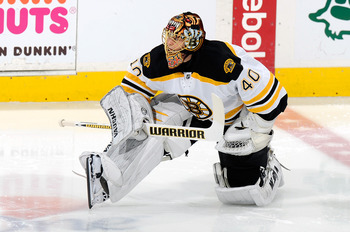 Greg Fiume/Getty Images
It is possible that the Bruins can retain the enviable Thomas-Rask tandem for at least the balance of Thomas' contract. The 24-year-old Rask has openly expressed his desire to remain in Boston, hinting that a full-time starting job can wait a little longer.
However, with Rask about to hit restricted free agency next summer, one year before Thomas is slated to become an unrestricted free agent, Boston could be presented with a momentous pair of choices.
The options are simple enough. Do the Bruins want to sacrifice another one or two seasons of a goalie currently tinkering on the age of 38 in favor of perhaps a decade-plus of a 24-year-old yet to enter his prime? Or do they want to make it the other way around?
Time and Space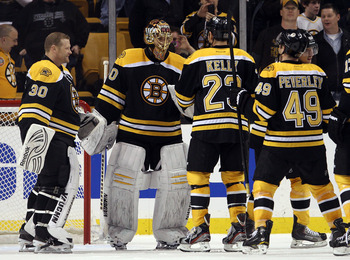 Elsa/Getty Images
As it stands now, Thomas' contract has him earning $5 million per season until he hits UFA status in the summer of 2013. Next season, that will tie him with Patrice Bergeron for the third-most handsomely-paid Bruin, trailing only David Krejci and captain Zdeno Chara.
Although Boston has appreciable cap space right now, that could change depending on what kinds of moves are made in advance of the Feb. 27 trading deadline. Either way, chances are Chiarelli will want to create more to attract new acquisitions or sustain the interest of a few current players in the long-term future.
Rask is a prime example of that with the $1.25 million salary he is raking in this season. Sooner or later, the younger half of the Bruins' goaltending guild will inevitably demand more crease time and more cash.
If Thomas senses an impending pay cut starting in the 2013-14 season, then he might want to take the remainder of his contract someplace where he will have better odds of keeping his annual $5 million intake.
Anton Khudobin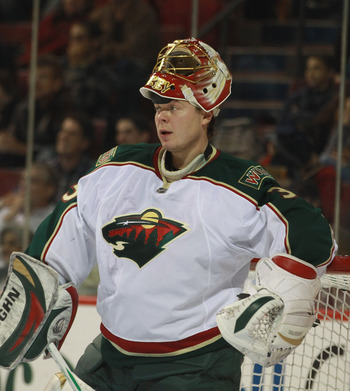 Bruce Bennett/Getty Images
The starting goaltender on the farm is only a year older than Rask and is easily experiencing the most growth out of any Providence Bruin amidst a season of hardship.
As of Tuesday morning, Khudobin boasts a 17-14-3 record, is the only AHL stopper with 1,000 or more saves on the year and ranks ninth in the league with a .920 save percentage.
Depending on his performance through the remainder of the season, Khudobin could be deemed ready to assume a full-time backup role with the parent club by next season. Chiarelli might even embrace that move if he decides the Bruins need to incorporate fresher, hungrier personalities in order to sustain their status as Stanley Cup contenders.
And now for some signs that Thomas' days in Boston are not so numbered...
Ongoing Efficiency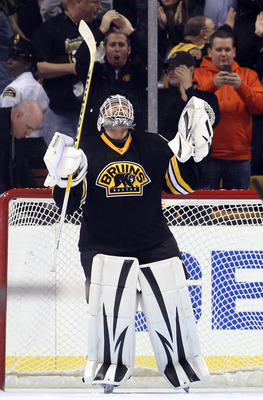 Elsa/Getty Images
In 2006-07, 2007-08 and 2009-10, Thomas had five outings apiece where he finished with a sub-.800 save percentage. He did not have any nights that choppy out of 57 last season and has had none to date through his first 34 appearances this year.
In addition, while Thomas did allow four or more goals in four of eight games between Dec. 31 and Jan. 22, those are his only red light overloads of the year. And over his last three outings since a 6-5 shootout victory at Philadelphia, he has seen his nightly goals-against and save percentage exponentially improve.
Thomas' 35-save performance against Washington on Sunday amounted to his second-best single-day save percentage outside of shutouts this season, and he was 24 hours removed from another toil against Pittsburgh.
Even if you doubled his number of four-plus-goal games and total appearances (eight out of 68), Thomas would still have fewer ragdoll beatings out of more games-played in 2011-12 than he had even in his two Vezina campaigns.
Translation: he's still got it.
Ace Under Fire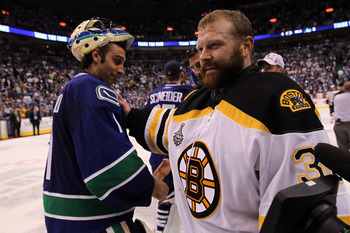 Bruce Bennett/Getty Images
No matter who or what the stressor is―ally, adversary or observer―Thomas tends to thrive more than usual when he is peeved.
The fire that burned to record-setting, Vezina-earning status in 2010-11 was sparked by Rask's brief overtake and the subsequent offseason trade rumors. It was stoked to a Conn Smythe caliber when Vancouver counterpart Roberto Luongo dissed him and his unique style during the Stanley Cup finals.
This first-time speculation of a fallout with the front office or just a collapse in competency might be the key to another Thomas resurgence, both for this season and carrying on into future seasons.
If, however, the Bruins were to actively or passively usher him out and open up 29 other doors to him, Thomas could use the same flame out of productive spite. The last thing Boston wants to see firsthand is a competent, hungry Thomas finding that bonus level of stinginess while working for a conference rival in the playoffs.
Compensation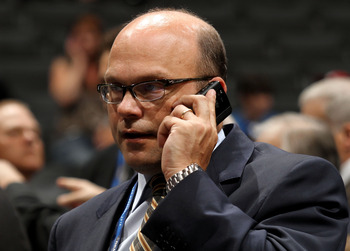 Bruce Bennett/Getty Images
Chiarelli should only seek to export Thomas if he can find a buyer who is convinced the grizzled goaltender is still worth $5 million per season, or something close to that. In turn, he should demand comparable compensation, whether that might be a single celestial skater or a pair of nascent stars of multiple positions.
Reeling off the previous point, Boston does not want to part ways with Thomas if doing so leaves him with the impression that they are trading for trading's sake. The other party should be impelled to make a substantial sacrifice in order to acquire his services.
If no such potentiality arises, then Thomas might as well be given the opportunity to retire as a Bruin. Either way, fate might just naturally catch up to him and tear down his game next season.
Keep Reading

Boston Bruins: Like this team?