MLB Free Agency: The Best Player Left at Each Position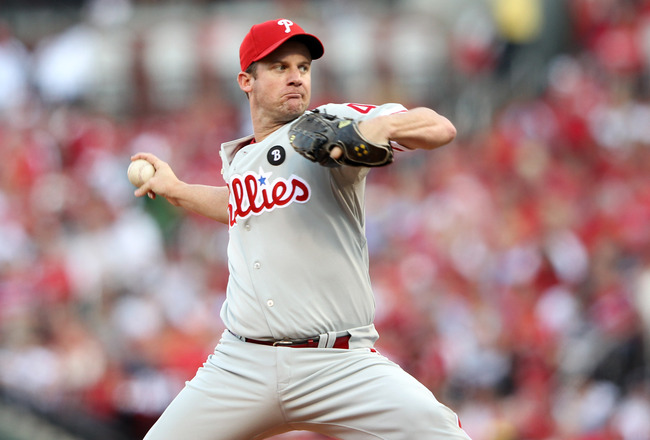 The best player left on the market, Roy Oswalt
Jamie Squire/Getty Images
The MLB offseason is starting to wrap up, and there are still some great players left unsigned. With pitchers and catchers reporting in just a couple of weeks, time is running out for these players to find their home if they plan on playing this season.
I will take a look at the best remaining free agent at each position.
Catcher: Jason Varitek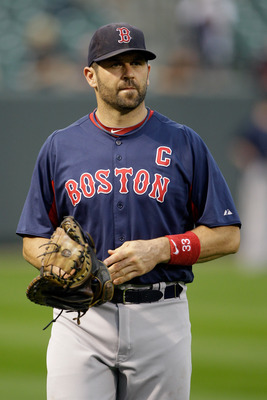 Rob Carr/Getty Images
Needless to say, the catcher position has slim pickings left.
The top remaining catcher is a guy that is 40 years old, and has no business as a starting catcher anymore.
That man is Jason Varitek.
Over the last two seasons, Varitek has played in 107 games amassing a .225 batting average.
Combined with his deteriorating defensive skills, Varitek (and the rest of the catching FA's) are probably best left for backup duty.
1st Base: Derrek Lee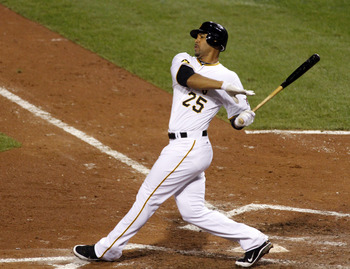 Justin K. Aller/Getty Images
There is still some potential value to be had at first base, with Derrek Lee being the best available.
Lee still has some pop in his bat, as he has hit 19 home runs in each of the last two seasons. Add that to his .267 batting average last season, and he can still produce for your club, especially off the bench.
His defense is still good as well, as evidenced by his 1.9 UZR rating last season.
CBSSports.com's Jon Heyman via MLBTradeRumors.com reports that Derrek Lee is considering retirement if he does not receive the right deal, so we very well may not be seeing Lee playing baseball this season.
2nd Base: Aaron Miles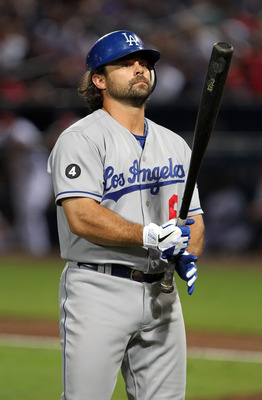 Joe Murphy/Getty Images
The best second baseman left on the market is Aaron Miles.
With the Dodgers signing Mark Ellis to play second base, Aaron Miles will have to find a new home.
Miles had a decent season last year, hitting for a respectable stat line:
275 BA 49 R, 3 HR 45 RBI.
While those are not bad stats, they do not warrant a starting second baseman in the league. Look for Miles to sign as a backup infielder for another team.
Shortstop: Edgar Renteria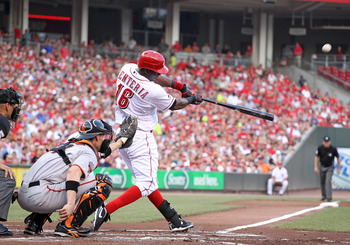 Andy Lyons/Getty Images
With only two shortstops remaining to be signed, the nod goes to Edgar Renteria.
Last season, Renteria played in 96 games and batted .251 with 34 runs, five home runs and 36 RBI.
Unfortunately, he will not provide much help defensively. In his 86 games at SS, he committed 13 errors. For this reason, it is likely that Renteria will also sign as a backup infielder.
3rd Base: Eric Chavez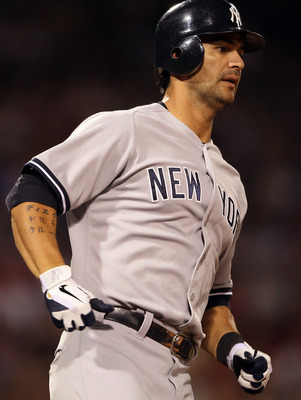 Elsa/Getty Images
Last season, Eric Chavez spent his time in Yankee Pinstripes. Now, he finds himself as the best available third baseman on the free-agent market.
At this point in his career, Chavez is delegated for backup duty. He has only managed to play in 122 games over the last four seasons.
In his limited duties last season, Chavez hit .263 with 16 runs, two home runs and 26 RBI.
However, the most value a team will gain from Eric Chavez is his defense. In 305.2 innings last season at third base, he had a 2.0 UZR rating and did not commit any errors.
Left Field: Johnny Damon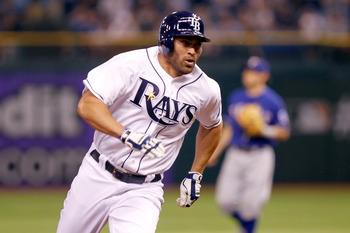 Mike Ehrmann/Getty Images
While he spent the vast majority of his time last season as the DH for the Tampa Bay Rays, Johnny Damon ranks as the best available left fielder on my list.
His only other competition would be Raul Ibanez, who had a UZR rating of -18.9 in left field last season. Needless to say, he has no business being on the field anymore. Damon is the lesser of two evils in terms of fielding here.
Damon had a pretty good season last year offensively, batting .261 with 79 runs, 16 home runs, 73 RBI and 19 SB.
Those numbers are solid enough for a team to take a flier on Damon. Unfortunately, his price tag is what is driving teams away from him. According to ESPN.com's Jayson Stark via MLBTradeRumors.com, he is reportedly seeking a $5 million contract.
Center Field: Yoenis Cespedes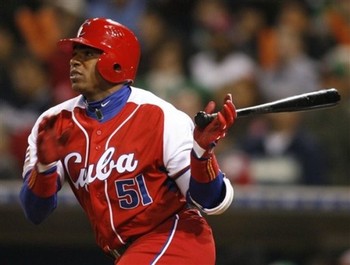 Yoenis Cespedes has been the most anticipated international free agent to sign this offseason besides Yu Darvish.
Cespedes has established residency in the Dominican Republic. According to MLB.com, Cespedes is able to negotiate with, and even enter into an agreement with any team. However, the contract will not be official until he is legal cleared by the government.
Last season, Cespedes hit .333 with 89 R, 33 HR and 99 RBI in 90 games.
While those numbers occurred in the Cuban National League, that could still translate to some huge numbers in the MLB, especially over a full season.
Through Twitter ESPN's Jim Bowden via MLBTradeRumors.com mentioned a few teams that were interested in signing Cespedes: the Detroit Tigers, Miami Marlins, Chicago Cubs, Chicago White Sox, and Baltimore Orioles.
Right Field: Magglio Ordonez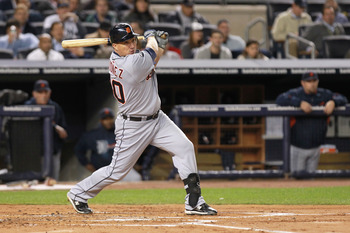 Nick Laham/Getty Images
The best right fielder remaining on the market is Magglio Ordonez. He missed the end of last season after injuring his ankle, however, he should be able to play in 2012.
Last season, Maggs batted .255 with 33 runs, five home runs and 32 RBI. He wasn't a ton of help defensively as he gathered a -6.3 UZR rating.
Ordonez will likely be signed as a backup outfielder as it appears his starting days are over.
Designated Hitter: Raul Ibanez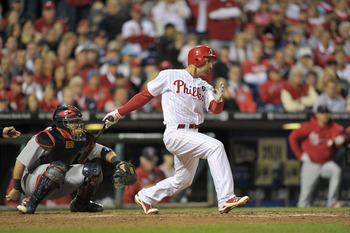 Drew Hallowell/Getty Images
The best designated hitter left on the market is Raul Ibanez. He would have been the best left fielder if it wasn't for his -18.9 UZR rating in left last season.
Ibanez had a productive offensive season last year. While his batting average slipped to .245, he gathered 65 runs, 20 home runs and 84 RBI for the Philadelphia Phillies in 2011.
Recent reports have the Yankees in serious discussions with Ibanez (link: Courtesy of MLBTradeRumors.com). If he signs with the Yankees, it is likely he will be in a platoon at the DH position, complimenting the right-handed hitting Andruw Jones.
Honorable Mention: Vladimir Guerrero
Starting Pitcher: Roy Oswalt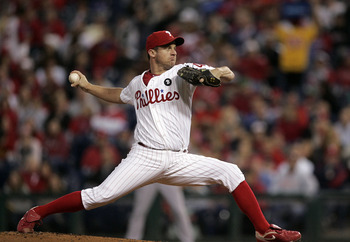 Rich Schultz/Getty Images
The best player out on the market right now is Roy Oswalt.
The 34-year-old had a good season last year, with a 9-10 record, a 3.69 ERA and 93 strikeouts over 139 innings.
Unfortunately, he dealt with a lot of back issues that saw him spend considerable time on the DL. This is likely hurting his value this offseason.
The rumor mill regarding Oswalt has heated up the last few days. It has been reported that he wants to pitch for either the St. Louis Cardinals or the Texas Rangers. The Reds have also joined the hunt for Oswalt (once again, thanks to MLBTradeRumors.com for the link).
Unless the Cardinals make a move to trade one of their starters, they likely will be out of the running for Oswalt.
Relief Pitcher: David Aardsma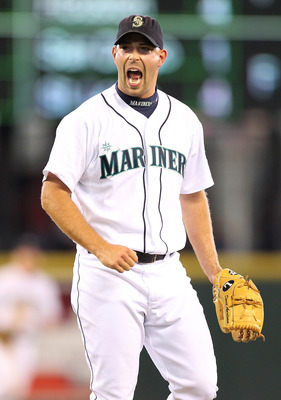 Otto Greule Jr/Getty Images
The best reliever available on the market is David Aardsma. While he is recovering from Tommy John surgery, he is expected to be back this season.
Prior to his injury, he was very effective in closing games. In his two years as the closer for the Mariners, he saved 69 games and had a 2.52 and 3.49 ERA in 2009 and 2010 respectively.
As he is still only 29 years old, Aardsma may provide some value to a team that is willing to take a chance on him.
Keep Reading