2012 NFL Free Agency: Analysis and Predictions for Each Green Bay Packers FA
February 7, 2012

Jamie Squire/Getty Images
Now that the 2011-12 NFL season is in the books, let's take a look at the eight unrestricted free agents that the Green Bay Packers are currently looking at on their own roster this offseason:
TE Jermichael Finley
There are few tight ends in the game that can match his physical skill set, but the results from Finley's first healthy season in Green Bay were jagged. While he set or tied career highs in receptions (55), yards (767) and touchdowns (eight), Finley also led NFL tight ends with 14 drops.
There were games in which he was shockingly transparent, too.
But what casual fans don't adequately grasp is the effect Finley has on the offense by just being on the field. Throughout the 2011 season, defensive coordinators game-planned to keep Finley from being the Packers receiver that made the big plays.
It was no coincidence then that Jordy Nelson had a career year, as he routinely saw single coverage from a No. 2 or 3 cornerback.
Finley is a frustrating player, but there's no way the Packers can let a talent let him walk away before the franchise that drafted and developed him sees the 25-year-old realize his potential. 
What will happen: Franchise tagged
CB Jarrett Bush
Streeter Lecka/Getty Images
Bush is a hard worker who has improved in every season that he's stuck on the Packers roster. While there will always be deficiencies in his coverage abilities, Bush has established himself as a capable slot blitzer and special teams ace.
Ted Thompson has always favored Bush, too, and he matched an offer sheet the Titans gave him a few years back. That said, there might be a team or two in free agency that has the cap room to throw him a bigger paycheck to play exclusively at nickelback and on special teams.
We'll see this offseason how much Thompson really likes Bush.
What will happen: Signs elsewhere  
QB Matt Flynn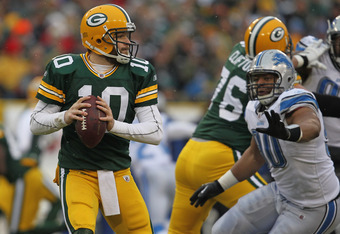 Jonathan Daniel/Getty Images
Drafted in the seventh round of the 2008 draft, Flynn has exceeded even the most optimistic expectations for his career. He beat out second-round pick Brian Brohm back in '08, continually grew at the quarterback position and then put on back-to-back sparkling performances against the New England Patriots in 2010 and Detroit Lions to close 2011.
Against the Lions, Flynn broke several franchise records and established himself as the top free agent at his position heading into the offseason. There will several teams that show interest in signing Flynn to be its franchise quarterback.
Miami and Seattle are the odds-on favorites to begin free agency. 
What will happen: Signs elsewhere
RB Ryan Grant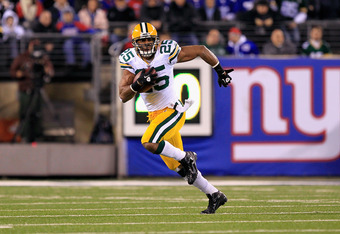 Chris Trotman/Getty Images
The Packers workhorse running back from 2007-09, Grant busted up his ankle to start the 2010 season and then split carries with James Starks in 2011.
He still has some burst, as evidenced against the Raiders when he found a hole off left guard and exploded past the second level for a touchdown. But Grant is no longer a top-25 back and Starks has more upside.
Given Thompson's history in dealing with veteran free agents, expect Grant to be playing elsewhere in 2012. The Packers will look to the draft again this April to find his replacement. 
What will happen: Signs elsewhere
DL Howard Green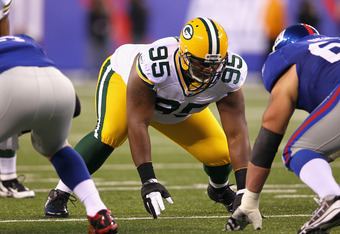 Al Bello/Getty Images
Little did the Packers know when they signed Green in the middle portions of the 2010 season that his pressure and quarterback hit on Ben Roethlisberger would help Nick Collins stamp his name on Packers Super Bowl lore.
But other than that important play last February, Green hasn't added much. He's a big body who can take up blockers but rarely gets a push into the backfield. A good locker room guy, Green is just too old to warrant another contract.
What will happen: Signs elsewhere 
CB Pat Lee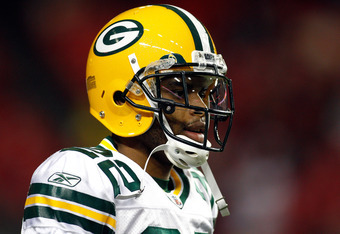 Chris Graythen/Getty Images
For a player drafted in the second round, Lee has given almost nothing. Since the Packers took him high in 2008, Lee has played just over 100 defensive snaps and has zero interceptions.
Like Bush, Lee has turned himself into a valued member of the special teams unit. But with almost zero upside to play cornerback consistently at the NFL level, it is time for the Packers to cut loose this draft bust.
What will happen: Signs elsewhere
OLB Erik Walden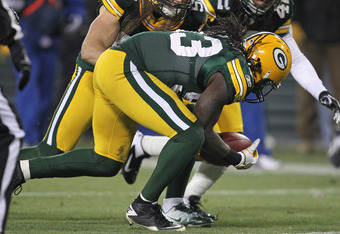 Jonathan Daniel/Getty Images
Few outside linebackers in a 3-4 defense were as poor as Walden in 2011.
He provided some rush prior to his arrest for domestic assault (he was later cleared), but after that incident, the pressure dried up. And with no pass rush, Walden's value plummets. He's weak against the run and routinely gets swallowed up trying to set the edge.
In all reality, the Packers may have already tapped the last drop of Walden's NFL productivity. But there should be consideration in bringing him back on a one-year deal, especially with the lack of depth at the position.
What will happen: One-year deal with Packers
C Scott Wells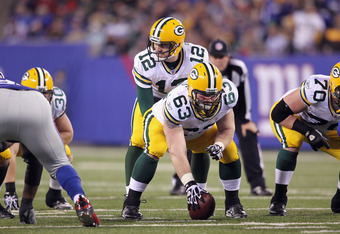 Nick Laham/Getty Images
Wells was hands down the Packers' best offensive lineman in 2011. In his eighth season with the Packers, Wells again showed that he can make all the protection calls at the line of scrimmage. He allowed just a half sack in 17 games and no starting lineman gave up fewer pressures.
There are obviously concerns about Wells being 31 years old, but Thompson has to overlook that number and pay Wells. The Packers have no other option on the roster and Wells has performed like a top-five center for two straight seasons. 
What will happen: Re-signs with Packers, multi-year deal