2012 NFL Free Agents: 1 Risky Player Each NFL Team Should Still Sign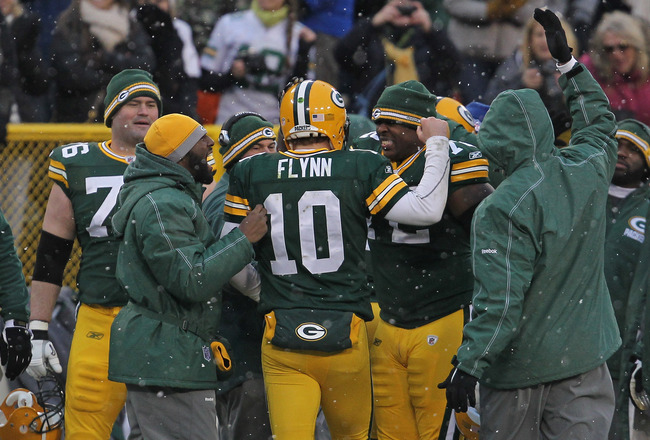 Jonathan Daniel/Getty Images
The New York Giants players and staff are most likely taking a few weeks off before they start to think of next season.
However, some teams are working around the clock to prepare for the 2012 season. Some players are thinking of what they can do to better their performance while the front offices are faced with tough decisions regarding cap space, the draft and free agency.
Indianapolis is probably one of the bigger news stories being followed. The injury to Peyton Manning along with Andrew Luck sitting at the top of this year's draft makes for intriguing predictions.
Most of the stories to come will likely be that of some key free-agent signings rather than blockbuster drafts and/or trades. Not to say there will not be any surprises on draft day, but they are less likely.
Free agency is going to be big for teams such as the Cincinnati Bengals, Buffalo Bills and Oakland Raiders. Those three organizations are prime examples of teams having talent but still needing a slight upgrade somewhere on the roster to make them contenders in the playoffs.
Maybe the free-agent pickup is a no-brainer or maybe it is a gamble. Whatever the case may be, owners, managers and head coaches will have to be willing to pick up some risky free agents to better their team.
Here is a list of some players each NFL team should still sign.
Green Bay Packers: Matt Forte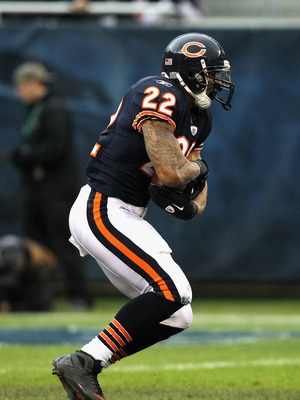 Jonathan Daniel/Getty Images
Matt Forte and the Chicago Bears' organization had some negative emotions towards each other early last season.
Forte wanted a long-term deal, and he was well-deserving of it. He basically was the entire Bears offense up until mid-season when Jay Cutler starting playing well.
This one may be tough, especially since the Packers are such big rivals with the Bears. However, adding Forte to the already-explosive Packers offense will make them nearly impossible to stop. Forte is a legitimate 1,000-yard rusher, and Aaron Rodgers is arguably the best in the pocket.
Matt Forte is coming off an MCL sprain, and if a team is investing long-term money, injuries to knees are always of concern.
Baltimore Ravens: DeSean Jackson
Rob Carr/Getty Images
Granted, this pick is probably not a "risky" pick, but if the Ravens were to pick him up, their offense could potentially match their defensive output.
Jackson offers a huge down-the-field threat, and Flacco has shown he has an arm. Adding Jackson will greatly benefit the offense, adding at least an extra seven points per game and giving the Ravens a huge upper-hand to go along with their defense.
San Francisco 49ers: Vincent Jackson
Donald Miralle/Getty Images
Vincent Jackson has had issues with injuries and being able to stay on the field. However, he offers a big target for quarterback Alex Smith. Jackson, along with Ted Ginn Jr. and Michael Crabtree, will offer up touch matchups with other teams.
If the 49ers can sign Jackson, they could be the Super Bowl favorites for next season.
New England Patriots: Cortland Finnegan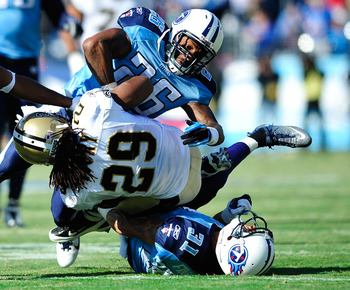 Grant Halverson/Getty Images
He has been known to be a "dirty" player, which is really the exact opposite of what the Patriots stand for.
However, the secondary for the Patriots is one of their biggest flaws, and having Finnegan on the roster will definitely improve the defense against the pass.
Since Finnegan will want a long-term deal, it will be difficult to see the Patriots really pursuing him unless he can prove that he will be a stable, under-the-radar player.
New Orleans Saints: Terrell Thomas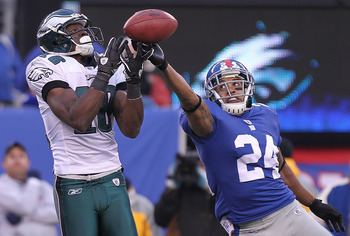 Nick Laham/Getty Images
The weakest part of the Saints' team was the amount of yards allowed by the secondary on defense.
New Orleans was ranked No. 30 overall in that department, allowing 259.8 yards per game in the air.
If the Saints can add defensive back Terrell Thomas to their roster, it could help their secondary out. Thomas is a physical perimeter player who will help toughen up their corner play. Thomas is also a great run-support player.
However, he is coming off an injury, and it will be tough to take a leap of faith on a player who could ultimately be a different player.
Pittsburgh Steelers: Ryan Grant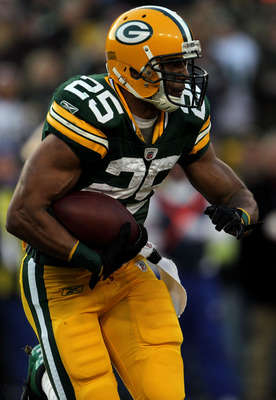 Jonathan Daniel/Getty Images
The Steelers defense was solid as usual. Big Ben played like his usual self, and the only real bump on their roster is the lack of depth at running back.
Picking up Ryan Grant offers a great talent and depth at a weak position for the Steelers.
New York Giants: Justin Forsett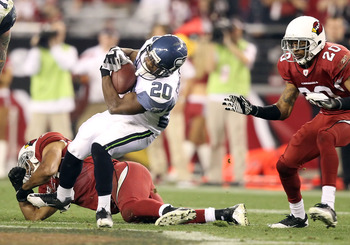 Christian Petersen/Getty Images
Forsett plays behind Marshawn Lynch in Seattle and rightly so. The Giants have struggled on offense with their run and were bailed out many times due to Eli Manning's talent.
Although Forsett is not that big of a name, his upside is huge and the Giants can really use a fast and talented back.
Philadelphia Eagles: Stephen Tulloch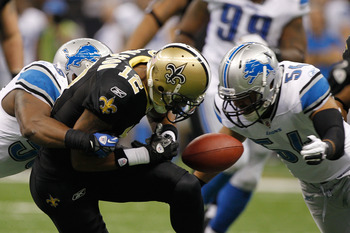 Chris Graythen/Getty Images
Tulloch is risky pick due to his most-likely demand of a long-term contract. It will be tough to give him that kind of money and contract length, but if his linebacker skills stay consistent at a high level, the Eagles will be deadly.
Across the board they are ranked above par, which means they are talented. This past season was tough because of the hype, but they are going to be good in the next few years with more practice with each other.
The "weakest" part of the defense was stopping the run. Ranked 16 overall against the run, it is the lowest ranking of any of the four common categories for offense and defense.
Detroit Lions: Michael Bush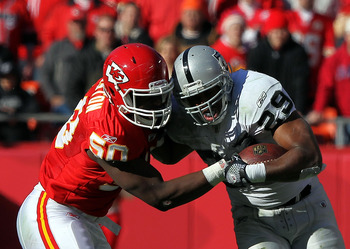 Jamie Squire/Getty Images
The Raiders are going to try hard to keep Bush in the Bay. However, with his talent it looks like there will be plenty of suitors to offer him big money.
Detroit should offer him a contract to help relieve some pressure off of Matthew Stafford and Calvin Johnson on offense.
With a legitimate running back in Michael Bush, it will open up more holes downfield for Stafford to work his magic.
Houston Texans: A.J. Feeley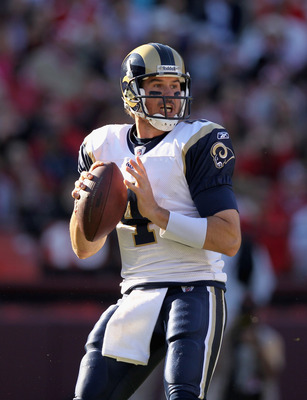 Ezra Shaw/Getty Images
The Texans are stacked on both sides of the ball. They have a legitimate shot at winning the Super Bowl when looking at the numbers on paper.
Houston is ranked second in rushing yards, third in passing yards allowed and fourth in rushing yards allowed.
The only spot on their stats would be their No. 18 overall passing ranking which is slightly skewed due to the injury to Matt Schaub.
However, by adding Feeley, who is a reliable backup, Houston adds safety to the roster for next season.
Atlanta Falcons: Cortland Finnegan
Wesley Hitt/Getty Images
The Falcons have a stout run defense along with a great overall offensive attack. The only real flaw in their team is their opponents' pass coverage.
Atlanta is ranked 20th overall against the pass, and having Finnegan on the corner will definitely help with that.
A major issue is obviously Finnegan's past history with "playing dirty."
Cincinnati Bengals: Carl Nicks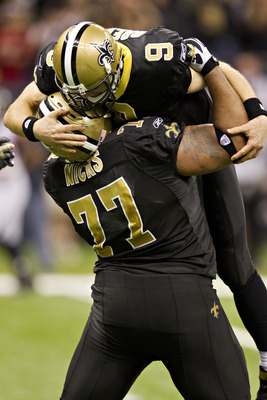 Wesley Hitt/Getty Images
Carl Nicks is one of the premier offensive linemen in the league, currently playing for the New Orleans Saints.
If New Orleans is willing to dish out big money, Nicks will be happy to stay with the Saints' organization. However after paying Jahri Evans a big contract, it is hard to see Nicks being paid equal or greater value.
The risk comes in having to offer up a big contract to attain Nicks, but the Bengals are in desperate need of solidifying their offensive line.
Denver Broncos: Mike Tolbert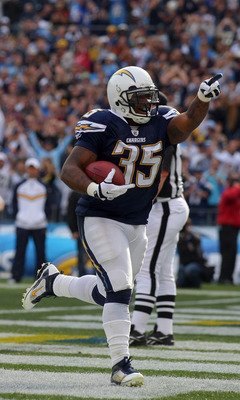 Donald Miralle/Getty Images
The Broncos have some questions for next season regarding whether or not Tebow is a fluke or can actually lead this team into the playoffs.
Either way, it looks like Tim Tebow is staying as the starter (for now). Using Tebow effectively can be a challenge, but one way is to have an effective run game.
This past season the Broncos had the best rushing offense in the league, averaging 164.5 yards per game on the ground. Having an all-purpose back in Tolbert can open up some depth on the roster that will ease the effectiveness of that offense.
Not much has been proven by Tolbert, which is why offering him a nice contract can be slightly premature.
Chicago Bears: Matt Forte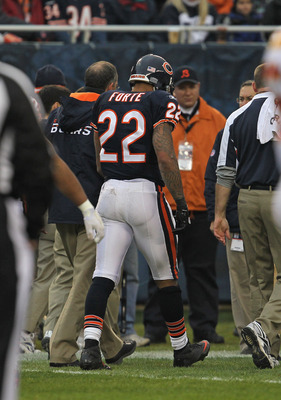 Jonathan Daniel/Getty Images
There has been some question as to whether or not Forte will return to Chicago. Before his injury, Forte and the organization had a slight fallout over the lack of a long-term deal.
Forte is one of the most pivotal parts of the Chicago offense. Although he is coming off injury, the Bears must make it a priority to try to re-sign this guy.
San Diego Chargers: Curtis Lofton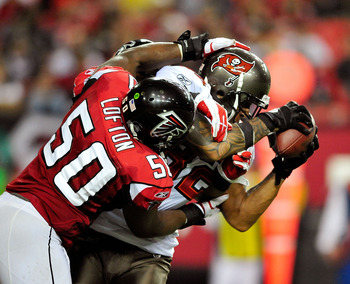 Grant Halverson/Getty Images
The Chargers' glaring weakness was their ability (or lack thereof) to stop the run. While other major categories were decent for San Diego, they ended up ranked 20th overall against the rush.
Curtis Lofton looks to demand some big money in comparison to his previous contract of four years, $4.58 million dollars.
If the Chargers can offer him the money, it would be valuable for that defense.
Oakland Raiders: Tim Dobbins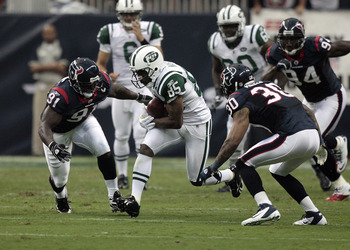 Bob Levey/Getty Images
At age 29, Dobbins is a risk to offer a big contract to. However, the Raiders are struggling on defense with both the run and pass.
Dobbins offers up a huge upgrade at the linebacker position.
Carolina Panthers: Robert Mathis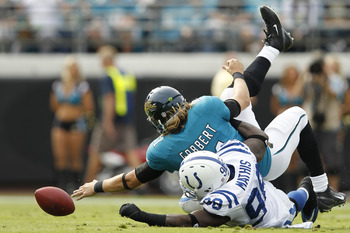 Joe Robbins/Getty Images
The Panthers offense was on a roll last season with the resurgence of receiver Steve Smith and emergence of Cam Newton.
Carolina's run game was also pretty good, utilizing DeAngelo Williams and Jonathan Stewart.
The real struggle came on defense, and defensive lineman Robert Mathis can definitely help bolster down that pass rush.
Dallas Cowboys: Brent Grimes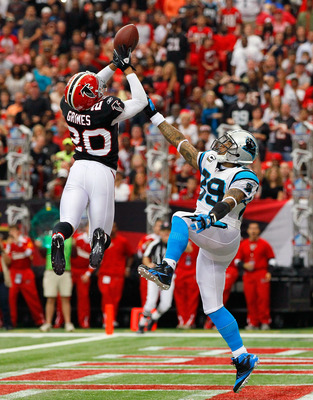 Kevin C. Cox/Getty Images
Grimes is one of the better corners on the Atlanta Falcons' roster. He is a physical and smart player who is starting to play at an elite level for his position.
However, he is looking for a long-term contract for some big money. The only issue with that is his age (29). Signing a long-term deal for a player who is basically in his 30's is risky and will require some thought.
If Dallas can sign him, it will help out a struggling secondary for the Cowboys.
Seattle Seahawks: Matt Flynn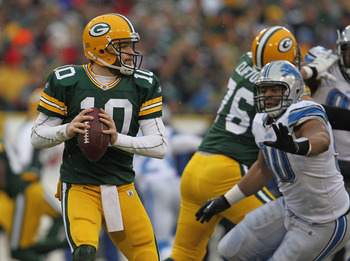 Jonathan Daniel/Getty Images
Matt Flynn is the backup quarterback in Green Bay and has not played in too many games due to the starter being the best in the game.
However, in the few games he has played, Flynn has shown some remarkable ability. In his most recent game against the Detroit Lions, he set a Packer record for most touchdowns thrown (six) and yards gained (480).
For a team that has a great running game, a chance on Flynn might pay huge dividends.
New York Jets: Jake Delhomme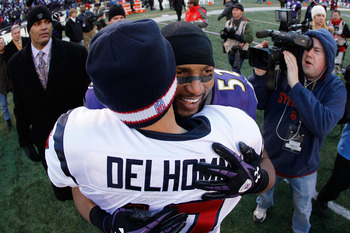 Rob Carr/Getty Images
Clearly Mark Sanchez is one of the biggest concerns for this Jets franchise. The defense has been stellar for years, and the talent at the specialty positions is above-par.
This leads people to point to the quarterback spot due to Sanchez' incredibly inconsistent play.
By adding a veteran in Delhomme, maybe it will make Sanchez compete a little bit more for that starting job.
Delhomme may be old and used to playing the backup role, but he is still savvy enough to understand what a team like the Jets needs from a quarterback, which is low turnovers and efficiency.
Kansas City Chiefs: Andre Carter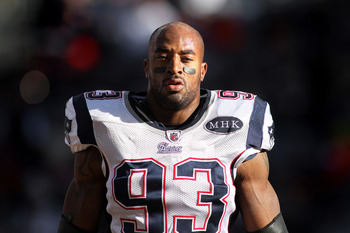 Marc Piscotty/Getty Images
Unfortunately, Carter had a season-ending injury last season, which kept him out for about half the season.
However, before he left, he had an impressive record and showed that he is a big-time player. When he was injured, the Patriots clearly struggled to get to the quarterback consistently.
St. Louis Rams: Jason Jones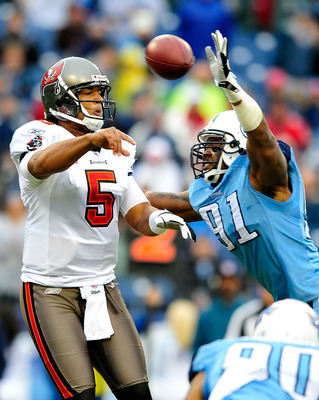 Grant Halverson/Getty Images
Jason Jones is meant to be in the middle. Last season, the Titans moved him out wide to the end position, and his production slipped.
This might be incentive for Jones to want to leave. If that's the case, the Rams should take a risk in signing this guy long-term.
St. Louis has a talented offense and one of the better pass defenses in the league. Jason Jones plugging up the middle on defense will help the Rams be a tough opponent next year.
Tennessee Titans: Antonio Garay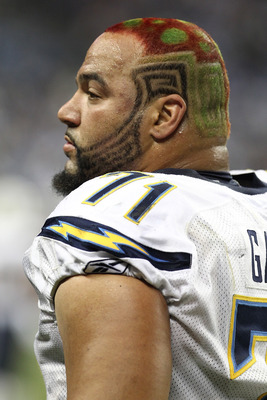 Dave Reginek/Getty Images
Across the board, the Titans look to be pretty decent. The only flaw comes from their rush defense, which was ranked 24th overall, allowing 128.3 yards per game.
Antonio Garay had a great 2010 season but slowed down a bit in 2011. If this is the trend that Garay is taking, the Chargers will look to find other options if bidding wars erupt.
Tampa Bay Buccaneers: Stephen Tulloch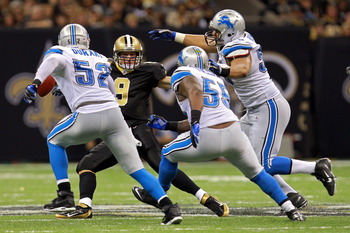 Ronald Martinez/Getty Images
At 5'11", 240 pounds, Tulloch is a very compact-sized middle linebacker. He is a great tackler, which makes him a very effective player.
He will most likely want a long-term deal.
Washington Redskins: Peyton Hillis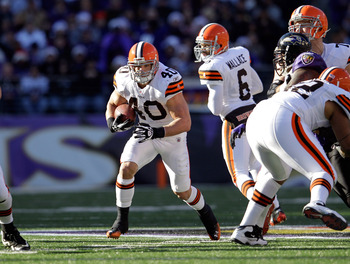 Rob Carr/Getty Images
Last year the Redskins were ranked 25th overall in yards per game rushing at 100.9 per game.
They desperately need either better lineman or a better running back. Hillis underperformed this past season with the Browns but has shown that he has the capability of racking up over 1,000 yards rushing.
If the Redskins can pick him up for a good price, it could pay off big.
Buffalo Bills: Anthony Spencer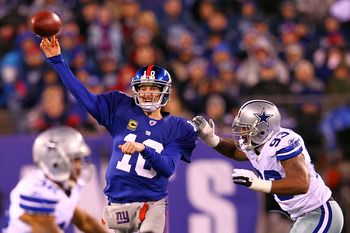 Al Bello/Getty Images
Spencer is one of the league's best left outside linebackers. He is great against the run and is getting better with each passing season.
The only risk is paying him the tremendous amount of money it will most likely take to lure him out of Dallas.
If he can continue his play, then the money will definitely be worth it. However, one has to wonder if he is this good because he plays alongside the league's best outside linebacker or if it is just him.
Miami Dolphins: Rashean Mathis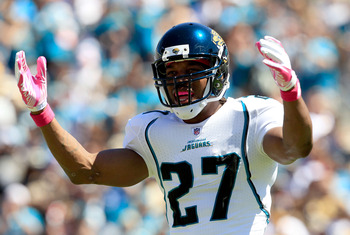 Sam Greenwood/Getty Images
Before suffering a torn ACL in the middle of the year, Mathis was playing at a very high level.
If healthy and able to duplicate his most recent level, he will be a huge relief for a defense ranked No. 25 overall against the pass.
Minnesota Vikings: Mario Manningham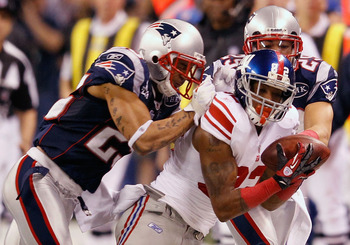 Rob Carr/Getty Images
Manningham is one of the premier wide receivers in the game. Just this last Super Bowl, he proved why he gets paid the big bucks.
Although he has built a nice chemistry with quarterback Eli Manning, teams will be offering him big contracts to lure him away. It will be tough to see this duo break up, but if a bigger contract comes along, it will be tough to see him pass it up.
If the Vikings are willing to spend some cash, Manningham might be a nice addition to the struggling Minnesota passing offense. It will also benefit young quarterback Christian Ponder to have a No. 1 receiver on his side.
Indianapolis Colts: Peyton Manning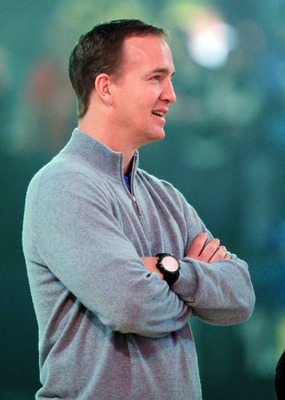 Chris Trotman/Getty Images
It looks like Peyton would be willing to renegotiate his contract if the Colts do decide to release him into free agency.
However, even if Peyton does return and is cleared to play, do the Colts pay Luck first-pick money just to sit behind Manning and study the game? In the long run, that might be the best for Andrew Luck. Just looking at what Aaron Rodgers was able to do sitting behind a great quarterback for a few years makes it look like it is a good idea for Luck to sit for a few years.
If Manning sticks with the Colts and plays well, it could call into question what Luck's value really is to the organization.
Arizona Cardinals: Jason Jones
John Grieshop/Getty Images
Picking up Jones will be helpful for a Cardinal defense that struggled against the run. He has an explosive first step and will help the defense out greatly.
However, with a fairly large contract, one has to wonder if he is worth that kind of money.
Jacksonville Jaguars: Peyton Manning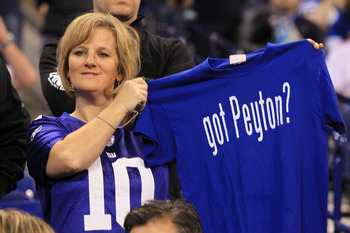 Scott Halleran/Getty Images
I know I already mentioned Manning with the Colts, but he is vital to both these teams. Peyton Manning has a very small chance of playing for the Jaguars. However, if they could somehow manage to pick him up, Jacksonville could instantly turn into Super Bowl contenders.
Last year the Jaguars were ranked in the top 10 in both passing and rushing defense. The running attack on offense was ranked a respectable 12 out of 32 while the biggest weakness was clearly the last-ranked passing attack.
Put Manning at the helm, and that passing attack gets into the top 10 in the league. That makes for a pretty solid team if that could happen.
Cleveland Browns: Jason Campbell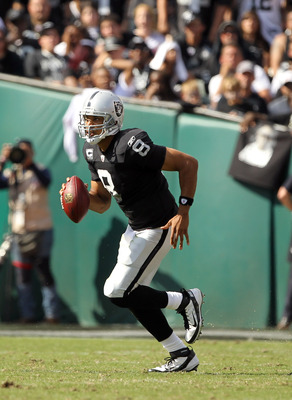 Ezra Shaw/Getty Images
Colt McCoy has not shown significant improvement this past year, and his time may be coming to an end in Cleveland.
Jason Campbell proved he could be a big-time quarterback playing for the Raiders until he was injured and replaced by Carson Palmer. Now that Palmer is in, Campbell will most likely want to move to an organization where he would be the starter.
The Browns should sign Campbell and see what can do.
Keep Reading