2012 NFL Free Agents: Baltimore Ravens Should Target These 5 Players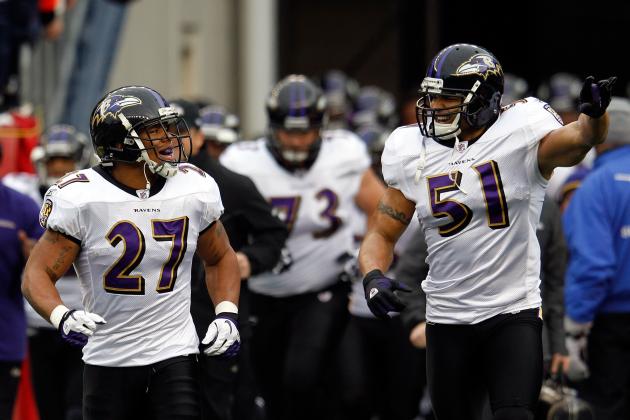 Rob Carr/Getty Images

The top three objectives for the Baltimore Ravens this offseason shouldn't be a secret to anyone. Number 1: Sign Ray Rice. Number 2: Reach a contract extension with Joe Flacco. Number 3: Find a way to keep Ben Grubbs.
If you throw in the possibility of re-signing LB Jameel McLain and/or LB Jarrett Johnson, it looks like the Ravens will have to throw a lot of money around in Owings Mills this off season. But it is always tempting to look outside of the locker room for someone who could get this team to the Super Bowl next season.
Here are five players I think could help the Ravens do that. While a lot of things would need to happen for a lot of these signings, it doesn't hurt to dream.
Begin Slideshow

»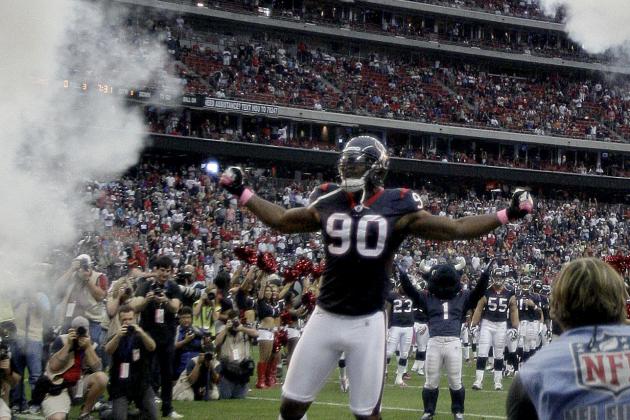 Thomas B. Shea/Getty Images

Obviously, this is a bit of a reach but think about it. I know he was playing OLB for the Texans last year, but I think we could use him as replacement for Corey Redding who is most likely going to test free agency.
Williams would be a major upgrade and help the reigning DPOY Terrell Suggs get to the QB. I think you would be hard pressed to find a Ravens fan who wouldn't like to see Williams line up on a Defensive Line with Haloti Ngata and Terrence Cody.
This signing would come down to cap space and whether the Ravens can afford him. I don't see Williams taking a home town discount to stay in Houston, while a pass rusher is by no means Baltimore's greatest need, but it is certainly interesting to think about.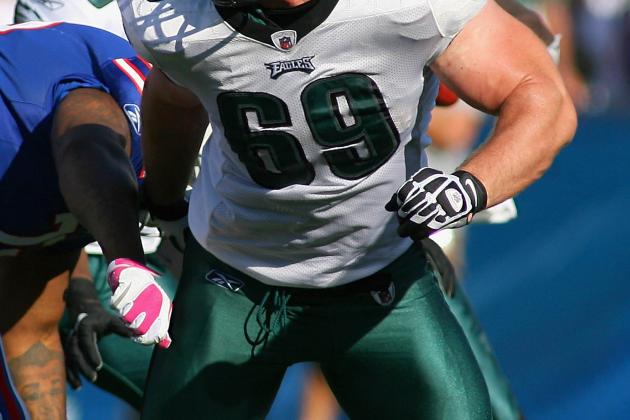 Rick Stewart/Getty Images

This isn't exactly a sexy signing, especially after discussing the Williams possibility. But Mathis could be a cheaper alternative to Grubbs. He is still only 30 and has a few good years left in him. He has been a reliable guard on the Eagles Offensive Line. He is tall (6 ft. 5) and has long arms.
Considering how difficult it might be to keep two Pro Bowl Guards on the same Line, and given the contract Marshal Yanda received last year, Mathis could be a stop-gap solution for Ozzie Newsome if the Ravens don't address the position in the draft.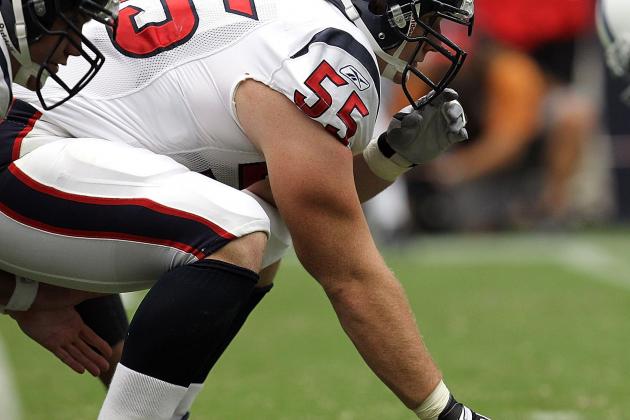 Ronald Martinez/Getty Images

Given the success Ray Rice has had this season, it might be a good idea to keep picking up players who have helped pave the way for Arian Foster. After signing former Texan Vontae Leach, Rice had one of his most productive seasons of his career.
Myers is one of the most underrated players in the league. He is a tall center and moves well as a run blocker. Signing Meyers would be an upgrade for the Ravens as Matt Birk considers retirement.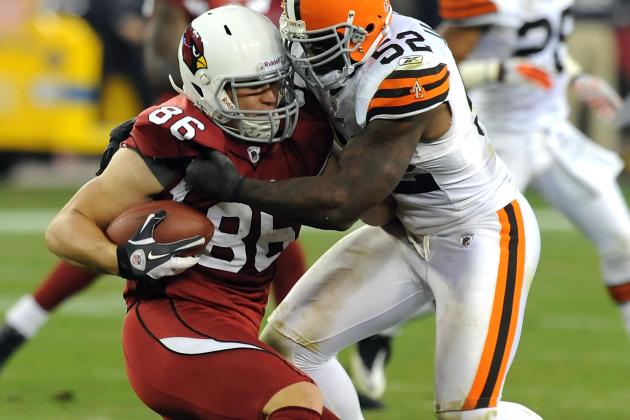 Norm Hall/Getty Images

Jackson is coming off a great year for the Browns. While Cleveland will most likely try their hardest to keep him in an orange helmet, the Ravens would be wise to think about making him an offer.
Jackson is a hard worker, a good teammate, and a local guy. He grew up idolizing Ray Lewis and could be the right guy to replace him when Ray decides to hang up his cleats.
The Ravens have had a lot of success with University of Maryland talent over the years, most recently with Torrey Smith. Jackson is versatile and good in coverage, something Lewis has struggled with in the last year or so. I think a lot of Ravens fans would love to see Jackson in Purple and Black.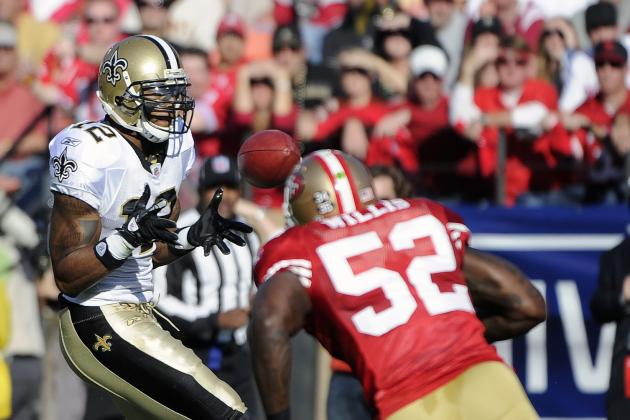 Thearon W. Henderson/Getty Images

It is unclear what kind of money it would take to lure Colston away from New Orleans, but this guy would give Baltimore one of the most balanced and potent WR corps in the NFL.
After Lee Evans bobbled the Ravens Super Bowl chances away against New England, I think Ozzie Newsome is in the market for a big, sure-handed receiver who can hold on to tough passes. Colston is the man for the job.
Unlike his fellow FA Wideouts this offseason (Desean Jackson, Vincent Jackson, and Dwayne Bowe), Colston is not a locker room nightmare and I'm sure Joe Flacco would love to find him in the endzone for a few years after signing a contract extension of his own.