WWE's 10 Worst Announcers Imported From Mainstream Broadcasting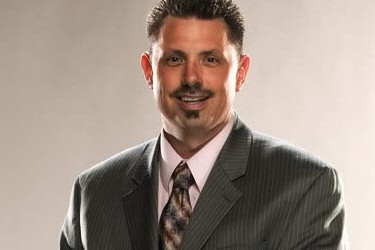 Pro wrestling announcers have long been an integral part of the television presentation in the industry.
They explain and elaborate on storylines, react to angles and events as they happen, and are generally important for putting over the product with passion and emotion, engaging the audience through their suspension of disbelief.
Unfortunately, WWE has had its fair share of mediocre microphone men, both at ringside and backstage.
Here are 10 of them.
Begin Slideshow

»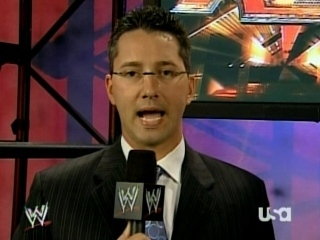 From: Iowa and Arizona sportscasting
Todd Grisham debuted on Heat in 2004, and though he had a look that Vince McMahon likes and a good voice to go along with it, he often exhibited the limits in his wrestling knowledge.
McMahon, of course, soured on him by the time he was delivering play-by-play in 2009 on SmackDown, where he was out of his depth.
When he wasn't calling action, Grisham sometimes served as a ring announcer (famously botching his introduction to the match between Carlito and Shelton Benjamin) and as host of web show Byte This!, where he became known for losing his cool whenever TNA fans called in.
Overall, Grisham's not entirely bad; he was mostly professional, presentable, and youthful, but was almost too subdued.
His voice wasn't designed for pumping energy or enthusiasm into the product, and sometimes it was tough to take him seriously as a credible commentator.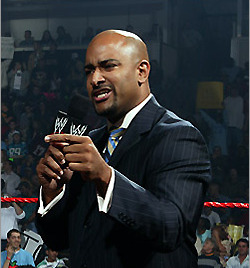 From: Kansas sportscasting
Jonathan Coachman arrived in WWE (then the WWF) in 1999, having actually covered Owen Hart's death for Larry King Live from Kansas via the station KMBC-TV earlier that year.
"The Coach" achieved immediate infamy in a long series of interview segments with The Rock, who mocked Coachman's Kansas farmland roots and implied he had engaged in acts of bestiality.
Coachman is an interesting pick.
His ability to take one for the team was evident right away in his comedy spots with Rock, prepared to be the comedic subject matter in each one, to the point of performing absurd acts for the "People's Champion."
Coachman's high school theater participation showed that, from a young age, he enjoyed performing, not just commentating. And sure enough, he transcended microphone work backstage, to acting as Vince McMahon's Executive Assistant and the general manager of Raw.
He even wrestled.
But Coachman's commentating was what failed him.
Had he remained an interviewer (and not just as comic relief) or even as an occasional authority figure, manager, or even in the odd athletic performance, his strengths would have been accentuated. His play-by-play and even some of his heel color commentating was not his best work.
From: CBS News
There's no doubt that Michael Coulthard had a very impressive and credible media résumé before arriving in the then-WWF in 1997 at the birth of the "Attitude" era under the name "Michael Cole."
He reported on the presidential campaigns of Michael Dukakis and Bill Clinton, the David Koresh compound siege in Waco, Texas...even the civil war in Yugoslavia.
After replacing Todd Pettengill as a backstage interviewer, Cole served as a source of ridicule for D-Generation X, with Road Dogg Jesse James and X-Pac mocking his ears and comparing him to Pettengill, and Triple H, Chyna, and Shawn Michaels giving him wedgies "that'll leave a mark for sure."
On the first DX video, he was bullied throughout and walked and talked overtly dorky: stuttering, stammering, tripping over his words and feet, and pandering to mighty McMahon's authority in contrast to a DX that, at the time, was the epitome of rebellion.
Fifteen years on, he is still Vince's lackey, but instead for real...as McMahon's mouthpiece.
For those who remember his early days, it's quite rich that McMahon's desire to humble the darlings of the internet wrestling community, such as Daniel Bryan, resulted in Cole parroting Vince's jibes at Bryan for being a "nerdy" vegan do-gooder.
But it's not just the character Cole portrays that earns him a place on this list.
Particularly when compared to Jim Ross, Michael Cole has never been particularly good at calling spots on commentary, something, it seems, almost every wrestler agrees on, despite McMahon's preference for the smart appearance and clean face of Cole.
He continues to deliver lines mocking JR's Bell's Palsy during the midst of a WWE anti-bullying campaign. This is aside from Cole's homophobic slurs on Twitter under the veil of being "in character."
And there lies another key problem.
Cole switches between face and heel commentator, while continuing to drone on about angles that have already spoken for themselves, and fails to put over the action in the ring to the point of damaging the product. There's no sense of passion, interest, or genuine urgency to Cole's commentary.
It's likely Coulthard is content with prominent television time to justify his lucrative contract while his son works in WWE's TV production department.
However, there's no doubt Michael has the abilities in real life to deliver more than all this on WWE screens.
But WWE don't realize that often less is more: by having Cole do what he was professionally trained to do (report and commentate on events in an informed manner) he could be far more effective, rather than transitioning from an interview geek to an annoying announcer repeating force-fed lines, eating up limited airtime that wrestlers could use more effectively.
From: Major League Baseball Productions
Like many of these announcers, Sean Mooney's place on this list isn't due to a lack of talent, but merely because he wasn't always used properly.
In the 1980s, Mooney was a fixture on update segments as part of WWF programming, reporting as a type of news anchor where he served to buoy current storylines and essentially put over the importance or impact of an angle, much like his counterpart at the time, Lord Alfred Hayes.
Even in backstage interviews, Mooney was incredible in his ability to keep a straight face as he interviewed wild, unpredictable, over-the-top characters from the Bushwhackers to the Berzerker.
He had a penchant for always drawing in viewers with constant glances to the camera in the style of a roving reporter. He was also extremely likable.
However, Sean Mooney was an abysmal play-by-play man.
In commentating on a match, the best he could hope to do was in some way attempt to put across the background story of the wrestlers in a match, or try to capture the emotion in the arena, but his approach was too formal.
When he did actually call the moves, he got them wrong.
There was some murmurings in 2010 of WWE being interested in bringing back Mooney, who had been working for news programs in Massachusetts and New Jersey before covering sports in his native Arizona.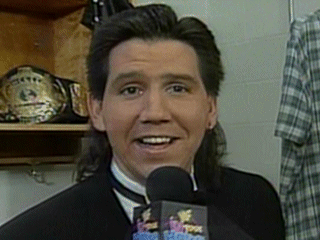 From: Radio
After Sean Mooney (and before Michael Cole) came the "New Generation" microphone man, Todd Pettengill, with his sidekick Stephanie Wiand and their family-friendly happy-clappy smiley delivery like something strictly from Saturday morning children's television programming (which, to be fair, it sometimes was).
Again, it wasn't this Todd's fault, either.
It wasn't even the ugly mullet he sported while smirking with his upside-down grin into the camera. It was the whole WWF package he was part of at the time; the creative direction that drove him to be so sickly in presenting the product.
With shows like Action Zone, Todd Pettengill ended up being dumped beside Ross on commentary, both of them afterthoughts in Vince McMahon's television world, and neither of whom deserved to be in such a position, for entirely opposing reasons: Ross was too good to play second fiddle to Vince himself, and Pettengill should never have been commentating on matches at all.
It was a valiant effort on his part, but again, not the place for him.
Todd went on to found Pettengill Productions, returning to radio, where he's enjoyed some success and appreciation for his skills.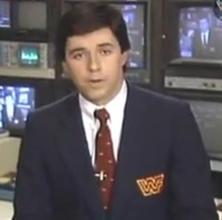 From: Sports journalism
New Yorker Craig Minervini joined the WWF when business was booming in the mid-to-late 1980's.
Like Michael Cole, he underwent a name change before appearing on WWF screens as both a reporter from the "control center" and in interview spots in the arena.
Like Sean Mooney, he could play the straight man well.
The problem was he played it too well.
DeGeorge provided a perfect example of why pro wrestling broadcasting is different to general sports broadcasting; it needs something extra.
Michael Pollan once said, "I believe perfect objectivity is an unrealistic goal; fairness, however, is not."
In pro wrestling, the commentators aren't there to play it straight and call it down the middle, because this is a world where good fights evil, the product a morality play in itself. This is why, whether subtle or not, wrestling needs more emotive responses to the storylines. DeGeorge lacked it.
Leaving the WWF by the time the 1990's came along, Minervini today calls sports action in Florida, but there was one purpose he did serve for Vince McMahon given his straight-up sports delivery: he provided play-by-play for the ill-fated XFL in 2001.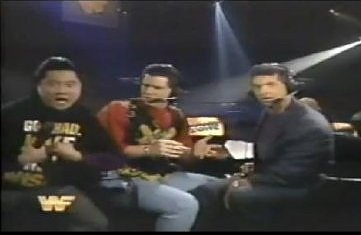 From: Sports broadcasting
"This...is Charlie Minn!"
When Vince McMahon and Todd Pettengill are even appalled by your awful announcing, you know you're in trouble.
Blink and you missed him.
If you didn't, you probably wouldn't say you miss him.
Charlie Minn lasted mere weeks before McMahon fired him.
And, yet again, it was largely about presentation.
Minn was different enough, energetic enough, even entertaining enough, to actually sustain some sort of career in the 1990s WWF.
But placed as he was on programming, he just seemed out of place as a backstage reporter, coming across more like a fan who had just consumed too much coffee.
He just didn't fit in the void left behind by Sean Mooney and "Mean" Gene Okerlund (another one who, although he was great, should never have provided play-by-play).
Apparently Minn's also failed to last too long on any other subsequent sports broadcasting assignments, actually maintaining the same over-excited style he had in the WWF, believe it or not. It's hard not to feel sorry for him.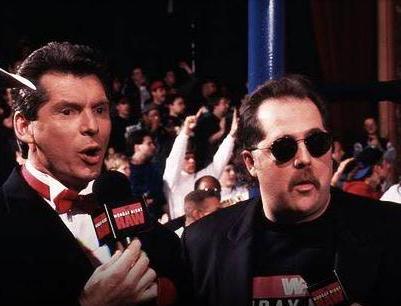 From: Stand-up comedy
He does great impersonations of Hulk Hogan, Randy "Macho Man" Savage, and Vince McMahon, too. The latter hired him to add some "cool" to the early days of Monday Night Raw when it replaced Prime Time Wrestling.
But Rob Bartlett was a flop who lasted just a few months in the WWF.
The problem is, as the annual Los Angeles butt-smooching sessions at SummerSlam demonstrate, McMahon spends too much time seeking celebrity acceptance and mainstream appeal (even while at the same time, with his conservative views, repelling the notoriously liberal Hollywood, where he's perceived much the way he himself saw Ted Turner).
This contradiction isn't always what's best for business.
Again though, context is everything. Bartlett is talented, and even fairly knowledgeable about the pro wrestling business. But on Raw, he didn't offer much. The whole exercise was a waste of time for everyone involved, and the real losers were the viewers.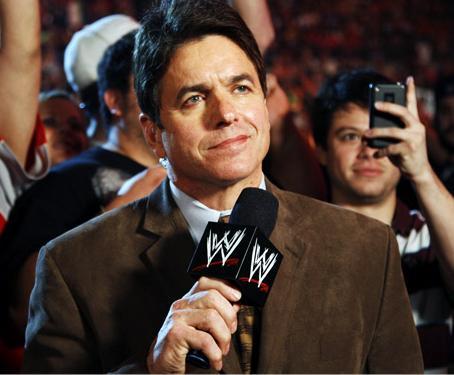 From: Sports broadcasting
In 2007, Vince McMahon was still not totally behind one specific play-by-play man. Michael Cole had been used in different ways and been presented in various roles, and the changes reduced his credibility (there was also the small matter of fans constantly choosing Jim Ross over him each and every time).
But McMahon has always shown nothing but resentment towards Ross. When it comes to on-screen talent, be they wrestlers or commentators, Vince's view is the same: they should look impressive, even if they lack talent.
Enter McMahon's friend, NBC executive Dick Ebersol, the man who was so loyal to Vince he even green-lit the XFL.
Ebersol had just the man for McMahon: Mike Adamle.
From playing professional football in the NFL to hosting American Gladiators, some fans may be forgiven in thinking that Adamle had all the ingredients to rise from reporter segments at the 2008 Royal Rumble to play-by-play on Raw.
In reality, right from his first moments and all throughout his brief tenure, Adamle was such a disaster that WWE were forced to try and cover up the error by co-opting the whole debacle; turning it into a storyline where Adamle the disgruntled broadcaster walked off-set, and then cited his own mistakes in his later role of the dorky General Manager of Raw.
After failing to find any role to justify his contract, it was said that WWE reluctantly released Adamle. The only rationale for such a sentiment is, perhaps, McMahon's friendship with Ebersol.
From his first gaffe calling Jeff Hardy "Jeff Harvey," Adamle never stood a chance. He clearly didn't study the product, so apparently failed to take it seriously in the first place. American Gladiators was obviously more his level of complexity.
The only reasoning behind no one ever demanding that Mike do his homework and become a student of the art form can be his untouchable status as Ebersol's friend.
There's no other explanation for the absolute shambles of what was the infamous WWE stint of Mike Adamle, former star of NFL and American Gladiators.
From: Professional football
So this might be cheating. It had to be done.
Art Donovan's post-football career in mainstream broadcasting may only have truly consisted of appearances on Late Show with David Letterman, Super Bowl commercials, Nickelodeon and local television.
But when he stood in as a commentator on the three-man team beside Randy "Macho Man" Savage and Gorilla Monsoon at the 1994 King of the Ring broadcast on pay-per-view live from Baltimore, he made history.
Full of inane, ignorant commentary and questioning, Donovan's performance was above and beyond anything ever before witnessed in professional wrestling history.
All through the show, his misplacement on the program was reinforced, as he set eyes on each large wrestler and asked, "How much does this guy weigh?" over and over again.
He claimed Razor Ramon was his pick to win the King of the Ring tournament, but then when the finals arrived, he changed his prediction and chose Owen Hart, the eventual winner.
But the best moment came when, full of candor, he turned to Randy and Gorilla and asked, "Did you two act like that when you were in there?"
Stuck with Art beside them, they began to ignore him more and more as the show went on. It was easy to assume they were being punished somehow; it was any commentator's nightmare.
Like the majority of men in this list, though, it's often down to how WWE used them. Art Donovan reflects this theme perfectly.
Pushing 70 at the time and possessing little to no knowledge of the product, Donovan's one-off recruitment for the King of the Ring was inexplicable.
A sports legend, he's known for being witty, warm and friendly. But wrestling commentary was not for him.
This list perhaps less reflects the individuals on it, as much as it does the questionable decisions by WWE production chiefs on what should be a simple process of picking the people who would put over the product best.
It's why Joey Styles sits at a desk in Connecticut, while Jim Ross visits FCW.