2012 NFL Mock Draft: 7-Round Dream Scenario for Seattle Seahawks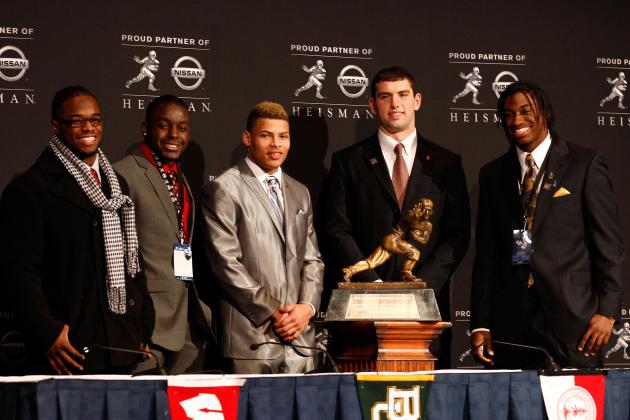 Jeff Zelevansky/Getty Images
Could the Seahawks land one of the Heisman finalists in Round One?
The Seattle Seahawks will enter free agency, and at least to some extent the 2012 NFL draft, with a few very specific needs.
As any NFL fan knows, they have to find the future at the quarterback position, and their playoff aspirations would be best served with an immediate upgrade at the position.
Seattle also needs to find a defensive end that can rush the passer and convert opportunities into sacks. They could also use some help with an interior pass rush, but that might be accomplished by using Anthony Hargrove in the middle should the Seahawks find a better option off the end.
Look for the Seahawks to find some more youth and hopefully speed at the linebacker position, and the team will need to address depth on the offensive line given the number of free agents on the roster. Seattle also needs to find a running back to work with Marshawn Lynch, who is likely to receive the franchise tag this offseason if a long-term deal can't be worked out.
There should be adequate opportunities for the Seahawks to fill most of these needs. The quarterback position looks to be the most difficult, but perhaps one of the following dream scenarios will play out for Pete Carroll and John Schneider.
Begin Slideshow

»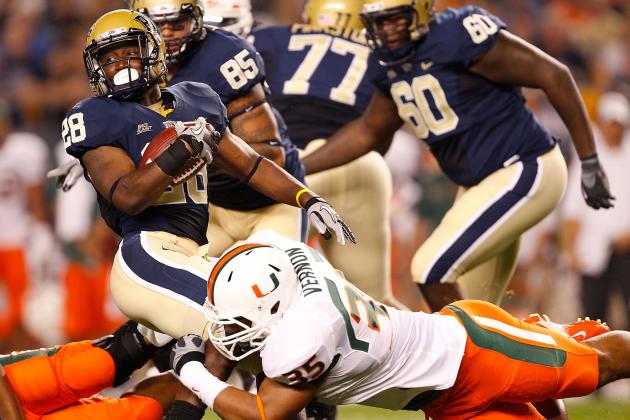 Jared Wickerham/Getty Images

The Seahawks sent their original seventh-round pick to the Detroit Lions for Tyler Polumbus. This pick is compensation for Aaron Curry, along with an undisclosed pick in the 2013 draft.
Olivier Vernon seemed to fall off the map after being tied into the investigation of improper benefits at the University of Miami. He showed promise as a sophomore, but he wasn't overly present in 2011.
While Vernon would have benefited from using his senior season to rebound from an unimpressive junior year, the scrutiny and potential for being ruled ineligible made a return unrealistic.
Vernon has a very good initial step and is an intriguing candidate to platoon with Red Bryant on passing downs. After spending a few seasons working against right tackles in the NFL, he might be ready to take over for Chris Clemons as an every-down "Leo" defensive end if Dexter Davis continues to struggle with injuries.
He is worth a gamble for Seattle, as he has the potential to be very good. He may be gone before their seventh-round pick, though.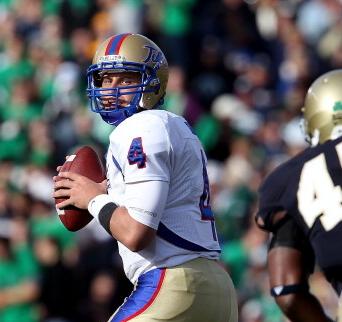 Jonathan Daniel/Getty Images

The Seahawks sent a 2011 fourth-round pick and an undisclosed selection in the 2012 draft to the Buffalo Bills for Marshawn Lynch. Given their seventh-round pick went to Detroit, all that is known at this time is it isn't Seattle's final scheduled pick.
Darius Fleming has not been getting the same attention as some of the high-profile linebackers heading into the 2012 NFL draft. Given his great blend of size, speed and instincts, that could change.
Fleming was originally a defensive end for the Irish. However, at 255 lbs he wasn't the ideal size as a run-stopper. He had the speed (projected 4.65 40) to drop back and play Notre Dame's "Cat" linebacker position.
He's been a disruptive force in the Irish pass defense, something the Seahawks desperately need.
Fleming was projected as a late-round option early in the season. His play has elevated him to a fifth-round prospect.
An impressive combine performance could push him further up draft boards and possibly remove him from consideration for the Seahawks...at least with this pick.
With Leroy Hill and David Hawthorne entering free agency, the Seahawks might feel compelled to use a fifth-round pick on Flemming or a third- or fourth-round selection on Emmanuel Acho of Texas.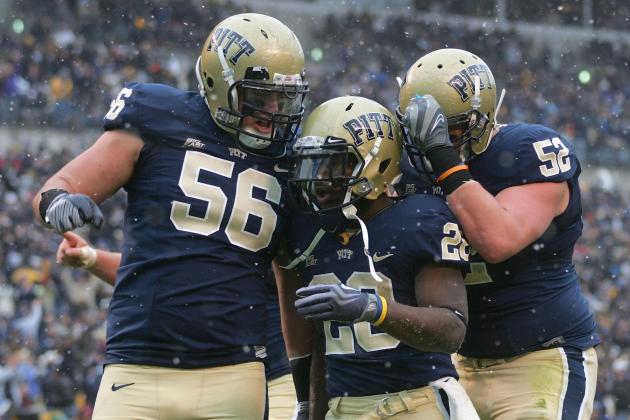 Jared Wickerham/Getty Images

Lucas Nix offers something that Tom Cable and the Seahawks absolutely love in their players: versatility.
Nix played right guard and right tackle early in his career. He moved to left tackle as a senior and played very well.
He projects as a guard in the NFL, though, as he lacks the speed and athleticism to keep up with defensive ends at the next level.
The Seahawks have several reserve linemen that are free agents in 2012. They will likely need to replace at least one of them, so look for them to target a player that can replace Robert Gallery in the next few years.
Nix should be able to develop into a power-blocker in the ground game and refine his pass-blocking skills on the left side. He's rated anywhere from Round 3 to Round 5 and would be a great pickup for the Seahawks in the fourth.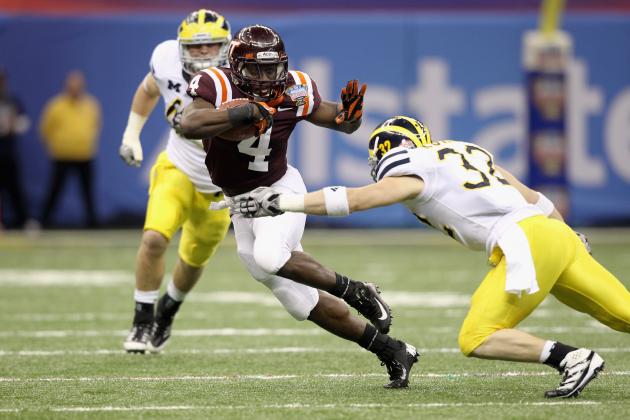 Matthew Stockman/Getty Images

This pick is in flux due to the uncertainties of free agency. While it may be "cheating" to list two players here, at least both are from the Virginias...
I originally mocked Bruce Irvin to the Seahawks in the second round. That spot seems destined for a quarterback at this point, and Irvin's play this last season has cast doubts on what role he'll be able to fill in the NFL.
He still shows up in the second round of some mocks, but could be a third-round steal for the Seahawks.
Irvin's flexibility would be a great fit in Seattle. He's a talented pass-rusher with great speed, but lacks the size to be an all-around defensive end.
His 14 sacks as a situational pass-rusher in 2010 were first in the FBS. He became an every-down end in 2011, but recorded just 7.5 sacks. He was also a liability in run coverage.
Irvin could be used as a pass-rusher from the left side, rotating with Red Bryant. He also has the speed and instincts to play outside linebacker in Seattle's 4-3 sets.
While projected as a 3-4 linebacker in the NFL, Pete Carroll and Gus Bradley have the talent to determine Irvin's use in their hybrid defense. Should he be there in the third round, fans may get an opportunity to see how they'll do it.
David Wilson is expected to be a second-round pick in April. However, if the running back position isn't tapped early, he could be there in the third round.
With legitimate breakaway speed, Wilson would be too tempting to pass on here. He was the ACC Player of the Year, recording 1,709 yards on 290 carries (5.9 YPC) and nine touchdowns.
At 5'10" and 205 lbs, Wilson would be an ideal complement to Marshawn Lynch. He is elusive, explosive and would give the Seahawks a dangerous running tandem.
Wilson did struggle at times against quality opponents last season. He had one monster game against Clemson (20 ATT, 123 YDS, 6.2 YPC, 0 TD), but the ground game was vacant in a rough loss in the ACC Championship game (11 ATT, 32 YDS, 2.9 YPC, 0 TD).
In the Allstate Sugar Bowl against the Michigan Wolverines, Wilson proved to be just adequate. In a 23-20 overtime loss, he gained 82 yards on 24 carries (3.4 YPC) and did not score.
He is well suited as a change-of-pace back, which could help his descent to Seattle's third-round pick.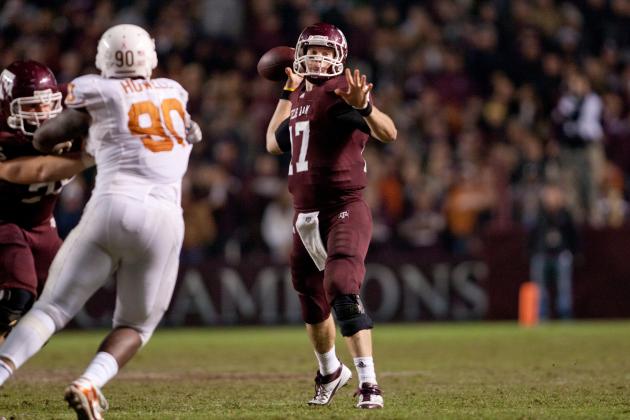 Darren Carroll/Getty Images

The Seahawks have to make an effort to find a quality quarterback in 2012. Even if their move is to sign a free agent such as Matt Flynn, Jason Campbell or Peyton Manning, they will need a young quarterback in the mix.
Tarvaris Jackson won't likely return to Seattle in 2013, so regardless of whom they sign in free agency, Seattle will at least need a backup quarterback that could develop into a starter.
I am just struggling to pick which of the second-tier quarterbacks would be the best fit for the Seahawks. John Schneider likely knows which player he wants, though, so my dream scenario is to have all three on the board so Seattle doesn't need to settle for their second option.
I prefer the size of Foles (6'5", 240 lbs) to Cousins (6'2", 209 lbs) and he has great accuracy on short and intermediate routes. Cousins, on the other hand, seems a better fit for play-action and throwing on the run.
The more game footage I watch on Ryan Tannehill, though, the more I believe he could have the highest ceiling of the players competing to be the third quarterback taken in 2012. However, his skill set may not be the best match for the Seahawks.
Tannehill still needs some time and polish to flourish in the NFL, but he has shown the talent and arm strength at Texas A&M to keep him in the mix. I'm not convinced he has the deep accuracy, though, which is an important component in Darrell Bevel's offense.
Placing a quarterback in the second round may seem odd given the player on the following slide. But at the expense of offering a spoiler, should the first-round "dream scenario" occur, the Seahawks won't have a second-round pick in 2012 so this selection becomes moot.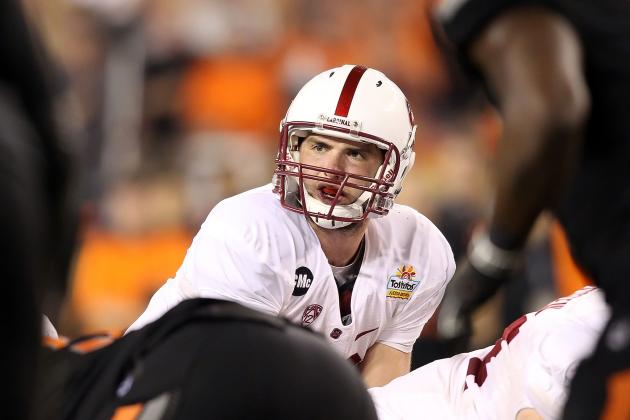 Christian Petersen/Getty Images

Perhaps this is more of a fantasy scenario than a dream, but if one is going to dream, dream big!
The best possible outcome for the Seahawks is to have the Indianapolis Colts recognize just how much work they need to become a contender again. They'll need a waft of talented youth even if a healthy Peyton Manning was to return under center.
Their best chance to rebuild is trading the top pick in the 2012 draft.
The phrase "trading their draft" has been used regarding getting into position to draft Andrew Luck. However, every pick in 2012 wouldn't be enough to get the deal done.
The Seahawks would likely need to send six early draft picks to the Colts for the rights to draft Luck. They could also send a few players in positions of need, such as wide receiver and cornerback. Ben Obomanu, Mike Williams and Marcus Trufant have become expendable and would fill needs in Indianapolis.
Granted, there are health issues to be considered with Williams and Trufant. The latter's contract is also a bit bloated considering his level of play and injuries in recent seasons.
As for the Colts, they could continue with Manning at quarterback for the next three seasons and use their draft capital to fortify their roster. They would also have the needed picks to make a move and draft Matt Barkley in 2013.
Then again, the Colts could still be at the top of the draft board in 2013.
The Seahawks have most of the pieces in place to be a contender now. They need to retool the linebacker position, add a pass-rusher and find their franchise quarterback. Luck could step in and start as a rookie and have more success than Mark Sanchez had with the New York Jets.
Parting with the draft picks would be difficult, but Seattle is in a position to do it.
A more realistic, but still fairly big, dream would include the Seahawks signing Manning as a free agent. Then Trent Richardson would be available at No. 11/12, giving them the option of trading with the Cincinnati Bengals for the 21st selection and Cincinnati's 2013 first-round pick.
As tempting as Richardson is, establishing the draft capital to secure Barkley would have a bigger impact on a promising young roster.
Come on, Mr. Sandman. The Seahawks could really use a bit of Luck...or luck.