New York Yankees: Projecting the 2012 Bullpen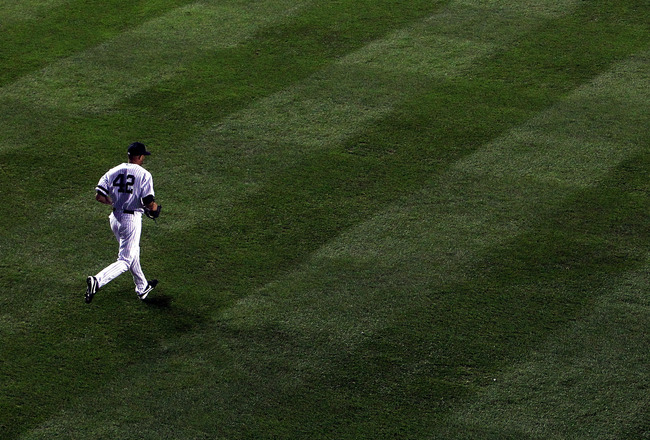 Nick Laham/Getty Images
Last season, New York Yankees relievers posted the American League's top ERA (3.12), a full 0.40 runs ahead of second-place Los Angeles Angels of Anaheim.
Despite the unit's success last season, they could be even better in 2012 with a pair of relief pitching prospects closing in and a long-relief upgrade caused by additions to the rotation this offseason.
Heading into spring training, a few personnel questions remain to be answered:
Who makes the move to the 'pen: AJ Burnett or Phil Hughes?
Can Rule 5 selection Cesar Cabral stick?
Can prospects Dellin Betances and Manny Banuelos effect decisions?
For now, here's a look at what to expect from the Yankees' bullpen heading into Opening Day.
CL Mariano Rivera, RHP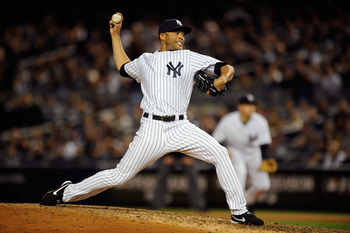 Patrick McDermott/Getty Images
With 603 saves under his belt, the record for most in a career, 42-year-old Mariano Rivera remains baseball's most dominant reliever and the sure-fire closer heading into the 2012 season.
Last year, his 15th as the Yankees closer, Rivera posted 44 saves, a 1.91 ERA and 0.897 WHIP, top-five finishes among closers at each statistic.
Despite his age, Rivera has shown few, if any, signs of decline.
Even last season, the future Hall of Famer managed to post the second-lowest walk rate of his career (1.17 BB/9), without diminishing his strikeout rate (8.80) and holding opposing hitters to a .211 average.
SU David Robertson, RHP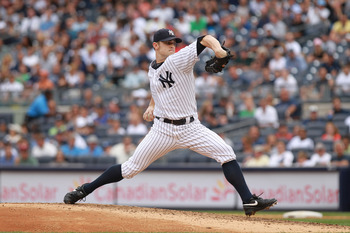 Nick Laham/Getty Images
With a dominant start to the 2011 season, 26-year-old David Robertson earned an All-Star selection and established himself as the Yankees go-to eighth-inning reliever. With Rivera, the two teamed up to form arguably the top relief tandem in baseball.
Last season, Robertson was seemingly untouchable, finishing his campaign with team highs in ERA (1.08), batting average against (.169) and strikeout rate (13.50 K/9) over 66.2 innings of work.
As great as he was in 2011, Robertson did get lucky at times, however.
His 89.8 percent strand rate ranked fourth in the MLB and he was the only pitcher with a walk rate above 4.50 and sub-2.00 ERA. Regardless, the dominance was legitimate and Robertson should be a quality setup man in 2012.
SU Rafael Soriano, RHP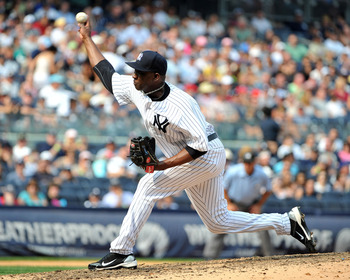 Christopher Pasatieri/Getty Images
Entering the 2011 season, newly acquired Rafael Soriano was pegged to be the eighth-inning bridge to Mariano Rivera. Instead, the oft-injured veteran suffered yet another elbow injury, knocking him out for two months.
With Robertson's terrific 2011 campaign, the necessity for Soriano to deliver may have diminished slightly, but after signing a three-year/$35 million deal last January, the pressure has certainly not subsided.
Last season, Soriano pitched just 39.1 innings, usually in the seventh inning, and was ineffective for much of them. He finished the year with a 4.12 ERA and strikeout-to-walk rate of 2.00, both career worsts.
When healthy, Soriano remains a top setup man in the game. Two of his pitches (fastball, slider) rate as plus-pitches and his cutter is not too far behind. All three took steps back in 2011, a concern going forward.
With the 32-year-old Soriano, you're betting on health—a gamble, but one that could pay off.
MR Cory Wade, RHP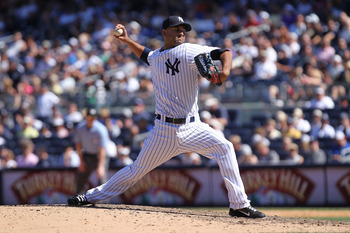 Nick Laham/Getty Images
28-year-old right-hander Cory Wade began the 2011 season with the Durham Bulls, the Triple-A affiliate of the Tampa Bay Rays. In a rare misstep by the Tampa Bay front office, Wade was released on June 12th and promptly signed with the Yanks, where he quickly became an integral part of the bullpen.
At first a reliever who pitched primarily when the Yankees were behind, Wade became a valuable sixth- or seventh-inning option late in the season, posting a 4-1 record and 1.64 ERA in the month of September.
On the season, he finished 6-1 with a 2.04 ERA and terrific 1.82 BB/9 rate.
While he will certainly never be confused for a relief ace, Wade's consistency and cheap contract make him a terrific middle-relief option and a lock for bullpen duties heading into 2012.
MR Boone Logan, LHP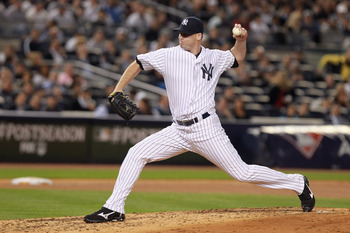 Nick Laham/Getty Images
The club's primary left-handed reliever last season, 27-year-old Boone Logan is a near-lock for bullpen duties simply due to being the black sheep among a staff of right-handers.
In 2011, Logan was a far from a LOOGY, but throughout his career has fared well against opposing left-handed hitters (.251/.323/.380).
Last year, Logan struggled a bit through the first half but finished strong, holding lefties to a .234 batting average from mid-June on. On the year, he posted a 5-3 record, 9.9 K/9 and 2.8 BB/9 over 41.2 innings.
Still, as the sole left-handed returnee from last year's bullpen, Logan must improve in 2012. A .260 batting average against left-handed hitters simply won't be enough to keep him on the staff.
MR Cesar Cabral, LHP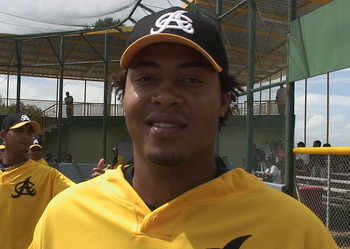 Last winter, the Yankees inked veteran left-handed reliever Pedro Feliciano to complement Logan and compete as the team's eighth-inning reliever. Instead, he failed to make an appearance all season after injuring his shoulder in spring training.
With Logan's inconsistency in 2011 and Feliciano still on the mend, Rule 5 draftee Cesar Cabral could break camp as the Yankees' second lefty this March.
As a Rule 5 selection, Cabral must stick on the Yankees' 25-man roster all season or else will be returned to the Boston Red Sox.
Cabral, 22, is a rather unknown, having pitched as high as just Double-A Portland (Boston) in 2011. Last year, splitting time between Portland and High-A Salem, Cabral posted a 2.95 ERA, 11.5 K/9 and 3.4 BB/9 over 55 innings.
Building on the season, he was even more dominant in the Dominican Winter League, allowing just one run and striking out 13 over 12 frames with the Aguilas Cibaenas.
The lefty has tremendous upside and throws a mid-90s fastball, developing changeup and quality slider that generates lots of swinging strikes.
LR Phil Hughes, RHP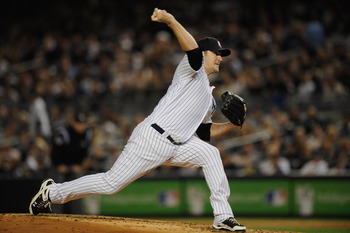 Patrick McDermott/Getty Images
With the offseason acquisitions of Hiroki Kuroda and Michael Pineda, the long-relief role in the bullpen will likely fall to one of Phil Hughes, AJ Burnett or Freddy Garcia.
While Hughes has been a starter for most of his professional career, he has also seen tremendous success coming out of the bullpen.
Back in 2009, the 25-year-old righty limited opposing bats to a .172 batting average against and had a 5.00 strikeout-to-walk ratio in 51.1 innings of relief work. Hughes rapidly became the team's go-to eighth-inning reliever, playing a substantial role in the Yankees' stretch run.
Regardless of whether or not Hughes can return to that level, I would still rather take the 25-year-old with upside than either of the 35-year-olds, Burnett and Garcia.
Best of the Rest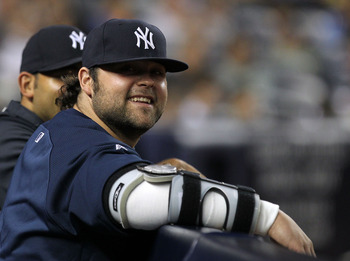 Al Bello/Getty Images
Joba Chamberlain, RHP
The former top prospect underwent Tommy John surgery last June, but is expected to be ready to compete in spring training. He could unseat Cabral, despite being a right-hander.
Dellin Betances, RHP
Even with Burnett, Garcia and Hughes, the 23-year-old prospect could earn a few spot starts before the All-Star break, perhaps even making the Opening Day roster as a long-relief option with a strong performance in the Grapefruit League.
Check out the other 30teams30days previews and Join the Discussion on Twitter
Keep Reading

New York Yankees: Like this team?