Jon Jones, Anderson Silva and Georges St-Pierre: Breakdown of the 3 Best in UFC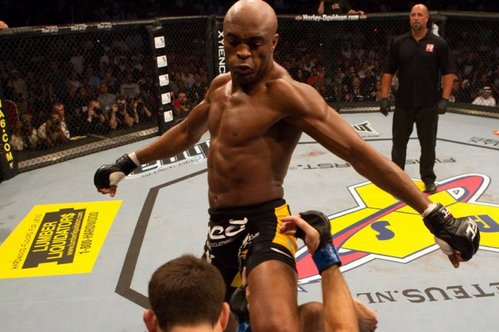 Anderson Silva; photo cred: rosebudmag.com
Depending on who you ask, either Anderson Silva, Jon Jones or Georges St-Pierre is the pound-for-pound best fighter in the sport.
Regardless of rank, all men sit atop of their respective divisions, coveted as the best far and above the rest in their weight classes.
All have different styles of fighting, though their strengths alienate them from the rest of the pack, making them three of the UFC's most formidable foes.
Begin Slideshow

»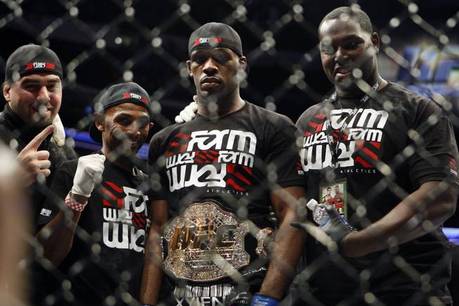 Jon Jones (center); photo cred: lasvegassun.com
A unique combination of youthful exuberance and creativity, Jon Jones looks to be a man that can hold onto the light heavyweight crown for a long, long time.
A collegiate wrestler, Jones entered the sport with little at his disposal, using solely his athleticism and quick learning skills to adapt and prosper.
In less than a year's time, Jones made his way inside the Octagon where in his initial outing against Andre Gusmao, "Bones" displayed an unorthodox array of strikes, with spinning backfists, elbows, knees and kicks all at his disposal.
Now, Jones has refined his skills in such a way that he is now recognized as the UFC's 205-pound champion, where in 2011 the 24 year old went from contender to title holder.
Given his reach, size and continued learning curve, Jones is the man to beat and looks to have all the gusto to stay atop for a long while.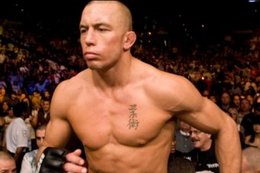 Georges St-Pierre; photo cred: thefightnetwork.com
Hailing from a traditional Karate background, Georges St-Pierre has become arguably the best wrestler in the mixed martial arts world.
It's not so much his technique as much as it is his intuitiveness inside the cage that makes him so unique. St-Pierre lulls his opponents into a false sense of security on the feet just long enough before he finds his opening and double legs everyone to the mat.
Even the most accomplished of wrestlers such as Josh Koscheck have faltered against the Canadian, who often adapts his own style according to his opponent. Just as the aforementioned AKA product assumed that St-Pierre would look to take him down over the course of their five round tilt in December of 2010, "Rush" showed off his striking skills—which were aided by the infamous boxing trainer Freddie Roach.
St-Pierre bludgeoned Koscheck for five rounds courtesy of a sharp jab, which left his opponent with a broken orbital after the 25-minute affair.
Intelligent and adaptable, St-Pierre has remained atop of the division thanks to his ability to modify himself into every situation he finds himself in.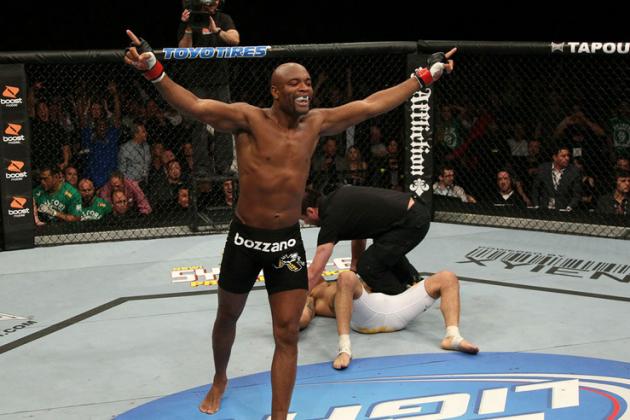 Anderson Silva; photo cred: mmamania.com
Widely regarded as the pound-for-pound best in the business, Anderson Silva has already cultivated a legacy that has not been duplicated inside the Octagon.
"The Spider" may not have the best wrestling skills, but he has supplemented his deficiency with high level Brazilian jiu-jitsu skills and a striking acumen that is unrivaled in the sport.
He's certainly not the most heavy-handed of the bunch, but his speed and accuracy make him all kinds of dangerous. His clinch is especially lethal, as Silva has laid down even the most formidable of opponents in record time, to which Chris Leben and Rich Franklin can both attest to.
In the off chance that someone can bring the Brazilian to the mat, Silva has proven that he can hold his own on the floor, with submission victories over Travis Lutter, Dan Henderson and Chael Sonnen anchoring his list of accolades.
Anywhere the fight goes, Silva seems to hold an edge over most, making him the most dangerous man on the planet.