UFC on FX 2: Early Main Card Predictions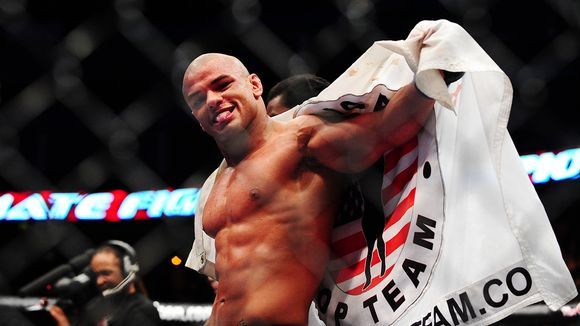 Thiago Alves; photo cred: cagepotato.com
Come March 3, the UFC will make it's anticipated return to Sydney, Australia as a welterweight collision will headline the organization's second endeavor on the FX network.
Former contenders Thiago Alves and Martin Kampmann will look to solidify their standings in a division that has sent them to the end of the pack.
Meanwhile, the inclusion of the flyweights will become evident as a four-man tournament kicks off, featuring notables Yasuhiro Urushitani, Joseph Benavidez, Demetrious Johnson and Ian McCall.
With all these world class fighters on deck, many unpredictables can be afoot, but let's take a crack at things and see just how things will shake out come next month.
Begin Slideshow

»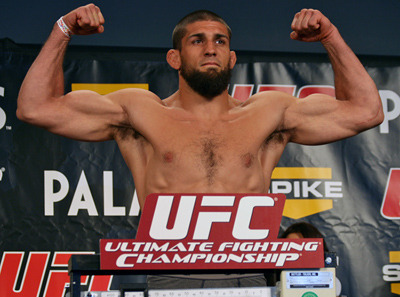 Court McGee; photo cred: MMAJunkie.com
In his last outing, Costas Philippou showed why anyone in the middleweight class should fear his boxing prowess, as the Serra-Longo product deftly defeated veteran Jared Hamman with a first round knockout.
The victory marked his second in a row inside the Octagon, building on the strength of a decision win over the well-respected Jorge Rivera.
Despite the strides he's made as of late, Philippou's ground game has not been tested since his decisive loss to Nick Catone in March of last year.
Court McGee's well-rounded assault, conditioning and underrated wrestling skills will be enough to stifle the heavy-hitter, who will eventually wilt under the constant pressure of the Utah native, who will continue to grow stronger as the fight wears on.
Court McGee wins by Decision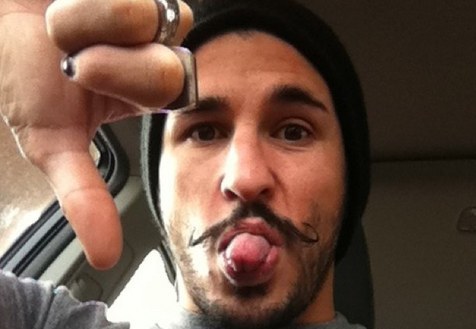 Ian McCall
Former UFC title challenger Demetrious Johnson will now be venturing where he's belonged all along: the flyweight division.
A fast and wily fighter, Johnson has been able to frustrate larger opponents with his unrelenting pressure, elusiveness and blinding speed, coupled with his underrated grappling skills, to which Damacio Page can attest to.
In his last outing, Johnson fought five competitive rounds with current 135-pound kingpin Dominick Cruz and though "Mighty Mouse" came up short, he proved why he's held in such high esteem.
Unfortunately for him, Johnson will now be taking on the consensus No. 1 flyweight in the world in Ian McCall.
"Uncle Creepy" has found his niche at 125-pounds, using his well-rounded assault of submission skills, takedown defense and striking skills to defeat some of the best fighters in his class. Including Jussier da Silva and Darrel Montague—submitting the touted youngster with a third round rear-naked choke, capturing the Tachi Palace title in the process.
Johnson's takedowns will be stifled time and time again by McCall, who will keep the wily fighter at bay with jabs and straights, connecting on hooks as the overzealous Johnson wades into the pocket.
Ian McCall wins by Decision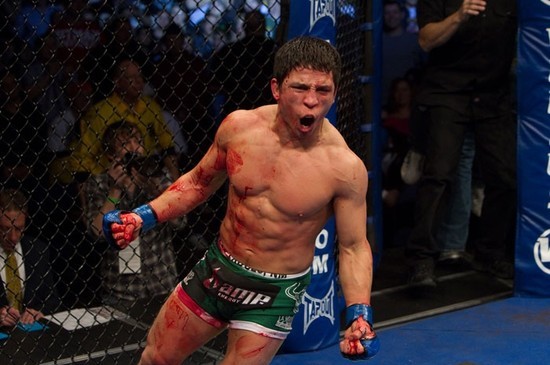 Joseph Benavidez; photo cred: mmamania.com
The world renowned Yasuhiro Urushitani will finally be making his stateside debut and what better place to do that than with the UFC.
The former Shooto champion is just once beaten in his last 15 bouts, though he's avenged said loss to Yuki Shoujou, TKO'ing his fellow countryman in the second round last July.
Urushitani proves to be a formidable opponent for any man he steps inside the Octagon with—it's just a damn shame he's been pitted against Joseph Benavidez right off the bat.
Once regarded as the second best at 135-pounds, Benavidez has only faltered against one man in his entire career: Dominick Cruz. All others have wilted under the barrage of takedowns and punches from the Team Alpha Male star, who recently defeated former champion Eddie Wineland last August.
Urushitani will be more technically sound on the feet, though Benavidez's blinding speed, punching power and wrestling skills will give the Japanese star cause for concern, who will eventually succumb to ground-and-pound blows from the eager Benavidez.
Joseph Benavidez defeats Yasuhiro Urushitani by TKO, Rd. 3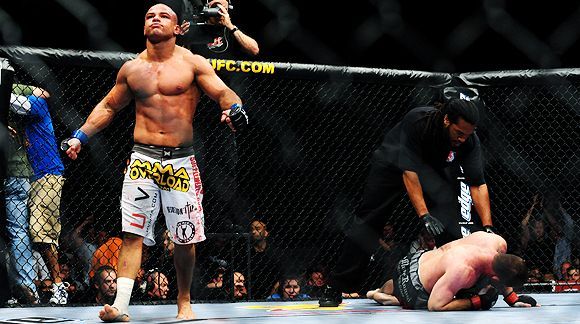 Thiago Alves (left); photo cred: cagepotato.com
It's fights like these that should make most mixed martial arts fans thankful that the UFC has implemented five-round non-title bouts.
The resurgent Martin Kampmann is hoping that 2012 will fair far better than 2011 has.
The Dane recently fought out of a career worse two-fight skid, which came in controversial bouts against Jake Shields and Diego Sanchez, defeating the always tough Rick Story last November.
Kampmann was able to exploit Story's lack of technical prowess on the feet, battering the American with jabs and straight punches, which earned "The Hitman" the victory after three rounds of action.
The Xtreme Couture product in Kampmann benefited from the lack of striking skills that Story possesses, however, against Thiago Alves, he now meets his match.
Not only is the Brazilian regarded as one of the more technically sound strikers at 170-pounds, but he's also one of their most heavy-handed.
Before long, Kampmann's crimson chin will be tested far too many times, as Alves rips the legs of the Las Vegas transplant with low kicks before finding his mark with a crushing right hand in the later rounds.
Thiago Alves defeats Martin Kampmann by Knockout, Rd. 3