NFL's Top 5 Quarterbacks: Where Giants' Eli Manning Stands After Super Bowl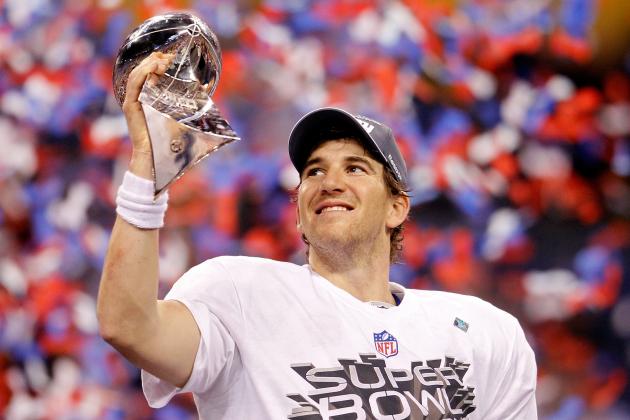 Rob Carr/Getty Images

Back in August, New York Giants quarterback Eli Manning considered himself to be in the same class of quarterbacks as New England Patriots quarterback Tom Brady, when asked this question on "The Michael Kay Show."

At the time, I scoffed along with most NFL fans at Manning's claims. Yes, Manning did lead the Giants to victory over Brady's Patriots in Super Bowl XLII, but he was coming off a season in which he threw an NFL-worst 25 interceptions, while Brady was the 2010 NFL MVP after a tremendous season in which he only threw four interceptions.

Brady is a first-ballot Hall of Famer, while Manning came into the season still stuck in the shadow of his older brother and another first-ballot Hall of Fame quarterback, Peyton Manning of the Indianapolis Colts.

Eli may have answered that question boldly, but he backed up his words. In a season where his older brother missed the entire year due to a neck injury, Eli emerged from his brother's shadow with the best season of his career, which he finished off by winning Super Bowl XLVI—once again over the Patriots—to win his second championship ring, one more than his brother has won.

As Manning has truly proved himself this year, the debate over whether he is a top-five NFL quarterback has raged on throughout the season. And with Manning's second Super Bowl victory to conclude a breakout season, there should be no doubt he ranks among the top five, but how high?
I'll break down the five best quarterbacks in the National Football League.
Begin Slideshow

»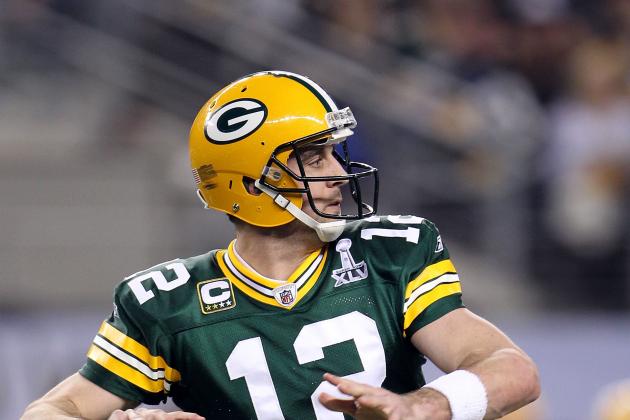 Jamie Squire/Getty Images

After years of debate whether Peyton Manning or Tom Brady was the NFL's best quarterback, Green Bay Packers quarterback Aaron Rodgers has emerged over the past two seasons as the best the league has to offer.

Last season, Rodgers led the Green Bay Packers to victory in Super Bowl XLV with a 304-yard, three-touchdown passing performance to finish off a remarkable playoff run. Capping off a great season with championship glory truly established Rodgers' place among the elite quarterbacks in the NFL.

This season, the Packers stumbled in the playoffs with a loss in the divisional round to the eventual Super Bowl champion Giants, but Rodgers led the team to a remarkable 15-1 regular season. He broke the NFL record for a single-season passer rating (122.5) with an astounding ratio of 45 touchdowns to only six interceptions.

Rodgers is truly the prototypical NFL quarterback. He has a tremendous arm, is a natural passer, very accurate and a good athlete. He has established himself as the NFL's best at his position and is likely to remain that way for many years to come.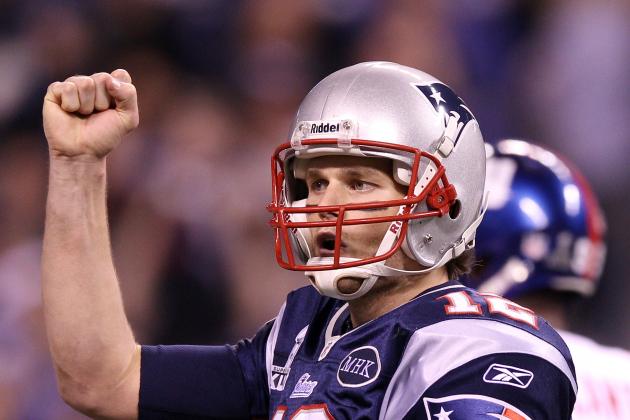 Elsa/Getty Images

In two consecutive Super Bowls against the Giants, Tom Brady has struggled in the fourth quarter, and as a result, the New England Patriots have fallen short of victory. Brady is still known for his clutch performances that led the Patriots to three Super Bowls in four seasons, but they are now seven seasons removed from their last title.

Brady has carried a reputation of being the NFL's best postseason quarterback, but that reputation may finally be waning away. After winning his first nine playoff games of his career, Brady has only won seven of his last 13, including two Super Bowl losses.

That said, I am not about to criticize Tom in Eric Wilbur form. While the same postseason magic that defined Brady's first four seasons may not be showing up of late, the fact still remains that he has led the Patriots to five Super Bowls and won three of them. Brady also has the best all-time winning percentage (.780) of any NFL starting quarterback with 100 starts.

All the while, Brady has been among the NFL's best quarterbacks statistically. This season, Brady broke the previously existing NFL passing yards record, throwing for 5,235 yards (he does not, however, currently hold the passing yards record; keep reading for more on that), while throwing for 39 touchdowns and only 12 interceptions.

In the aftermath of the Super Bowl disappointment, it is easy to forget that just last season, Brady was a unanimous winner of the NFL's MVP award with a remarkable season in which he threw 36 touchdowns and only four interceptions.

Brady no longer reigns as the NFL's best quarterback, but he is one of the greatest quarterbacks to ever play the game, and he is still an elite quarterback who could easily have another Super Bowl victory in him.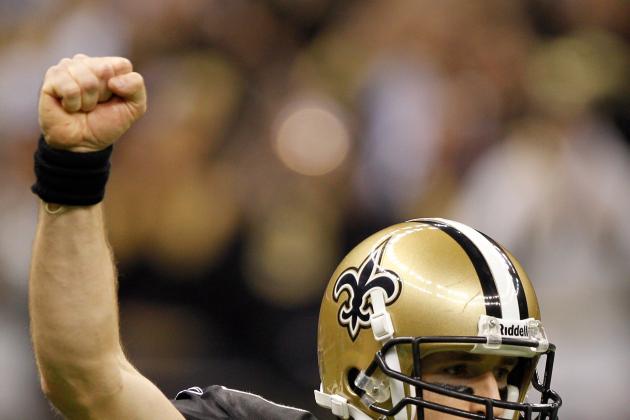 Chris Graythen/Getty Images

Aaron Rodgers was an obvious choice this year for NFL MVP, but Brees would have won the award in almost any other season. Brees broke the NFL's single-season passing yards record with 5,476 yards. He also has a tremendously efficient season with a league-best 71.2 completion percentage and a very impressive ratio of 46 touchdowns to 14 interceptions.

In his six seasons with the New Orleans Saints, Brees has truly emerged as an elite, and eventually Hall of Fame-bound, quarterback. Brees got his Super Bowl title in Super Bowl XLIV and has consistently rated among the NFL's best quarterbacks.

Last season, Brees had a rough season in which he threw 22 interceptions, ranked only 12th in the NFL in passer rating, and his Saints lost to the Seahawks in a massive upset in the Wild Card Round of the playoffs.

That said, Brees may had his best season as an NFL quarterback this year. Brees consistently put on display that he has a tremendous arm, can place throws where no other quarterback can, and can come up with big throws in the clutch. Brees' place among the NFL's great quarterbacks is very prominent.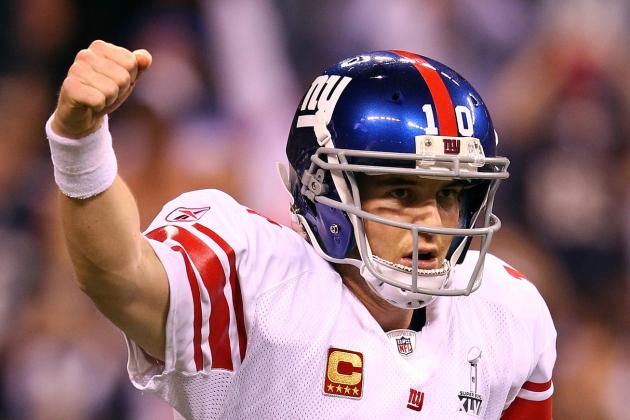 Al Bello/Getty Images

While I did not believe Eli Manning was a top-five quarterback prior to this season, I did find it worth noting the was one of only five NFL starting quarterbacks that played this season that had won a Super Bowl title. Now, Manning is one of only three quarterbacks in the National Football League who has won two Super Bowl championships as a starter.

"You can't spell elite without Eli" became the most overstated cliche of this NFL season, but it is true that a class of the NFL's currently elite quarterbacks can no longer be complete without Eli Manning. Manning has led his team to two Super Bowl championships and has done so in remarkable fashion.

In this year's game, Manning completed 30 of 40 passes for 296 yards and a touchdown. This performance was highlighted by a tremendous, game-changing throw to Mario Manningham, which Manning placed perfectly between double coverage to the sideline for a 38-yard gain, sparking the game-winning drive he led the Giants upon.

Manning has proved he is clutch in the fourth quarter; in this season alone, Manning led the Giants to seven fourth-quarter comebacks, including the team's victories in the NFC Championship Game and the Super Bowl.

As Eli has emerged from his brother's shadow, Peyton Manning is also no longer considered a top-five quarterback. Peyton missed this entire season with nerve damage in his neck, and it seems safe to say his best years are behind him. The Indianapolis Colts are set to replace him with Andrew Luck, and even if Peyton becomes healthy enough to play and joins another team, it is unlikely he will return to elite quarterback status.

There is no good answer currently to the question "Peyton or Eli?" in terms of their careers, as Peyton is one of the greatest quarterbacks in NFL history, but also much further ahead in his career. The fact remains that Eli Manning is in a much better place right now as an NFL quarterback, and he now holds more championship rings than his older brother.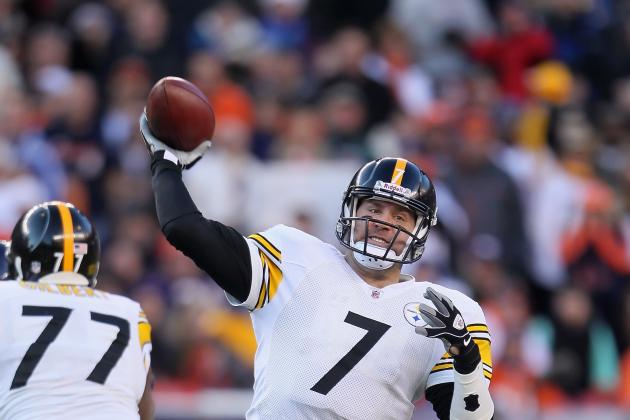 Jeff Gross/Getty Images

Along with Brady and Eli Manning, Ben Roethlisberger of the Pittsburgh Steelers is the third active quarterback in the National Football League with multiple Super Bowl titles.

Statistically, there is nothing spectacular about Roethlisberger. He has only twice, in 2007 and 2009, had a passer rating better than 100, and this season Roethlisberger's rating ranked 10th in the NFL.

That said, Roethlisberger is a clutch quarterback who has a way with coming up with big plays to lead his team to big victories. Roethlisberger has taken the Steelers to three Super Bowls, with wins in two of them (XL, XLIII). Roethlisberger also has the fourth-best all-time winning percentage (.708) among starting quarterbacks with at least 100 starts.

Roethlisberger may be a controversial character off the field, but on the field he is a leader and a warrior who has fought through injury after injury in his career. Roethlisberger's track record of leading his team to success cannot be questioned, and that earns him a spot among the elite quarterbacks of the National Football League.
---

Thanks for reading! For more NFL coverage, follow me on Twitter @Dan_Hope.