2012 NFL Draft: 10 Voids the Baltimore Ravens Must Fill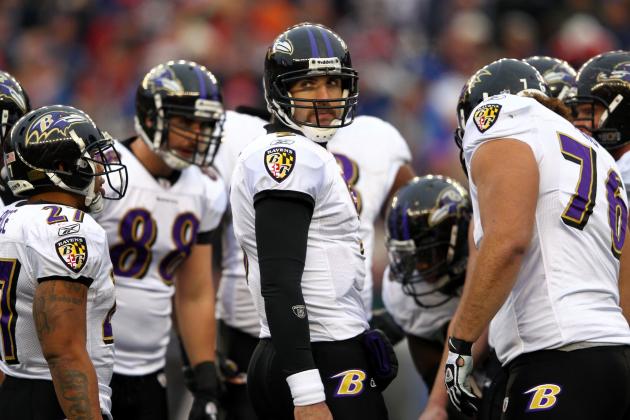 Al Bello/Getty Images

The Baltimore Ravens begin their preparation for the 2012 NFL draft fully aware that they have holes that need to be fixed.
It may sound harsh to say this for a team that lost the AFC Championship but that's how life is in the NFL. Only the Super Bowl champions end the season happy and for everyone else it's back to work figuring out how to improve the team.
Because free agency hasn't started yet, it's impossible to get a completely accurate portrayal of how the NFL will look once that takes place. The Ravens will definitely bring some players back and there will also likely be some new free agents on the team.
This article will address the Ravens' needs and suggest some players in the upcoming draft that could help the team in 2012.
Begin Slideshow

»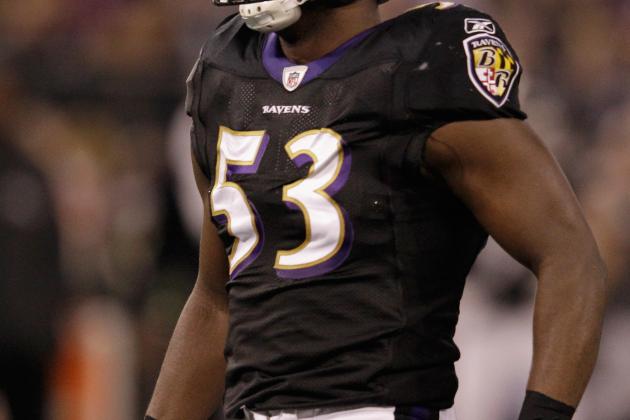 Rob Carr/Getty Images

The inside linebacker position next to Ray Lewis has been a revolving door. Over the last two years, it's mostly been undrafted Jameel McClain. Now, McClain is an unrestricted free agent and it's possible that like so many other former Ravens inside linebackers he'll be moving on.
However, even if McClain stays a Raven, they still need depth at the inside linebacker position. Lewis will be back next season, although it's now a yearly guessing game as to whether it will be his last season. If not already on the roster, Lewis's successor definitely needs to be drafted.
Since this position is such a need right now there's a good chance the Ravens will use their first-round pick fill the void. Perhaps the most talented player at this position in years, Vontaze Burfict from Arizona State, is an intriguing possibility with his extremely physical style of play. But he'll need to eliminate his frequent dumb penalties.
Boston College linebacker Luke Kuechly is known for sensational ball instincts and constantly getting tackles.
Other possibilities: Manti Te'o, Notre Dame; Dont'a Hightower, Alabama.
One Raven player who has not yet announced his intentions about retirement is Matt Birk. Although reports came out a few weeks ago that the 14-year veteran was going to retire, he denied them. However, in the wake of the AFC Championship loss, he has not made clear if he will play next year or not.
Birk will be 36 when the season starts and he is clearly on the downside of a great career. He is actually also an unrestricted free agent, although the chances of him starting over with a different organization seem very small. What could be problematic is the fact that his backup Andre Gurode is an unrestricted free agent as well.
Formerly a Pro Bowler with the Dallas Cowboys, Gurode has only said the right things since he joined the Ravens this season. Still, it's possible the Ravens might want to go for youth at the center position and select someone like William Vlachos from the University of Alabama. Vlachos would be a good pick because he is a team captain, four-year starter and has won two national championships.
Other possibilities: Peter Konz, Wisconsin; Ben Jones, Georgia.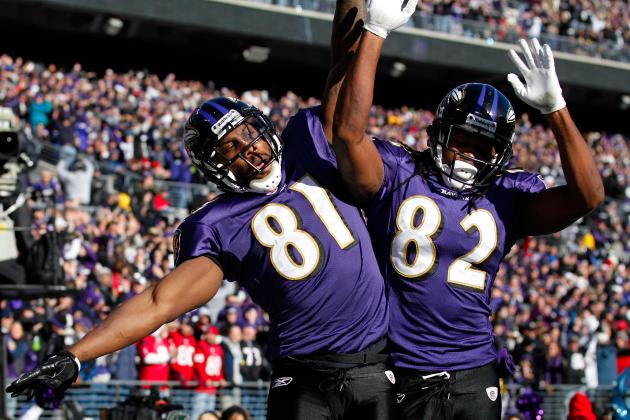 Rob Carr/Getty Images

It's no secret that the Ravens are weak at the wide receiver position. That seems to be the story of the franchise as year after year young receivers fail to live out their potential. If there's one area that Ozzie Newsome hasn't done as well in drafting, it's definitely wide receiver.
That changed to some extent this year with Torrey Smith's breakout season. He is the most promising receiver on the Ravens' roster and has the potential to become one of the best in the league. Anquan Boldin is getting old; however, he is still a solid starter as a slot receiver.
After these two, the Ravens' receiver depth gets really empty really fast. Although he isn't a free agent, Lee Evans disappointed so much in his first season that he will likely be gone. And then after Evans there's very little experience with Tandon Doss and David Reed, both players that have not impressed yet.
They won't get experience with another rookie receiver but they could get potential. One receiver that could be a good fit is University of Arkansas receiver Joe Adams, who is also a threat at the kick return position. Coincidentally, that return game is another area the Ravens have struggled with.
Ideally, Adams would contribute immediately on special teams while providing some potential depth at wide receiver.
Other possibilities: Lance Lewis, East Carolina; Chris Givens, Wake Forest.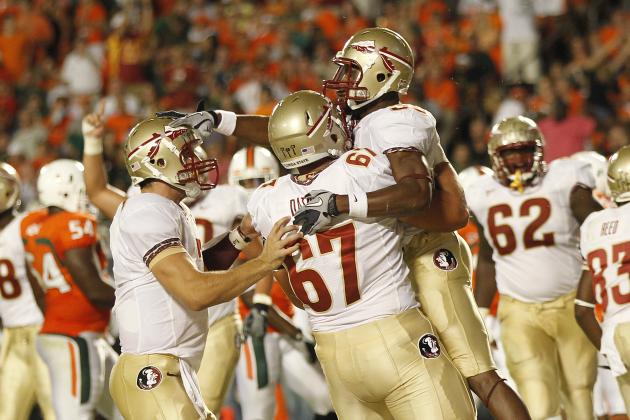 Joel Auerbach/Getty Images

The offensive line could be in a period of transition in 2012 with two starters scheduled to be free agents. At the tackle position, both Bryant McKinnie and Michael Oher are expected to be back. Still, the Ravens need depth at the position and both McKinnie and Oher have had their criticisms.
McKinnie has had weight issues which ultimately led to the Minnesota Vikings cutting him last summer. Although he was productive this season, it's still possible those weight issues could come back to haunt him.
Oher, meanwhile, gets way too many false starts, and although it seems drastic, he could lose his starting job if this trend continues.
One option who probably wouldn't start right away is Florida State OT Andrew Datko. As a mid-round prospect, Datko is known for having heavy hands that make it difficult for the defender to disengage. If the Ravens choose to get a tackle sooner, they could pick Kelechi Osemele from Iowa State.
Other possibilities: Mike Adams, Ohio State; Zebrie Sanders, Florida State.
The guard position will likely also be determined via free agency. Ben Grubbs could potentially leave since he could be in for a big payday. That would be a loss for the Ravens as Grubbs has been an important part of the offensive line.
Even if Grubbs does stay, the Ravens could certainly use depth behind him and Marshal Yanda. One player that would be excellent for depth is the versatile Georgia guard Cordy Glenn who has experience playing both guard and tackle. It also doesn't hurt Glenn that he's known for being very athletic, something that's not always a given for a 338-pound man.
Other possibilities: David DeCastro, Stanford; Kelechi Osemele, Iowa State.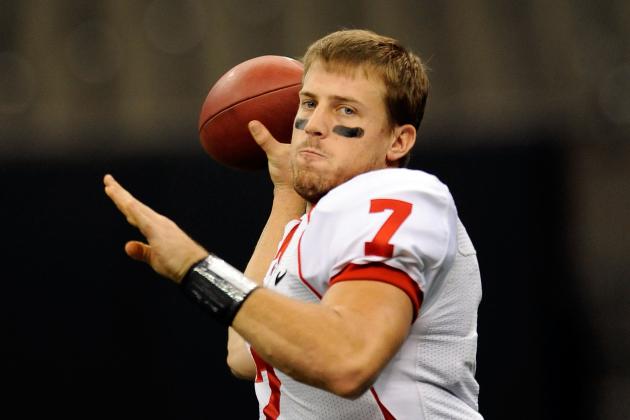 Stacy Revere/Getty Images

This position may seem like a surprise considering the Ravens are likely set for several more years with Joe Flacco as their quarterback. But it must be remembered that behind Flacco the Ravens only have Tyrod Taylor. It's a risky move having only one quarterback as your backup, and it's possible the Ravens want to bring in some competition for Taylor.
One such player that could work out for Baltimore is University of Houston quarterback Chase Keenum. Although he plays in a low-profile school, he has had some insane games including one where he threw for 534 yards and nine touchdowns. Should Flacco ever go down, Keenum could be a safe player that could come in and manage the offense.
Other possibilities: Aaron Corp, Richmond; Darron Thomas, Oregon.
Jamie Squire/Getty Images

Longtime outside linebacker Jarrett Johnson is a free agent this season, meaning there could also be need at this position. Johnson could potentially follow his former defensive coordinator Chuck Pagano to the Indianapolis Colts. If not, it wouldn't be too surprising for Rex Ryan to try to get another former Raven to play for the New York Jets.
Replacing Johnson would be a difficult task and right now it seems doubtful that backups Paul Krueger and Sergio Kindle would be ready to do that.
One player that could help is Oklahoma hybrid OLB/DE Ronnell Lewis. He has both the ability to rush the passer off the edge and to play the run very well.
Other possibilities: Zach Brown, North Carolina; Lavonte David, Nebraska.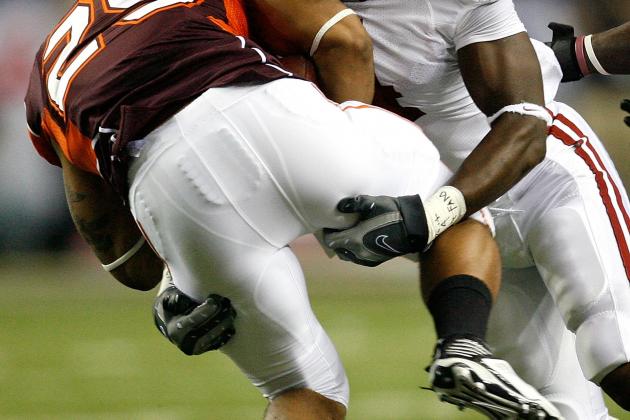 Kevin C. Cox/Getty Images

The safety position is another one where things could change in a hurry for the Ravens. Ed Reed has been non-commital about his future, meaning it is possible he could still retire this season. Two longtime safety backups Tom Zbikowski and Haruki Nakamura are both free agents.
It's fitting that the Ravens could then consider another player from the Crimson Tide's ferocious defense. Alabama safety Mark Barron could take over at free safety should Reed retire, although Barron is naturally a strong safety. Even if Reed doesn't retire, Barron could be one of those players that's possibly good enough to replace a legend.
Other possibilities: Robert Lester, Alabama; Markelle Martin, Oklahoma State.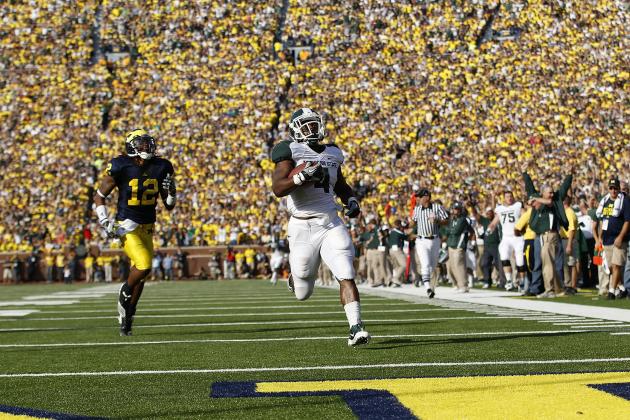 Leon Halip/Getty Images

Obviously running back is not a huge need at this point. Picking a running back late in the draft would only be for depth purposes, since behind Ray Rice the Ravens don't have all that much. It might also help if they could get a cheaper backup than Ricky Williams, who still has a rather expensive salary.
Michigan State running back Edwin Baker could be an intriguing option. At 5-9 and 210 pounds, he would be a good change-of-pace back from Rice. For now, Baker is projected to go in the seventh round or possibly even go undrafted.
Other possibilities: Jeff Demps, University of Florida; Marc Taylor, Southern California.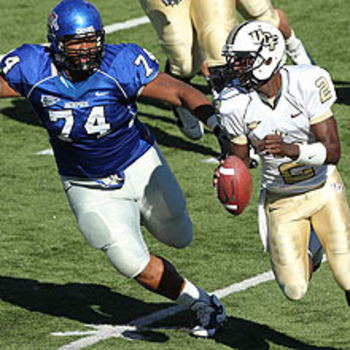 The main reason there would be need here would be if Cory Redding were to leave in free agency. Even if he were to do that, the Ravens could have capable backups become starters in Arthur Jones or Pernell McPhee.
One player they could consider drafting is Memphis defensive lineman Dontari Poe. One of the strongest players in football, he would help strengthen the Ravens' defensive line. However, he would likely have to be taken early, which is doubtful due to the Ravens' pressing needs on the offensive line and at linebacker.
Other possibilities: Jared Crick, Nebraska; Mike Daniels, Iowa.