10 Best Offensive Linemen in the 2012 NFL Draft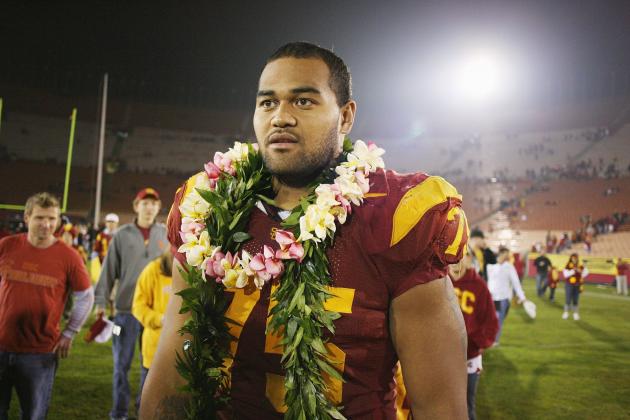 Jeff Golden/Getty Images

To fans, drafting an offensive lineman in the first round is like clipping your toenails and then eating them with salsa. It's just about the least sexiest move a team can make.
Forget the salsa part. Clipping your toenails in itself may be the ugliest ritual north of human sacrifice. But like pleasing your in-laws or paying your taxes, it's also an absolutely necessary evil. So, for that matter, is drafting offensive linemen.
You have to pity the devoted draft nicks who wait months for the big April culmination, only to see their teams lead off with a player they will never notice in a game unless he commits a penalty.
I guess this makes Miami Dolphins fans the ultimate draft-obsessed victims. Most fan bases get a flashy quarterback savior as their No. 1 pick. Miami got a plodding offensive tackle.
But no player represents the substance-trumps-style trench-dog dynamic better than Jake Long. His 2008 selection at the No. 1 slot may be the biggest buzz kill in draft history. But in four NFL seasons, the 6'7", 315-pound physical freak has never missed a Pro Bowl start.
So before you dismiss the big uglies as prospects only the front office executives need to pay attention to, remind yourself of those old Visa commercials featuring Tom Brady and his motley crew of abominable snowmen. Brady wouldn't star in those commercials without his bouncers and body guards because he understood that as a quarterback, he's as vulnerable as anybody.
The abominable snowmen of the future really aren't that hard to find. You just have to put your fantasy GM hat in the offseason safe for a couple of months. With this human sacrifice-like ritual in mind, here's an early primer to point you in the right direction.
Begin Slideshow

»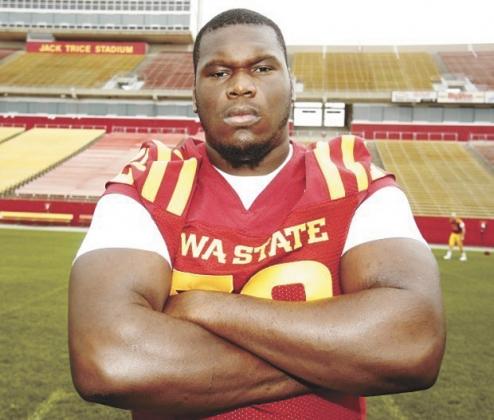 Projected Round: Second
Size: 6'5", 333 lbs

NFL Comparison: Logan Mankins
A tackle-guard hybrid, Osemele might be the best pass-blocker in this draft when you consider he has long arms, is light on his feet and specializes in stagnating pass-rushers at the point of attack.
All offensive line draft picks are good run-blockers. That's why they started playing the line in their Pop Warner days in the first place, to run people over.
This is why it's always a positive sign when a player of Osemele's size is a more natural pass-blocker. In an aerial-heavy league, no team will have trouble finding a place along the line for a player who fits almost anywhere.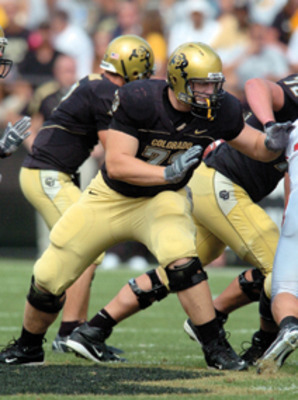 Projected Round: Second
Size: 6'8", 310 lbs

NFL Comparison: Chris Snee
Like most abnormally tall linemen, Miller's greatest strength is his ability to fire off the ball on running plays.
Unlike most abnormally tall linemen, he also possesses the footwork and coordination to keep speed-rushers at bay on passing plays.
A three-year starter at Colorado, Miller started 36 consecutive games for the Buffaloes, making him more durable than the average lineman tree as well. While he may not be blindside material, Miller will likely find his NFL niche as a right guard.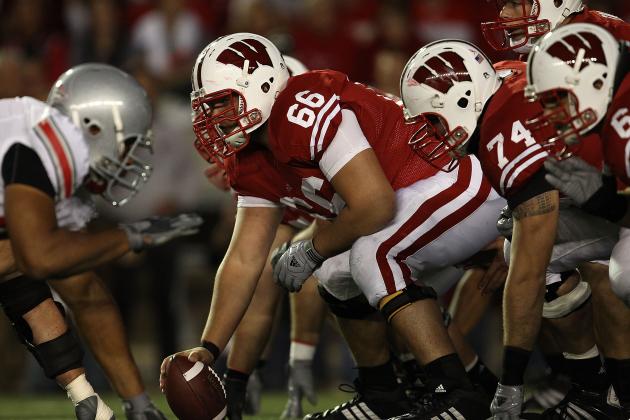 Jonathan Daniel/Getty Images

Projected Draft Position: Late First to Early Second
Size: 6'5", 315 lbs

NFL Comparison: Nick Mangold
The eye of the steamrolling, Bunyan-esque Wisconsin trench storm, Konz is the rare Badger who may even be a better pass-blocker than run-blocker.
He was aided heavily in that department with coach Bert Bielema's increased focus on the passing game this season, as Badgers quarterback Russell Wilson set a school record with 33 touchdown passes.
The scary part? Wisco's running game, with Konz as its epicenter, was just as strong as it's ever been. Running back Montee Ball also racked up a school record for rushing touchdowns with 33.
A three-time Academic All-American, Konz is always one of the smartest, most well-versed players on the field. He makes seamless calls at the line of scrimmage and was one of the best in college football at picking up blitzing linebackers.
Centers rarely go in the first round. But given his pedigree and nearly flawless scouting report, Konz would hardly be a reach.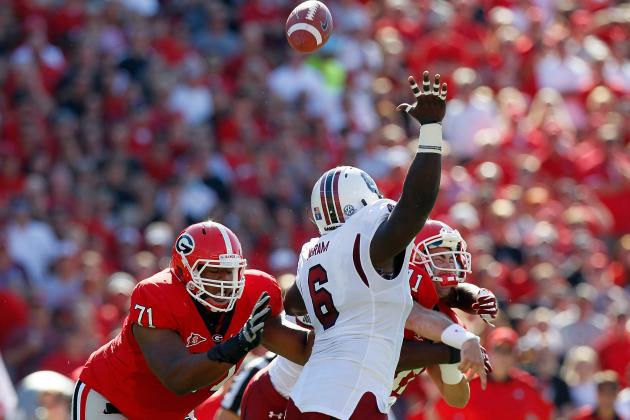 Kevin C. Cox/Getty Images

Projected Draft Position: Late First to Early Second
Size: 6'5", 348 lbs

NFL Comparison: Andre Smith
The most versatile lineman in the draft, Glenn was a four-year starter in the fastest, most talented conference in the country.
Halfway through his college career, Glenn made the telling switch from left tackle to guard, a position typically reserved for the strongest, most physically dominant trench warrior on the team.
While his collegiate versatility was very impressive, UGA's all-time leader in career starts (50) isn't fast, quick or technically sound enough to protect the quarterback's blind side at the professional level.
But his mountainous size and brute strength should make Glenn an immovable force in the middle of somebody's offensive line for years to come.
Projected Round: Late First to Early Second
Size: 6'7", 323 lbs

NFL Comparison: Jason Peters
A slow but powerful run-blocker, Adams had a lot of trouble with small speed-rushers during his career with the Buckeyes. For this reason, most scouts believe he'd be a better professional fit at right tackle than left.
Either way, the First-Team All-Big Ten selection eats up almost anyone who lines up across from him on running downs, regardless of size or speed.
At the Senior Bowl, Adams was his typical inconsistent self, getting floated around from position to position after looking lost on multiple occasions.
While his topsy-turvy tendencies are a cause for concern, there's no denying Adams has the talent and body to become the prototypical offensive lineman who thrives in the NFL with more intricate coaching.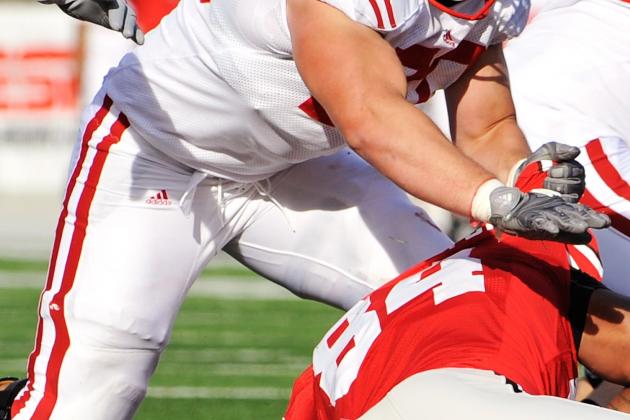 Jamie Sabau/Getty Images

Projected Round: Mid to Late First
Size: 6'4", 315 lbs

NFL Comparison: Jahri Evans
You can always judge a collegiate lineman by how he fares against comparable talent.
In his two most telling matchups of the season, against Penn State's Devon Still and Michigan State's Jerel Worthy, Zeitler did what all great linemen are expected to do: make people forget that the quarterback mongrels are even playing the game.
Wisconsin averaged over 235 yards rushing per contest in 2011. Considering the Badgers between-the-tackles running style, most of those yards came through Zeitler's interior wheelhouse.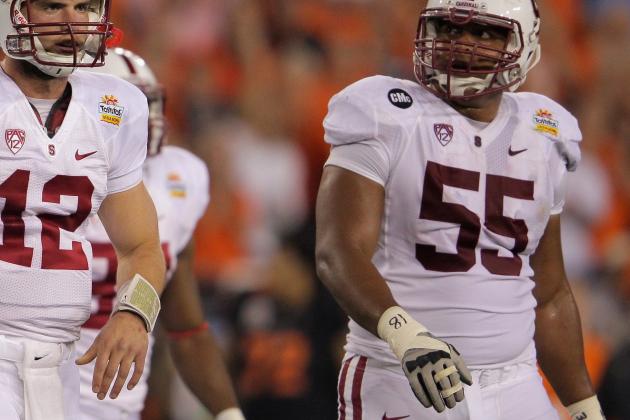 Doug Pensinger/Getty Images

Projected Round: Early to Mid First
Size: 6'6", 305 lbs

NFL Comparison: Jake Long
A two-time All-Pac 12 selection, Martin was the unsung hero behind Andrew Luck's prolific and well-documented collegiate career.
In addition to protecting Luck's blindside, Martin helped pave the way for a perimeter-oriented rushing attack that averaged over 213 yards per game in 2011.
He's the rare left tackle whose run-blocking capabilities are as good as his pass-blocking capabilities. For that reason, Martin should become a stalwart on some lucky quarterback's blind side for years to come.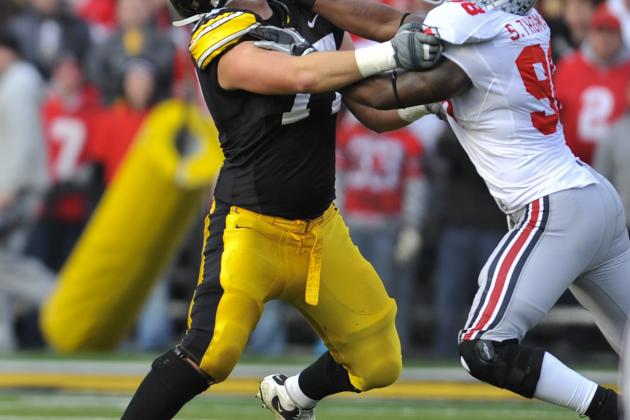 David Purdy/Getty Images

Projected Round: Early First
Size: 6'6", 300 lbs

NFL Comparison: Bryant McKinnie
Another left tackle who's just as adept as a run-blocker as he is as a pass-blocker, Reiff is one of the few offensive linemen in the field with a 40 time below five.
This unique speed allowed Reiff to excel in perhaps his biggest test of the season against Pitt's smaller and quicker speed-rusher Brandon Lindsey.
In fact, Reiff gave up just two sacks the entire season in Iowa's typically efficient offensive attack.
While the Robert Gallery comparisons are inevitable, Reiff will benefit from a considerably lower level of hype heading into a much deeper draft at his respective position.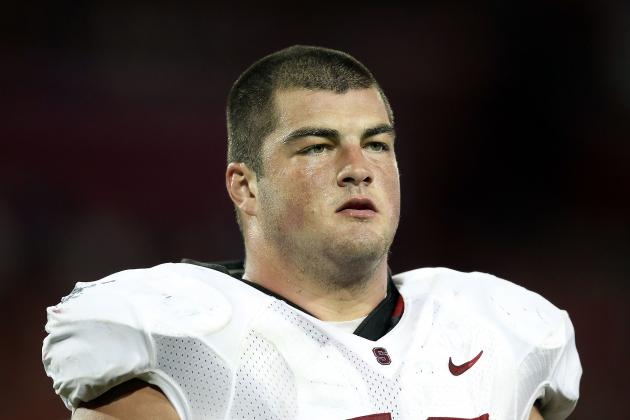 Christian Petersen/Getty Images

Projected Round: Early First
Size: 6'5", 312 lbs

NFL Comparison: Steve Hutchinson
The undisputed most dominant guard in the field, DeCastro is a run-blocking extraordinaire who pummels defensive tackles at the line of scrimmage and hits linebackers on the run once he gets to the second level.
A surefire first rounder, the two-time All-American will likely be a starter the minute he sets foot in his first training camp given how dominant he was at the collegiate level.
He didn't give up a single sack in two full seasons as a starter, and the Cardinal averaged over 200 rushing yards per game in each of those seasons.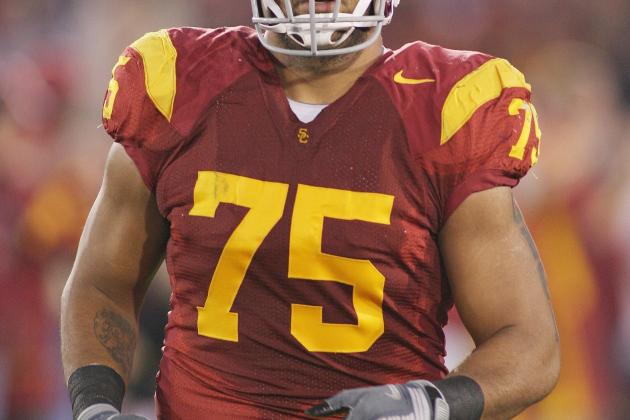 Jeff Golden/Getty Images

Projected Round: Top 10
Size: 6'7", 295 lbs

NFL Comparison: Michael Oher
A bona fide left tackle in the position's purest form, it's easy to compare Kalil to the blindside's algernon prototype.
It's also hard not to associate the sling-shot ascension of Matt Barkley with the centuries upon centuries he had in the pocket to get rid of the ball.
Other than his semi-faulty run-blocking skills (and that's nitpicking at best), there's nothing about Kalil that doesn't suggest future NFL stardom. Heck, with an older brother (Ryan) who's one of the best centers in professional football, he even has family pedigree on his side.
Kalil played so well in his junior year (2010) that he forced fellow natural left tackle Tyron Smith to the right side. Just for reference, Smith was such a slouch that he only got picked 10th by the Cowboys last year.
Naturally, Kalil is widely considered the best tackle prospect since five-time Pro Bowler Joe Thomas in 2007.
Twitter: @JarradSaff