NFL Super Bowl 2012: Eli Manning Has as Many Super Bowl MVPs as Tom Brady
February 7, 2012

Joe Robbins/Getty Images
Eli Manning has two Super Bowl rings. That's more than his father and older brother combined.
John Elway finished with two. Aaron Rodgers and Brett Favre combine for two. Dan Marino, Warren Moon and Jim Kelly all finished with zero.
Eli has also tied Tom Brady with two Super Bowl MVPs. One more and his name will be alongside Joe Montana for the most all time.
Once again, this is Eli—not Peyton—Eli Manning.
As an NBA fan, I'm used to so much of the emphasis being put on the number of rings a player has won when determining their individual rank in history. Most diehard NBA fans will agree that the Kobe versus Michael Jordan discussion can not even be whispered about in public until Kobe wins a sixth ring and the more extreme NBA fans would agree that Kobe has to win four more since the first three were really Shaquille O'Neal's.
Reasoning? Simple. For the first three Lakers championships, Shaq was the Finals MVP. Across all of the major sports, the winner of this award has always received the lion's share of the glory. It's why Dirk Nowitzki needed to win a title AND the MVP, it's why MJ's six MVPs make him virtually untouchable, and why if—more likely when—the Miami Heat do win a title, LeBron James haters will still have plenty of ammunition if the award goes to Dwyane Wade or, God forbid, Chris Bosh.
This is what makes the Eli Manning situation so difficult. Take, for example, Ben Roethlisberger. Big Ben has two Super Bowl rings, but those—myself included—who are not willing to put him in the same category as other two-time winning Hall of Famers will quickly point out that the two years the Steelers won, during his reign, the MVP award went to Hines Ward and Santonio Holmes.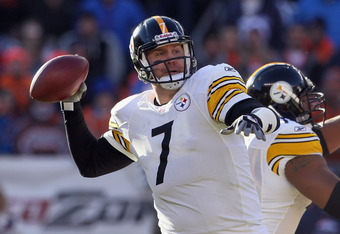 Jeff Gross/Getty Images
It wasn't Troy Aikman's Cowboys, it was the collective weapons of Deion and Emmitt and Irvin and Larry Brown. In 2001, it wasn't Trent Dilfer, the trump card of the you-don't-need-an-elite-quarterback-to-win-a-Super Bowl argument, but Ray Lewis who grabbed the coveted MVP. Even John Elway split the MVP award the two times he went. Hell, Brett Favre never even won it.
The, "He was just the QB of a really good team" argument is hard to make since the Giants barely squeaked into the playoffs in both of their Super Bowl campaigns. The, "He got lucky, it was a down year" argument is hard to make too since the first campaign he knocked out the 18-0 Patriots and, this year, he not only beat the 15-1 Packers, but took out Tom Brady and Bill Belichick yet again. Clutch? He's had two very late game-winning drives.
The only thing I can even imagine to compare it to would be if the Celtics had three-peated from 2008 to 2010 (very possible had KG not been injured in 2009 and Perkins not missing Game 7 in 2010). Imagine, then, if Paul Pierce took home two more Finals MVPs. One step further, imagine LeBron James only finishing with two championships, one where he was the MVP, one where Dwyane Wade received the award.
The argument of Paul Pierce being the best small forward of his era, over LeBron James, seems blasphemous to even write in this extreme hypothetical, but that's what winning Finals MVPs can do. It makes the conversation murky and empowers the casual observer in their radical claims.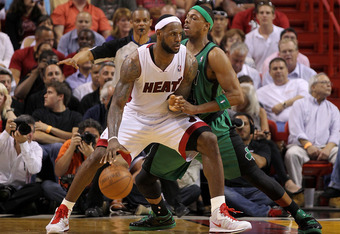 Mike Ehrmann/Getty Images
What happens if Eli wins a third? A fourth? What if Peyton comes back full strength next year, let's say for the New York Jets, and leads them to a dominant season, only to lose to his younger brother in the Super Bowl (imagine being in New York City for that game!)? What if there's another Giants versus Patriots Super Bowl a few years from now and Eli does this once again?
Eli deserves a lot of credit and hats off to the guy for what he's done in his career so far, but he's really complicating the NFL history books. I feel like my future grandson in the year 2055 will be reading a Sports Almanac and ask me, "What was it like to watch Eli Manning? Was he the greatest ever?"
I will shake my head from side to side and turn on ESPN TEBOW, an offshoot of ESPN Classic, and motion for my grandson to sit next to me on the couch.
"Here's the best of all time…"