Every MLB Team's Under-the-Radar Prospect with Superstar Potential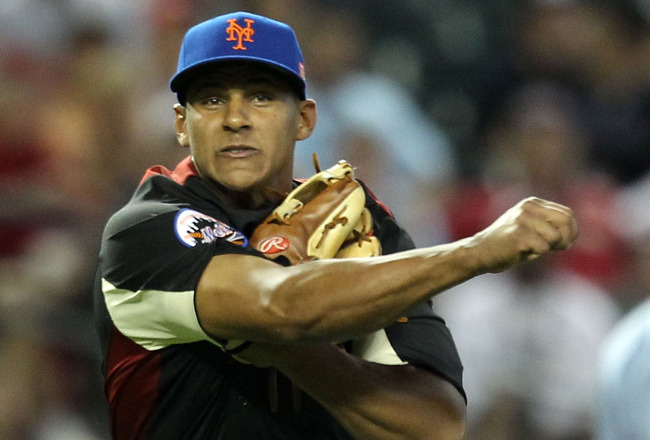 Christian Petersen/Getty Images
For every David Price and Evan Longoria (players who were superstars from the day they were drafted), there's about a hundred Robinson Canos.
The Canos of the world struggle to garner attention as they slave away in the minor leagues (six seasons in his case) and then reap all the benefits once they reach the majors, and their true talent is finally exposed.
Last year, Los Angeles Angels' slugger Mark Trumbo came in this Cano-type form.
The hulking first baseman almost locked down American League Rookie of the Year honors with an incredible campaign (29 HR, 87 RBI), one that came after languishing for six seasons in the minors.
So who will be this year's Robinson Cano/Mark Trumbo?
Or for that matter, who are the players that have that kind of potential: to go from minor league afterthought to big-league superstar?
Let's take a look.
Anthony Meo, RHP, Arizona Diamondbacks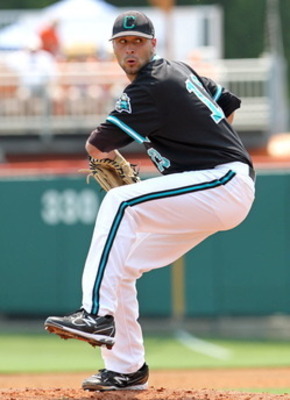 The Diamondbacks went heavy on pitching in the most recent draft, and while their two first-round selections got all the attention, they quietly went about adding another strong armed, seasoned pitcher in Coastal Carolina's Anthony Meo.
Meo dominated for three seasons at CCU, winning 32 games while posting a 277-to-97 K:BB ratio and a 2.52 ERA.
His finest moment came however, pitching in the 2011 Big South conference tournament, when he twirled an absolute gem. He retired the first 16 batters of the game en route to his first collegiate no-hitter. For his combined efforts, Meo earned a $625k signing bonus.
He doesn't throw as hard as his draft-mates Archie Bradley or Trevor Bauer, but he can run his fastball up in the mid 90s. He has potential as a mid-rotation starter or even as a dominant closer.
Jairo Asencio, RHP, Atlanta Braves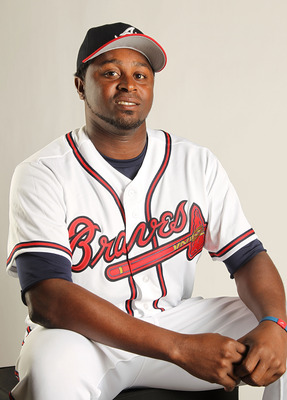 Mike Ehrmann/Getty Images
In 2006, Asencio started 22 games for the Braves Low-A affiliate, and despite racking up a career-high 122 innings, he could only muster 71 strikeouts.
When 2007 came, the organization decided to have him try his hand at relieving, assuming that his stuff would be better utilized in the later innings.
The move paid off in a big way.
Ascencio struck out 78 batters the next season, in just 73.1 innings, and the right-hander hasn't looked back. Since 2007, he's consistently struck out more than a batter per inning, and has developed into a shutdown closer. In the three years he pitched from 2008 to 2011 (he sat out 2010 due to an injury), Asencio has racked up 81 saves.
This past season he had his best season yet, racking up 26 saves while holding down a 1.81 ERA. He struck out 70 batters in a mere 54.2 innings and earned MLB.com's Triple-A Relief Pitcher of the Year honors.
Asencio hasn't looked too good in two brief cameos in the big-leagues, and due to his advanced age (he'll be 28 in May), he's been surpassed by numerous younger pitchers.
He'll no doubt get an invite to camp this spring, and with numerous youngsters (Arodys Vizcaino and Randall Delgado among them) challenging for a spot in the bullpen, Asencio might find himself with a spot thanks to his experience.
Jonathan Schoop, INF, Baltimore Orioles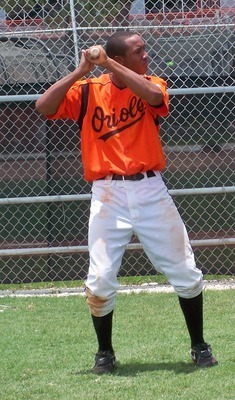 Schoop doesn't get the attention that follows former first-round pick Manny Machado around, and he doesn't have the $6.225 million that is currently sitting in Dylan Bundy's bank account, but what he does have is an immense amount of potential that could allow him to surpass the other two.
In fact, given his age, Schoop had to be one of the most impressive performers in all of the minor leagues last year.
Just 19-years old, the Curacao native dominated Low-A pitching to the tune of a .316/.376/.514 line. Not only did he show incredible power (eight HR in 51 games) for a player of his stature (6'1'' and 187 pounds), but he was able to dazzle scouts and fans alike with his plate discipline (20-to-32 BB:K) light years beyond his tender age.
All Schoop needs to blossom is to find a long-term position.
He's obviously blocked by Machado at shortstop, which means he'll be trying out second base after spending a good chunk of time there in 2011.
Xander Bogaerts, SS, Boston Red Sox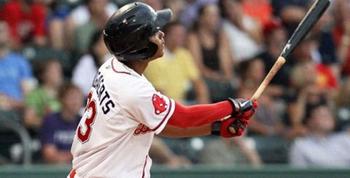 Bogaerts has done nothing but impress since signing out of Aruba back in 2009, although his coming out party in the States didn't come until 2011.
Spurred on by an aggresive promotion to Low-A ball, the 18-year old homered 16 times, slugging over .500 and put some serious heat on the team's top shortstop prospect Jose Iglesias, who has homered only twice in his minor league career.
How long Bogaerts remains at shortstop is another question.
His position likely won't matter assuming he reaches his offensive potential, which Baseball America thinks he could be, "a .280 hitter with 30 home runs in the majors."
Ronald Torreyes, 2B, Chicago Cubs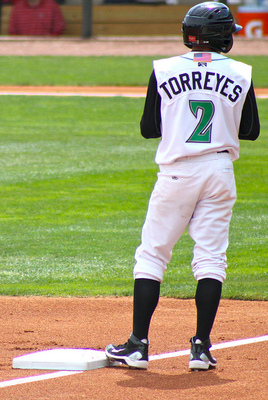 Ronald Torreyes hit a ridiculous .370 in 2010 while jumping around from Venezuela (summer league) to Arizona (rookie ball) to Ohio (Low-A ball).
In addition to his lofty average, his high on-base percentage (.434) and his above-average speed (25 steals in 91 games) convinced the Reds to allow the 18-year old to return to the Midwest League to open the 2011 campaign.
Once again, they were wowed.
Torreyes didn't make his season debut until June, but he hit the ground running, hitting .395 in the month, and then .386 in July. He slumped a bit in August, only mustering a .321 average, but still managed to lead the squad with a .356 average. He showed incredible poise at the plate for a 19-year old, walking only five fewer times than he struck out and his speed continued to show (12 steals, five triples).
If Torreyes ever does achieve super-stardom, it won't be in Cincinnati.
He was traded to the Cubs this past winter. It wouldn't be a total shock if they aggressively promoted him to High-A ball, but he'll likely return to Dayton to start the 2012 campaign.
Jake Petricka, RHP, Chicago White Sox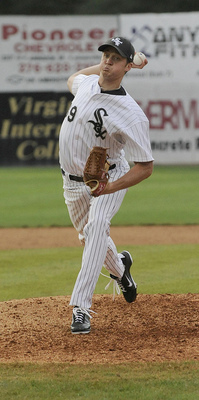 Petricka has a higher ceiling than any other starting pitching prospect in Chicago's system, but he's considered somewhat of a wild-card for a couple of reasons.
For starters, he can scrape triple-digits with his fastball. That might seem like a good thing, but the track record of pitchers who throw that hard isn't very encouraging.
Second, even though he's pitched 30 games each of the past two seasons, he's still considered a guy who might end up as a reliever in the long-run.
Despite his role, Petricka has the skills to shine.
As a reliever he could emerge as a top-notch closer candidate, combining his stellar fastball with an impressive breaking ball. If he can continue to develop his command and bring along another secondary pitch he could have a very bright future as a starter.
Ryan Wright, 2B, Cincinnati Reds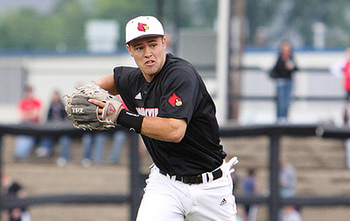 Wright was everything the Reds expected him to be when they selected him in the fifth round, a solid player with a few holes.
At the plate in his pro debut, he was great, hitting .318 in a cameo in the rookie Arizona League, before getting bumped up to the rookie Pioneer League, where he hit .298.
He got an extra-base hit no matter what league they decided to move him to, racking up 20 of them, including seven home runs in only 40 contests.
He was a capable run producer, driving in 32 runs, and even showed a little speed on the base-paths, swiping 14 bags in 20 tries.
Wright has all the tools to be an elite defensive second baseman (.988 fielding percentage), who can potentially hit 10-15 homers per season in the big-leagues.
Tony Wolters, SS, Cleveland Indians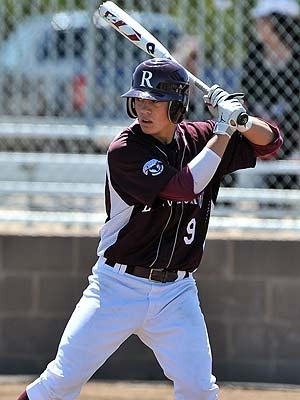 Wolters was one of the most underrated picks of the 2010 draft, signing with the Indians as a third-rounder for $1.35 million.
Unlike most of the high-school shortstops of the 2010 class (Nick Castellanos, Garin Cecchini and Yordy Cabrera), Wolters is actually a pretty safe bet to stick at the position. He has excellent footwork, soft hands and a very strong arm, despite the fact that his 21 errors in 66 games this past season make one think otherwise.
The Indians considered him advanced enough to skip him past rookie ball, and straight to the Low-A New York-Penn League, where he more than held his own, hitting .292 with 19 steals and a 30-to-49 BB:K ratio.
The team already has a bonafide superstar prospect at shortstop in Francisco Lindor, the eighth overall selection in the 2011 draft, but having a guy like Wolters backing him up is always a good thing.
It will also take some pressure off the 19-year old.
Tim Wheeler, OF, Colorado Rockies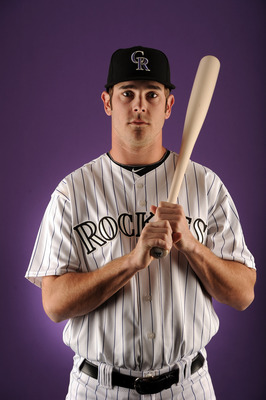 Harry How/Getty Images
The California League is a circuit that is notorious for offense.
Even hitters who can't muster a .200 average in any other league can consider themselves legitimate contenders for not only the batting title, but the home run crown as well. That's what made Tim Wheeler's 2010 campaign in High-A ball so disappointing.
In 129 games, the player who was considered highly advanced offensively coming out of college, hit a mere .249 with just 12 home runs in 510 at-bats. The extremely poor season took some shine off of his lofty prospect status and rendered him an afterthought to many fans.
He more than righted the ship in 2011 though, ranking among the minor league offensive leaders with 33 home runs. The former Sacramento State star drove in 86 runs and raised his average nearly 40 points.
He'll enter 2012 at Triple-A, just a step away from Colorado, where his scary power will have to make him an instant threat to jump straight into the lineup.
Jamie Johnson, OF, Detroit Tigers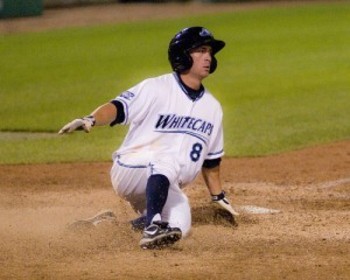 A former Big 12 All-Conference selection during his days at Oklahoma, outfielder Jamie Johnson has gotten lost in the shuffle, but for the first time in 2012, he'll be playing at the Triple-A level, just a stones throw away from the majors.
Johnson is the prototypical lead-off hitter.
He racks up hits, is a genuine doubles machine, and has speed to burn. He had a career-year in 2011, setting personal bests in doubles (33), runs (93), RBIs (51) and steals (14).
He also posted an incredibly impressive 84-to-92 BB:K ratio. Walking has always been a specialty of Johnson's. He walked a career-high 98 times in 2010 and for his three-year stint in the minors he actually has five more walks (223) than strikeouts (218).
Over the past two seasons, Johnson has also emerged as a defensive threat as well. He tallied 15 assists in 2010, including an impressive nine from centerfield, and racked up 12 more in 2011.
At age 24 and lacking in the power department, Johnson doesn't have the upside of some of Detroit's other young hitters, but he can get on base.
With two base-cloggers in the slugging duo of Miguel Cabrera and Prince Fielder, the front-office will no doubt be looking for players with Johnson's abilities.
Jose Cisnero, RHP, Houston Astros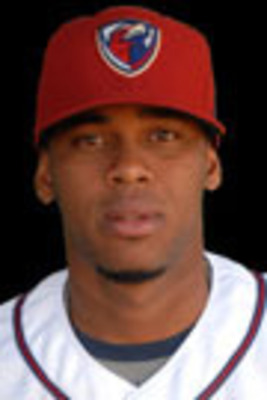 The effect that the hitter-friendly California League has on pitchers is well-documented. Even the most talented of hurlers often hit a road-block in the circuit known for 17-15 slugfests.
It should come as no surprise then, that after posting a sub-3.70 ERA in three consecutive seasons, Astros farm-hand Jose Cisnero experienced a dramatic rise in his earned-run average in 2011, to an atmospheric 6.06.
Fortunately, for the 22-year old Dominican hurler, the rest of his numbers looked good, so all signs point to him returning to his dominant ways in 2012.
Surprisingly, the stats tell the story of a pitcher who got hit only slightly harder in 2011 than in the previous seasons, making the jump in ERA seem even more "fluke-ish." In roughly the same number of innings as he pitched in 2010, Cisnero allowed just a handful more hits, only two more home runs and just ten more walks.
It wasn't all bad for him in 2011, however, as he set career-highs in games started (27) and strikeouts (152). His punchout total ranked him sixth in the Cal League.
Cisnero will move on to Double-A in 2012, and I fully expect him to go back to posting the same numbers he did from 2008-10 rather than the disaster year he faced last season.
Cheslor Cuthbert, 3B, Kansas City Royals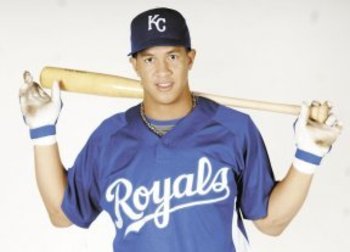 By the end of July, Cheslor Cuthbert was hitting .328 for Low-A Kane County, and was well on his way to having a year that would have had all the scouts buzzing.
Unfortunately, the 18-year old stumbled to a terrible finish, hitting .127 in August and .176 in September.
Hitting .267 with eight home runs and 51 RBIs is still something to be proud of, especially in only his first year of full-season ball.
Cuthbert's approach and attitude still have the team stoked about his future, and some even think he'll be talented enough to force current third baseman Mike Moustakas off the hot corner and into the outfield.
The Nicaragua native will play the entire 2012 season at age 19, and there's a conceivable possibility that he could reach as high as Double-A. That would amplify his prospect status greatly.
Daniel Tillman, RHP, Los Angeles Angels
Drafted out of Florida Southern and expected to move rapidly through the system, Tillman has actually moved at a slower pace than anyone could have predicted. It hasn't been for lack of results, though.
The 22-year old had a monster year in the Low-A Midwest League, racking up 70 strikeouts in 66.1 innings, to go along with 12 saves. His ERA rarely floated above 2.50 and he ended the year at 2.30, thanks to a rough showing in his High-A Cal League debut (4.50 ERA in seven appearances).
As the all-time saves leader at FSC, Tillman got some extra work in late this summer in the Arizona Fall League, where he competed against some of the best young hitters in baseball.
His admirable performance has likely earned a spot on the fast-track to Anaheim, and it is well deserved.
Tim Federowicz, C, Los Angeles Dodgers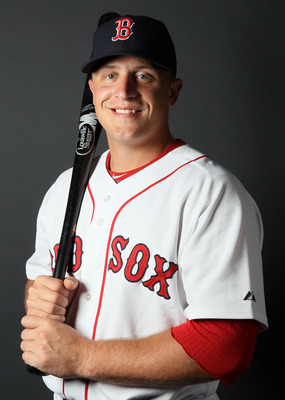 Elsa/Getty Images
Had the Dodgers not acquired Federowicz last season, he would have ranked third among catchers in the Boston system, behind Ryan Lavarnway and Blake Swihart.
Now in Los Angeles, "Fed-Ex" (as he's been nicknamed) is the top catching prospect, and a prime candidate to crack the opening day roster.
Federowicz makes his mark on defense, posting a 33 percent caught-stealing rate in four minor league seasons. That's a better career mark than most of the other top catching prospects in baseball, including Austin Romine, Travis d'Arnaud and Sebastian Valle.
The 24-year old made great strides with his offense in 2011 as well, tying or breaking personal-bests in numerous categories, including home runs, RBI, runs scored and walks.
He even earned a late-season call to L.A., where he got his feet wet a bit.
Austin Barnes, C, Miami Marlins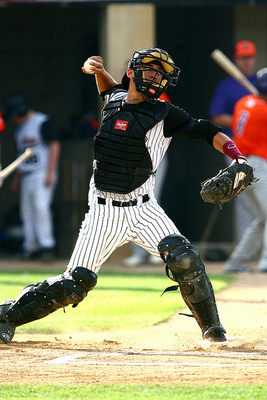 Barnes got little attention as a ninth-round selection in the 2011 draft, but he opened some eyes with a strong performance in his pro debut at Low-A Jamestown of the New York-Penn League.
The former Arizona State Sun Devil hit .288 with three more walks (25) than strikeouts (22) in 57 games with the Jammers. He was quite the offensive catalyst, producing 33 runs and 19 RBI. He only homered once, but he did rap 13 doubles and also stole six bases in seven tries.
On defense, Barnes was definitely an asset, erasing 39% of runners attempting to steal.
Already 22-years old, Barnes will likely move up to Low-A full-season ball in 2012 and we'll see if he's the real deal or not.
Kyle Heckathorn, RHP, Milwaukee Brewers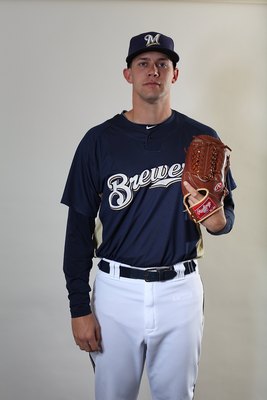 Jonathan Ferrey/Getty Images
Heckathorn dazzled in his pro debut in 2010, posting one of the lowest ERAs in the Milwaukee system while winning ten games splitting time between Low-A and High-A.
He did the complete opposite in 2011, losing ten games, posting an ERA close to 5.00 and allowing 15 home runs in 116 innings. Still, there's hope for the 23-year old.
He actually pitched quite well at High-A Brevard County, posting a 3.95 ERA.
Once he was promoted to Double-A however, the problems began. He gave up one fewer home run in only half as many innings, and walked nearly as many batters as he struck out. His ERA for Huntsville rose to 7.18.
Heckathorn pitched worse after a promotion in 2010 as well, but bounced back with a strong showing at the same level in 2011.
I'm betting he does the same in 2012, and jumps back towards the top of Milwaukee's pitching depth chart.
Dakota Watts, RHP, Minnesota Twins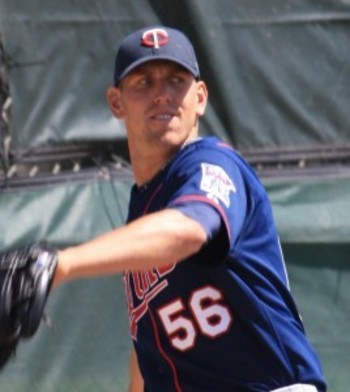 Like Heckathorn, Dakota Watts also had a terrible season in 2011. His ERA more than doubled (to 6.30) the number he posted in 2010, and his strikeout rate (K/9) dropped from 9.8 to 7.3.
The horrible campaign put a damper on a season that many predicted would end with Watts being added to the team's active roster in September.
Watts still has plenty of talent, most notably his fastball velocity.
His mid-to-high 90s heat allowed him to strike out more than a batter an inning from 2009-10 and expedited his rise through the ranks.
The fact that he hit an invisible wall at Double-A was quite an aberration, but Watts has the stuff to one day close games for the Twins. Before that time comes though, he'll have to learn to command his pitches better.
He'll head back to Double-A to start 2012, but if he starts strong he could be in Minnesota by the end of the year.
Dante Bichette Jr., 3B/OF, New York Yankees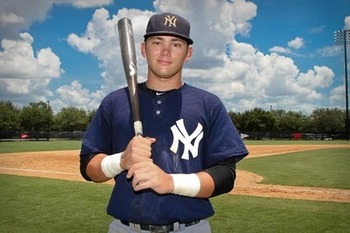 Bichette has it all: the major league bloodlines, the jaw-dropping power and a tireless work-ethic that would make Roger Clemens weep.
He tattooed Gulf Coast League pitching in his pro debut, to the tune of a .342/.446/.505 line. He also drove in 47 runs and scored 33 of his own in just 52 games.
Talk about creating some offense.
He also walked an astonishing 30 times, proving himself to be way too offensively advanced for the circuit.
Bichette could be the heir apparent to A-Rod at third base, assuming he can stick at the position. He committed just six errors in 45 games at the hot corner in 2011 and he'll start the 2012 season back there.
Jefry Marte, 3B, New York Mets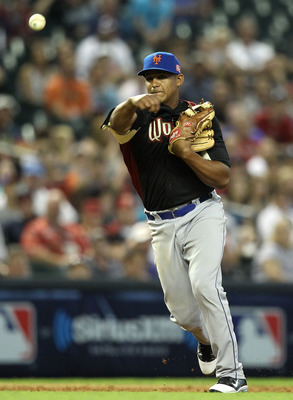 Christian Petersen/Getty Images
Despite having his best offensive season, and putting together a strong performance in the Arizona Fall League, 20-year old Jefry Marte has failed to garner much attention outside of the New York Mets organization.
In his fourth pro season, Marte slugged seven home runs, rapped a career-high 22 doubles and drove in 55 runs for High-A St. Lucie. He also swiped a personal-best 14 bases, while posting his highest fielding percentage ever.
Furthermore, he was named to the World Team at the Futures Game.
After the season ended, he was added to the Peoria squad of the AFL and thrived in limited playing time, hitting .333 with four doubles, four home runs and 18 RBIs. He posted a strong BB:K ratio and looked comfortable hitting against pitchers three and four years older than him.
Marte will make the move to Double-A in 2012, and it's conceivable that he could reach Triple-A sometime just after his 21st birthday.
Stephen Parker, 3B, Oakland Athletics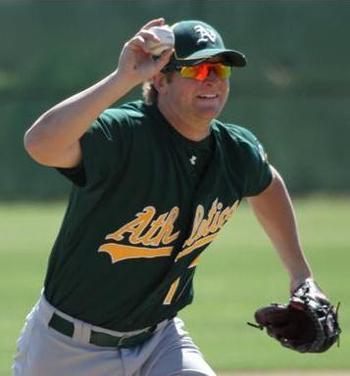 Parker hasn't ranked in the A's top-ten (according to Baseball America) in any given year since being drafted in the fifth-round back in 2009.
He has however, won numerous honors, including being named to the Cal League Mid- and Post-Season All-Star squad in 2010. He's also a two-time winner of MiLB.com's Organization All-Star.
Most important though is that Parker fits the Oakland mold of a guy who gets on base at an awesome clip (.383 the past two seasons), hits for plenty of power (31 HR the past two years)...and plays terrible defense.
This past season, while not homering at the same rate he did in 2010, Parker continued to be an extra base hit machine: rapping 30 doubles, somehow legging out two triples and slugging ten home runs.
He also walked 71 times, just 14 off his career-mark set in 2010.
Parker will tackle Triple-A in 2012, and once again he'll be headed back to a hitter-friendly league, which mean's he'll likely put up some numbers that closely resemble those of his 2010 campaign.
Harold Garcia, 2B, Philadelphia Phillies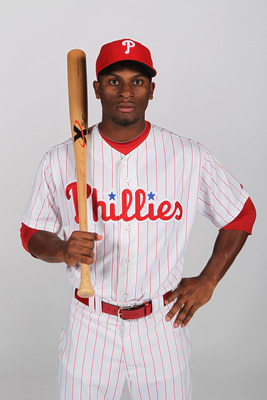 Nick Laham/Getty Images
Garcia exploded onto the scene back in 2010, compiling the longest hitting streak in Florida State League history (37-games). Since then, he's all but dropped off the face of the earth.
It's not like it's all his fault, as he suffered a torn ligament in his knee early in the 2011 campaign, but nonetheless, all eyes are off Garcia.
Now that he's back and healthy, though, he's primed for a strong year in Double-A that could catapult him all the way to Philadelphia.
The 25-year old has shown some pop in his time, but nothing to compare with that of current second baseman Chase Utley. If he's going to make his mark in the majors, it's going to have to be as a top-of-the-order on-base machine.
Alex Dickerson, OF, Pittsburgh Pirates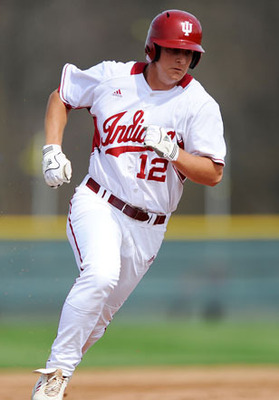 One of the Pirates' most overlooked signings of the 2011 draft season, Alex Dickerson, formerly of Indiana University, had a solid pro debut and will look to build upon that campaign in 2012 as he tries to establish himself as one of the team's top offensive players.
Dickerson was homer-happy at IU, slugging 47 in three seasons.
He also showed the ability to hit for a high average, as evidenced by his .419 number during his sophomore campaign in 2010. The new college bats understandably took a toll on his power numbers last season, but he still managed to muscle the ball out of the stadium nine times.
His pro debut couldn't have gone any better. Playing in the Low-A New York-Penn League, Dickerson rapped 16 doubles in just 41 games and drove in 19 runs, scoring 25 of his own. Dickerson's on-base percentage hovered around .400, his slugging around .500.
Dickerson has .290, 30 homer potential if he can reach his ceiling, only time will tell if he can.
Matt Adams, 1B, St. Louis Cardinals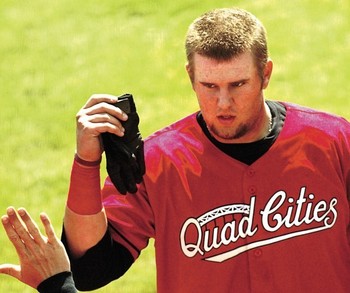 Let's face it, there is no replacing Albert Pujols. Not at first base, not in the clubhouse and not in the community. The best the Cardinals can do to try and fill his shoes, is to find several players who can take giant steps forward in 2012.
One of those will likely be Adams, who has hit 54 home runs the past two seasons, while maintaining an average well above .300.
Even more impressive is the fact that Adams, a product of Slippery Rock, has put up these kind of numbers in leagues that aren't exactly known for their offense.
Adams will never be mistaken for Mark Teixeira defensively, but he's held his own, posting fielding percentages of .986 and above for three consecutive seasons.
He'll move up to Triple-A this season, but with a strong spring, and a hot start, he could find himself in the big-league lineup by the All-Star break.
James Darnell, 3B, San Diego Padres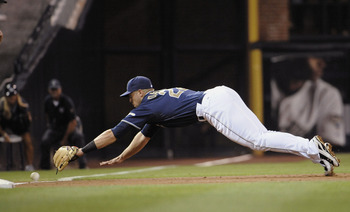 Denis Poroy/Getty Images
Jeff Gyorko wasn't the only Padres third baseman who had a career-year in 2011. James Darnell, a year and a half older than Gyorko, not only jumped from Double-A to Triple-A over the course of the regular season, but he also ended the year in the majors, while the latter was still attacking Double-A pitching.
That gives Darnell about a year and a half to prove his worth to be greater than Gyorko's.
Both players are exceptional hitters with great batting eyes. Darnell gets the edge in the plate discipline department, having walked just 30 fewer times than he's struck out in his four-year career. Gyorko's arguably the better hitter for average, although Darnell has a proven track record that exceeds Gyorko's season and a half.
In the power department Darnell is Gyorko's equal, and defensively, he's better than his .918 career fielding percentage suggests.
Darnell has the tools to unseat Chase Headley at third base, and should have the time to prove himself before Gyorko arrives.
Andrew Susac, C, San Francisco Giants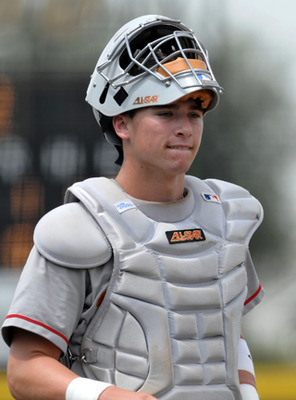 If you're not familiar with the name, get familiar.
Susac could be the Giants' catcher of the future.
So how did he slip all the way to the second round? Furthermore, how were the Giants able to convince him to sign for $1.1 million, a relative bargain?
All the answers you seek can be summed up in one nasty break, a break in his hamate bone that is.
The left-hand injury took a major chunk out of a season that likely would have had the junior in the running for All-American honors. With limited playing time, he still managed to post a .429 on-base percentage and drive in 32 runs.
Susac has always been a capable defender. He threw out 36 percent of runners attempting to steal, and made just three errors all season.
Rich Poythress, 1B, Seattle Mariners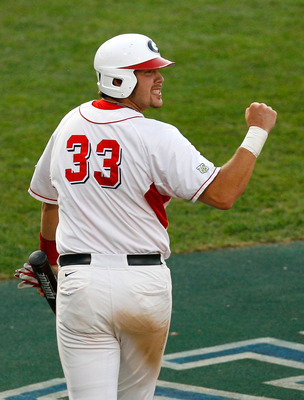 Kevin C. Cox/Getty Images
The Mariners turned down a deal that would have sent Jesus Montero to Seattle in exchange for Cliff Lee a few years ago because they reportedly favored a deal from Texas, centered around top prospect Justin Smoak.
Despite tearing up the minor leagues, though, Smoak has done little at the big-league level to prove his worth.
Two years later, the Mariners were finally able to get their hands on Montero, and with Smoak under-performing, it might be time to think about grooming a replacement.
That player could very well be Poythress, who slugged 31 home runs and drove in 130 runs in a ridiculous year in 2010. Those numbers were all posted in their high-air of the California League, but the 24-year old showed considerable grit this past season in the much less hitter-friendly Southern League.
He hit only 11 home runs and his average dipped nearly 60 points, but he still remained one of the top offensive threats on his team and in the system. If he can have a bounce-back season and once again top the 20-homer mark, likely for Triple-A Tacoma, he could put some pressure on Smoak.
Drew Vettleson, OF, Tampa Bay Rays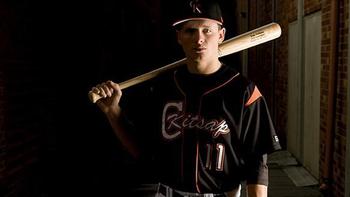 Despite the addition of numerous talented hitters in last year's draft, including Mikie Mahtook, Kes Carter and Jake Hager, the best pure hitter in the Tampa system still remains Vettleson, the team's supplemental-first-round pick in 2010.
Vettleson reached rookie ball in 2011 and was arguably the team's best hitter: slugging seven home runs while maintaining a .282/.357/.462 line. He also showed great speed (20 steals), fantastic instincts (just six times caught stealing) and impressive plate discipline (27 walks in 61 games) for a 19-year old.
Vettleson held his own, and he'll likely be rewarded with a spot on Tampa's Low-A Bowling Green squad this season.
Kevin Matthews, LHP, Texas Rangers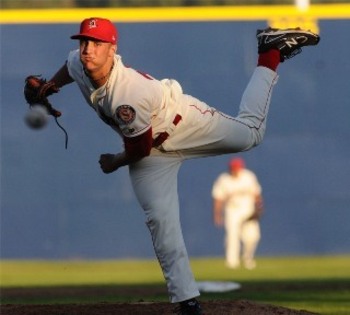 With Matt Purke, Josh Bell and numerous other high-profile names still on the board, the Rangers tried to pull one over on all of baseball when they selected 5'11'', 180 pound Kevin Matthews, from Richmond Hill, Georgia.
The left-hander didn't rank very highly on pre-draft lists and didn't have any one tool (or pitch), that made him stick out.
Still, the Rangers liked what they saw and went after him hard. They signed him to a $936k bonus and put him to work immediately. He made eight starts and four relief appearances before the end of the season and looked surprisingly advanced for a high-schooler.
He struck out 30 batters in 28.2 innings and allowed just one home run.
Like many of the other Rangers' top prospects, Matthews is a lefty with three solid pitches, including a low 90s fastball.
He's a sensational athlete who could move through the system much more quickly than most think, and has #2 or #3 starter potential.
Justin Nicolino, LHP, Toronto Blue Jays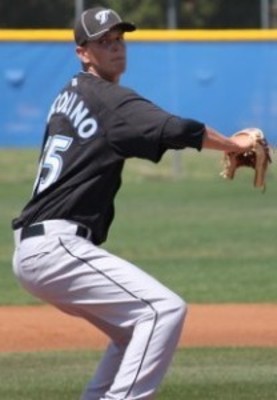 Lefty Justin Nicolino didn't get much attention after he was drafted, but he's slowly building his professional resume and becoming a force to be reckoned with as a prospect.
Splitting time between the Northwest and Midwest Leagues in 2011, Nicolino picked up six wins in his 15 outings and posted a ridiculous 1.33 ERA. Making him look even more advanced than his competition is his 73-to-13 K:BB ratio in 61 innings.
Clearly, the left-hander was not pushed enough, and the Jays will do right by him in 2012, allowing him to start the year in full-season ball, likely back at Low-A Lansing, where he posted a 3.12 mark in three starts near the end of the 2011 season.
Nicolino stands out in a crowded system not only because he's one of just a few high-ceiling lefties, but also because he has "ace" potential.
Matt Skole, 3B, Washington Nationals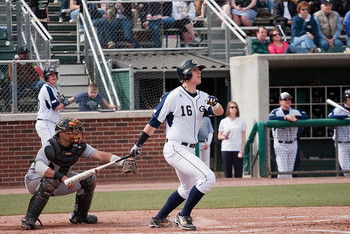 The Nationals have quite the logjam at third base.
At the big-league level they have Gold Glove winner Ryan Zimmerman.
Hot on Zimm's heels they have 2011 first-round pick Anthony Rendon, who should start the 2012 campaign in High-A ball.
And then, further down the depth chart they have 2011 fifth-round draft pick Matt Skole.
Skole had a terrific college career at Georgia Tech, following in the footsteps of former Yellow Jacket sluggers Mark Teixeira and Nomar Garciaparra. He hit 47 home runs in three seasons, including 20 during his sophomore campaign, after a rough freshman season, in which he only hit .302, his average never dropped below .335.
Skole slipped a bit in the draft due to questions over how high his potential was.
He had a solid pro debut nonetheless, hitting .290, with 23 doubles and 47 RBIs in 72 contests for the Nats New York-Penn League squad, but until he performs at a higher level he's going to have his doubters.
Keep Reading