David Stern Urging Karl Malone and Utah Jazz to Be Chivalrous
February 7, 2012

Patrick McDermott/Getty Images
NBA commissioner David Stern, in an attempt to help save face for the league after a damaging 149-day lockout this summer, is asking both sides of the recent Utah Jazz-Karl Malone argument to make amends.
Malone, aka "The Mailman," the second-leading scorer in NBA history and 18-year veteran of the Utah Jazz, recently criticized how the Jazz management team handled the departure of former head coach Jerry Sloan last season.
In an interview on Jan. 27 with Gordon Monson, a long-time Utah Jazz columnist in Salt Lake City, Malone critiqued the way the Utah Jazz allowed then-Jazz man Deron Williams to call the shots during Sloan's final days as head coach.
Monson's article in The Salt Lake Tribune the subsequent Friday further stoked the flames:
"I know for a fact that [Sloan] was overridden on practices sometime on the road because Deron was calling our G.M. at that time," Malone said. " … You give a guy that much power, and he's the kind of player you think he played hard all the time, but if he wanted to sulk he could sulk. … I never went to Larry [Miller] to talk about Coach Sloan. … It's not one time, in my gut and heart, that I would go over his head."
Malone basically argued that the Jazz put Williams' interests and needs before Sloan, which led Sloan to leave in the middle of the 2010-11 season.
In a backlash against those comments, Utah Jazz owner and CEO Greg Miller fought back, tweeting, "Hey Karl– you're lying." He further cemented his point on his blog, writing:
Some would argue that [Karl] could coach our big men. I would love to have Karl inspire them and teach him [sic] how to be warriors like he was. That can't happen. Karl is too unreliable and too unstable.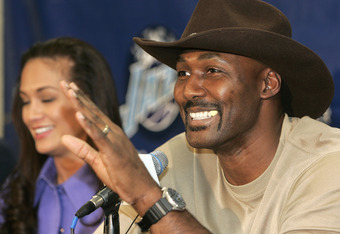 George Frey/Getty Images
Even Hall of Famer John Stockton, the all-time NBA assists and steals leader who played a big part in Malone piling up points and accolades throughout his career (and vice versa), chimed in, urging both sides to stop the bickering in an effort to save the face of the franchise.
Malone has always been, and will continue to be, outspoken.
He is one of the most recognizable faces to have ever worn a Jazz uniform and his critiques of the inner workings of the Jazz organization, no matter how misguided (as argued by Greg Miller), will directly affect the franchise that he was a cornerstone of for nearly two decades.
This is not the kind of scandal that will necessarily tarnish the fans' or media's opinions of the NBA or the Utah Jazz franchise that is caught directly in the middle of the war of words.
Rather, it's merely an embarrassing moment for each side.