Dallas Cowboys Learn That Pass Rush More Important Than Corners
February 6, 2012

Win McNamee/Getty Images
As the pedigree for Super Bowl winners continues to dwindle, we really shouldn't waste too much time or analysis on where the Cowboys need to go in the first round of the 2012 NFL Draft.
We have heard the argument for highly rated cornerbacks like Dre Kirkpatrick of Alabama and Alfonzo Dennard of Nebraska. And we hear all of this because of a few bad games played by Terence Newman. Despite leading the secondary in interceptions, some fans want Newman put out to pasture.
Maybe this happens and maybe it doesn't. The only thing I'm certain of is that the Dallas Cowboys will not be paying Newman his expected 2012 salary.
If you followed the New York Giants plight during and prior to the 2011 regular season, you have to be scratching your head at how this team became the first ever—I repeat, ever—to win a Super Bowl in the modern era with a record of 9-7. That's a mere one game above the .500 mark for goodness sakes. 
The epicenter of this mystery is how exactly the Giants could lose as many cornerbacks as they did and still make the playoffs, let alone win a Super Bowl.
Remember that New York drafted the very cornerback that was linked heavily to the Cowboys in mock drafts a year ago at this time. I was weary of drafting a cornerback with last year's ninth selection in the first round and I'm pretty much in the same boat right now.
Nebraska corner Prince Amukamara ended up breaking a foot the day after he signed with the Giants in August and would miss the first nine games of the regular season. This is not to say that he would have suffered the same fate if selected by Dallas but just follow along.
With the Giants already losing their rookie first round pick, New York also lost two other badly needed coverage men in Terrell Thomas and Brian Witherspoon to ACL injuries before the regular season even started.
Imagine Dallas losing Newman, Mike Jenkins and Orlando Scandrick, just for example.  
Yikes!
The first lesson here for the Cowboys is how much deeper New York is at cornerback. After all of those injured corners who would make little if any contribution to a championship season, the Giants still had Aaron Ross and Corey Webster on the roster.
Yes, the Cowboys need corners.
The biggest lesson, however, is that a strong pass rush equals a downhill playing field for the secondary. It always has and always will.
In other words, give me a good to average secondary with a strong pass rush over a great secondary with no pass rush any day. The defending Super Bowl champion Giants are a great example of why that is the case.
Sure, the Giants have spent first round picks on corners in recent years. Ross and Amukamara were both first round selections in 2007 and 2011, respectively. Ross was chosen 20th and Amukamara at the 19th selection.
But how about this: An athletic freak named Jason Pierre-Paul went with the 15th selection in the 2010 NFL Draft and it should be painfully obvious to any Dallas fan how big of an impact this young defensive end has made in the Big Apple. Pierre-Paul tallied 16.5 sacks in his second season and provided fellow Giants pass rushers Osi Umenyiora and Justin Tuck with the missing pressure not felt since NFL single season sack leader Michael Strahan.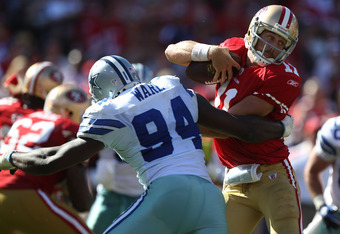 Jed Jacobsohn/Getty Images
Well, the Cowboys pick 14th in the upcoming 2012 NFL Draft and this is generally the stopping point for immediate impact pass rushers coming out of college.
Dallas outside linebacker DeMarcus Ware is clearly the only defender that represents any imminent threat to the quarterback on a given passing play. So long as Dallas keeps its second best pass rusher, Jay Ratliff, at nose guard, the need will remain for another defensive end or outside linebacker to pick up the slack.
Ware is every bit the pass rush threat that Pierre-Paul is, at least for a few more seasons. But his complement, as proven by the success of an average team in New York, can be found at the 15th pick.
Cornerback can definitely wait.