Liverpool vs. Spurs: Another Home Draw Puts Liverpool Under Pressure
February 7, 2012

Clive Brunskill/Getty Images
Tottenham Hotspur put in a good defensive performance to come away with a well-earned point from Anfield. The result ensured that they did not lose ground to either second-placed Manchester United or fourth-placed Chelsea. But on the other hand, this eighth home draw has put Liverpool under enormous pressure to go for a win against United and Arsenal in their next two fixtures.
Any slip-up against the two clubs could be extremely costly, as they could be overtaken in the league table by Sunderland on their next game. But if Liverpool kick on from here and post good results against the duo, they could well and truly be back in top-four race. 
Pregame, I predicted a draw, which was the case today. From a Spurs perspective, this was far from the performance the players showed at Lane. With no manager on sidelines, regular starters like Rafael van der Vaart, Jermain Defoe, Aaron Lennon, Sandro and Younes Kaboul missing through injuries, this was a great chance for Liverpool to get three points but Spurs did enough to come away with a well-earned point.
Andy Carroll had a good game, but for most of the game, Michael Dawson did enough to keep him quiet. Emmanuel Adebayor could not get into the game with Liverpool CBs Daniel Agger and Martin Skrtel neutralising him.
Spurs played with a 4-2-3-1 formation, with Scott Parker and Jake Livermore protecting the back four. Parker was everywhere, putting out fires caused by the Liverpool attack and Livermore was a calming influence. He did not make a single mistake in the game and posted 95 percent passing accuracy.
Liverpool midfielders, too, did a good job of keeping Luka Modric quiet. Modric did not have his usual expansive game, but still made 65 passes with 94 percent accuracy. Gerrard had a good game, but could not do enough in final third, which eventually proved costly for Liverpool.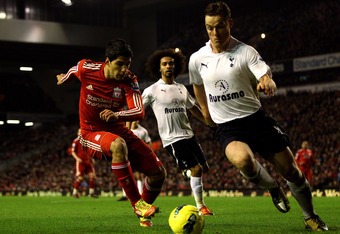 Clive Brunskill/Getty Images
Liverpool had the majority of the possession, but they hardly created chances, largely down to the good defensive organisation led by Ledley King. In fact, the best chance of the game fell to Gareth Bale, who had a one-on-one with Pepe Reina, with the keeper doing enough to avoid a sucker-punch goal.
Largely the game was without spark. The fixture came alive when Bale went down looking for a foul and had a spat with Agger. As a Spurs fan, I do not want to see that in a player of my club, but then, doesn't every top club have at least one player who is a match winner in addition to doing such naughty things? Hopefully, he'll just concentrate on his football and let the referee do his work.
He was rightly yellow-carded, which triggered boos whenever Bale had the ball. In a way, it only increased the resolve of the player. But with no support or service throughout the game, he could not do much.
The game showed why Spurs are in third position and Liverpool are in seventh. While Spurs did not have a manager and five genuine starters, they hung on and got something even when they were not their best. On the other hand, Liverpool continued their lack of converting chances.
Post-match analysis by Sky showed Liverpool in a disappointing 20th position in the league with 8.92 percent chance conversion. 
Suarez's introduction in the second half got the crowd going. Suarez blatantly fouled Parker by kicking him in stomach when the ball was seven feet up in the air. Another day, another referee, it may have been a straight red.
Suarez had a great chance of scoring off a header after he came in, but headed straight to Brad Friedel. And what Sky commentators said after that was bit shocking though, claiming it was a pity that Suarez couldn't score on his comeback and it would have been a fairly tale. What's fairy tale about a player coming back after a eight-game ban?
Spurs have a horror fixture list with having to face Newcastle, Arsenal and United in the next games. In the next nine games (till April 9) they face opposition who are currently placed between fourth to 12th position. Today, Liverpool were a dominant team, but they were themselves the reason for dropping points.
Now it is crunch time for Liverpool. At 39 points, they are four points behind fourth-placed Chelsea. They just have to believe that their current form is good enough to get a result against United and Arsenal and kick on from here.
A minimum of four points from six available points in the next two games will keep their top4 hopes alive. Lose them, and they could find the top four next to impossible.