NFL Draft Order 2012: Team-by-Team Analysis and Breakdown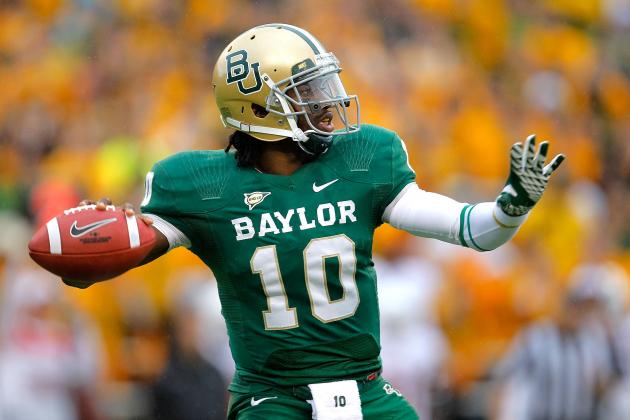 Sarah Glenn/Getty Images

The 2011 NFL season is over, and it is officially NFL draft time.
Most of us have been focused on the draft for a little while, but the New England Patriots and New York Giants are just now joining us.
Mock drafts are incredibly controversial and ever-changing. Players seem to be moving up and down every other day, and analysts are constantly reevaluating team needs and executive tendencies.
It may be too early to get a ton of these picks right, but it's never to early to star the discussion.
Begin Slideshow

»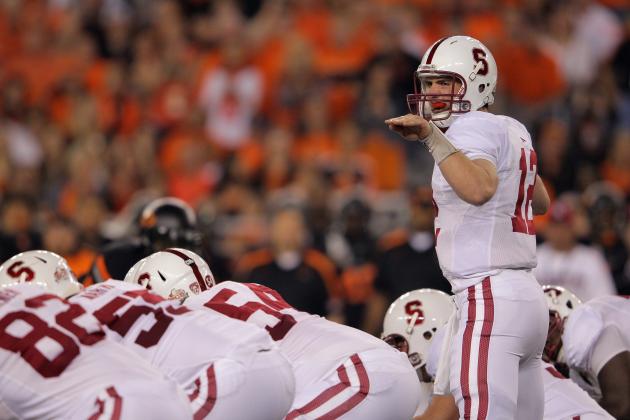 Doug Pensinger/Getty Images

This is going to happen. Peyton Manning's future in Indianapolis is more uncertain than ever, and the Colts would be stupid not to take Andrew Luck with the No. 1 pick.
Luck is the best quarterback prospect in a long time. The 6'4", 235-pounder is a terrific athlete with impressive physical ability and mental prowess.
At Stanford, Luck was already running an NFL offense. Luck would choose between three plays at the line of scrimmage based on what he saw from the defense. Most NFL quarterbacks don't even do that.
It will be difficult, if not impossible, for the Colts to replace Peyton Manning. Luck may be able to do it.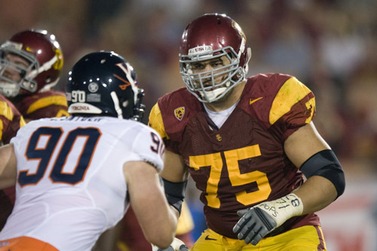 St. Louis has plenty of needs, but none are bigger than offensive tackle. Rodger Saffold impressed as a rookie, but he went through a sophomore slump, and Jason Smith is both bad and unreliable at right tackle.
Matt Kalil is the best left tackle to enter the draft since Jake Long in 2008. The USC product is a great athlete with the length to keep defenders at bay.
At 6'7", 295 pounds, Kalil could stand to gain weight, but he is a terrific athlete and has the frame to bulk up. Though there are some concerns about Kalil's motor, he is an outstanding talent worthy of the No. 2 pick.
The Rams could target Justin Blackmon here, but Kalil is the better value and addresses an equal need.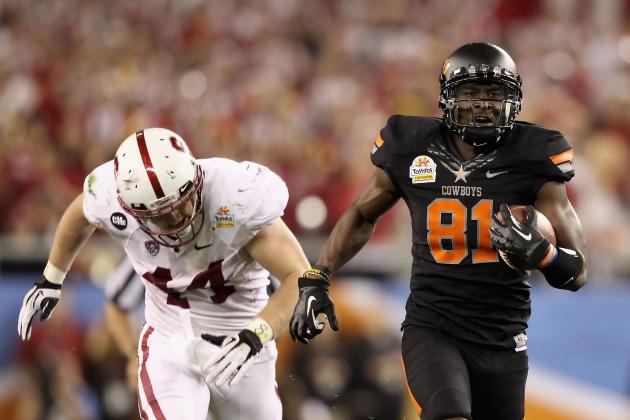 Christian Petersen/Getty Images

Though he is certainly talented, Percy Harvin is unreliable. Even if Harvin can stay on the field and produce, the Vikings have no other legitimate wideouts, and they need to add someone.
Justin Blackmon may be a questionable pick here in some analysts' eyes, but he will probably be picked in this range. The 6'1", 215-pound Oklahoma State star isn't especially fast, but he is quick and powerful after the catch.
The biggest concern surrounding Blackmon is his lack of deep-threat ability. Because he isn't overly tall or fast, Blackmon isn't great at stretching the field and is somewhat limited to working underneath.
Morris Claiborne would make a ton of sense for Minnesota here, as he is a better player than Blackmon is. The Vikings certainly need a cornerback, but no team likes taking defensive backs in the top five.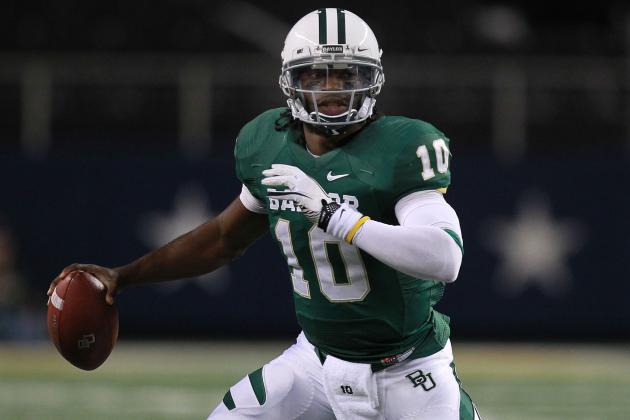 Ronald Martinez/Getty Images

After showing promise as a rookie, Colt McCoy fell flat on his face in his second season. No, the Browns don't have much talent around McCoy, but he failed to execute on the simple aspects of the game, like reading a blitz or throwing a five-yard slant.
Robert Griffin may not be a perfect fit in Pat Shurmur's West Coast Offense, but he is talented enough to play in any scheme. At just 6'1", 210 pounds, Griffin isn't overly big and could have injury problems in the NFL.
However, Griffin is track-star fast and throws a terrific deep ball. Physically, Griffin is good enough to be a superstar, and he's incredibly smart as well.
If they don't re-sign Peyton Hillis, the Browns will need a running back, so Trent Richardson would be a fit. Sheldon Brown needs replacing at cornerback too, and Morris Claiborne is still available.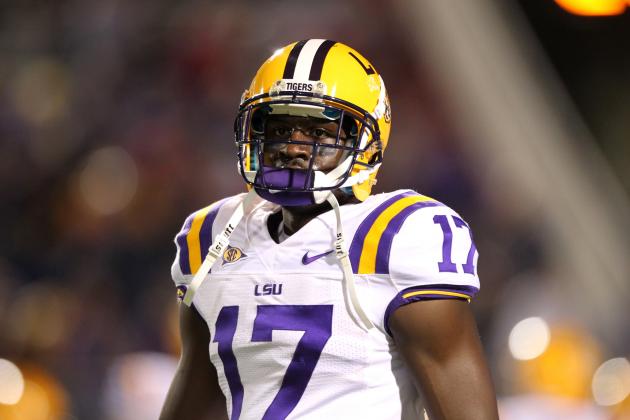 Joe Murphy/Getty Images

With Ronde Barber turning 37 in April, and Aqib finding trouble off the field, the Buccaneers really need cornerback help. Tampa Bay has some pretty big holes, but none compare to cornerback.
Fortunately, Morris Claiborne is worth of a top-five selection. The LSU star is a great athlete who exercises outstanding technique in coverage.
At 6'1", 185 pounds, Claiborne has good length but could stand to bulk up. Regardless, Claiborne is a terrific player who may actually be a better cornerback than ex-teammate Patrick Peterson was a year ago.
LeGarrette Blount is far from a sure thing at running back, so Trent Richardson would make sense here.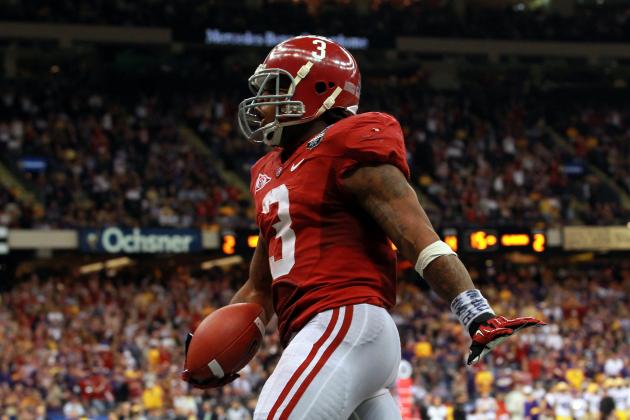 Ronald Martinez/Getty Images

There aren't any great options for the Redskins here. Above all else, Washington needs a quarterback, but there simply aren't any more quarterbacks worth such a high pick.
So, the Redskins select the best player available, Trent Richardson. Richardson is an incredible running back prospect and is the best to enter the draft since Adrian Peterson in 2007.
A 5'11", 225-pound bowling ball, Richardson is a power back with speed. The Alabama star is an excellent receiver and possesses some shiftiness to go along with his strength.
A trade back would make a ton of sense for the Redskins here, and they could target Ryan Tannehill a little further down.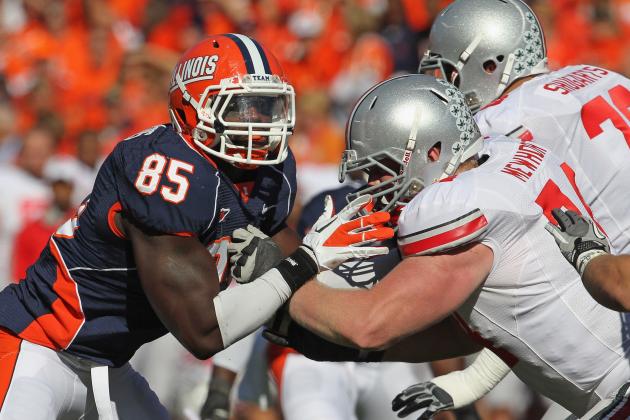 Jonathan Daniel/Getty Images

In the last three seasons, Aaron Kampman has played in 17 games and recorded 7.5 sacks.
He's probably Jacksonville's best defensive end.
Whitney Mercilus is reach here. There's no denying that. But NFL teams seem to like him, and his insane college production will push up his value.
The 6'4", 265-pounder is a good athlete with an excellent first step, but he doesn't have much for pass-rush moves. He also needs to add strength and improve against the run.
The Jaguars would love for Justin Blackmon to still be available here, and they could address cornerback by selecting Dre Kirkpatrick.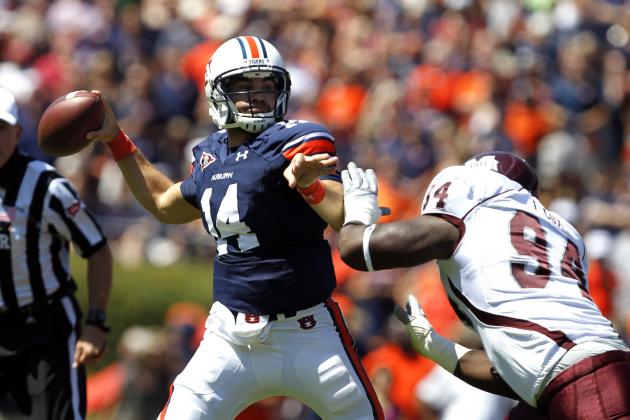 Butch Dill/Getty Images

With Charles Johnson and Greg Hardy, the Panthers aren't in bad shape at defensive end. Defensive tackle, on the other hand, is an entirely different story. Carolina has maybe the worst defensive tackle unit in the NFL.
Fletcher Cox isn't being talked about as a top-10 pick yet, but he's the type of player teams fall in love with. The 6'4", 295-pounder is incredibly explosive and penetrates the backfield with ease.
Though he is solid, Michael Brockers probably isn't a game-changer in a 4-3 scheme. Cox very well could be, and Carolina desperately needs one.
The aforementioned Brockers could easily be the pick here, and Dre Kirkpatrick would also make sense.
Geoff Burke/Getty Images

Miami is likely switching to a 4-3 defense and needs to add a pass-rusher. Cameron Wake is set at right end, but the Dolphins need a stronger, more physical player on the left side.
Quinton Coples is a perfect fit. The 6'5", 281-pounder is an athletic freak with the size to dominate against the run. And if Miami would stick with the 3-4 scheme, Coples could play 5-tech.
Though he is an unbelievable athlete, Coples doesn't have a great first step. This along with his hot-and-cold motor limited his production in 2011, and he is not a sure bet as a pass-rusher. However, his upside is alluring.
If the Dolphins don't add a pass-rusher here, they would probably address the right tackle position with Riley Reiff. Quarterback Ryan Tannehill could be an option though.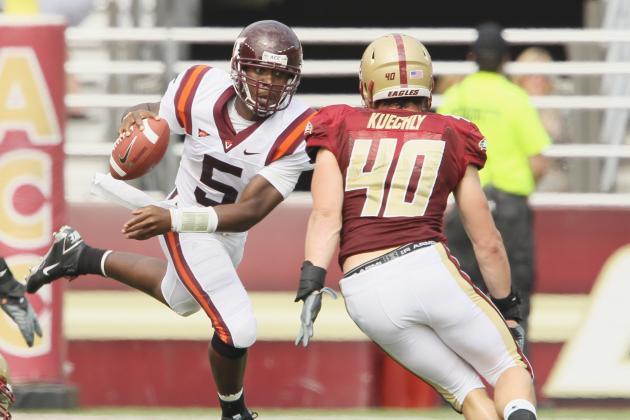 Elsa/Getty Images

The Bills really need a pass-rusher, but in order to take one, they would have to reach. With no pass-rushers available, Buffalo could turn to wide receiver or offensive tackle. No great options at wideout.
Buffalo certainly could take Riley Reiff or Mike Adams, but here they go with a potential leader on defense—Luke Kuechly.
A 6'3", 235-pound middle linebacker, Kuechly can play in either a 4-3 or 3-4 scheme, depending on what Buffalo does finally decide to roll with. Few players are more instinctive, and Kuechly is almost guaranteed to be solid in the NFL.
Reiff or Adams would make a ton of sense, though. None of Buffalo's left tackles are all that good, but they choose to address the bigger issue—defense.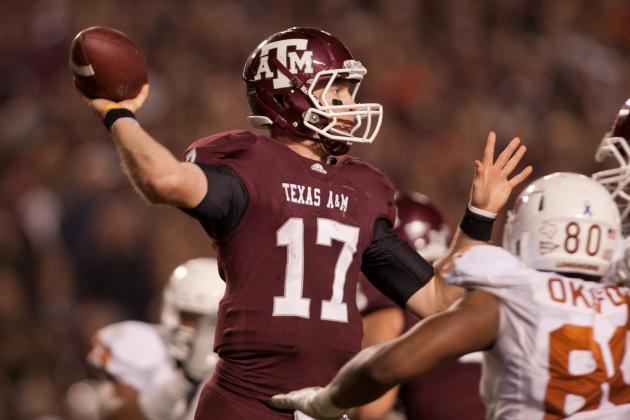 Darren Carroll/Getty Images

If it weren't for the quarterback position, Seattle would be a pretty good team. Unfortunately, both Tarvaris Jackson and Charlie Whitehurst are awful.
The Seahawks like a mobile quarterback, and Ryan Tannehill fits the bill perfectly. A former wide receiver, Tannehill weighs in at 6'4", 235 pounds and can run or throw.
The Texas A&M star possesses a rocket arm as well. He needs to work on his accuracy and decision-making, but that's to be expected given his lack of experience.
The Seahawks could reach for a pass-rusher or select Luke Kuechly if he's available. Michael Brockers may be too good of a value to pass on too.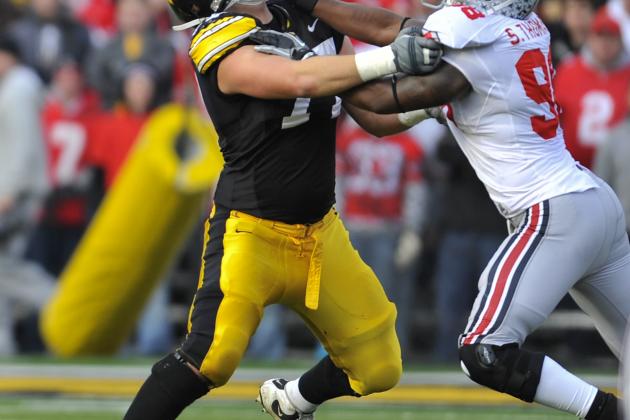 David Purdy/Getty Images

Branden Albert is solid at left tackle, but Barry Richardson is simply atrocious on the right side. The Chiefs' biggest needs—outside of quarterback—are along the lines, so this pick makes a ton of sense from a needs perspective.
It makes just as much sense from a value point of view. Riley Reiff is, in many people's minds, a top-10 pick. The 6'6", 305-pounder is a great athlete—he used to play tight end—and could possibly play left tackle.
That's not to say Reiff is perfect—he's not. The Iowa left tackle doesn't have overly quick feet and needs to bulk up to improve as a run-blocker. He is, however, a good option here.
The Chiefs are also in desperate need of a nose tackle, and Dontari Poe fits Romeo Crennel's typical defensive lineman. By that, I mean Poe is huge.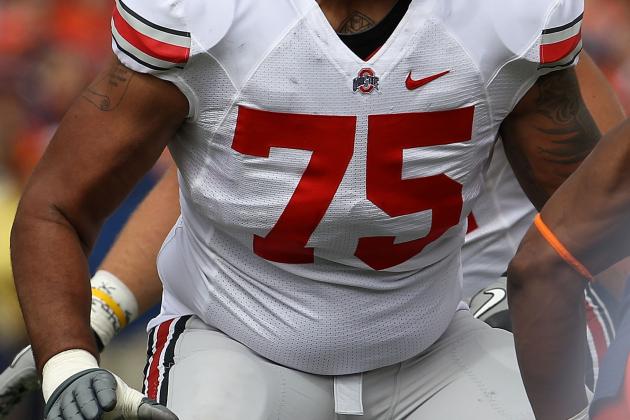 Jonathan Daniel/Getty Images

Arizona's dreadful offensive line is no secret. Levi Brown is one of the game's worst left tackles, and he probably shouldn't even be starting on the right side.
Mike Adams was a top recruit out of high school and underachieved prior to his senior season. As a senior, however, Adams finally played up to his talent and dominated.
At 6'7", 323 pounds, Adams has terrific size and is a fantastic athlete. The Ohio State product definitely possesses the ability to protect the blind side, and he has the most upside of any draft-eligible tackle not named Matt Kalil.
The Cardinals are also in need of a pass-rusher, and they could select Alabama's Courtney Upshaw to fill that void.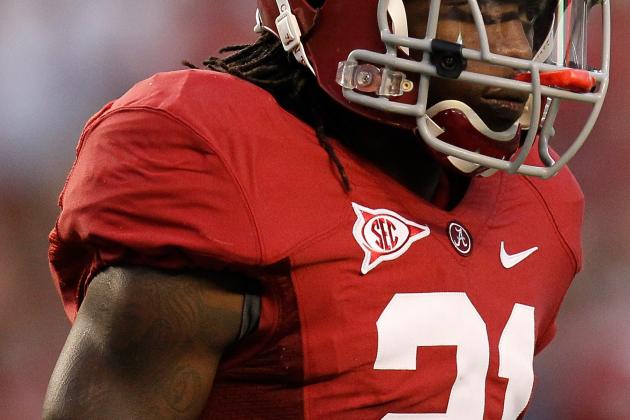 Kevin C. Cox/Getty Images

Dallas's defense needs work at many positions, and defensive back is perhaps the weakest of the units. Mike Jenkins is, at best, inconsistent, and, at worst, downright awful.
Dre Kirkpatrick has the talent of a top-10 pick, and he could easily be gone by now. The 6'3", 190-pounder is a terrific athlete and could develop into a star.
Kirkpatrick's biggest problem is that he's rarely played in anything but press coverage. We know he can play physically at the line, but we don't know how well he can run downfield with wideouts.
The Cowboys could use help at outside linebacker and defensive end. Michael Brockers and Courtney Upshaw could be difficult to pass on.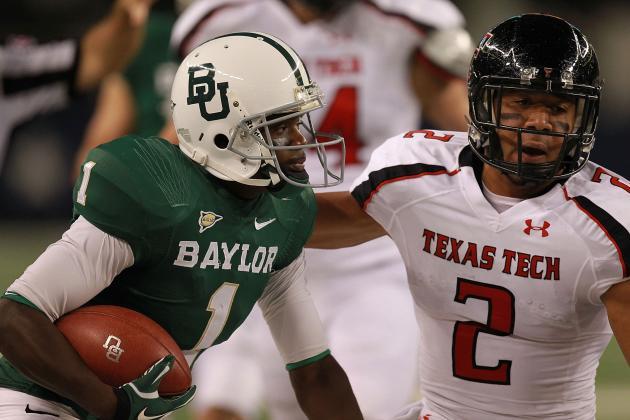 Ronald Martinez/Getty Images

DeSean Jackson appears to be a goner, and then only Jeremy Maclin will remain at wide receiver. Philadelphia's offense wasn't quite as explosive in 2011 as it was in 2010, and the team will need another playmaker to regain prior form.
A 5'10", 190-pound speedster, Kendall Wright fits the Philadelphia profile of explosive wideouts. Wright obviously isn't big, but his speed and quickness make him a viable option on the outside.
With Mike Vick at quarterback, it makes sense for the Eagles to continue adding vertical wideouts. Wright isn't as fast as Jackson is (not many are), but he would go a long way towards replacing the star.
Philadelphia's biggest need is probably at linebacker, and the team could opt for Michael Floyd instead of Wright at wide receiver. Michael Brockers would make a lot of sense too.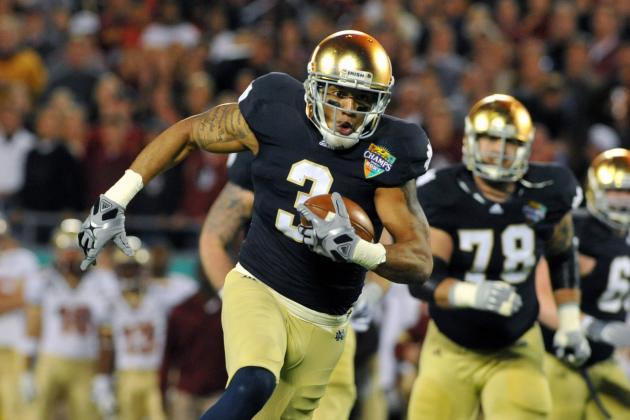 Al Messerschmidt/Getty Images

There have obviously been issues between Mark Sanchez and Santonio Holmes, Plaxico Burress's time in New York seems to be over, and the Jets are looking at wideouts.
If it weren't for injury and off-the-field issues, Michael Floyd may be a top-10 pick. The 6'3", 225-pounder possesses fantastic catching ability and is a well-above-average athlete.
On the field, Floyd doesn't offer many negatives. The problems are his multiple arrests and injuries. He's certainly a high-risk prospect, but like many risky players, he's also high-reward.
New York also needs a pass-rusher, and Courtney Upshaw is a fantastic value at this point. It's a tough decision between Floyd and Upshaw.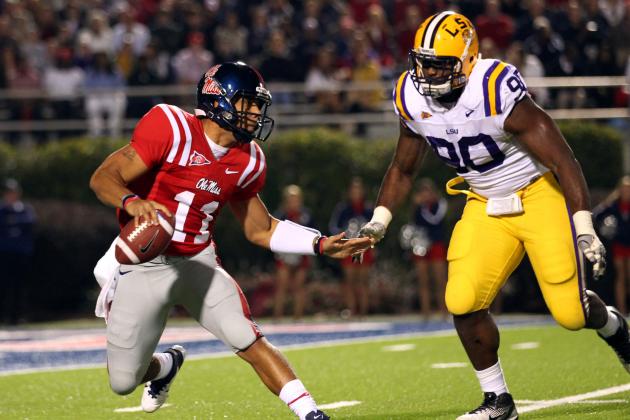 Joe Murphy/Getty Images

The Bengals really don't have many glaring needs. They would like to upgrade at running back and in the defensive backfield, but they aren't desperate issues.
Because of this, Cincinnati can afford to make a value pick here. Michael Brockers should not have lasted this long. The 6'6", 306-pounder isn't overly explosive, but he's solid in every way and has good potential.
Geno Atkins is a star at defensive tackle, but Domata Peko is nothing special. Brockers would, at least, offer depth as a rookie and start in his second season.
Janoris Jenkins is a tempting option at cornerback here.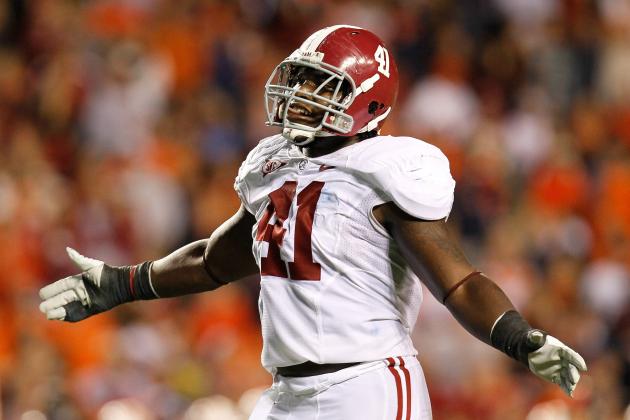 Kevin C. Cox/Getty Images

Though Shaun Phillips is solid, the Chargers need another pass-rusher. The Chargers' defense seriously declined in 2011, and the team's pass rush was a big factor.
He may not be a superstar, but Courtney Upshaw is solid. The 6'2", 273-pounder is a massive linebacker who, unlike most 3-4 outside linebacker prospects, has already played in coverage.
Upshaw's biggest strength is his run support. The Alabama star will never be a great sack artist, but he will be a good player all the way around.
San Diego could maybe select David DeCastro, but Upshaw easily makes the most sense.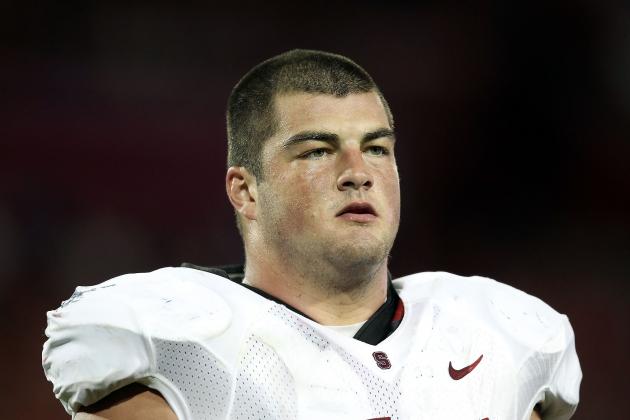 Christian Petersen/Getty Images

Chicago's offensive line has gotten Jay Cutler killed on several occasions, and it's time for the Bears to do something about it. Ideally, Chicago would add a left tackle, but David DeCastro is the best value left on the board, at any position.
At 6'5", 315 pounds, DeCastro has perfect size for the guard position. The Stanford product is incredible in the open field and is as quick as any guard to enter the draft in recent years.
DeCastro isn't purely a finesse player though. He can power block too and fits any offensive scheme. There is no reason for an NFL team not to love DeCastro.
The Bears also desperately need wide receiver help, and Alshon Jeffery is an intriguing fit.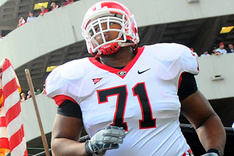 Chris Johnson's 2011 failures weren't entirely his own doing. Tennessee's interior offensive line was awful and got little push for Johnson in the run game.
I wouldn't take Cordy Glenn this high, but I'm resigned to the fact that he will go around here. The 6'6", 346-pounder is a massive, powerful lineman with some versatility.
Though he played left tackle as a senior, Glenn will play guard in the NFL. The Georgia lineman is somewhat athletically limited there, but his power will make him a first-round pick.
The Titans are also in need of help at center, and Peter Konz is an option. The team's pass rush was putrid in 2011 too, so they could select Nick Perry or Melvin Ingram.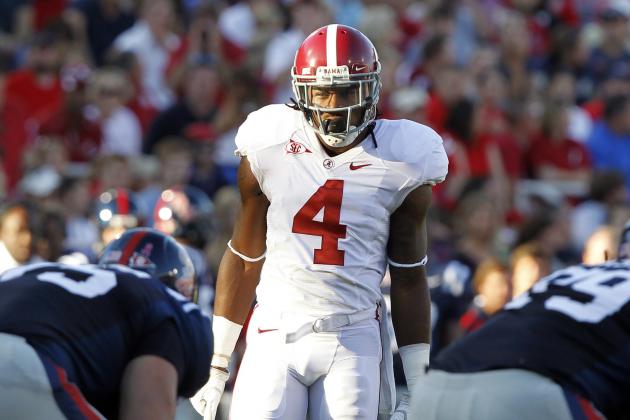 Butch Dill/Getty Images

As I mentioned for their previous pick, Cincinnati could use help in the defensive backfield. Both Chris Rocker and Reggie Nelson could be replaced at safety, and the Bengals could use cornerback help too.
Though he is probably a pure strong safety, Mark Barron is actually a good value here. Many expect the Alabama safety to be drafted considerably earlier.
At 6'2", 218 pounds, Barron is somewhat athletically limited. However, he is strong and is physical against the run. Versatility is usually key at safety, but Barron may be an exception.
With Leon Hall recovering from a torn Achilles and the team not having anyone opposite him, the Bengals could easily take Janoris Jenkins here too.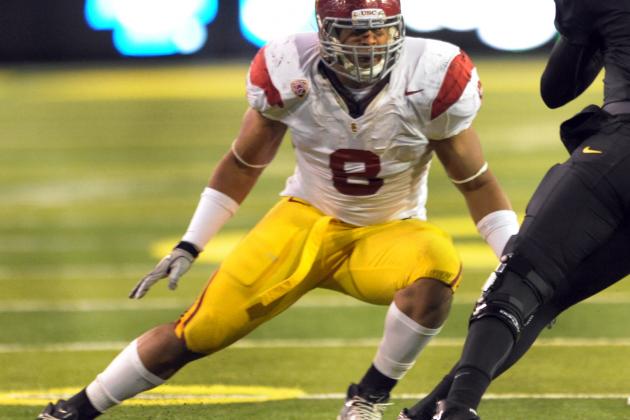 Steve Dykes/Getty Images

Rookie defensive end Jabaal Sheard was excellent as a rookie and looks like he will become a solid piece for the Browns. Right end, Jayme Mitchell, was simply awful though.
Most expect Nick Perry to be drafted into a 3-4 defense, but he is a perfect fit in Dick Jauron's defense. Jauron likes small, quick defensive ends with pass-rushing ability.
The 6'3", 250-pound Perry fits the bill. Perry is a good athlete with a terrific motor. The USC star needs to add some more pass-rush moves, but he can develop into a solid right end.
The Browns' wide receivers are simply awful, and Alshon Jeffery could possibly fit. Cleveland is also looking to upgrade over Sheldon Brown at cornerback, so Janoris Jenkins or Stephon Gilmore could be options.
Streeter Lecka/Getty Images

The Martin Mayhew regime has a history of ignoring need for value in the first round of the draft. Fortunately, the two happen to match up at No. 23.
Detroit's linebackers are absolutely awful in coverage and only a little better in run support. Zach Brown weighs in at just 6'1", 236 pounds, but he is incredibly fast.
Brown is not a perfect player by any means, and he struggles to shed blocks, but he flows to the ball unbelievably well. His coverage skills are extremely impressive too.
The Lions' other big needs are at offensive tackle and cornerback. Both Jonathan Martin and Janoris Jenkins remain on the board.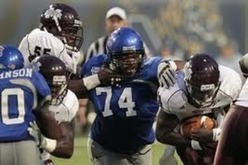 Over the past few years, the Steelers have spent two first-round draft picks along the defensive line. The picks were needed too, as the Pittsburgh defensive line continues to age. But both of those players were defensive ends, and nose tackle Casey Hampton is now 34 years old.
A 6'5", 350-pound freak, Dontari Poe is a terrific value here. Poe is talented enough to be selected in the first 15 picks, and he should be long gone by now.
Men with Poe's size simply should not move like he does. The Memphis star has the physical ability of Shaun Rogers and could develop into an elite player.
The offensive line remains an issue for the Steelers, and Jonathan Martin or Kevin Zeitler would provide upgrades.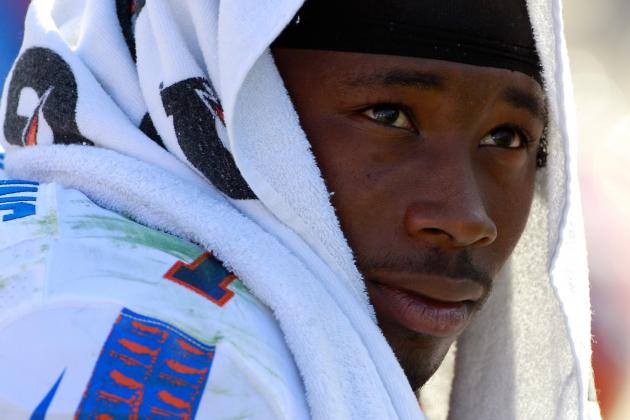 Sam Greenwood/Getty Images

Perennial Pro-Bowler Champ Bailey is aging, and the Broncos don't have a legitimate starter opposite him. Denver's defense has its bright spots, but it still needs a lot of work.
If it weren't for off-the-field issues, Janoris Jenkins might be a top-10 pick. Unfortunately, the former Florida star has been arrested multiple times and was kicked off the Gators.
At Florida, Jenkins was actually better than his teammate, Joe Haden. The 5'10" 191-pounder is a great athlete who can play physically in run support. There's nothing not to like about him on the field.
Denver's defensive tackles are pretty weak, especially if Brodrick Bunkley leaves in free agency. Devon Still would be an excellent pick here.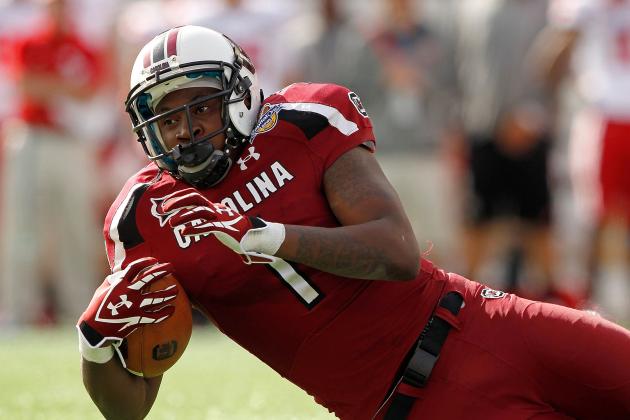 Mike Ehrmann/Getty Images

Star wide receiver Andre Johnson is hurt increasingly often, and Houston essentially needs a No. 1 wideout for when Johnson is not on the field. Right now, the Texans don't even have a good No. 2 target.
Prior to the 2011 season, Alshon Jeffery was seen as a top-five pick. The 6'3", 235-pounder can catch almost anything, but he looked fat and slow far too often to not drop in the draft.
Jeffery's potential is still through the roof though. The South Carolina star is incredibly smooth and actually has the most upside of any wide receiver in the draft. Jeffery is risky, but his NFL team could walk away with a steal.
Houston's other needs are at safety and cornerback. Mark Barron is gone, but Stephon Gilmore isn't really a reach here.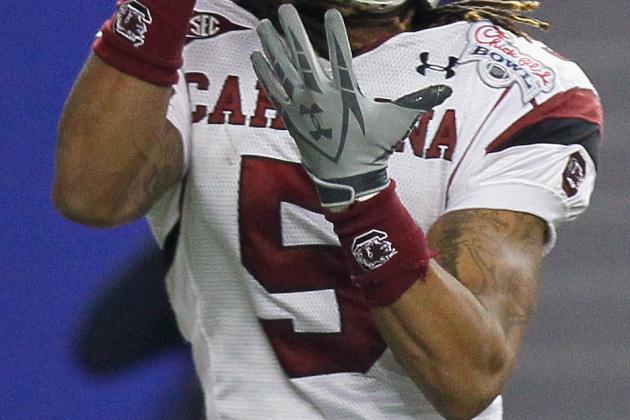 Kevin C. Cox/Getty Images

New England's defense is bad, and its worst unit is its secondary. The Patriots are so awful at cornerback that a wide receiver—Julian Edelman—was playing cornerback for much of the year.
Stephon Gilmore isn't exceptional at anything, but he's good at everything. The 6'0" 195-pounder is a good athlete capable of playing in zone coverage—a must in New England.
Gilmore has the talent to develop into an excellent player, but he was inconsistent throughout his college career. In one game, Gilmore would look like a star. In another, a mid-round pick.
As much as the Patriots need cornerback help, they also have huge holes along the defensive line. Devon Still could play in either a 4-3 or 3-4 scheme for New England.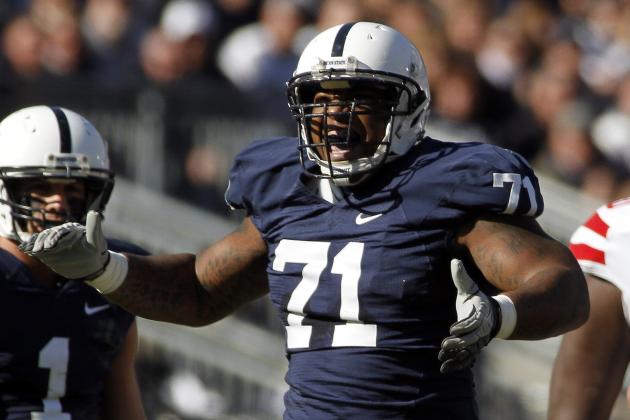 Justin K. Aller/Getty Images

Green Bay's offense is incredible—everyone knows that. Their defense, on the other hand, needs some work. Both the defensive line and linebacker units are strong at some spots, weak at others. And with Ted Thompson making the picks, value is a huge factor.
B.J. Raji is a great young nose tackle, but the Packers struggled to replace Cullen Jenkins in 2011, and they don't have many good options moving forward. Devon Still is a 6'5", 310-pounder whose best fit is in a 3-4 defense. He should probably be gone by now.
A terrific athlete, Still underachieved prior to his senior season. Still is a powerful, yet athletic lineman with length to penetrate or remain stout against the run depending on his assignment.
Green Bay may need an outside linebacker opposite Clay Matthews even more than it needs a defensive lineman, and Melvin Ingram could be an interesting fit in Dom Capers's defense.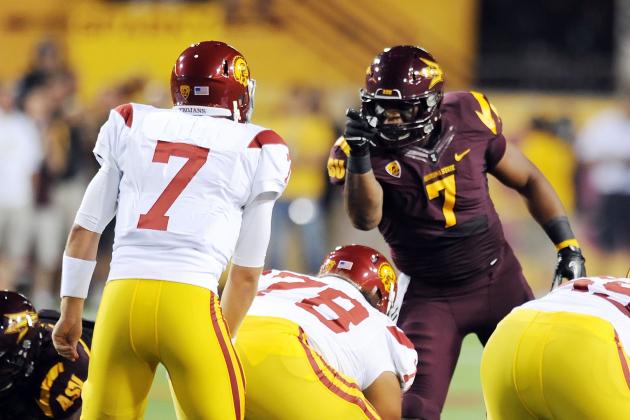 Norm Hall/Getty Images

As impossible as it sounds, Ray Lewis's career is nearing its end. The Ravens don't have much of a replacement in line, and the team could even use someone to stand in next to Lewis before the legend retires.
At Arizona State, Vontaze Burfict's violent play gave him a bit of a reputation. Analysts either love or hate Burfict's aggressiveness, and it is sometimes awesome, sometimes costly.
Burfict definitely needs to tone it down a bit, and there is no better locker room to train him than Baltimore's. The 6'3" 255-pound Burfict is a physical freak and, with time, could become a star.
Bryan McKinnie was pretty bad at left tackle for the Ravens, and they are probably searching for his replacement.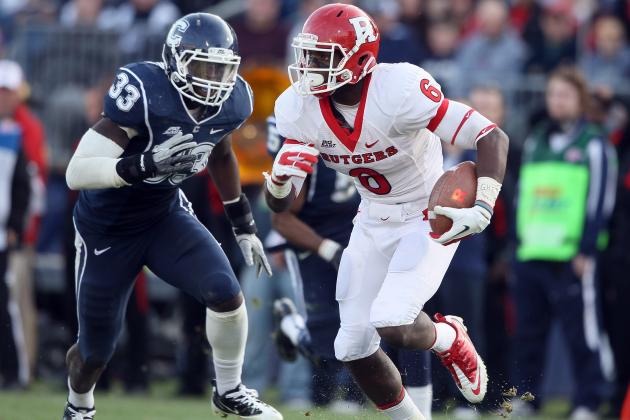 Elsa/Getty Images

With Michael Crabtree failing to develop into a star and Braylon Edwards being simply awful, the 49ers are in need of a wide receiver. Alex Smith is not a great quarterback, and he needs weapons around him to score points.
Though he isn't a star, Mohamed Sanu is solid. The Rutgers product is versatile—he has played almost everywhere on offense—and he is big.
At 6'2", 215 pounds, Sanu is a physical presence in the red zone. He isn't all that fast or shifty, but he can run through tackles and catch the football.
If they can't add a wide receiver, the 49ers will likely look at cornerbacks. Carlos Rogers is a free agent, and even if he stays, the positions needs work.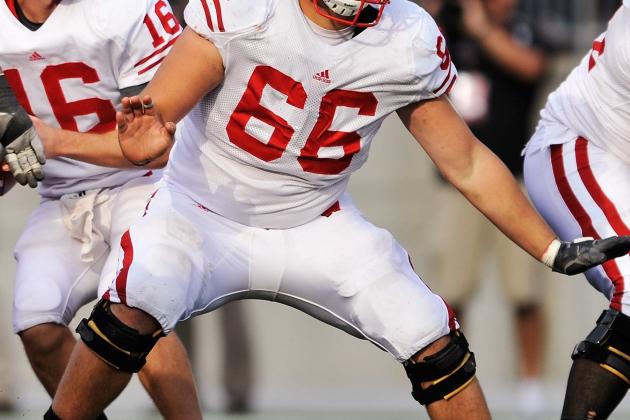 Jamie Sabau/Getty Images

32-year-old Dan Koppen is coming off a season wasted by injury, and the Patriots are never afraid to move on from a valuable player. Bill Belichick has a history of addressing the offensive line early, and he will not allow center to be an issue entering the 2012 season.
A 6'5", 315-pound center, Peter Konz is capable of playing any interior line position. Belichick also loves versatility in his linemen.
Though Konz is a smart, powerful player, he isn't overly quick. However, he plays with a mean streak and is absolutely worthy of a first-round pick.
New England still needs a ton of defensive help, and they simply have to add a pass-rusher.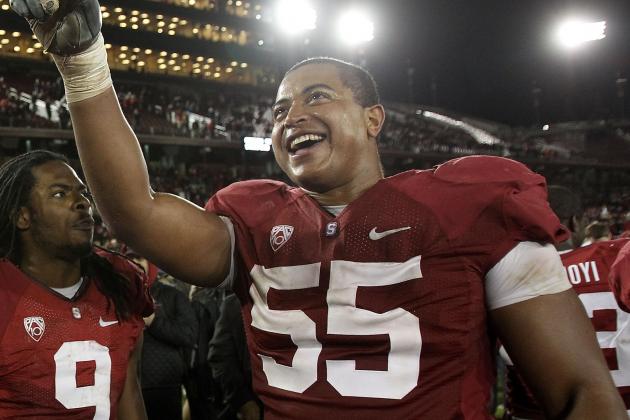 Ezra Shaw/Getty Images

Long-time right tackle Kareem McKenzie is a free agent, and William Beatty is not a viable replacement. David Diehl isn't exactly a great left tackle either.
At this point, Jonathan Martin is a bit of a steal. Some feel he is a top-15 pick, and Andrew Luck's left tackle can play four positions along the offensive line.
At 6'5", 310 pounds, Martin lacks power. His best attribute is his athletic ability, but he isn't great there either. But at the end of the first, Martin is an excellent addition.
With Aaron Ross probably leaving in free agency, the Giants might also look at cornerback. The team's injury-riddled 2011 season showed how important depth is there.