Philadelphia Flyers: Power Ranking Philly's Rookies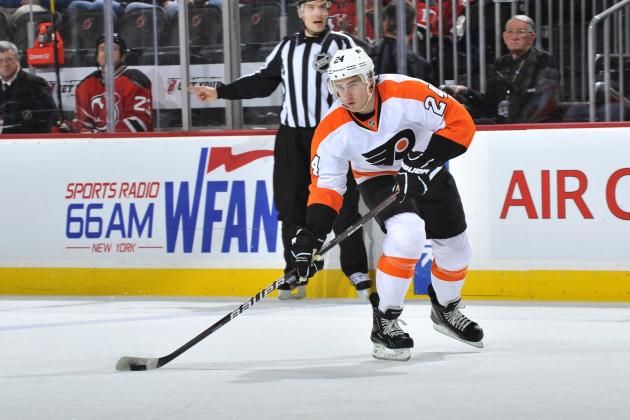 Norman Y. Lono/Getty Images

Just a few seasons ago, the Philadelphia Flyers were being labeled as a team that was too old, too slow for the new fast-paced NHL.
Now, after clearing house last summer, the Flyers have one of the younger teams in the league and certainly have one of the best crop of rookie talent on their roster.
I don't think some people realize how much pressure has been handled by this young bunch, and handled well I'd say. Playing in Philadelphia is hard enough, let alone having to fill in for superstars like Jaromir Jagr and Chris Pronger.
The young group of rookies have excelled in their new roles in the NHL and are thriving as a whole. Matt Read and Sean Couturier even participated in the NHL's All-Star weekend.
It is safe to say that if it wasn't for the play of these young guns, the Flyers would not be sitting this high up in the standings this far into the season. The maturity of this young group will decide how much further this Flyers team goes in the playoffs.
Here is a list power ranking the top Flyers' rookies.
Begin Slideshow

»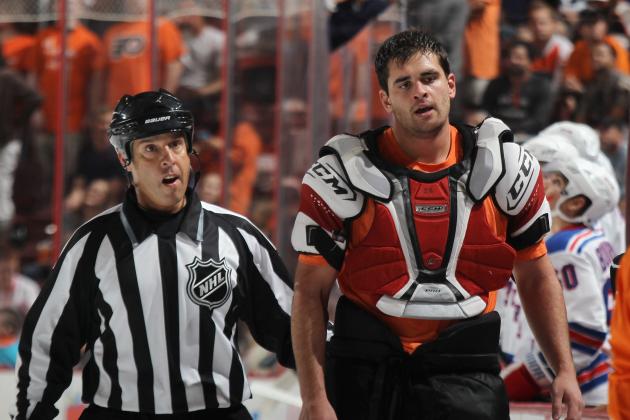 Bruce Bennett/Getty Images

Tom Sestito was initially called up in late December to be a roster fill-in. Now it seems he is getting very accustomed to coming out each night on the Flyers' fourth line.
Sestito is never going to give the Flyers a boat load of points. He only has one in nine games in the NHL this season. However, that is not why he is on this Flyers club.
At 6'5" and 230 pounds, Sestito is strictly used as an enforcer. He can battle and take the blows with anyone.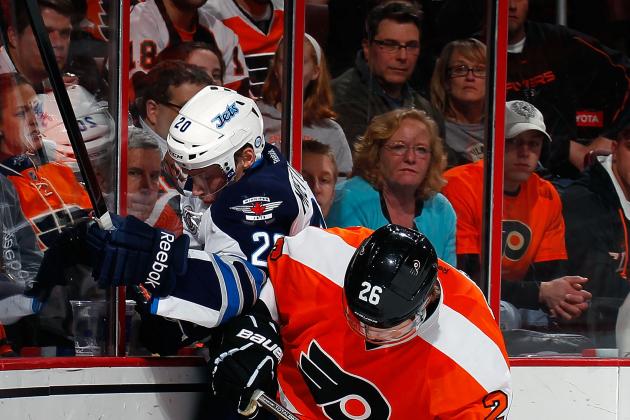 Paul Bereswill/Getty Images

Erik Gustafsson was a very intriguing player coming out of Training Camp this season.
The youngster from Sweden was signed in the 2010 offseason and looked like a possibility to make the big club out of camp.
After going back and forth between the Phantoms and Flyers for the first half of the season, Gustafsson has seen plenty of ice time in the past month with the multiple injuries that have plagued the Flyers back line.
Like Sestito, Gustafsson is definitely not the flashy type that will overwhelm you with skill, but at 23-years old, he is still developing.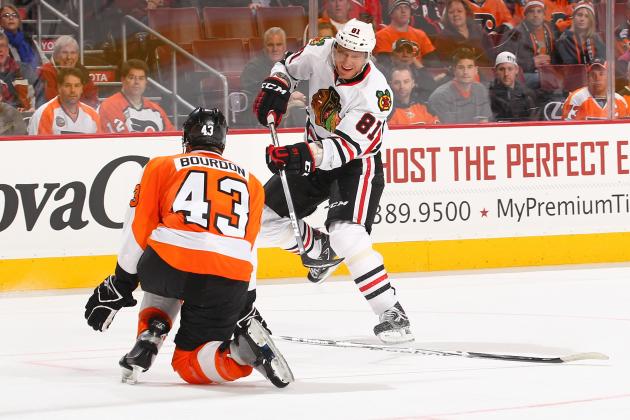 Al Bello/Getty Images

Marc-Andre Bourdon did not make the team out of camp, but he didn't have to wait long to get his call to the Flyers in 2011.
Bourdon became a regular in the lineup almost immediately after Chris Pronger went down with an eye injury.
Bourdon, I'll admit, has looked completely lost at times, but he has also shown some good signs as a future defenseman.
He has tallied four points, including a game winning goal at Washington.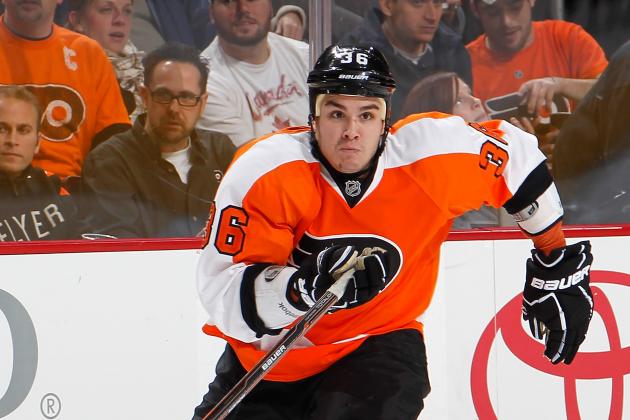 Paul Bereswill/Getty Images

It seems unfair calling Zac Rinaldo a rookie, but hey, rules are rules.
Rinaldo played in two playoff games last year and made the team out of training camp this season.
Like Sestito, Rinaldo is more of the enforcer type. However, I would compare him more to former Flyer Dan Carcillo.
Rinaldo has the big, rough body and is willing to go into battle with the bigger guys, but he also has some offensive skill. As a third or fourth liner, Rinaldo will eventually be a 20-25 point player in my opinion, if not better.
I wish he would stop taking dumb penalties, but I'd have to say that his doings on the ice, whether they be penalties or not definitely outweigh the stupid penalties he takes.
This is a guy that can get a team back on track after giving up three early goals.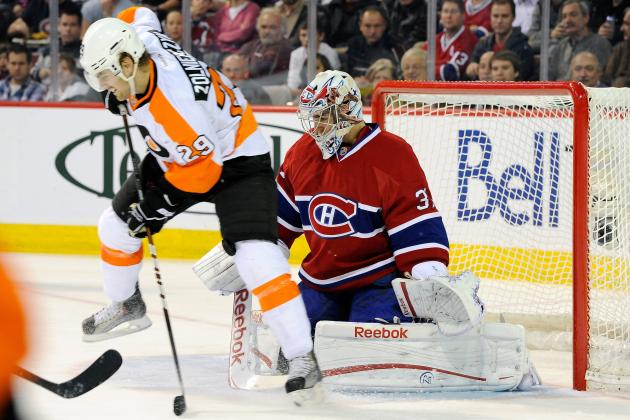 Richard Wolowicz/Getty Images

Harry Zolnierczyk has been a mainstay in the Flyers lineup since he started out with a goal in his first NHL game back in October.
He's slowed down on his record pace a bit, but still shows flashes of future brilliance. Zolnierczyk is a player that can definitely get better and will get better. In fact, he may have the most room to improve. He may have the highest ceiling of the bunch.
You can't teach speed and athleticism. With Zolnierczyk's speed, there is no telling what or who will slow him down.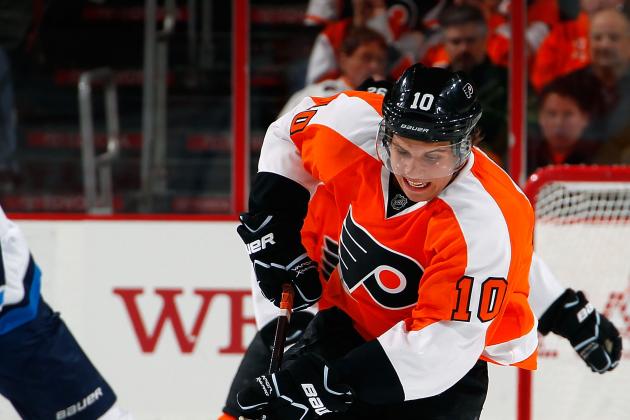 Paul Bereswill/Getty Images

It took almost a half a season, but it seems like Brayden Schenn is finally feeling healthy and comfortable playing in the Flyers' everyday lineup.
I think a lot of pressure was put on this kid from day one, with him being a big piece in the Mike Richards deal this past summer.
Schenn finally broke through in the Winter Classic, recording his first ever goal in the NHL. Since that game, Schenn has five goals, three assists, and a +/- four.
And he isn't even close to what he could potentially become. And that is scary.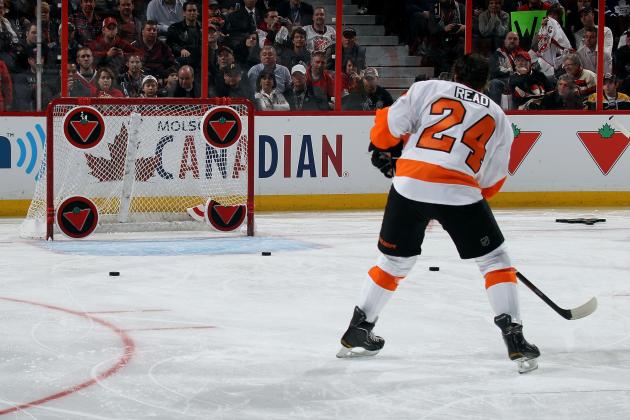 Bruce Bennett/Getty Images

Will he or won't he make the team? That was the question in Training Camp this fall for Matt Read.
Now looking back, can you even imagine if Read did not make this team initially?
16 goals later (which leads rookies), Read is in the running for Calder Trophy. He made an appearance at the All-Star festivities in Ottawa. He is third among rookies in Points.
Read has got a bright future. The sharpshooter may be taking the place of Jeff Carter soon than we know it.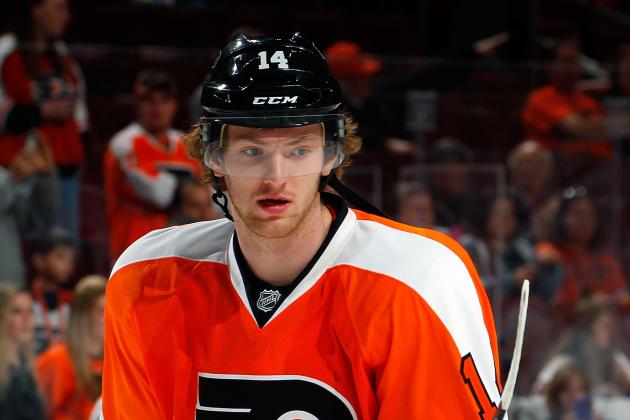 Paul Bereswill/Getty Images

It's funny that I keep reiterating this sentence, but again, Sean Couturier was another young gun that was on the bubble in Training Camp.
Luckily, the Flyers staff saw enough in their 1st round pick from a year ago to give him a shot with the orange and black right away. And man was that the right call.
From day one, Couturier has looked like a seasoned five year veteran out on the ice.
And with Couturier, you cannot measure how valuable and how good he is just by looking at the box score. It's his defense, his knowledge, his IQ of the game that makes him one of the best rookies in the NHL.
Another Calder Trophy front runner, Couturier leads the group of young rookies into the future.