NHL Trade Speculation: 10 Least Movable Contracts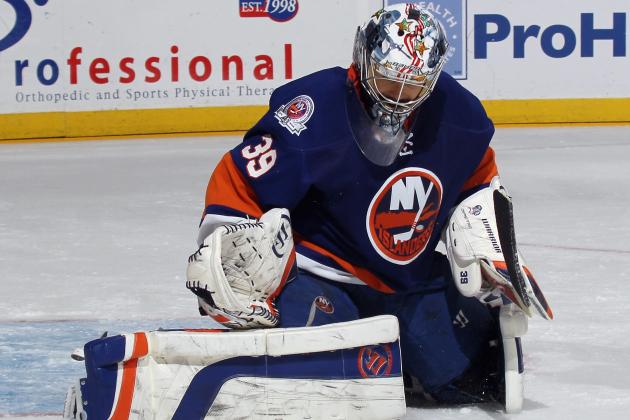 Bruce Bennett/Getty Images

With the trade deadline quickly approaching, teams are beginning to realize whether they will be buyers or sellers this season.
Some teams are looking for the missing piece that will help take them to the playoffs and contend for a Stanley Cup. Others have realized that their hopes of a playoff run are slim—they will look to rebuild for next season by trading players for draft picks and prospects.
When it comes to making a trade, however, there are some obstacles that a team has to consider, including a unattractive contract.
Such things like no-trade clauses or lengthy contracts can scare potential trade partners looking to make a deal.
If a team has plans of pursuing a specific player, it could end before it even starts if that player has a no-trade or no-movement clause and decides he does not want to play for a specific team.
A lengthy contract can be a huge risk for any team. They have to hope that this player will continue to deliver for several years. If their play becomes unimpressive, a team will struggle to trade him and may have to write a hefty check to buy that player out.
When it comes to pursuing a player in the NHL, the contract the player possesses can be a big issue standing in the way, but these 10 players' unattractive contracts create possibly the biggest issues in the league.
Begin Slideshow

»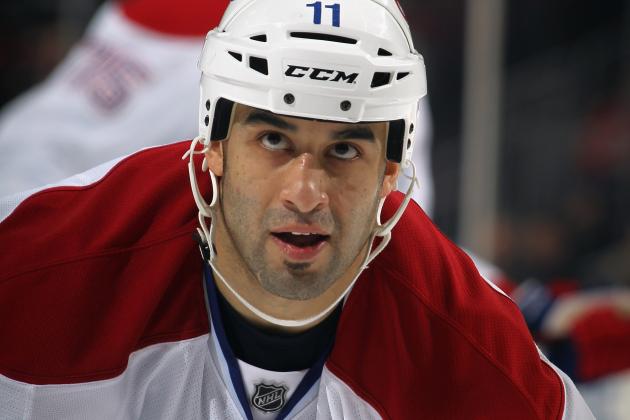 Bruce Bennett/Getty Images

In his final years with the New Jersey Devils, center Scott Gomez put together some impressive numbers. In 2003-2004, Gomez put together a 70-point season, where he totaled 14 goals and a career-high 56 assists.
After the lockout that cancelled the 2004-2005 season, Gomez picked up right where he left off—continuing to improve his play and putting together a career year with highs in goals (33) and points (84).
At the end of the season, the Devils and Gomez could not agree on a long-term contract and the two went to arbitration where he was awarded a one-year, $5 million contract. Gomez's numbers slipped from the previous year, but he was still able to record 60 points, making him one of the most attractive free agents during the offseason.
Gomez got a huge payday during the offseason when the New York Rangers signed the Alaska native to a seven-year $51.5 million contract. The contract delivers an annual cap hit of a little over $7 million a year and includes a no-trade clause.
The Rangers decision looked to have paid off in Gomez's first season with the team; he again put up a 70-point season.
Since then, however, Gomez has struggled and in the summer of 2009, the Rangers shipped the former alternate captain to the Montreal Canadians. While in Montreal, Gomez's numbers have continued to slip and in 23 games this season, he has only registered seven assists.
Gomez has proven that he is not worth the contract he signed, and not many teams would be willing to take a risk of trading for him.
Harry How/Getty Images

One of the most talked about players in trade rumors this season is Columbus Blue Jackets center Jeff Carter.
Last season, Carter signed a massive contract extension—11 years, $58 million—with the Philadelphia Flyers, the team that drafted him back in 2003. He had plans of finishing his career where he started it.
However, the Flyers surprised the All-Star when they traded him to the Blue Jackets for their first-round pick in the 2011 Entry Draft and for youngster Jakub Voracek.
Carter was stunned with the move and was silent for several days until the Jackets' general manager Scott Howson, captain Rick Nash and former head coach Scott Arniel flew to New Jersey to talk to Carter about the move.
When the 27-year-old finally broke the silence, he talked of hopes of being the missing puzzle piece and was ready to help the Jackets finally become a playoff contender.
However, Carter has not had the best first year in the buckeye state: He has missed several games due to foot and shoulder injuries.
In November, Carter's name first popped up in the trade rumors when it was reported that the center had requested a trade out of Columbus. Carter denied that he had requested a trade, but as the Jackets' struggles have continued this season, the idea of trading him has become a reality.
The Jackets have realized that they made a mistake trading for Carter in the offseason and placed him on the trading block.
However, not many teams are excited about Carter's lengthy contract and annual cap hit of $5.27 million.
It has also been reported that Carter's attitude has scared away potential trading partners as his no-trade clause kicks in next season. Chances are whoever trades for him will have to deal with him for quite some time.
Doug Pensinger/Getty Images

After his second-career 40-win season in 2009-2010, Roberto Luongo received a hefty pay raise from the Vancouver Canucks in a 12-year $64 million contract. The Canucks locked up the Canadian goalie until 2022 with a deal that includes a no trade clause and has Luongo playing into his 40s.
The season following the extension, Luongo rewarded the Canucks by helping lead the team all the way the Stanley Cup Finals.
During the season, Luongo split playing time with backup Cory Schneider, one of the top up-and-coming goaltenders in the NHL.
Schneider has been impressive in his time in net, which has caused for an increase in playing time and has put the Canucks in a pickle.
The 25-year-old is set to become a free agent at the end of the season and will be looking for an increase in pay.
The Canucks may not be able to afford to keep both Luongo and Schneider, making Schneider one of the most talked about goaltenders in trade rumors.
Luongo's name has also been brought up, but the 32-year-old's contract is less attractive than Schneider's.
Along with the $5.33 million annual cap hit for the next 10 years, Luongo's contract also possesses a no trade clause, meaning if he were to be traded, he would most likely be in his destination for a considerable amount of time.
Because of the unattractive contract, the Canucks may be forced to choose Luongo over Schneider even if they are more fond of the youngster.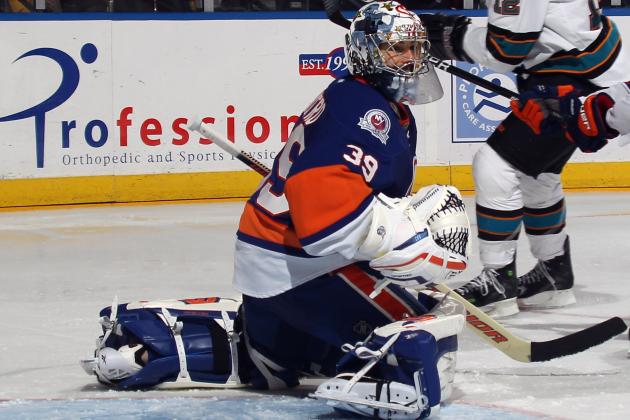 Bruce Bennett/Getty Images

A lot of people were scratching their heads when the New York Islanders decided to sign goaltender Rick DiPietro to a 15-year $67.5 million contract back in 2006.
Prior to the extension, DiPietro had registered back-to-back 30 wins seasons and the Islanders believed that the youngster was their future in net.
However, DiPietro's numbers were not jaw-dropping and seemed undeserving of such a lengthy extension. Since signing the long-term deal, there has only been one season where the 30-year-old has started more than 30 games.
DiPietro has had a string of bad luck with injuries—concussions, a torn labrum in his hip and consistent knee swelling have created a permanent home for the goaltender on injured reserve.
With DiPietro gone, the tandem of Al Montoya and Evgeni Nabakov have taken over in net and the Maine native seems to have become expendable. Unfortunately for the Islanders, if they were looking to trade DiPietro, it would be hard for them to find any buyers.
The combination of the lengthy contract as well as the consistent injuries makes DiPietro a huge risk for any team to take on.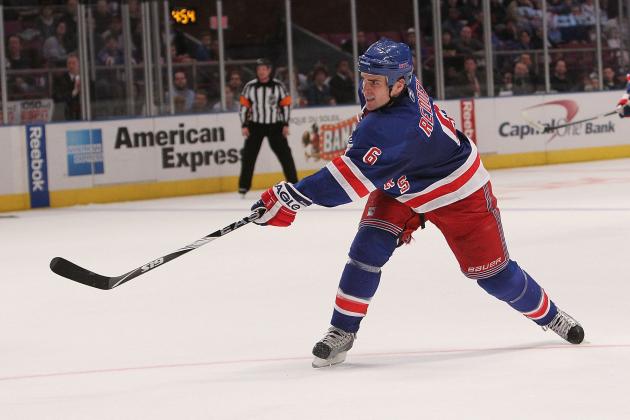 Nick Laham/Getty Images

During the final year of his contract with the Ottawa Senators, defenseman Wade Redden had a down year.
After a career year in 2005-2006 with career highs in assists (40) and points (50), Redden's numbers dropped with back-to-back seasons of recording less than 40 points. Heading into free agency, it was unknown what kind of deal the Canadian defenseman would receive and for how long.
In hopes that Redden would have a career resurgence in a new environment, the New York Rangers signed him to a six-year $39 million contract, with an annual cap hit of $6.5 million as well as a no trade clause where Redden could list eight teams with whom he would not accept a trade.
However, those hopes of a career resurgence did not go as planned. Redden's play continued to slip with his first season of less than 30-points since 1999. The following season in 2009-2010, Redden had a career-low 14 points in 75 games.
In the offseason, unable to fit under the salary cap, the Rangers placed Redden on waivers where he cleared and was sent to the team's AHL affiliate Hartford Wolf Pack. The 34-year-old contemplated retirement after being placed on waivers, but in the end, decided to report to Hartford.
Redden became the highest-paid player in the AHL, and his chances of making it back to the NHL are slim.
To make matters worse for Redden, before the beginning of this season, the Rangers did not even invite him to camp to let him try and earn his way back into the NHL.
The Rangers would love to wipe their hands clean of this free agent flop, but no team would be stupid enough to take on such a large contract for a player clearly past his prime.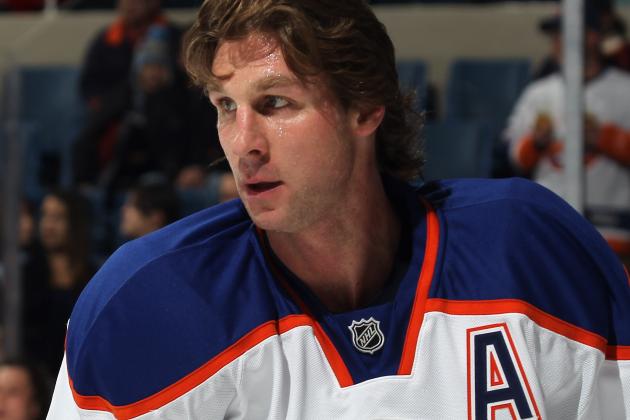 Bruce Bennett/Getty Images

When it comes to the trade deadline, a lot of contenders look for what are called "rental" players. Teams looking for players to help with the playoff push, but don't want to take on a lengthy contract can attempt to acquire a player who is set to become a free agent at the end of the season.
With one year left on his five-year $31.25 million contract, the Edmonton Oilers are talking to potential suitors about possibly shopping winger Ryan Smyth out as a rental.
Smyth's annual cap hit of $6.25 million is not the most expensive cap hit and there are several teams who could afford him, but if Smyth has his way, he will be staying in Edmonton for the foreseeable future. Smyth's contract includes a no movement clause and he has made it clear that he does not want to leave Edmonton, according to Yahoo Sports.
The 35-year-old's family lives in Edmonton and he wants to finish his career on the team that he grew up cheering for as a kid.
One option for Smyth to consider is to allow a trade to occur and then sign with Edmonton in the offseason when he becomes a free agent. The 16-year veteran tried that back in 2006-2007 when he was traded to the New York Islanders after contract negotiations with the Oilers were going nowhere.
Instead of Smyth re-signing with the Oilers at the end of the year, Smyth would spend the next four years elsewhere—two with the Colorado Avalanche and two with the Los Angeles Kings.
Smyth finally found his way back to Edmonton, but he may be hesitant to accept a trade out of his hometown.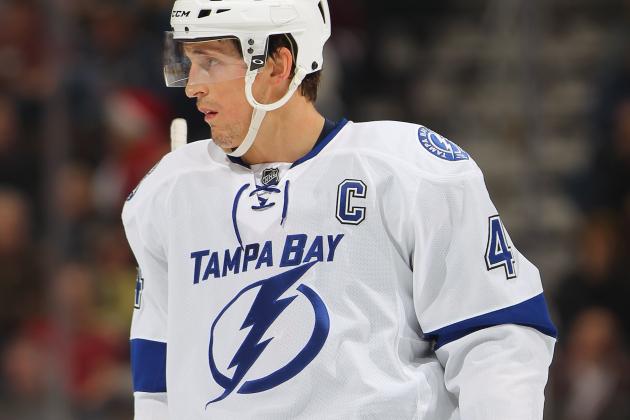 Doug Pensinger/Getty Images

Tampa Bay Lightning captain Vincent Lecavalier has spent his entire NHL career in Tampa after the team drafted him with the first overall pick in 1998.
Over the years, Lecavalier has seen a lot of success, including helping lead the Lightning to their first Stanley Cup in franchise history. Lecavalier has been one of the most talented centers in the NHL and proved that he is capable of a 100-plus point season.
However, his numbers have slipped since his 92-point season in 2007-2008—the Lightning missed out on the playoffs for three straight seasons. In the offseason of 2008, the Lightning signed Lecavalier to a massive extension for 11 years worth $85 million.
The Canadian All-Star brings a cap hit of over $7 million until the end of the 2019-2020 season.
One would think that after signing such a large extension, Lecavalier would be safe in Tampa for an extended period of time.
However, during the season following the extension, Lecavalier found himself in the middle of trade rumors. It was possible he could be traded to the Montreal Canadiens, his hometown.
The rumors were denied, but this would not be the end of it—he still finds himself among trade rumors.
This season has not been any different as the Lightning have struggled and there have been talks of rebuilding.
If the rumors are true and the Lightning do decide to trade their captain, his massive contract will be hard to move—not to mention the no movement clause that gives Lecavalier the option to veto any trade.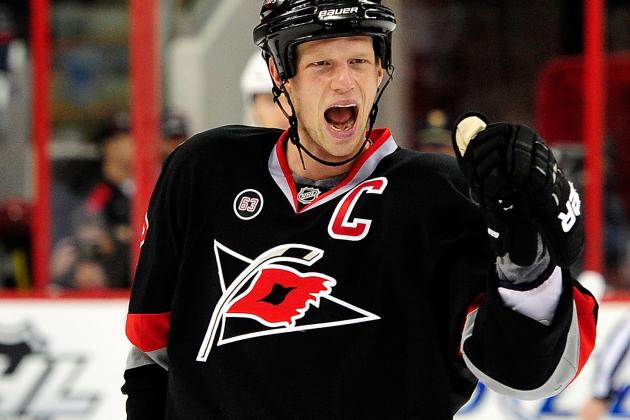 Grant Halverson/Getty Images

In his six-year career in the NHL, Carolina Hurricanes center Eric Staal has never been considered as "available." The captain helped lead the Hurricanes to their first Stanley Cup in franchise history in his rookie season with an impressive 100-point season.
Since then, Staal has averaged more than 70-points a season and has been one of the top players in the league.
However, this season, the Hurricanes have struggled, possibly leading to a transitional year.
Earlier this season, the Canes fired head coach Paul Maurice and more moves were predicted, including possibly trading Staal, as well as the other untouchable player on the roster, goaltender Cam Ward (via The Hockey News)
Moving either Staal or Ward would be a clear indicator that the Hurricanes are looking to make a youth movement with players like Jeff Skinner and Jamie McBain. Trying to trade Staal could be difficult—he is currently signed to a seven-year, $57.75 million contract with the fourth highest annual cap hit in the NHL at $8.25 million a season.
Staal's contract also includes a no-trade clause that began back in July of 2010. It could prevent possible trade partners from acquiring the 27-year-old.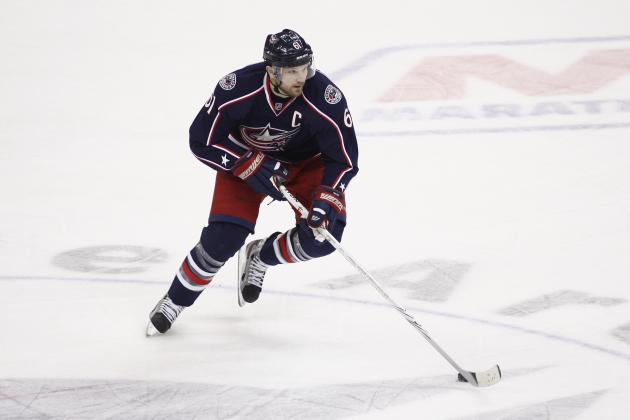 John Grieshop/Getty Images

Since becoming a franchise in 2000, the Columbus Blue Jackets have had little success, only making it to the playoffs one time.
Each time the Jackets have found themselves in the bottom of the standings, several players have been discussed in trade rumors.
However, no Jacket has been talked about more each year than captain Rick Nash.
Nash has continually found himself in the trade rumors. He would most likely bring back the most return of any player in Columbus' lineup.
Each year, the Jackets' deny that their captain is available and in 2009, locked him up with an eight-year, $62.4 million contract.
This season has been different, however. The Jackets are considering having a fire sale after what seemed like a promising year has turned into yet another unimpressive season. It was reported this week that Nash is not happy about the direction that the Jackets are going and even said that he would be open to a trade out of Columbus (via Sports Net).
Nash's annual cap hit of $7.8 million will be an obstacle for any team looking to acquire the 27-year-old All-Star, but that is not the only obstacle a team would have to hurdle. Nash's contract also includes a no-movement clause until the 2014-2015 season. Nash may be willing to waive his no trade clause, but he has stated that he will not request a trade.
If the Jackets don't have plans of trading Nash and he will not request one, then Nash may be in Columbus for a little bit longer.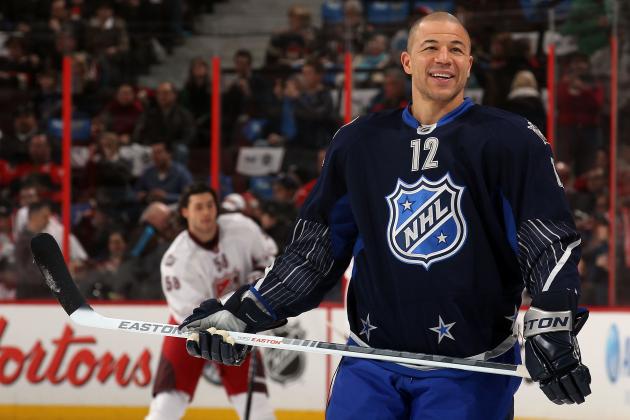 Christian Petersen/Getty Images

Calgary Flames captain Jarome Iginla has been one of the most talked about players in trade rumors for the past few seasons.
The Flames have not made the playoffs since 2009, and it seems like rumors of Iginla being traded to a cup contender have been flowing ever since. The 34-year-old has been with the Flames since he was signed during the 1996 Stanley Cup playoffs after finishing his season with the Kamloop Blazers of the Western Hockey League.
Iginla has had a tremendous 16-year career, playing in over 1,000 games, recording more than 1,000 points and scoring his 500th goal this past January.
However, with all of his success, Iginla has yet to capture a Stanley Cup, which is why many people believe he will be traded to a contender so that he could finally be able to put that on his resume.
When Iginla signed a five-year contract extension in 2009, worth $35 million, it came with a no-movement clause, allowing the Edmonton native to veto any trade. As much as a team may want to pursue Iginla, he could stop them in their tracks.
Iginla has denied rumors in the past and this season has not been any different, According to the Calgary Herald, Iginla plans on staying with the Flames for at least the remainder of the season because he believes that the Flames could in fact make the playoffs this season.