Auburn Football: Is It Time for Linebacker Daren Bates to Move Back to Safety?
February 6, 2012

Kevin C. Cox/Getty Images
Auburn's defense has a long way to go heading into the 2012 season, and a position change by Daren Bates from linebacker to his original position, safety, could be greatly beneficial.  
Bates played at the safety position as a freshman but was moved to linebacker for his sophomore and junior years. It was somewhat of a boggling decision, but it seemed necessary to make the switch due to depth issues at linebacker.
Daren Bates' play on the field belied his original 2-star rating that Scout.com assigned to him, so it was also a waste to have him ride the bench as a safety.  
The linebacker corps in 2011 was fairly lightweight, and Bates was the smallest of the starting linebackers at 5'11" and 205 lbs. Fellow starters Jonathan Evans and Eltoro Freeman also stand at 5'11" but were 225 lbs. and 221 lbs., respectively.
The Tigers run a 4-3 base defensive scheme, so they can get away with some smaller linebackers. But, having all three starters under 6-feet tall can be troubling.  
Auburn's defense really can't go anywhere but up.
The Tigers ranked last in the SEC in total yards given up with 5,304 and ranked 11th in yards-per-game given up with 408. That fact could be a blessing in disguise, as the Tigers' defense should come out swinging with a chip on their shoulder in 2012.  
The team was young last year. In 2012, they won't be. The defense shows a lot of promise, especially with a star like Corey Lemonier gunning for the quarterback on every play.  
Auburn's run defense was decent enough for the SEC, where running games are powerful, but their pass defense left the most to be desired.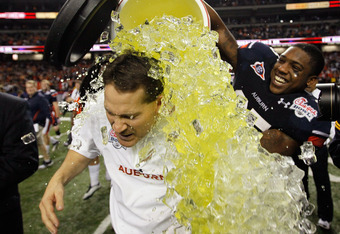 Kevin C. Cox/Getty Images
Auburn was last in the SEC in passing defense with 2,844 yards given up, almost 300 more than second-to-last Mississippi State.  
Mediocre LSU quarterback Jarrett Lee had one of his best performances of the year against Auburn—he completed 70 percent of his passes and had two touchdowns and no interceptions.  
The run defense looks much more promising next year, as the Tigers will have four returning starters on the defensive line—all juniors.
Corey Lemonier and Nosa Eguae return at defensive end and they look extremely promising. They aren't huge bulldozers and are built more like Alabama linebackers, but they do their jobs very well.
Kenneth Carter and Jeffrey Whitaker round out the line at defensive tackle, and they both hover at around 300 lbs.  
The defensive line's future looks great, and they should be able to handle the run much better than they did in 2011.  
It's the pass defense that needs some help, especially with senior safety Neiko Thorpe graduating. Current freshman Erique Florence looks like he could step in and replace Thorpe, but is that the best option?
Daren Bates could certainly provide more benefit in the passing defense as an almost ideally built safety, as opposed to a sorely undersized linebacker.  
Smaller linebackers can have success, sure. Pat Tillman, before he became an Army Ranger, was roughly the same size as Bates. But Tillman was a rare player.  
Coming out of high school, Bates benched over 300 lbs. and ran a 4.5-second 40-yard dash. That, along with his size, makes him more than capable of playing as a safety.  
Though Daren Bates played well as a linebacker in 2011 and led the team in both solo tackles (59) and total tackles (104), I believe that he could benefit the team much more from the safety position.
Straight tackling stats don't always prove true ability.  
He could still play the run but could contribute more in the passing game as a safety. 
Playing as a linebacker may be severely limiting Bates' potential. Though he did well as a linebacker, I believe he could be a future NFL talent as a safety. But, he has only one more year to prove it.
Another year at linebacker would likely hurt his draft stock, but a successful year at safety could send him into the later rounds or even middle rounds.  
At a glance, the future linebacker squad looks pretty strong with future senior Jonathan Evans and future junior Jake Holland. There's also one of the Tiger's most promising players, current freshman Justin Garrett, who, hopefully, will have put on some weight to his 198-pound frame.  
It's going to come down to which squad needs Bates more, the safeties or the linebackers. The question still lingers, however, as to whether or not Bates can make a seamless transition back to the safety position.
Moving Daren Bates back to his natural safety position would be prudent for the Auburn Tigers.
Bates is an amazing athlete and needs to play where he can flourish more, and I believe that would happen as a safety.