Barcelona: How to Blow Competition Out of the Water with Global Marketing
February 6, 2012

Jasper Juinen/Getty Images
In Richard Branson's autobiography, "Losing My Virginity: How I Survived, Had Fun, and Made a Fortune Doing Business My Way," he describes his irritation for the closed-minded attitudes of his critics: "People have always asked me with monotonous regularity what the limits to Virgin are and whether or not we have stretched the brand name beyond its natural tolerance."
Branson and his team of visionaries have spent the last 40 years completely changing what it means to be a brand. 
Rather than building his company into one massive entity, he masterfully created an empire that consists of several smaller companies (partially as a fail safe for when disasters occur). 
Branson's true legacy lies in his revolutionary idea that brands can (and should) be as global as possible while maintaining their historical roots. 
Thanks to Branson, global branding has evolved into a necessity rather than a choice. 
There is no industry on Earth where this is more evident than in the game of professional soccer.
Ask any American if they have ever seen a soccer game and you'll likely hear an answer similar to: "I watch the World Cup but I don't pay attention otherwise." 
This is seemingly pathetic given that the United States maintains its status as the world's only superpower.  (Yes, America is hanging by a thread, but the fact remains that with Europe unable to unite via the Euro, there is no real competitor besides China).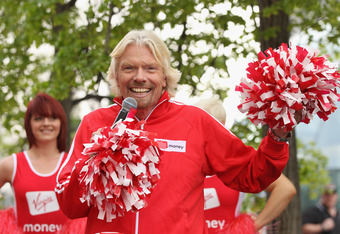 Oli Scarff/Getty Images
However, if you were to ask this same question 20 years ago, there would hardly be anyone that said they watched the World Cup. 
In 1994 America hosted its first World Cup and things changed drastically in terms of global marketing.  For the first time ever, the World Cup was held somewhere other than Europe or Latin America and clubs began looking to international markets for fans.
FC Barcelona's global brand rivals that of Real Madrid and Manchester United when it comes to recognition.  While Barcelona owes part of their success to the World Cup and guys like Richard Branson, their genius lies in their commitment to the social aspects of the club. 
Just like Branson's vision for Virgin was to keep it a large collective of small entities, Barca's management strategy allows the general public to be a "part of the club."
The allure of becoming a Barca fan is undoubtedly tied to the idea of being a part of something.  Like religion helps people understand their lives and put it into a manageable context, Barca has created an exclusive club that is not only profitable (150 E to join) but globally alluring.
FC Barcelona's innovation was born out of a need for a new business model. 
They created something new when the old way wasn't working.  They understood that based on industry analyses, soccer was broken up into large global clubs and smaller, local ones.[4]  This allowed them to find the best players in the world, no matter where they were from.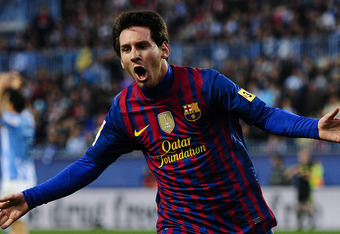 David Ramos/Getty Images
Coincidentally (and fortunately), these players happened to be from several different continents around the globe.  Samuel Eto'o of Cameroon represented Africa, Lionel Messi of Argentina proudly stood for South America and Rafael Márquez of Mexico became the symbol of North America.[5]
The city of Barcelona is merely 39 square miles in size (or 310 if you count the suburbs).[6]  The area that a company or a franchise (or a football club, for that matter) covers is often limited by federal law or international barriers.  This makes it very difficult for most entrepreneurs to see past geographic borders. 
The important thing to realize is that the size of Barcelona does not represent how far a brand can go. 
The game of soccer was already a global sensation and the management of Barcelona was acutely aware of this when they decided to explore international markets.  In the case of a soccer team, the brand itself is all they have when trying to recruit international fans. 
Recruiting great players not only attracts people because it helps the team win, but it inherently spreads the brand past the borders of the small city of Barcelona.
When you can't pick up a Barcelona product at a local business (as you would be able to take a Virgin flight or buy a Virgin record), Barca relies purely on its brand to do the sell job for them.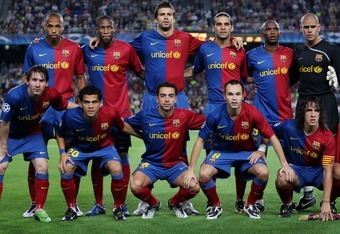 Jasper Juinen/Getty Images
Branson's dream of "using the strength of the brand and our people to change the world for the better" came true when he launched a group called Virgin Unite.[7]  His vision shows some serious accountability when it comes to letting his brand do the selling for him. 
There is nothing more important than how you are perceived by the public, and in both cases, the management has recognized the importance of public perception.  FC Barcelona, to even the most casual sports fan, is known worldwide as a competitive soccer team that allows its fans to be a part of the decisions made at the top. 
To those who don't know anything about La Liga or FIFA or even the team's record, they most certainly recognize the Barca brand as one that represents their country or even their continent.   
Eto'o, originally from Cameroon, is now the third-highest paid player in the world, racking up an astonishing $28.8 million per year for Russian side Anzhi (a previously unknown squad outside of Russia that now holds a large fan base in central Africa).[8] 
In 1994, at the old Stanford stadium in Palo Alto, CA, I saw my first live professional soccer game.  The World Cup was the most exciting event I could have imagined attending and I was so worked up that I nearly passed out when Russia scored its first goal over Cameroon. 
An unknown striker named Oleg Salenko scored five goals in that game and still holds the record for goals in a single World Cup match.  Cameroon was playing in just its third World Cup ever and was obviously embarrassed by Salenko's performance.[9] 
With the help of FC Barcelona and Samuel Eto'o, Cameroon has maintained its integrity.[10]  Barca's branding model began to take off after this two-week period in the summer of 1994. 
It was this fateful event that helped FC Barcelona understand there were truly no borders when it came to promoting their global brand. 
[1] Richard Branson, Losing My Virginity: How I Survived, Had Fun, and Made a Fortune Doing Business My Way. (New York: Random House, 2007), pg. 406.
[2] Antonio Davila and George Foster, "Football Club Barcelona: Globalization Opportunities", HBS Case Study SPM-33 (Stanford, CA: Board of Trustees of the Leland Stanford Junior University, 2007, Harvard Business Review Online, http://cb.hbsp.harvard.edu/cb) (Note: this source is not accessible to the general public.) 
[3] Ibid, 3.
[4] Ibid, 2.
[5] Ibid, 11.
[6] Bcn.es, "City statistics", Barcelona city website, http://www.bcn.es/estadistica/angles/dades/sintesi/images/sintesi2.pdf accessed January 27, 2012.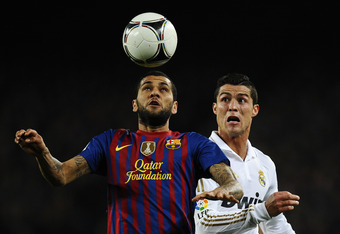 David Ramos/Getty Images
[7] Branson, pg. 473.
[8] ESPN.com, "Samuel Eto'o", ESPN Soccernet website,http://soccernet.espn.go.com/player/_/id/11718/samuel-eto'o?cc=5901 accessed January 31, 2012.  
[9] Independent.co.uk, "On this day in World Cup history: Russia 6 Cameroon 1, 28 June 1994", Independent website, http://www.independent.co.uk/sport/football/international/on-this-day-in-world-cup-history-russia-6-cameroon-1-28-june-1994-2012166.html, accessed January 31, 2012. 
[10] Yahoo.com, "Cameroon – Group E", 2010 South Africa World Cup coverage, http://g.sports.yahoo.com/soccer/world-cup/teams/cameroon-44/ accessed January 31, 2012.