Super Bowl 2012 Highlights: Ranking Top Plays from the Game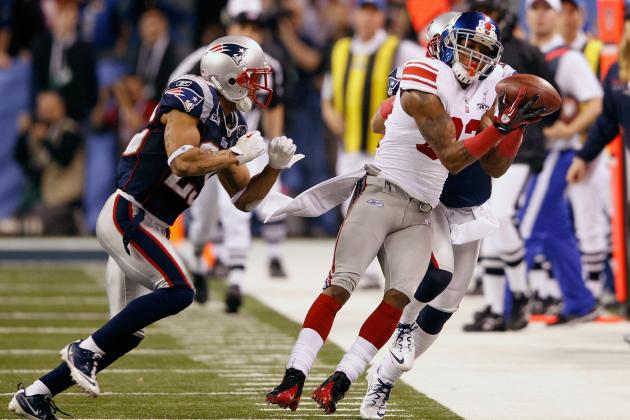 Rob Carr/Getty Images

Super Bowl XLVI was a collection of remarkable and intriguing moments, and here are the best.
Many have hit out that Sunday's classic was good, but not great. Surely, we had a good play or two, but not many. I beg to differ.
I will be the first to rain on parades and contribute much-needed cynicism for the masses, but this game simply doesn't deserve such measures.
From start to finish, I was captivated.
Bone-headed blunders lead to emotional distress. There were hard hits and amazing catches throughout. When you consider the next few plays that we have ranked and broken down, it is any wonder why anyone would consider this game anything less than wall-to-wall with highlights.
Here we take you down memory lane. Some of you may have been all too near blackout buzzed on Sunday evening. Here we catch you up on all the important plays and moments from what I consider a classic match.
Tom Coughlin got over on the great Bill Belichick, yet again. Eli Manning won his second Super Bowl MVP, eclipsing his big brother Peyton by one.
Here are the moments that made up the larger body of work that we admired just an evening ago. The big stories heading into the offseason will be largely due to the events that took place in Super Bowl XLVI.
Let's see how it all went down and rank them in order of importance. Yes, we may see that Mario Manningham catch at some point in this series of videos.
Begin Slideshow

»
We all waited with bated breath to find out how the game would unfold. We were sure that the Patriots would score as soon as they touched the ball.
Little did we know that the first score of the game would come after Justin Tuck came bursting off the line to force Brady to intentionally ground the ball in the end zone, causing a safety.
Moment of Play
Giants: 0
Patriots: 0
Time: 8:52 1st Quarter
The thought started to cross our minds that the Patriots may have been a grossly overrated team at this point. The Giants were owning the field, and their attempts at locking up Victor Cruz were fruitless.
The Salsa Dance occurred so quickly in the game,we all thought the Patriots would soon be buried under a mountain of Giants' highlights.
Moment of Play
Giants: 2
Patriots: 0
Time: 3:24 1st Quarter
It wasn't all gloom and doom for the Patriots. The second half ended with Tom Brady ripping the momentum from the G-Men with a perfectly orchestrated drive.
The drive ended with the elusive Danny Woodhead getting the ball, and the final touch to a brilliant drive. The Giants were on their heels, and it would only get worse.
Moment of Play
Giants: 9
Patriots: 3
Time: 00:08 2nd Quarter
Justin Tuck had already forced a safety, and delivered a hard sack to Tom Brady in the third, but this was the play I will remember.
With 3rd and 10, Tom Brady snaps the ball after already delivering a couple very catchable balls to his receivers.
Justin Tuck, a player that could have easily won the MVP as well, sacks Brady. Time begins to wind down, the Patriots have to take a time out and no amount of future completions would matter.
Moment of Play
Giants: 21
Patriots: 17
Time: 00:48 4th Quarter
Out of the locker rooms, the Patriots struck again. They were hot on the heels of a fine drive that ended with a Woodhead touchdown.
This one was better in shifting the momentum completely to the Patriots. Aaron Hernandez completely breaks off Chase Blackburn for an easy route and easier reception.
The Giants looked soft for the first time in the game, but it would be all New York from this point on.
Moment of Play
Giants: 9
Patriots: 10
Time: 11:20 3rd Quarter
Deion Branch would later miss a wide-open pass, but this is the play that is resonating with the nation right now.
Welker could have all but sealed the game with a catch that he makes 99 times out of 100. Chance and fate had it in for New England on Sunday.
Moment of Play
Giants: 15
Patriots: 17
Time: 04:11 4th Quarter
Forget taking a seat, Ahmad Bradshaw was forced to take a seat when he remembered at the last minute that scoring may not be the wisest of options.
New York could have run the clock down and then kicked a field goal for the win.
The Giants' running back ended up scoring, putting the ball in Tom Brady's hands. It was no doubt a blunder, but one that didn't prove fatal.
Moment of Play
Giants: 15
Patriots: 17
Time: 00:57 4th Quarter
The Giants needed one big drive from Eli Manning to get over on the Patriots late in the fourth quarter. As fate would have it, they also needed one amazing catch to come from a Giants' receiver.
With David Tyree retired, Mario Manningham would have to be the hero of the day. He splits two defenders and pulls in a ball that most people would have been blind to see.
He does what years of training have taught him by securing the ball and keeping both feet in. This was the amazing play that kept the Giants rolling, and more importantly, believing.
Moment of Play
Giants: 15
Patriots: 17
Time: 03:45 4th Quarter