NBA Rumors: J.R. Smith a Great Potential Addition to Los Angeles Clippers
February 6, 2012

Doug Pensinger/Getty Images
The small forward position has been the Los Angeles Clippers' major weak point this season, producing a PER of only 10.8. Caron Butler has played 62 percent of the minutes at the 3 with a slightly low PER average of 13.5, but Ryan Gomes has played 29 percent of minutes with a PER of 3.5.
Prior to his year helping the Dallas Mavericks win their championship, Butler was a career 31 percent three-point shooter with fewer than two attempts per game. Last year, he took 2.2 per game, hitting 43 percent and this year he's taking 5.7 a game, shooting at a decent 36 percent. 
With Chris Paul and Blake Griffin around, Butler isn't asked to do a ton; 84 percent of his attempts are jumpers and 83 percent of those are assisted. 
Gomes has been assisted on all of his jumpers, which constitute 82 percent of his shots, but has an eFG percentage of only 33.3 percent on those. His seven free-throw attempts this season are a pretty clear indicator of his passive role. 
As reported by the Los Angeles Times, the Clippers will pursue J.R. Smith. If Smith were to join the Clippers and just play as a spot-up shooter, he would be an enormous upgrade over Gomes and a minor one over Butler.
Smith has averaged 37 percent on threes in his career but has shot significantly higher on spot-up threes, which would comprise a larger portion of his attempts were he to play in the Clipper offense. He shot 47 percent on spot-up threes last year. 
But Smith is a whole lot more than a spot-up shooter. His athleticism and three-point shooting make him a monster in transition, and a great fit for this Clippers team. He averaged 1.25 points per possession in transition last year and 1.2 the previous season. And his dunks would certainly give Griffin some competition for SportsCenter highlights.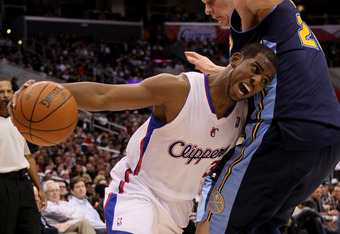 Stephen Dunn/Getty Images
Smith would also give the Clippers another guy to run the pick-and-roll and score in isolation. The Clippers are an amazing 14.7 points per 48 minutes worse on offense when Chris Paul is on the floor. Adding another guy that can create his own shot efficiently and find LA's athletic bigs cutting to the basket would certainly help close that gap.
Smith's well known for his clashes with George Karl in Denver and Byron Scott in New Orleans, but Vinny Del Negro is a very different coach in a different situation. SI's Sam Amick has argued that Del Negro is deferring to Paul/Chauncey Billups and not demanding too much of players, because it works well for the team and because he needs the team on his side to retain his job.
If he needs to be reined in, it would likely be coming from Paul or former Nuggets teammate Billups more than Del Negro, and it would probably go over much better that way. 
Competing for a championship, playing with former teammate Paul and playing for huge national audiences are all things players tend to like. And Smith would be aware that finishing the season well with the Clippers would be an amazing audition opportunity.
He's only 26 and has the ability to be one of the better wing players in a league, at a time when there aren't a ton of good, young wings. 
Former Nuggets teammate Aaron Afflalo just got a five-year $43 million deal. A few strong months from Smith could give him a chance for a similar deal and after playing for $3 million in China, one would think that would be on his mind.