NBA Rumors: Grading Los Angeles Lakers' Options at Point Guard
February 6, 2012

Kevin C. Cox/Getty Images
If you've seen the Los Angeles Lakers play this season, you've probably noticed that vacuous space on the court where a point guard should be. Everyone Mike Brown has trotted out at the position has been too old (Derek Fisher), too young (Darius Morris), too hurt (Steve Blake) or too much of a natural shooting guard (Andrew Goudelock).
That's left Kobe Bryant to shoulder the burden of handling, distributing and shooting the ball, despite being old, hurt and a shooting guard himself.
Of course, this wouldn't be a problem whatsoever had NBA commissioner not nixed the Chris Paul trade and redirected the All-Star guard to the Los Angeles Clippers.
There's nothing Lakers GM Mitch Kupchak can do about that, though he's done plenty to scour the remaining market for viable backcourt additions. So how would each of the three most prominent names mentioned fit in with the Purple and Gold?
Gilbert Arenas
Agent Zero isn't exactly the young, bucket-scoring buck that he once was, though he still represents arguably the most favorable ratio of risk-to-reward among those the Lakers are looking into.
The LA native and Grant High of Van Nuys grad will be holding a workout in his hometown for interested teams this week, though it's unclear as to whether or not the Lakers will send representation.
Despite his reputation as a head case and his poor play with the Orlando Magic last season, Arenas could actually be a solid acquisition for the Lakers.
If he's as healthy and light on his feet as reports suggest, Arenas would bring with him the ability to pour in double-digits points and the ability to play either backcourt spot on a nightly basis, assuming Mike Brown slots him into the proper role.
And if Arenas doesn't pan out, then LA will have only had to shell out a prorated share of the veteran's minimum to try him out.
Grade: B 
Ramon Sessions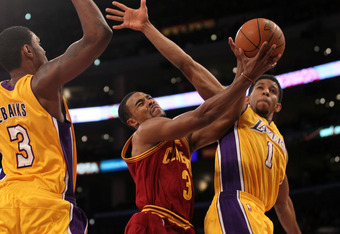 Stephen Dunn/Getty Images
Realistically, though, Arenas would only be papering over the Lakers' crippling deficiency at the point.
If Kupchak is keen to find a longer-term solution, he'd be wise to continue his pursuit of Ramon Sessions. The 25-year-old guard has become something of a luxury on a Cleveland Cavaliers club that currently sports rookie sensation Kyrie Irving.
Sessions has shown the ability to be a solid point guard, especially when given the opportunity to start. Whether the Lakers are willing to give up a first-round pick (which appears to be the price tag the Cavs have placed him) remains to be seen, though if the Purple and Gold are keen to add a quality player who can handle the ball, run the offense and bring the team closer to contention as a result, then Sessions would be an excellent start.
Grade: B+
Jonny Flynn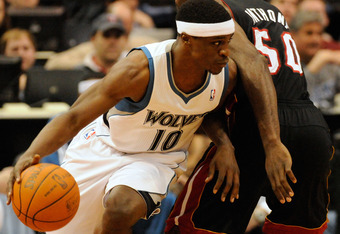 Hannah Foslien/Getty Images
The latest rumor, though, has the Lakers and the New York Knicks duking it out for Jonny Flynn.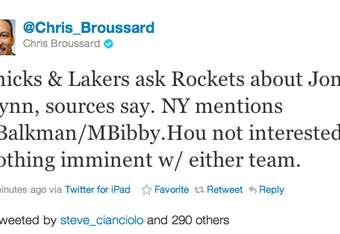 Flynn is eminently available (or at least should be) now that Kyle Lowry and Goran Dragic have entrenched themselves as the top two point guards for the Houston Rockets.
On the surface, Flynn looks like the most attractive option for LA to pursue. He's a quick, hard-nosed player who averaged 13.5 points and 4.4 assists as a rookie and is still just 22 years old.
The problem? Flynn's hip, which started giving him trouble two years ago and has proven to be a significant drain on his once-promising game since.
However, if the Lakers can get Flynn at minimal cost to their roster and dwindling reserve of draft picks, they wouldn't exactly be remiss to go ahead with it.
Grade: C