2012 NFL Draft Order: Redskins and Teams That Must Avoid QBs in 1st Round
February 6, 2012

Rob Carr/Getty Images
Drafting a quarterback in the first round can turn a franchise around from being mediocre to being a Super Bowl winner—like the New York Giants.
However, these top 10 teams have holes that can be filled with their first-round pick and they should use their second, or third pick on their quarterback of the future. 
No. 3 Minnesota Vikings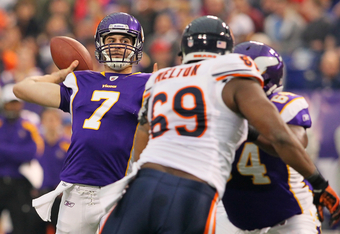 Adam Bettcher/Getty Images
Minnesota could benefit from drafting either Andrew Luck or Robert Griffin III, depending on whom the Colts do not select with their first pick. 
However, they already have a young quarterback who showed some promise in his limited time as the starter last year. In his short time as a starter, Christian Ponder threw 13 touchdowns and 1,853 yards. If he can cut down on his 13 interceptions, he will lead the Vikings to more victories. 
Plus, the Vikings need a cornerback to help a defense that ranked 26th in passing defense. 
They can select the best cornerback in the draft, LSU's Marcus Claiborne. Claiborne was a beast on the nation's second-best defense this year. He can help the Vikings shut down the elite passing offenses in the NFC North like Green Bay, Detroit and Chicago.
No. 6 Washington Redskins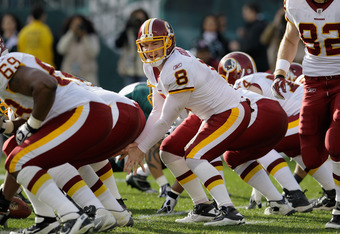 Rob Carr/Getty Images
Washington needs a quarterback. However, Indianapolis and Cleveland look like they are going to take Luck and Griffin III before the Redskins get to pick. 
They could move up in the draft, but why would they move some of their best players to move past the Browns at No. 4? Instead, they should stay at their current position and draft an offensive lineman like Riley Reiff from Iowa. 
Reiff can come in and help protect either Rex Grossman, or Peyton Manning if they happen to sign him if the Colts let him go. 
No. 9 Miami Dolphins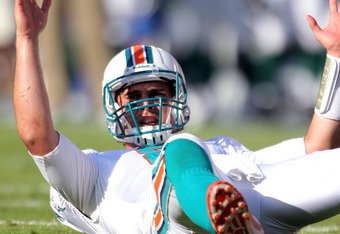 Marc Serota/Getty Images
The Dolphins are like the Redskins in that they do need a quarterback of the future, but they are okay with their current starter. They also are in the running if Manning is let go by the Colts this offseason. 
However, the Dolphins need a shutdown corner who can help this defense go from 25th in the NFL in passing defense to the top half. A player like Alabama's Dre Kirkpatrick could be a lifesaver in this secondary. 
Kirkpatrick was the top corner on the best defense in college football last year. He would be a starter from day one on the Dolphins and would be a missing piece that turns this team into a playoff contender. 
These three teams could go with a quarterback in round one. However, these three players could help out more than a quarterback in the first round.
2012 NFL Draft Order
1. Indianapolis Colts (2-14)
2. St. Louis Rams (2-14)
3. Minnesota Vikings (3-13)
4. Cleveland Browns (4-12)
5. Tampa Bay Buccaneers (4-12)
6. Washington Redskins (5-11)
7. Jacksonville Jaguars (5-11)
8/9. Carolina Panthers (6-10, pending coin flip)
8/9. Miami Dolphins (6-10, pending coin flip)
10. Buffalo Bills (6-10)
11/12. Kansas City Chiefs(7-9, pending coin flip)
11/12. Seattle Seahawks (7-9, pending coin flip)
13. Arizona Cardinals (8-8)
14. Dallas Cowboys (8-8)
15. Philadelphia Eagles (8-8)
16. New York Jets (8-8)
17. Cincinnati Bengals (from 8-8 Oakland Raiders)
18. San Diego Chargers(8-8)
19. Chicago Bears (8-8)
20. Tennessee Titans(9-7)
21. Cincinnati Bengals (9-7)
22. Cleveland Browns (from 10-6 Atlanta Falcons)
23. Detroit Lions (10-6)
24. Pittsburgh Steelers (12-4)
25. Denver Broncos (8-8)
26. Houston Texans (10-6)
27. New England Patriots (from 13-3 New Orleans Saints)
28. Green Bay Packers (15-1)
29. Baltimore Ravens (12-4)
30. San Francisco 49ers (13-3)
31. New York Giants (9-7)
32. New England Patriots (13-3)