LeBron James: 5 Ways King James Can Dethrone Blake Griffin's Kia Dunk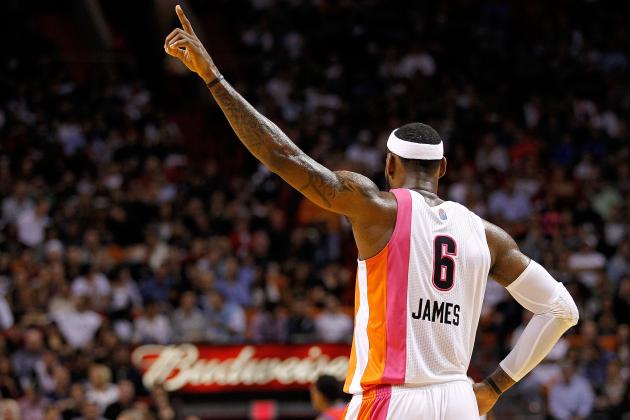 Mike Ehrmann/Getty Images

LeBron James is being heckled not just for his fourth quarter performances anymore. Well, technically those change for a dollar jokes are still lurking around the league, but for now the request for James to be in the 2012 All-Star dunk contest are trumping his in-game triumphs and failures.
After seeing the resume he has compounded this season so far, who can blame critics for wanting him prove his abilities in another avenue? He has had the potential for awesomeness ever since he entered the league with the Cleveland Cavaliers. James has always been an exciting part of All-Star weekend, but mainly during the All-Star game.
The dunk contest has always eluded his priorities.
But, if he were to take the world up on their invitation into the All-Star dunk contest, there are several things that he could do to dethrone Blake Griffin. Of course nothing with zero contact can eliminate the buzz surrounding Griffin's latest poster victim, Kendrick Perkins. James could still do a few things that would earn a few fans and make people respect his effort.
Begin Slideshow

»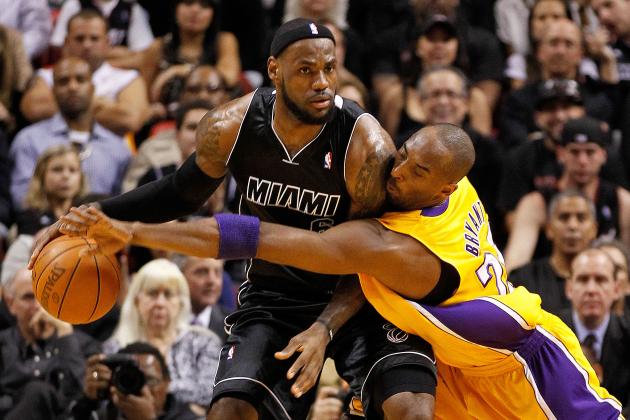 Mike Ehrmann/Getty Images

LeBron James vs. Kobe Bryant is the most overhyped individual rivalry in basketball today. Not only do these men play different positions, but their playing styles are on two different ends of the spectrum. LeBron is better around the rim and Kobe operates better on the wing.
Despite their lack of parallels, fans are consumed with comparing and contrasting the two players' career as if they will ever adequately align. But, LeBron could use this to play off of in the dunk contest.
If he could ever get around Kobe Bryant's ego and get him to agree to simulate a one-on-one game where he subsequently Mozgovs him, it would win everyone over. Of course there are more than several things wrong with this suggestion.
Getting over Bryant and powering through any type of contact would not be a problem for LeBron. His power equates Griffin's and his speed gives him an automatic advantage. However, getting Kobe Bryant to agree to put himself within the realm of the possibility would be almost impossible. You have to admit, it would be the highlight of the season! In game or not, it would be beyond entertainment.
The main criticism of Blake Griffin's epic dunk against Kendrick Perkins was that it was not really a dunk. Some people were buzzing about him not really clearing Perkins' head in comparison to LeBron hurdling John Lucas. But, the fact that Griffin's dunk was more of a throwdown coasts in any discussion held about possible dunk of the year candidates.
LeBron could use Big Perk as a prop. He would have to do a lot to make his dunk more important than Griffin's in-game dunk, so that's where the start and the finish come into play. He would have to lift off from the foul line, manage to clear a seven-footer and actually dunk the ball.
The finish is everything in this case because a throwdown just is not good enough. James would also have to have the perfect land-and-stare to end it all. Of course the crowd would rupture in applause but his usual stand-and-stare reaction would suffice. No celebrations required.
If you actually watch Blake Griffin's lasting impression on the basketball world in last year's dunk contest, you would not be as ecstatic as you were before.
The dunk was not ground-breaking and the jump is not nearly as great as it would seem at first glance. Griffin cleared the hood of the car. Of course it takes supreme athleticism to get that type of distance, but we all know how athletic the kid is. It was an average alley-oop with all things considered. But, what if he would have cleared the roof of the car instead?
Stepping in to finish what Griffin started, LeBron James could jump over the highest part of the vehicle without a doubt. Not only would it be great, but it would prove that James has more hops than the redhead. He would immediately dethrone Griffin's performance last year and forge a landmark dunk of his own.
There will be some critics that would challenge James' creativity if he were to repeat, but to hell with them. People are going to keep hating him, but they will respect him whether they admit it publicly or not.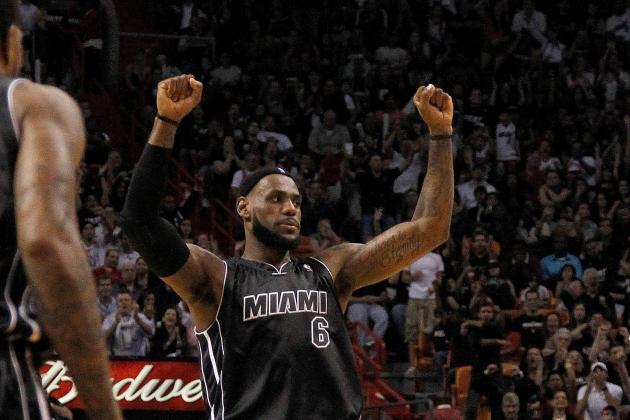 Mike Ehrmann/Getty Images

There is nothing like a good ol' backboard crashing down onto the hardwood. There would definitely have to be other entities connected to the dunk before the backboard is shattered, but the ultimate goal remains the same.
The ending product should be LeBron quickly hopping from under crashing glass with photographers taking simultaneous snapshots of his stern expression and the reigning champ's expression as well. It would be preposterous to think that James could easily bring a backboard down, but have you seen how powerful that man-child is?
With enough effort and arrogance, he could definitely bring the arena to their feet.
Let the rookie in on the action. Last year, JaVale McGee inspired a lot of people with his three-ball dunk that included two carries and a lob from teammate, John Wall. It would be far too easy to allow Dwyane Wade to take part in the action so toss Norris Cole in to give the dunk a little more pizzazz.
The dunk would include a lob from LeBron to himself, a court-long lob from the rookie Cole and a carry. The level of difficulty would be at an all-time high, but imagine if he was actually able to complete it. He would go down in record books and there would be almost no way to beat a finish like that. The in-game 90-plus foot pass that seemed more like a Hail Mary from Wade to LeBron is still talked about today as one of the best plays ever seen.
The sky has been the limit. But, to overthrow Blake Griffin, LeBron James would have to operate above the clouds.